The (extra) perfect gift
This year, let's put a few bottles of extra virgin olive oil made in Italy under the tree
19-12-2014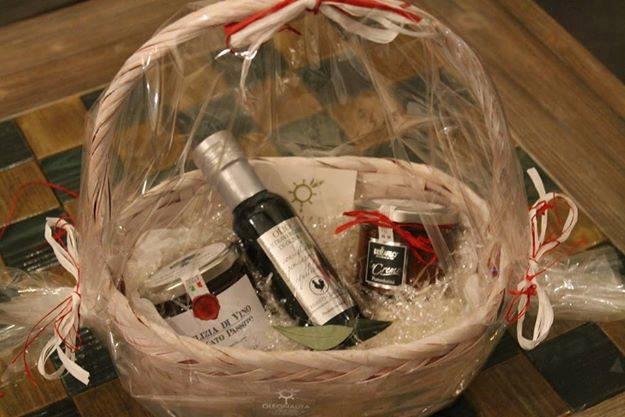 Italian extra virgin olive oil as a gift: a truly precious one, especially this year when, due to bad weather and parasites, production, in our country, was extremely poor. At Christmas, as well as throughout 2015, it will be extremely important to choose the oil to use in our kitchen and on our tables carefully
The perfect gift this Christmas? Something rare, useful, precious thanks to its intrinsic value but also not excessively expensive since these are hard times and ostentation is out of place. Possibly a tasty gift too, since we write in these pages, and decisively made in Italy to improve the chances of our country's economy. In other words: extra virgin olive oil.

Italian extra virgin olive oil is even more precious this year: because of a terrible harvest, what with the bad weather and the attack of parasites, national production has ben virtually halved and with a problematic quality too, so much so that many producers decided not to bottle and therefore raise their prices. For this very reason, among more careful consumers the (Italian) "good oil hunt" has begun. Not an easy task, since this shortage also increases the risk of scams and in many cases olives come from other regions, or countries.


Data supplied by Unaprol
«For every Italian (…) there will be around 3 bottles each, of authentic high quality extra virgin olive oil» said
David Granieri
, president of
Unaprol
, quoting the data supplied by the economic observatory of the Association. That is against an average consumption of 7 litres per person. For this reason,
Granieri
invites Italians to exchange "real, tracked, made in Italy extra virgin olive oil". In order to help them choose,
Unaprol
offers two online tools: the e-commerce website
Olitalyshop
, where only Italian tracked oil is sold, and "search engine "
Portfoil
.
If you prefer buying from people in the flesh and you don't have a trusted olive miller – someone who really needs to be stainless, this year – the best thing is to ask those who have decided to make extra virgin olive oil selection and sales as their profession. As in the case of
Simona Cognoli
– a graduate in Political Science, previously working as a temp for a bank – who founded a lovely shop in Ostia called
Oleonauta
.
Inside the shop you can find not only bottles and oil cans full of carefully selected extra virgin olive oil, but also all that is connected with the fruit of the olive tree, from vegetable preserved in oil to beauty products to craft beer with olive infusion. «This year – says
Simona
– many have understood the importance of giving oil as a gift. Scarcity has added value to the product». So those who pay more attention go to her shop to buy bottles (with prices ranging from 10 to 25 euros for a special selection or packaging), or gift baskets and special bags such as the
Oleobag
in jute.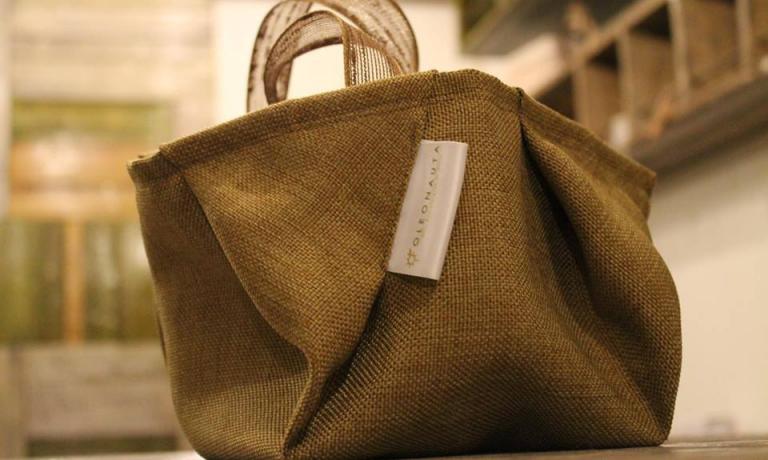 The Oleobag
«Selection was hard – she explains – As usual, it was based on the tasting of samples, during events or at the olive mill, first of all contacting those who over the years have always done a good job and then looking for something new. I would have liked to widen my range, but this is not the right year to do so. Quantities are smaller and products, in general, even when good are a little "less strong", less intense when compared to the previous years. There have been some nice surprises too, however, firms I didn't know and produced excellent things, especially in Sicily, Calabria and Apulia. The leit motiv, nonetheless, is still "good but little", and I don't rule out buying something abroad too, always of the highest quality, should I happen to have no Italian oil left halfway down the year.»
So how can you choose the right oil, even for someone else?
Simona
underlines the importance of tasting. «I try to make sure no-one leaves without having tasted something. At the beginning they are unwilling to taste with the small glass, but then they start enjoying it. In the case of presents, I ask about the person's tastes, what they prefer to eat, and I try to direct them to the most suitable product. Usually, these are people who are careful about what they eat and love good food». For them, and not only them, this year extra virgin olive oil could be the most appreciated gift.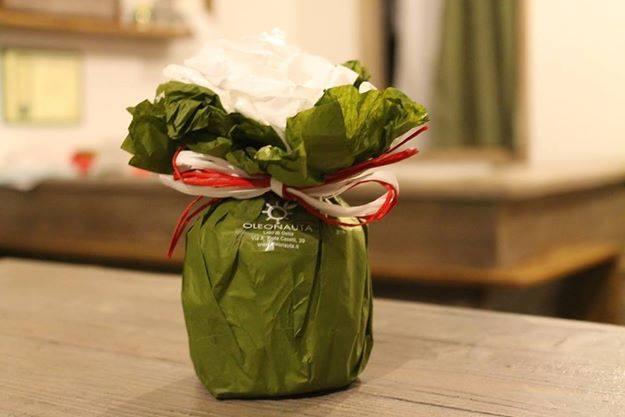 The Oleonauta gift basket
Other places where you can find a good selection of extra virgin olive oil, in Rome and beyond:
Sapordolio
: a Roman shop entirely dedicated to excellence in Italian oil, high quality food products, POD and organic oil, cosmetics, tastings and courses
Eataly Roma
: on the second floor, the oil selection offers a good range of the best extra virgin olive oil from all of Italy
Olevm
: in Montefalco (Perugia) is a shop entirely dedicated to the best oils in Italy, where you can also stop for tastings, lunch and dinner
La Bottega dell'Olio
:in Florence, a shop entirely dedicated to extra virgin olive oil with products selected from the best olive millers in Italy
And then:
Peck
and
Eat's
in Milan,
Picone
in Palermo;
Baroni
in Florence.
---
Rubriche - Frantoio Squadrilli
Themes and characteristics linked to extra virgin olive oil, told by Luciana Squadrilli
by
Luciana Squadrilli
giornalista, napoletana di nascita e romana d'adozione, cerca di unire le sue tre passioni: mangiare, viaggiare e scrivere
---
Latest articles published