Oldani, sport and good cooking
In Milan the chef from Cornaredo presented an agile cookbook dedicated to every athlete
14-09-2016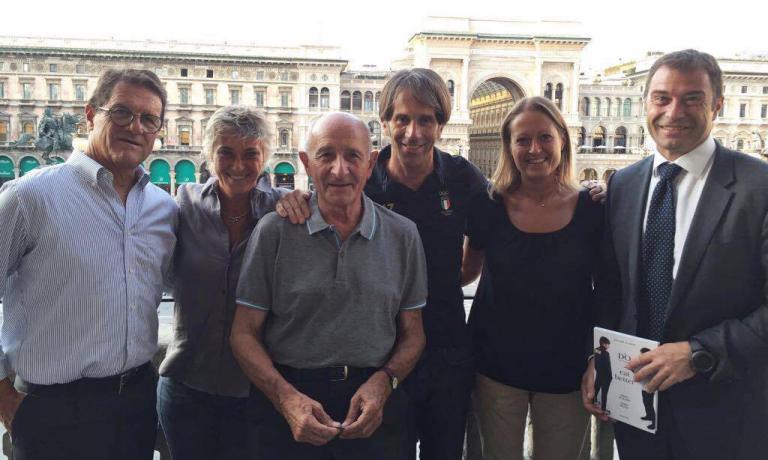 Some of the people who participated yesterday in the presentation of "D'O Eat better. Ricette per lo sport" (Mondadori-Gazzetta dello Sport, 190 pages, 13.90 euros if you buy it online) by Davide Oldani (fourth from the left). Left to right, coach Fabio Capello from Friuli, Francesca Brambilla (co-author of the photos in the book), Don Gino Rigoldi, Serena Serrani (the other co-author of the photos) ex canoeist and multiple Olympics medalist Antonio Rossi
As gastronomic culture gradually advances, truths that were never really proven are dissolved as snow in the sun. Thirty years ago, for instance, nobody would have thought that we would have soon considered cooking and health consequential (just think of what Paul Bocuse said at the time: «Want to feel well? Go to the doctor». Today he'd never repeat it).

Not only good food does good to your health, but good food also improves your sport performance. We discovered it some time ago when we interviewed the nutritionist of the Italian football team then led by coach Prandelli. Today Davide Oldani confronts this topic as well. The chef at D'O in Cornaredo (Milan), indeed would have been a professional football player – as he always recalls –hadn't a tackle broken his ambitions for good, as a teenager.

The chef has kept an excellent figure all this time thanks to plenty of bicycle riding. And his connection with sport became even stronger this summer, when the chef from Milan flew to Casa Italia in Rio to liven up its kitchens. Yesterday it came full circle with the presentation of "D'O Eat better. Ricette per lo sport", an agile cookbook restating the axiom according to which the wellbeing of an athlete cannot do without good cooking. Friulan and multi-awarded coach Fabio Capello and canoeist and Olympic multi-medallist Antonio Rossi were also at the Mondadori megastore di Milan and confirmed the postulate.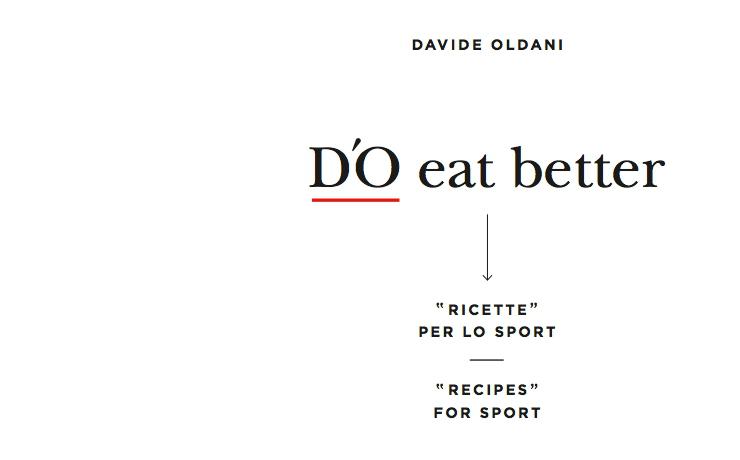 «Sport and cooking are pure energy for the body and the mind», added
Oldani
, «they teach us harmony, respect and sharing. They do us good and they make us enjoy our time with others. This and not only this is the reason why I'm a chef who doesn't intend to give up neither on taste or wellbeing».
Let's analyse the content of the book in detail. Even the three prefaces are signed by prominent people, all of whom have to do with sports and not cooking: there's Coni president
Giovanni Malagò
(«
Davide
built his role with patience, respect and humility»), the director of
Gazzetta dello Sport
Andrea Monti
(«Food is fuel for the body but most of all for creativity») and Inter vice president
Javier Zanetti
(«Some wise people in Dock Sud, the neighbourhood in Buenos Aires where I grew up, said the stomach is the real brain, our machine's engine. Everything starts from there»).
The concept at the end of the author's introduction is noble: «I'm sure if there's something we have to "steal" from sport is not just winning, victory, podium, first places; but rather team work, movement, physical and psychological wellbeing; socialization and inclusion as values for the growth of new responsible, welcoming generations, capable of confronting and "crashing", but in a respectful way and giving value to the talents of each person». After
Ciaolà
, the dish
Oldani
created for the Olympics in Rio de Janeiro, the recipes begin, divided in seasons, starting from the Spring.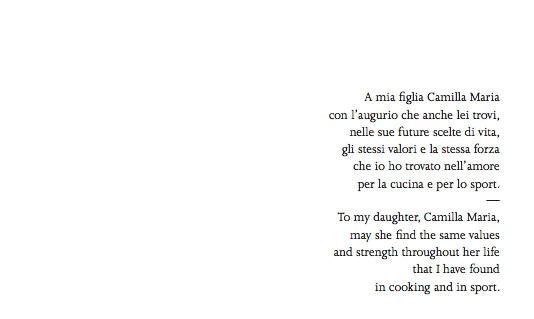 The author's dedication to his daughter
They are presented in the way one should in 2016: not a simple series of ingredients and methods, but a short premise too, illustrating the initial spark, the creation behind a dish, the idea explaining the creativity of the chef and his philosophy but also a few tips for athletes who take care of their diet. This is the case, for instance, of the
Seadas with ricotta, pastry, seeds and honey
which become an anticipated main course («We must feel free not to categorise a dish in a specific course») or the
Pasta with burnt wheat, tamarind and walnut sauce
which contains «arginine, an amino acid that makes them perfect for athletes: indeed walnuts are a very energetic food, an excellent healthy and light way to recharge».
Another element up with the times: all the recipes are rather quick to make. The book is in two languages (English and Italian) and enriched by
Francesca Brambilla
and
Serena Serrani
's brilliant pictures.
---
Rubriche - In libreria
Books and editorial news from the food planet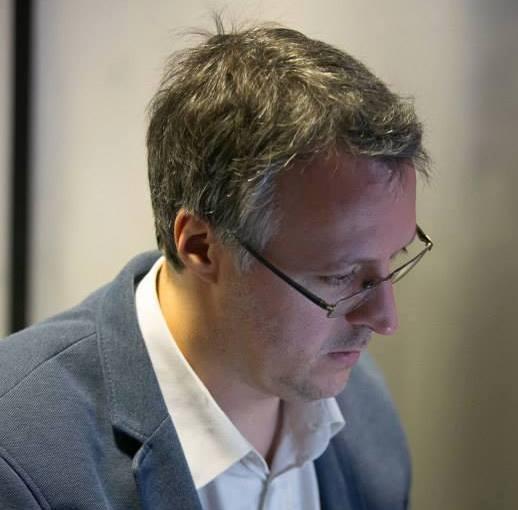 ---
Latest articles published