From New York to Chicago: Identità
After 5 editions in Manhattan, the debut on the banks of lake Michigan, always together with Eataly
15-10-2014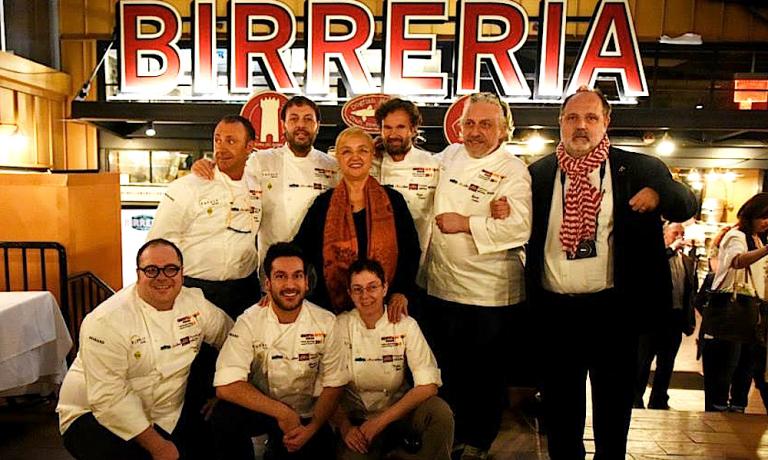 A souvenir photo after the first gala dinner at Identità New York on the last floor of Eataly, inside the Birreria. Standing, in second row, left to right: Fortunato Nicotra, Ugo Alciati, Lidia Bastianich, Carlo Cracco, Davide Scabin and Paolo Marchi. Leaning, again left to right, Vitantonio Lombardo, Denny Imbroisi e Katia Delogu. Right when the photo was taken, Rosanna Marziale was missing
This October is important for us at Identità Golose. On top of the fifth edition in New York, from Thursday 9th to Sunday 12th, there's also the debut in Chicago, from Tuesday 14th to Thursday 16th, inside Eataly, on the banks of Lake Michigan just like in the centre of Manhattan, thanks to the always bright and firm relationship with Oscar and Nicola Farinetti, Lidia and Joe Bastianich, Mario Batali, Dino Borri and the Sapere brothers, always with the goal of seeing the Good Italy in which we believe grow in America, besides in Italy and around the world. Everywhere, that is, because why should someone give up or not acknowledge quality?
Chicago: it is an important stop arriving in what the Americans also call the Second City, after New York, of course, even though it is the third, in terms of inhabitants, because there's also Los Angeles. The City of Angels, however, is somewhere else entirely, on the Pacific coast of the United States, instead of the Atlantic one of the Big Apple and the Great Lakes that dominate over Chicago. So here, close to Canada, Manhattan's and Brooklyn's sequins run. Chicago is the second city that in fact feels it is the best, just like with every nation: Milan and Rome, Lyon and Paris, Munich and Berlin, Manchester and London, Saint Petersburg and Moscow…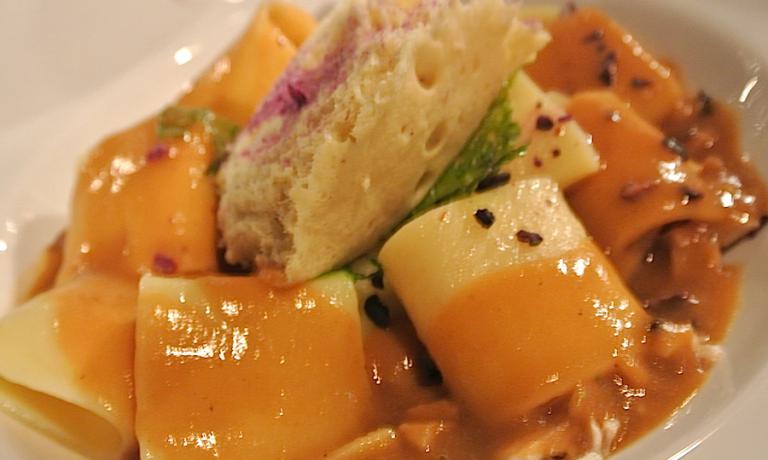 Monograno Felicetti Paccheri with sea beans and chanterelle mushrooms, the first course at the gala dinner at Identità New York 2014 on Friday October 10th. They were presented and prepared by Davide Scabin and Vitantonio Lombardo
Identità Chicago
will debut with a gala dinner that has
Ugo Alciati
,
Davide Oldani
,
Alex Piras
and
Katia Delogu
as its protagonists, and
Lidia Bastianich
as godmother, whereas on Wednesday wine will be the protagonist, in collaboration with the
Merano Wine Festival
, and on Thursday
Alciati
will get on stage with
Tony Mantuano
, and
Oldani
with
Lee Wolen
. Some more blocks. Indeed, when thinking about our work it is fascinating to venture to the Northern neighbourhoods in Chicago, to
Jonathan Goldsmith
's pizzeria, called
Spacca Napoli
, and hearing "Identità? I know it, last June at
Gennaro Esposito
's". He's Italian-American, a once a social educator with an artist-wife, who was struck by a pizza Margherita in 2004 and later on by
Franco Pepe
- the first season at 1769 West of Sunnyside Avenue was in 2006.
Alciati, Piras and Delogu also appear in the programme of dinners at New York. During the first one, on Friday 10th, Ugo signed the entree together with Denny Imbroisi, a young Italian in Paris, a Pumpkin gnocco that preceded Davide Scabin and Vitantonio Lombardo's first course, Mezzi paccheri Felicetti with sea beans and chanterelle mushrooms, followed by a double interpretation of pork Carlo Cracco (Glazed capocollo) and Fortunato Nicotra (Braised cheeks with beer) and the 100% Campanian dessert by Rosanna Marziale, a spherical Mozzarella Cake.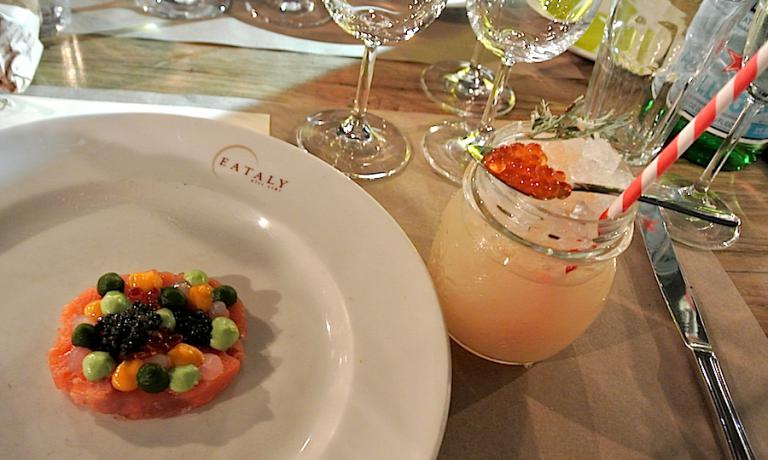 Back to the Future: Bellavista salmon with Calvisium Oscietra Royal caviar on the plate, and a Horseradish Julep Cocktail in the glass. The salmon is signed by Massimo Bottura and the cocktail by Lorenzo Cogo. All this at the Identità New York gala dinner on Saturday 11th October 2014
On Saturday, there were new protagonists on the last floor of
Eataly New York
: the entree was by
Massimo Bottura
and
Lorenzo Cogo
, Bellavista salmon by the chef from Modena, together with the horseradish cocktail by the chef from Vicenza. The first course was prepared by the
Alciati
-
Pilas
pair: Agnolotti del plin with potatoes and ricotta with rabbit meat sauce. After
Bottura
's salmon, another traditional dish even with the main course.
Luciano Monosilio
and
Mark Ladner
indeed re-interpreted Beef with tomato sauce and I thank them because at last I tasted some that was full of taste until the end. As for the cake, once again there's
Denny Imbroisi
: Grana Padano ice cream, extra virgin olive oil and black truffle crumble, a dish with which the chef won the first contest for baby-chefs promoted by Consorzio di Tutela del Grana Padano, last February at
Identità Milano
. On both nights the petit fours were by
Delogu
.
---
Rubriche - Le nostre cene
The dinners directed by Identità Golose in Italy and abroad, told by those present
by
Paolo Marchi
born in Milan in March 1955, at Il Giornale for 31 years dividing himself between sports and food, since 2004 he's the creator and curator of Identità Golose. twitter @oloapmarchi
---
Latest articles published