A menu for Valentine's Day / 3
Pastry chef Sara Simionato presents her special ice cream created for this day of romance
14-02-2015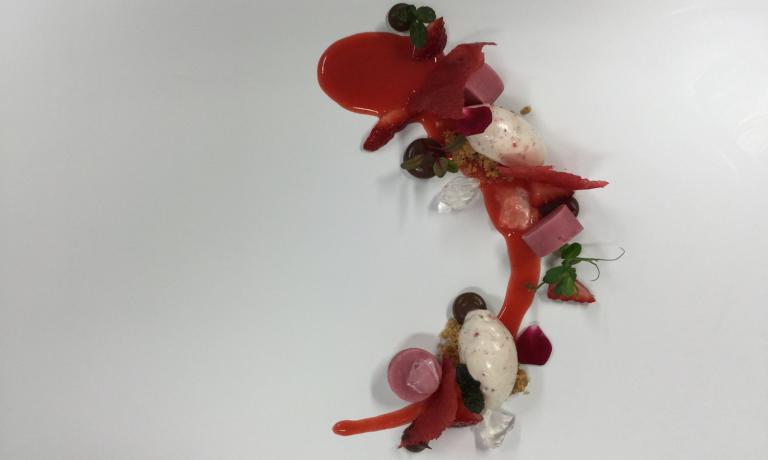 To celebrate Valentine's Day, the young pastry chef from Antica Osteria Cera in Lughetto di Campagna Lupia (Venice) created an ice cream with a "spicy" note. With this dessert we complete the menu that started with Iside De Cesare an her husband Romano Gordini's recipes
Valentine's Day: a holiday when passion and Eros are enhanced in many ways. So how about a special treat? In the following dessert I included elements that recall the spirit of this occasion both in terms of colours and inspiration.

Pink pepper and chilli pepper ice cream, chocolate namelaka, raspberry panna cotta and rose gelatine

Recipe for 4 people

For the pink pepper and chilli pepper ice cream
500 gr milk
100 gr cream
5 g pink pepper
2 gr bread
25 gr powdered milk
30 gr glucose
100 gr sugar
3 gr stabilizer

Bring milk and cream to 40°C and leave the chopped spices to macerate. Strain, add the glucose and powdered milk and bring to 40°C. Add the stabilizer mixed with the sugar and bring to 85°C. Leave to cool in a bain-marie with ice and then leave to mature in the fridge for 12 hours. Cream.

For the rose gelatine
250 gr water
40 gr sugar
4 gr gelatine sheet
1 drop of rose essence
1 drop of lemon juice
Boil the water with the sugar. Melt the previously soaked gelatine sheet. When it reaches 40°C add the rose essence and the drop of lemon juice. Leave to rest in the fridge.

Corrado Assenza defined young Sara Simionato as one of the promises in Italian pastry making
For the raspberry sauce
200 gr raspberries
25 gr icing sugar
2 drops of lemon
Pour the ingredients in the Bimby processor, blend, then sieve the sauce. Keep in fridge.
For the 70% chocolate namelaka
68 gr fresh milk
3 gr glucose
1 gr gelatine sheet
115 gr 70% chocolate
130 gr fresh cream
Melt the chocolate. Bring the milk to the boil and melt the glucose and gelatine sheet. Pour the milk into the chocolate in three batches, until you obtain an elastic and shiny texture. Finally pour the fresh cream and blend the mixture with a hand blender. Remove any bubbles and leave to rest for 12 hours in the fridge.

For the almond streusel
50 gr toasted almond flour
50 gr sugar
50 gr salted butter
50 gr flour
Put the ingredients in a planetary kitchen mixer and knead slowly so as to obtain a sandy mixture. Leave to rest for 30 minutes then make at 150°C for 13 minutes.

For the raspberry panna cotta
150 ml fresh cream
100 ml raspberry juice
75 gr sugar
4 gr gelatine sheet
1 gr salt
Warm up 75 gr of cream with the sugar. Melt the previously soaked gelatine sheet. When it reaches 30°C, add the raspberry juice and the lightly whipped cream. Pour into cylinder moulds. Leave to rest in the fridge.

THE PLATE
In a smooth plate, brush a stripe of raspberry sauce. In the centre, pour two tablespoons of streusel. On top of this, place a quenelle of ice cream, the panna cotta – the same length of the quenelle - and two knobs of namelaka and gelatine.
---
Rubriche - Dolcezze
Previews, personalities and establishments in the sweet side of the food planet

---
Latest articles published