Asia in South Africa
Indochine, one of the country's best restaurants, is inspired by the cuisine of another continent
15-05-2014
The splendid view that can be enjoyed from the terrace of Indochine, tel. +27.21.8858160. This is one of the two restaurants located inside the large Delaire Graff estate, bought in 2003 by one of the biggest jewellers in the world, British Lawrence Graff. The kitchen, run by South African chef Christiaan Campbell, is a mix of influences and recipes arriving from different Asian countries
Indochine, one of the best and most exclusive restaurants in South Africa, is located inside the prestigious Delaire-Graaf estate in Stellenbosch, which is, in its own right, already unique. As hinted by the name, Indochine is an Asian-inspired restaurant in which chef Christiaan Campbell and his sous-chef Virgil make us travel from Vietnam, to Thailand, to China in a mix of very interesting flavours, presentations and textures. The whole experience is worth illustrating in detail.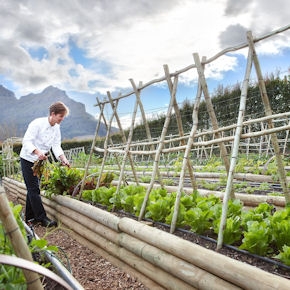 Christiaan Campbell, born and raised in Cape Town, has a very large vegetable garden, inside the estate, at his disposal
Indochine
is located in the upper part of the estate, where there is also a small but very exclusive hotel. There are few rooms, an elegant and relaxed atmosphere, and all comforts. The entrance bursts with exotic flowers and bronze sculptures. The restaurant, seating a maximum of 30 people, overlooks a terrace with a breath-taking view of the valley below. At sunset, therefore, the aperitif on the terrace is a must and, depending on the weather, one can also dine outside. In any case, the restaurant is also open for lunch.
Besides à la carte the menu there's a four-courses tasting menu. However, when compared to the choices offered, the latter is a little limited. It's best to order various things and be able to taste as many dishes as possible. Each dish is based on spices, herbs and aromas that highlight each flavour, starting from ingredients of the highest quality.
Among the entrées, one should certainly try the
Vietnamese duck with coriander and lime and cashew nut biscuit
, the
Squid with ink and basil and matched dim-
sum and for the vegetarians, the
Tofu croquette
. There's also a selection of soups with the traditional
Chicken
or
Prawn tom-yum
, the
Vietnamese pho
and a delicious
Coconut mussel soup with turmeric and lemongrass
. Among the main dishes there are
Quails with chickpeas, wheat and Thai basil
,
Salmoned trout with ginger
,
Pork with edamame beans
and
Beeff with coconut and cinnamon
.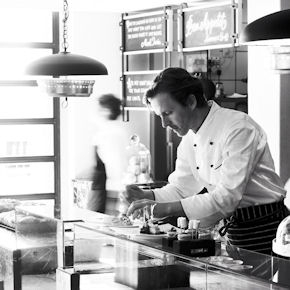 The chef of Indochine at work
Or one can try one of the fabulous curries with duck, lamb, fish or beef. They're all very aromatic and light. In case you were still not satisfied, there's a whole series of side dishes, including
Bamboo shoot salad
or
unripe mango or pickled pumpkin
,
Spring rolls
or (delicious)
Aubergines in hot sauce
; plus noodles and various types of rice.
Desserts are very interesting because they maintain the menu's Asian approach: there's the excellent
Coconut cake with roasted pineapple sorbet
; the
Pineapple and coconut pudding
,
Banana and chocolate spring rolls
and
Sataa andagi
, Japanese chocolate fritters, with green tea meringues. For those who do not eat cakes, there's a very good selection of local cheeses. The estate's wines have incredibly reasonable prices and the service is very attentive and professional. On average, one person would spend 60 euros. One recommendation: it's beautiful to dine here and you can sleep at accessible prices in a couple of guest houses very close to Delaire Graaf.
---
Rubriche - Giovanna a Capo-tavola
The food world in and near Cape Town told by Giovanna Sartor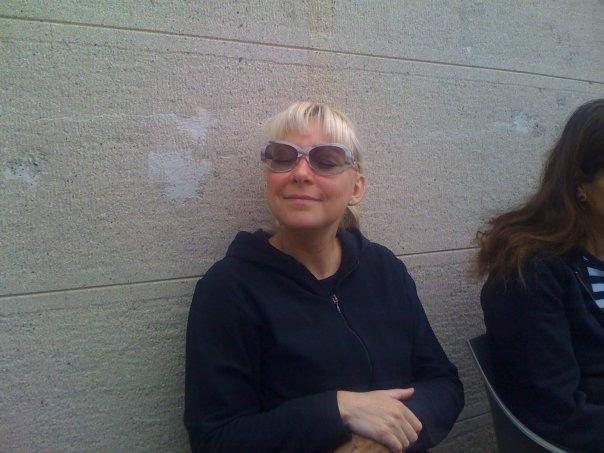 ---
Latest articles published