Territory and the new Italian pizza

The final day at PizzaUp: Parini explains how to go beyond the obvious. Gabrieli announces...

05-11-2015
Piero Gabrieli and Chiara Quaglia at the end of the third and last day at PizzaUp 2015

«I'm very excited, we've really gone places», stutters Roberto Ghisolfi, who in Vighizzolo d'Este is now at home. The places he refers to, are the unexplored territories of the "new Italian pizza", thus defined by Enzo Vizzari during his speech on the last and final day at PizzaUp 2015.
Territories, we were saying, «yet this concept runs the risk of becoming a cliché», points out Federico de Cesare Viola in his duet with Eleonora Cozzella while Piergiorgio Parini surprises the audience of the symposium. So it would be best to use the French term terroir, «as it has a wider meaning». Indeed it includes history, cultural heritage, knowledge: that is to say savoir faire. The word "territory" is instead over-used, often associated to a non-inclusive identity.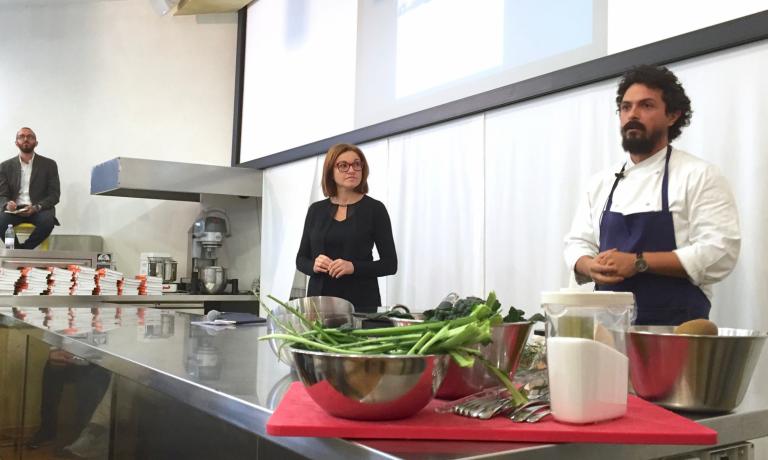 Piergiorgio Parini on the stage, pressed by Eleonora Cozzella under the vigil eye of Federico de Cesare Viola

Corrado Assenza
, who follows the works with attention, holds these concepts dear: «There's a strip of territory that is immaterial. It is called culture». It urges towards progress. This is why the master from Noto prefers good products to the rhetoric of local food: «The cultural territory of Sicily is the world, we've always been in the middle of millennial trades between East and West».
The entire discussion was born out of a "renewed tradition". It is based on the semantic slipping of the word pizza: from a round disc seasoned with tomato and more, to something different. The new Italian pizza, indeed: a revolution for which PizzaUp is also a celebrative moment. How about tradition? Piero Gabrieli is tactful: «I defend the word "pizza", as long as it is shared», between old and new, we'll simplify. There's also Dario Bressanini, who certifies: «It's not the first time that while preserving its name a dish changes its identity: think of polenta (ancient Romans made it with millet) or blancmange (today it's a dessert, it used to be a recipe with chicken, almonds and broth). Still I don't recall a similar process to happen in a planned way in the past».
The delicious pizza with beetroot sauce, kiwi, buffalo milk mozzarella and chopped thyme, marjoram and basil
Therefore, we need to make an effort to study in depth, to understand the road taken.
Parini
always does so. The chef presents the ingredients he has thought about especially for the participating pizza chefs, as toppings for the leavened disc: «All these products come from my territory». That is to say: kiwi, persimmon, cypress cones,
formaggio di fossa
, chilli pepper and black cabbage. A double surprise: why «persimmon or cypress cones on pizza?!?». And even more so: where does
Parini
come from? Romagna: the second largest kiwi producer.
Yet this fruit has Asian origins, same goes for persimmon; and the cypress used by the chef is from America, just like the chilli pepper; the formaggio di fossa is made with sheep milk, «yet sheep were only brought to my area by Sardinian shepherds after WWII». As for black cabbage, well, perhaps it is local, but it strongly recalls Tuscany. So what is this strange territory? The overlapping of many different seeds and influences. A fertile stratification. An identity, indeed, yet a shimmering one.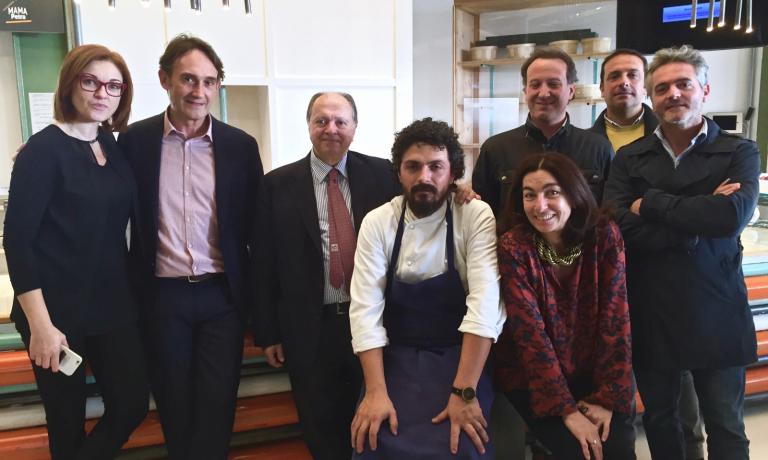 Left to right, Eleonora Cozzella, Piero Gabrieli, Enzo Vizzari, Piergiorgio Parini and Chiara Quaglia
We need a dynamic process, just like the world of pizza.
Parini
's provocation: «A kiwi baked in a ventilated oven at 130°C for 30/40 minutes looks like a confit green tomato. It concentrates the acidity and the minerality, losing the liquid». So use it, he exhorts (the result will be a success: perhaps the best pizza at PizzaUp 2015 includes beetroot sauce, kiwi, buffalo milk mozzarella and chopped thyme, marjoram and basil).
Partners - Petra® Molino Quaglia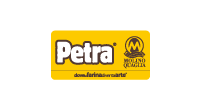 ---
Latest articles published