Identità Milano 2015
A Healthy Intelligence
27-07-2014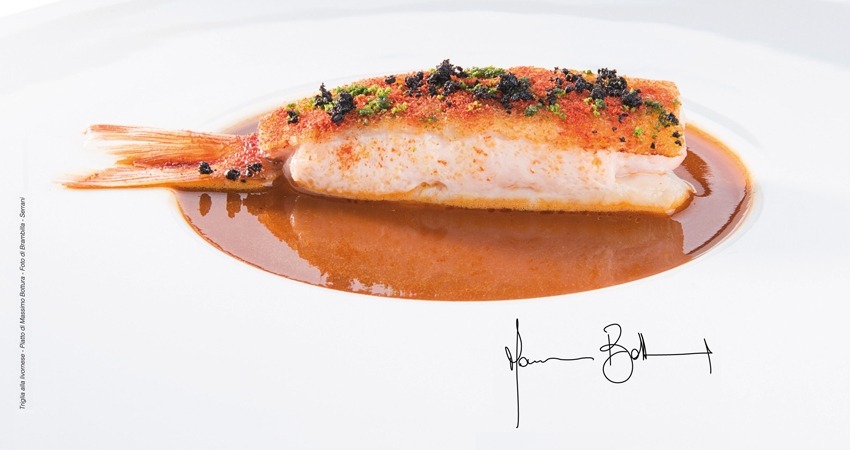 Massimo Bottura's "Triglia alla livornese"
After celebrating a special step as the tenth edition of Identità Milano, as we get closer to the eleventh, we enter deep into the road traced at the time. The 2015 theme, from Sunday February 8th to Tuesday 10th at MiCo in Via Gattamelata, accentuates, reinforces the 2014 one: A healthy intelligence. Healthy, not just craveable now.

The world of spicy food and that of desserts, the pasta and bread Identità reflected in that of pizza because the latter is the logic evolution of the former. And again the world of natural cuisine, which is often a synonym of vegetarian and vegan culture. At Identità Golose, however, we go beyond this and forget we're omnivorous. By saying this, we mean that the absolute quality of a meal goes beyond the contraposition between those who refuse any ingredient of animal origins and those who eat fish and meat (and vegetables basically only on the side, just to colour the dish).
True omnivorous people respect everything and everyone and start the meal by getting informed on the origin of the ingredients, on their being natural. They don't think that being a vegetarian is nice, right and good just because one eliminates fish and meat from their diet, and aim at an overall wellbeing, their own and that of what they has chosen to put on their plate.

It is a historically well-acknowledged fact that we no longer eat just to feed ourselves. Taking pleasure in eating however has always existed. We didn't learn about it just now. But we need to understand its meaning, what we intend by pleasure. When eating meat was a pleasure for few people, the majority would eat what they found, and a full plate would be tastier. It was just a question of quantity. Full stop.

When later, closer to our days, we have left poverty behind us and more and more people have been able to choose what to have for lunch and what for dinner, we have taken the road that has led us to today's we're "all chefs – all experts". The spreading of passions and gastronomic knowledge has led us more and more often far from the pleasure of chewing. We're no longer "all around the table", but we're taking pictures, tagging, tweeting. Images without substance.

While many are satisfied with colours, shapes, traces and performances, avantgarde cuisine and restaurants have taken different roads, finding a new, fertile soil where it was, until a short while ago, unthinkable: among nutritionists and doctors, biologists and the vegetarian/vegan world. There have been lessons during the latest edition of Identità Milano when on the stage we had chefs, doctors and nutritionists, all together, and everyone thought it was logic, perhaps not yet normal but we'll soon get there.

Besides, chefs have already begun to direct the production of a piglet or the management of a vegetable garden according to their needs. Once, people would shop choosing on the spot. Today we start far behind, order long in advance, often respecting the seasons, another essential element. It's no longer a question of "this is what's available today", but of "tell me what you want". Chefs not only impose their menu on their clients, but also on the production and distribution channels.

Many ingredients are also chosen today because they are good for you, like turmeric, which is elbowing its way to find a place next to saffron or lemongrass. Vegetables instead of meat, white meat instead of red meat and, better still, more fish than meat, but not farmed fish. These are things that after hearing them all the time, one gets closer to vegetarianism not to totally embrace it, as if it were the only response to many worries linked to our health, but as a way of broadening our food and gastronomic horizons.

How distant and out of place do Paul Bocuse's words sound today: "doctors will think about my clients' health". This is no longer the case, and Expo 2015 in Milan will demonstrate it. "Feeding the planet, Energy for life" is the theme of the World Fair and we will develop it following our beliefs.
Today, the health of clients is also a chef's prerogative. Planet Earth needs to be nourished so it can continue do give energy to those who live here in all their forms. It's not just as, humans, who have to live here and feel well. And the respect that was the leitmotiv of Identità 2013 goes hand in hand with the intelligence of those who can offer a craveable, tasty and healthy cuisine. Not just meat based or fish based cuisine. There's also a cuisine made of vegetables growing, a magnet for more and more attention. Terms such as vegetarian or even vegan cuisine are now accepted and less and less perceived as a punishment.
The day will come when people will move from one reality to the other just to taste a dish instead of the other. Without having an ideology or a doctor imposing it, when your health is already compromised. Intelligence is a question of the capacity of feeling well in a craveable way, eating health.

Paolo Marchi
Creator and curator of Identità Golose