La Parolina

Acquapendente (Vt)
località Trevinano
T. +39.0763.717130
laparolina@libero.it
Want to eat well, really well? Easier said than done, some may say. Still, at Acquapendente, to accomplish this is just a little something, like a little word... a Parolina, in Italian. In what candidates itself as the most remote gourmet restaurant in Italy (it's located at the crossing between three regions: Tuscany, Umbria and Lazio, but bureaucratically clinging to the latter's ultimate slopes; and with a few kilometres of stomach twisting curves, just before arriving) Iside Maria Di Cesare, twice mother and doubly talented, earns extra points for Paradise. She is the front woman at La Parolina in Trevinano, a hamlet of Acquapendente, with the blessing of her husband, Romano Gordini, whom she met in the kitchens of La Frasca in Castrocaro Terme, a stop they shared on the way to learn the trade from the great. Now that Cupid has used his arrow and the name of Iside matches that of her partner in life and in business, even this iron woman – Roman in origin, with a Roman named husband – is part of the same club of stomach cherishers as her teachers, such as Heinz Beck and Salvatore Tassa.
Iside is all determination and smiles, no short cuts. Could you ever choose such a remote place if you wanted an easy life? Never! It's best to know that who visits you doesn't come by chance. And now that there's a Michelin star, the reservation book is always full. When Iside and Romano started their own business, however, over 6 years ago, it was hard. Love helped them a little – both the romantic love, and that for the table – and tenacity. And here they are, I&R, planning today a newer and sunnier Parolina, while the few tables will stay few, fewer than their many themed menus, something which says a lot about their attention to put the client at the centre of their horizon.
A trained confectioner, Iside is now at ease in the earthly kitchen of this area of central Italy, where the basic grammar includes elements such truffle, game, mushrooms and chestnuts. Iside, however, draws from the couple's family and traditional repertory for ragù sauce, broth, Sunday lunch inspired home made pasta; and from an international dictionary out of which the unfailing foie gras comes out. Under the entry "dessert" Iside, moves like a fish in its waters: there's a magic touch everywhere, even if she considers herself a "chocolate maker". And let her do so.

Has participated in
Identità Milano
---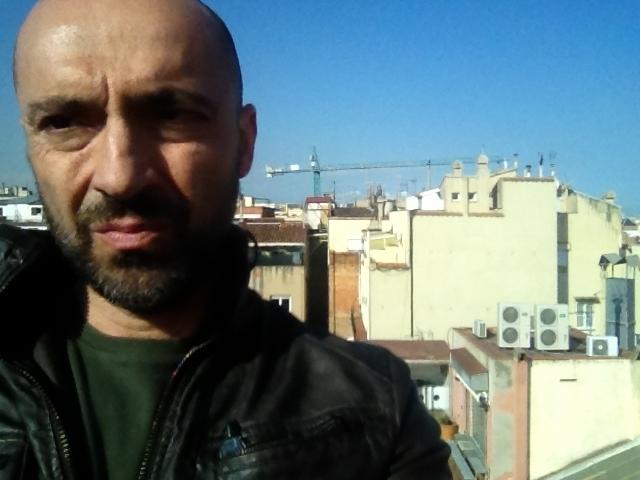 ---
Please fill in the fields below to search our Protagonists' database.
Clicca qui per leggere la ricetta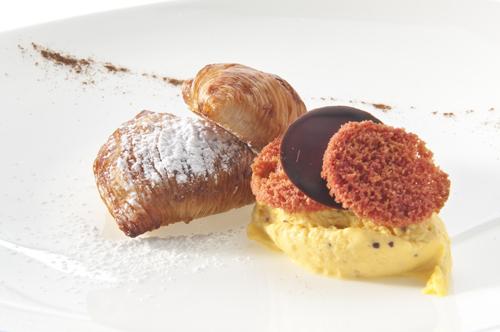 Curly strudel with custard ice-cream
A recipe presented at
Identità Milano 2012
Clicca qui per leggere la ricetta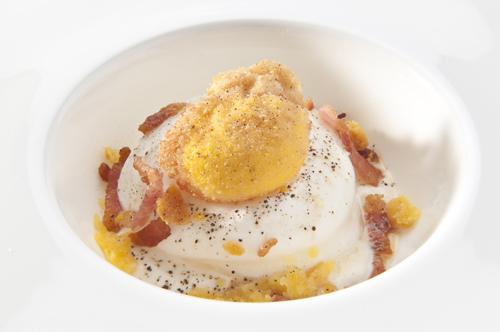 Eggs "alla Carbonara"
A recipe presented at
Identità Milano 2012