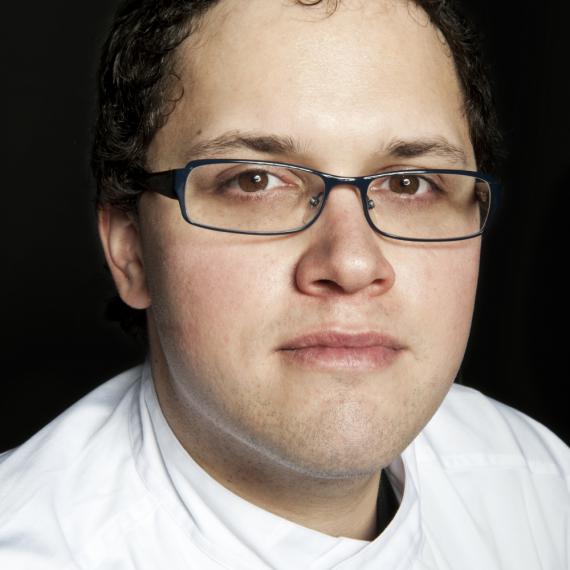 Alma

calle Mallorca, 271
Barcellona
Spagna
+34.93.2164490
The most interesting aspect of the gastronomic offer of the small hotel chain Alma - a paradigm of great luxury (5 stars) with hotels in Barcelona, Berlin, Pamplona and Seville – is that it bets on young chefs, authors of a mellow cuisine, for no more than 45 euros. At the end of 2011 Sergio Humada is only 26 but has already a decade of experience by the stove, having begun to work as a teenager, with his father, Juan Mari Humada, memorable chef of the Nuova Cucina Basca and great friend of Arzak. The young man then took the usual path of the great names - Martín Berasategui, Arzak himself, Manolo de la Osa's Las Rejas, the Celler de Can Roca - until he entered this exclusive hotel chain. All this happened a few months ago in Barcelona where, he ensures me, he wants to stop his work itinerary for a while.
Sergio Humada's cuisine highlights an exemplary caution in the approach. There's no risky sophistication. His is a good cuisine, based on the products, with an assertive and mature style, something quite unusual for a man his age. His dishes are round and sober, free of the excessive technical effects of his masters. This demonstrates a certain impermeability to influences. At the same time, he doesn't forgo certain Basque symbols (such as stockfish, pil pil, Maja squinado...) or styles of cuisine that he has managed to discover during his short experience. His Andalusian salmorejo, for instance, is perfect. The Italian-friendly style that marks some dishes does surprise a little: fresh egg pasta spaghettini with brunoise of black butifarra (a type of sausage), tuna fish with a magnificent tomato confit and basil oil, sweet rice, slightly al dente, as in risotto, with Iberian sausage and Garrotxa cheese. Or the gnocchi that accompany a fantastic cheek with onions.

He demonstrates to have talent even with desserts, as with his lemon custard with Breton biscuit crumble, raspberry and rose ice cream. I like the detail of the 4-5 leaves of mint, placed in the centre of the dessert: the herbs are there as an ingredient, not a decoration. Soon, in another part of the hotel, he'll open a more gastronomic restaurant in which he'll be able to demonstrate his young talent even better.
Has participated in
Identità Milano
---
---
Please fill in the fields below to search our Protagonists' database.
Clicca qui per leggere la ricetta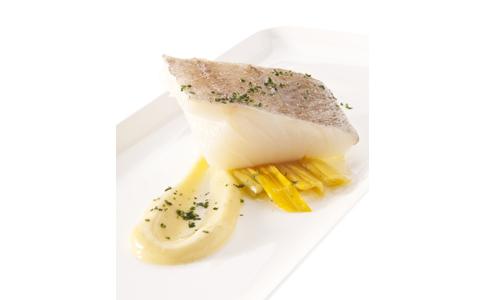 Confit cod with "pil pil" sauce and roasted "calcots"
A recipe presented at
Identità Milano 2012
Clicca qui per leggere la ricetta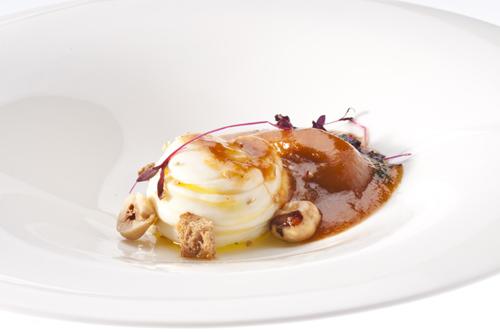 Cold cream of Idiazabal cheese, roasted tomato sorbet, sprouts salad and rye bread
A recipe presented at
Identità Milano 2012