17-02-2014
Identità, a race against time
From Bottura's team game to the democratic cuisine of Gaston Acurio. Marchi recalls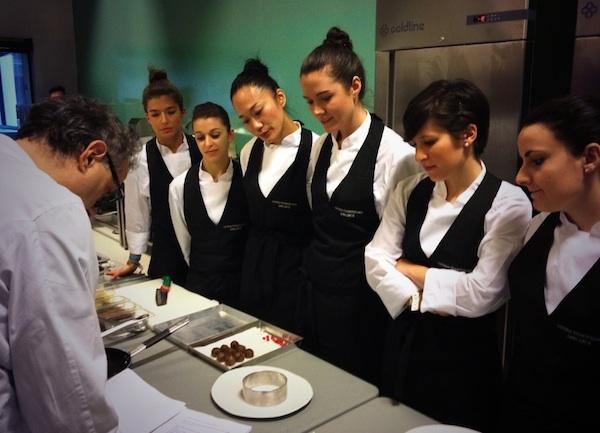 It happens more and more seldom to hear a chef using the first singular person when speaking of his work: "we" dominates now. An obvious example is given by Massimo Bottura. Last Monday, on the stage of the Auditorium, Osteria Francescana's patron-chef presented six chefs who work with him in Modena. They are called Sara, Virginia, Mineko, Jessica, Alessandra and Laura. Each one was holding the dish that best represents her soul, an intelligent way of explaining who they are. The message is clear: cooking is a team sport, but everyone needs to know where their own roots are and where the view stretches
When I'll finally manage to publish my prompt impressions on Identità, I'll be an even happier person than I am today already. If there's something I love doing that is writing, but who has the time to do so when you're in a swirl of lessons, tastings, memories, greetings and discussions? Last year I even bought myself an iPad mini in order to follow everything in real-time, but it was a mere illusion. This year I left it at home and I just allowed myself a few tweets: when compared to an article, it's like a handshake instead of a real relationship. So here I am at last, organising my thoughts starting from the tyranny of time.
TIME. It's either too much or too little. There are speakers (the majority of them) who have no problem in keeping to the sanctioned 45 minutes and there are always a few who cannot restrain themselves and perhaps think that the more they speak, the more important things they have to say. I believe that if by the seventh day God had already completed the creation of the universe, anyone can manage with 3 quarters of ah hour. It's also a matter of respect towards those who follow, such as Daniela Cicioni, Roberto Ghisolfi and Pina Toscani, who were scheduled at the end of the day and thus penalised.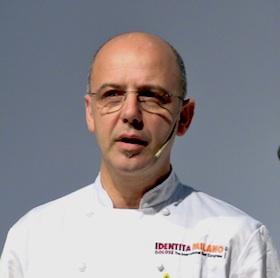 Franco Pepe, pizzeria Pepe in grani in Caiazzo (Caserta)

AGAINST. This is a very strong party, in Italy, as Oscar Farinetti recalled on Tuesday, when presenting his book Storie di Coraggio: "As soon we create a business and propose something, there are always those who criticise, no matter what". So the system halts, the economy slows down and the country grows old until it risks dying from asphyxiation or starvation. Uncalled for, and often in bad faith critiques, should also hurt those who make them because they're a waist of time but envy and ignorance are a bad thing to have inside you.
NOI, US. The enthusiastic boys and girls of Noi di Sala, but also Massimo Bottura's lecture – on Monday he brought on the stage, together with him, six female chefs in their twenties who represent the future of Osteria Francescana. Like them, all the assistants were elegantly following their chefs. While ten years ago, everyone would use the first person singular, I… I… I…, now we have moved to the first person plural, we.
DINING ROOM. This theme will keep us company for a long time. I am now convinced that a dining room man, when compared to the kitchen and to the chefs, is like a poet compared with a novelist. His act is more contemplated, sometimes it is ephemeral because it is based on glances, gestures, a few words possibly at the right moment. I remember a small hotel in Trentino, I asked a bottle of water to the first person I happened to look at and the guy, proud and dressed as a penguin, replied "Ask it to a waiter, I am the maître". No, you're not, you're an idiot.
Gaston Acurio at Identità Golose 2014, with Paolo Marchi

TOO MANY TAXES. Peruvian chef Gaston Acurio, 32 restaurants scattered around the world and one certainty: "I will not open a restaurant in Rome because taxes in Italy are too high". Starting from those on labour, which are strangling the Italian restaurant sector (and enterprises in general).
HORIZONTAL. Again according to Gaston Acurio, this is how the line a country's restaurant scene must follow, not a vertical one: "One usually starts from luxury restaurants and then goes down to street food which in Peru is extremely important but which is avoided by many people based on all sorts of excuses. The same people who take care of this are hardly respected by those who have at least a little economic wellbeing. Restaurants, instead, need to be put on the same level when one needs to judge them through the dishes. This is democracy. Let's take ceviche, be it a top chef or a street cevichero it's always ceviche". It happens over here too, why shouldn't Simone Padoan or Franco Pepe, for instance, not receive a star? Because they make pizzas? So what?
1. To be continued
Paolo Marchi

| published on 17-02-2014 in AFFARI DI GOLA DI PAOLO MARCHI