25-11-2013
The Michelin guide should be blessed
Never as before the French guides praises Italian cuisine. Including female-chefs, 51 of them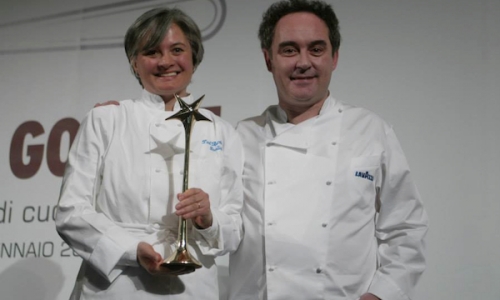 Some memories of Identità Golose in Milan: Italian Nadia Santin and Catalan Ferran Adrià, respectively the most famous female and male chefs in the world, smiling on the stage of the first edition of the congress, in January 2005
The Michelin guide? Stop blowing raspberries and bearing a grudge, as Italians we should dedicate a monument to the red guide and, at the same time, we should follow the example, as cousins, and do even better than they do. Of course I perfectly understand it is much easier to complain, as in the case of female-chefs, who are significantly less numerous than their colleagues in both guides and congresses, but when will we substitute grudges with some action?

The presentation of the new edition on November 5th, told here by Gabriele Zanatta, marked the debut of Sergio Lovrinovich, via conference call, the new manager after Fausto Arrighi retired. I believe there are more elegant ways to remain anonymous but this is nothing in comparison to the pre-written interview sent from the press office, as customary of small dictatorial politicians. I mean a series of ready-made questions and answers, take it or leave it. Once, the debut of the Michelin guide was also a feast for critique, now only the neo-starred chefs smile.


Cristina Bowerman, chef and partner of Glass Hostaria in Rome
What I don't like, thinking of this camouflage, of the hiding of
Lovrinovich
, who is, let's make it clear, perfectly free to hide, is how the
Michelin
guide has passed from an always-present and lively
Arrighi
to someone who seems to love the burka. A little moderation, in both cases, would have been nice.
However, aside from this, as Italians we should be thankful to the leading guide in the world because it is awarding us in an ever more significant way and is making sure that when our chefs go abroad, they can be proud of a title that everyone can understand, namely the stars. Many believe the awarded restaurant are few, but only France does better than us.
Moving onto numbers, from the first edition of this new century, the one of 2000, to the one being sold today in the bookshops, we have moved from a total of 217 starred restaurants (197 with one star, 17 with two and 3 with three) to 329 (281-40-8). Not bad, I'd say, even though some may feel disappointed. I thinks it's much more painful to think of 2002 when there were little more than two hundred starred restaurants, 207 to be precise, with only two meagre tri-starred restaurants, namely
Pescatore
in Canneto sull'Oglio (which still holds its third star) and
Sorriso
in Soriso (which lost it last year).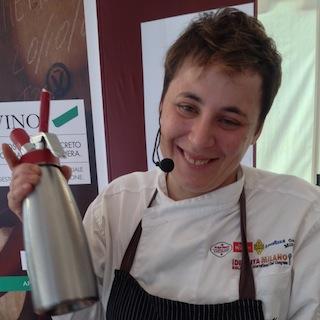 The
Michelin
guide has now become benevolent. For a few years now, failings have become rare. It is usually a matter of changing chefs or restaurants closing. In the sea of single stars we can find all sorts of restaurants and in this sense, the true test bed for
Lovrinovich
will be the 2015 edition. This one is a sum of more than one voice, namely that of
Arrighi
, the one of the French publisher and that of the new director who surely arrived too late for
Niko Romito
's presence at the top to be entirely his choice. It's mostly been a matter of sharing, approving a promotion that was already acquiring importance. Were I a restaurateur with two or
three stars
I would be very worried, now, because the moment in which the new bosses are to put their judgement into practice always comes.
As for the eternal polemic, that of the few starred female-chefs, this has always been an issue. And even in this case, the red guide treats Italy in a noble way.
Guido Romeo
of
Wired
counted the female chefs in the 2013 edition: 48 out of 307, with 254 male-run kitchens and 5 mixed ones (brother/sister or husband/wife). In the new one, we find three novelties with the debut of
Bruna Cane
and
Sara Chiriotti
of
Caffi
in Acqui Terme (Alessandria),
Maria Cicorella
of
Pashà
in Conversano (Bari) and
Maura Gosio
of
Petit Royal
in Courmayeur (Aosta). A total of 51 out of 329. It's still much less but no other country can be proud of such a result. Considering a total of about a hundred of female chefs, all in all, half are Italians.
Iside De Cesare, owner (together with husband Romano Gordini) of Parolina in Trevinano di Acquapendente (Viterbo)
For many it is still difficult to understand that the kitchen, where women are absolute leaders, is something different from restaurants and that if men are invited much more than women to congresses, this is not because the organisers are being nasty or stupid, but because of merit and fewer choices.
A final note: nothing forbids whoever wants to, to organise a three-day event exclusively dedicated to female chefs and pastry-chefs. Will this ever happen? My provocation: since a female event can be seen as a way of closing up, are those who are scandalised sure that there are 50 women as good as Alajmo, Cracco and Scabin, Bottura, Crippa and Romito so much so that they wouldn't invite these?
Paolo Marchi

| published on 25-11-2013 in AFFARI DI GOLA DI PAOLO MARCHI