13-04-2014
Paris and a great Italian Saturday
Gianluca De Simone is the first finalist in the world pesto championship, having well dominated the power of garlic
Of course there had to be a souvenir photograph of the first Concours du meilleur pesto de Paris, taken in front of the entrance to Le Purgatoire at 54 Rue de Paradis. Left to right, in the first row: Benedetto Chierici of Qualitalia, the engine behind everything Alessandra Pierini, winner Gianluca De Simone, the only one wearing a green apron, Sergio Di Paolo of Associazione dei Palatifini, Stefano Palombari of L'Italie à Paris (wearing glasses) and finally critic Périco Légasse. In the second row, again L2R, volcanic Filippo Giarolo, pastry-chef Benoit Castel, chef Maurizio Pinto and, half-hidden, host Alain Cirelli. Paolo Marchi was on this side of the camera
A whole Saturday, yesterday, on April 12th, took place without ever meeting a grumpy face. As for me and those who arrived directly from Italy, this was mostly thanks to the fact we were in Paris, while for those who live in Paris all year round, the fact it was a beautiful sunny day made the difference. "So it's always grey and it almost always rains", which may not true but in Paris this is the case, so with blue skies and a justly fresh-warm breeze, at least since two weeks ago, why not smile?
The reason that has concentrated many Italians at 54 Rue de Paradis, at
Purgatoire
, the kitchen-cum-gallery run by
Alain Cirelli
, is this: the
Concours du millieur pesto de Paris
, the very first act of the 2016
Mortar Pesto World Championship
, having celebrated the 2014 edition on March 29th in Genoa. There were thirty mortars, which arrived from Carrara, a total weight of 400 kilos, strictly POD basil from Liguria (the basil you can find over here is a very close cousin of mint), garlic from Vessalico, a village on the hills near Imperia with 285 inhabitants, Parmesan and an energetic fiore sardo, POD Ligurian olive oil and local, Parisian, elbow grease.
It was all very lively to watch. And it was also lively to experience, from the participants' side - 30, altogether - despite the tension and the hard work with the pestle, half an hour of high-paced work. The idea for this event is an Italian-French poker, starting from Alessandra Pierini, originally from Genoa, with a previous life in Marseille as a cheese selector and restaurateur and a lorry-driving-licence that allowed her to travel back to Italy every two weeks and hoard great products. Alessandra is the kind of woman who strikes you thanks to her personality and beauty, a beauty that starts from the mind, and not just from the body. She's the heart and soul of RAP, an Italian micro-deli in which mediocrity is forbidden, under the hill of Montmartre, at 15 Rue Rodier.
Alain Cirelli and Filippo Giarolo
She had the first sparkle that also lit
Stefano Palombari
, creator of website
L'Italie à Paris
, host
Alain Cirelli
, with experience also in
Enoteca Pinchiorri
's kitchen, and
Roberto Panizza
, the master of ceremonies of
Palatifini
and the
Mortar Pesto World Championships
. Among others,
Maurizio Pinto
, chef patron of
Voltalacarta
in Genoa, Venetian, now Champagne-based
Filippo Giarolo
, who loves to define himself as a "supplier of good things", and
Benoit Castel
, owner since four months ago of bakery and pastry-shop
Liberté
at 39 Rue des Vinaigriers, were also part of the jury.
Pesto has something exceptional: it is a sauce that needs not to be cooked and which not only refuses tomato, but it also avoids any kind of heat, including that of blender blades. Therefore, it can be the protagonist in a competition that does not require stoves, pots, boiling water, pasta (by the way, in my opinion, trenette should always be chosen) and so on, as in the case of other contests with ovens, stoves and pans. And when the time of the competition, half an hour, yesterday, is up, you just need a teaspoon and you're ready to taste.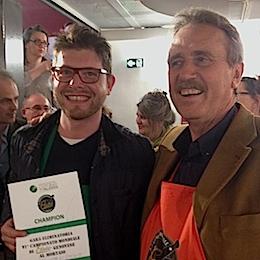 The winner, Gianluca De Simone, with Sergio Di Paolo of Associazione culturale dei Palatifini
As usual, the tallest obstacle was represented by garlic, which of course needs to be present, but it also needs to be a caress, so to speak, so much so that it almost makes you wonder if they forgot to add it. And if the participants are not too used to using a mortar, as in this case, you can easily find pesto that still has leaves that are too big. The aim is to obtain a green cream, like the one prepared by 30-year-old
Gianluca De Simone
, from Catania, now living in Paris, who was invited at the last minute when someone else quitted. He will be invited, in two years' time, to the finals in Genoa.
Filippo Gropallo
came second, and
Sophie De Boissier
and
Michele D'Amico
third. The encore will arrive in the early spring of 2015.
Paolo Marchi

| published on 13-04-2014 in AFFARI DI GOLA DI PAOLO MARCHI