16-04-2014
Eneko's elusive charm
The different souls of Atxa's Azurmendi.Mixing provocation and reassurance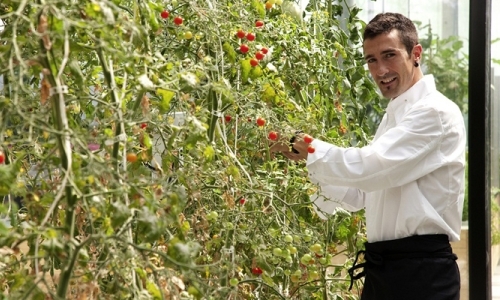 Eneko Atxa stood out thanks to the success he conquered in very little time. In five years' time, his Azurmendi, in the small village of Larrabetzu, in Biscay, tel. +34.944.558.866, obtained Michelin's highest acknowledgment and became a point of reference in the Basque restaurant scene. Also thanks to his attention to eco-friendly beauty
«Exceptional Bloody "Mar"…». «Crazy cocoa notes…». «A harmonic explosion…». I go through my notes, taken during a lunch at Azurmendi, a few weeks ago, cuddled in an eco-friendly, imposing and beautiful restaurant built with crystals, iron, wood and stone. Perhaps also because of a few initial glasses of "42" - txakoli maison aged for six months in French oak barrels, a small production of 2,000 bottles - Eneko Atxa's profile was still a little out of focus.

Thirty-six years old, from Biscay, he is at least a generation after the other great tri-starred chefs: in fact, he's become the most awarded young Spanish chef ever, in record time, from 2007 to 2012 when he got the tercera estrella, the first time for a restaurant in the history of Biscay. An early triumph. Today I realise, while analysing my quick notes, that I mostly appreciated his tasty peaks, the harmony emerging from a brave dish that reaches an unexpected balance, that is to say the embers hiding under the ash.


Seaside pil-pil oyster with slightly spiced flowers and anemones in a light tempura
Indeed, it is difficult to define
Atxa
because he's the complex union of various components, he is creative but has also a certain solidity that cuddles elegant women, there's more than one personality in a certainly complaisant eclecticism without being smug or self-celebrating, as often the case with many tri-starred chefs. It is difficult to define him, he certainly follows the
«sensata tercera vía»
in the kitchen (again, number 3, the perfect number), as
Philippe Regol
writes, hitting, once again, the target.
Atxa
is a young-old man, I say: though not in a negative way. So I correct myself: he's an already very mature almost-young man. He has arrived but is not resting. He has that dose of pleasantness that allows him to be the perfect starred chef: results have indeed been evident.
Let's think of an almost next-door neighbour of his, namely
Josean Alija
, who's 15 km away, in nearby
Bilbao
: he's from 1978,
Atxa
is one year older, they're both technicians, both committed in researching the vegetal world, both blessed with a touch of absolute genius, almost two twins separated at birth. The former makes foodies grow enthusiastic with no limits, the latter charms even – and I underline, even – French inspectors who have their noses in the air: perhaps it is also a question of savoir faire.
The largest tasting menu by
Atxa
manages in caressing all palates. Sometimes it shows off its power, with very decisive flavours, even too decisive: as with the
Foie gras with ashes
, for instance, or the
Veal sweetbreads with a thick sauce paired with biscuits filled with garlic cream and fried chickpeas
, all very rich, questionable: the chef wanted to keep hardly banal, almost border line textures. We like the spirit, despite the imperfection.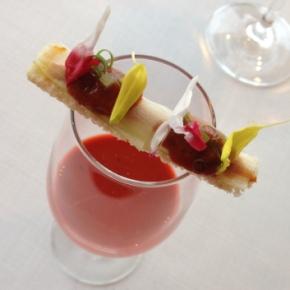 Bloody "Mar" is a special Bloody Mary prepared with sea urchin water, to be drunk while eating a biscuit with sea urchin cream and petals
Then there's something which can reassure the
bourgeoisie
: as his now famous dish,
Revers cooked egg with black truffle
(the hot truffle juice cooks the egg yolk in which it is injected) which in our case was paired with pigeon and turnip and scales of truffle.
In those circumstances in which, as often the case, the Axta-style cocktail of components reaches a perfect taste harmony, some memorable, absolute recipes are born: and having mentioned cocktails, the
Bloody "Mar"
, a fantastic Bloody Mary with sea urchin water, can be tasted while nibbling a
Biscuit with sea urchin cream and petals. The Anemones in a light tempura
, siding the
Seaside pil-pil oyster with lightly spicy flowers.
There's form and substance, play, technique, flavour, elegance: a destiny that seems to be already marked, bound to the stars.
Azurmendi
Corredor del txorierri salida nº 25
Larrabetzu (Lezama) Bizkaia
Spain
+34.944.558866
info@azurmendi.biz
Closed on Mondays, from Tuesdays to Thursdays in the evening, on Sundays evenings
Tasting menu only from 135 to 160 euros
Carlo Passera

| published on 16-04-2014 in CARLO MANGIO