13-03-2013
De Bellis dances alone
The young pastry-chef opens in Rome a place of his own. A synthesis of the Spanish and French worlds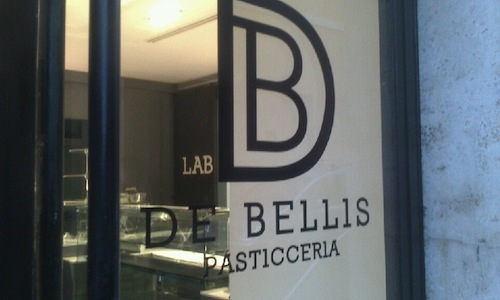 The window of Andrea De Bellis's new pastry-shop in Piazza del Paradiso in Rome. After a series of experiences in Spain (Torreblanca, Adria and Roca) and after signing the desserts at the Majestic and the Open Baladin, the 34 year old is ready for his challenge in the lead role
Piazza del Paradiso in the Eternal City: what better place to evoke happiness? Well, since Sunday 10th March this is tangible at number 56, the headquarters of Pasticceria De Bellis. That Andrea had lots of talent, was already a known thing, so much so that even Filippo La Mantia had placed a bet on him involving him in the pastry-workshop of his elegant restaurant at Hotel Majestic and same went for the Open Baladin, of which De Bellis still signs the dessert list.
I popellini: vanilla cream and liquid raspberry chous
The step towards a personal growth has finally arrived at 34 and with an excellent curriculum behind him. The great international experiences and the creations that have the vivacity of his masters' Spanish school -
Torreblanca
,
Adria
and
Roca
- the stylish technique of a closer-to-
Conticini
French pastry-making and the "flavour" of the Italian one, all speak for him. And it is from this very synthesis that our protagonist wants to start from, in order to conquer gourmands, with the added value of being one of the best professionals in this sector, not only in Rome.
This new journey begins with the foundations of great pastry-making, such as bignè (cream puffs) which De Bellis proposes substituting the butter used in the dough, with grape and sunflower seed oil and a small part of hazelnut oil, all strictly organic and pressed at cold temperature. The dough for the cream puffs is thus lighter, more fragrant and neuter, returning to its true role of filling container. When looking at them perhaps you won't notice it, but the palate will reveal the presence of a very thin pastry that gives a great harmony to the dessert, amplifying its taste and underlining how the rigour of tradition is well paired with the malice of technique. Six are the fillings offered among which caramel and pear, hazelnut and hazelnut brittle, vanilla cream and liquid raspberry need to be mentioned.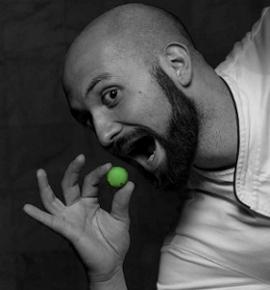 Andrea De Bellis, 34 years old
Another piece the resistance that will be difficult to say no to is the
millefoglie
italiana in this case made with strictly French butter and filled with cream – by the book – or with a delicate caramel to which a liquorish nuance is added, highlighting the sapidity and delight of the caramel itself. For those who are harder to please, there's the
Gallette de rois
made with pastry and crème amandine and blueberries: a real epiphany for the palate. Are you curious? You only need to ask De Bellis who will reveal (almost) all the secrets of his creations, guiding you in your choice with uncommon sensitivity, that of an artist, and a seductive capacity of understanding what is most suitable for your mood.
If, finally, your are devoted to the cause of pure chocolate, the answer can only be the the "assoluta" a triumph of dark chocolate, hazelnut daquoise, pralined-milk covered with a shiny cocoa icing. Want a really special birthday cake? Order a Paris-Brest with buttercream: the success is guaranteed.

Pasticceria De Bellis
Piazza del Paradiso 56 (corner with Via dei Chiavari)
Roma
+39.06.68805072
Valeria Carbone

| published on 13-03-2013 in DOLCEZZE