Gold, incense and beer
The recipe for the savoury dish that granted the chef from Campania the first prize in the 2013 edition of Premio Grand Cru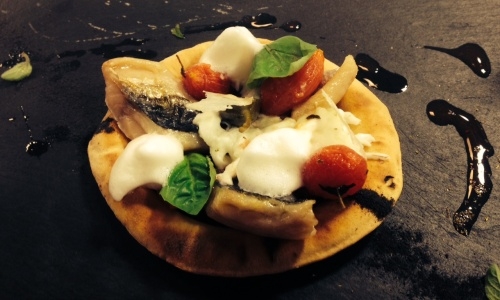 Gold, incense and beer, that is to say the fake pizza alla marinara, with smoked mackerel, buffalo mozzarella milk and roasted cherry tomatoes. This is the first of the two dishes with which Luigi Salomone won the third edition of the prize dedicate to cooking with beer, created by Birra Moretti in collaboration with Identità Golose and open to Italy's best chefs and sous-chefs

The following recipe granted Luigi Salomone, sous-chef at restaurant Marennà in Sorbo Serpico (Avellino), the victory in the third edition of Premio Birra Moretti Grand Cru, during the finals that took place on November 18th. This is the savoury side in the menu which each of the 10 finalists presented and also included a sweet dish. "The winner of Premio Birra Moretti Grand Cru", stated the jury's official motivation, "stood out among all the other competitors because it played daringly with a dish that in fact spurs out of tradition and because, in its elaboration, it was characterised by a strong irony. The ingredients in both recipes were fully respected in all their peculiarities, with a correct harmony of flavours, the right texture and some nice chromaticity, while highlighting, without overdoing it, the beer ". The winner himself will tell us about his recipe.

I created this dish for this competition as an interpretation of a simple, yet signature, dish, on top of being an Italian classic. With some small tricks and contrasts, this pizza with beer was born: with cherry tomatoes from Vesuvius, mackerel smoked with lemon leaves and buffalo milk mozzarella.

Gold, incense and... beer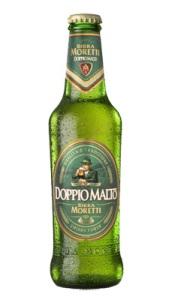 The perfect match both in the glass and in the dish, Birra Moretti Doppio Malto
INGREDIENTS
for the pizza edge
125 g Italian flour
125 g American flour
60 g water
60 g Birra Moretti Doppio Malto
2 g sugar
5 g salt
25 g lard
50 g buffalo milk mozzarella stracciata
1 per 200 g mackerel
2 cherry tomatoes (datterini)
1 packet of lemon leaves
5 basil leaves
1 oregano sprig
2 garlic bulbs
2 Pantelleria capers
for the beer foam
100 g Birra Moretti Doppio Malto
1 g xantana
1 g powdered egg white

for the burnt meringue
1 egg white
1 pinch of salt
2 g squid ink

50 g honey
50 g beer for glazing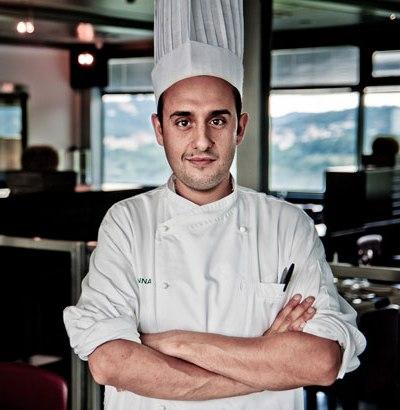 Luigi Salomone, 25 years old, the winner of the 3rd edition of Premio Grand Cru
METHOD
Mix the ingredients for the dough and leave it to rest for 12 hours. Fillet the mackerel, put it into a mix of water and salt and leave it for 15 minutes to allow the meat to become firm. Put the fish on a holed tin and use another baking tin to cover the other, so as to hold the smoke. Smoke the fish for 5 minutes.
Cut the tomatoes, season them with oil, garlic, basil and oregano and roast them in the oven at 180°C for 10 minutes. Blanch some garlic slices in water and milk, dry them and put them in a tin so as to dehydrate them. When they are dry, fry them. Using a blender, beat the beer with the xantana and the powdered egg white.
Meanwhile, for the meringue, beat the egg white with the squid ink and the salt until stiff. Spread it on a baking tin and bake at 50°C. Powder the resulting meringue. Roll out the dough and with a pastry cutter obtain some circles with 10 cm diameter. Bake on a holed baking tin at 240°C for 3 minutes, so it swells and forms an edge. Using a torch, burn the dough in some points so as to resemble the typical slightly burnt effects of Neapolitan pizza baked in a wood oven.
Complete the salamander cooking of the fish adding a brush of honey and beer for a sweet aftertaste. Season with a little oil, some aromatic herbs and a pinch of salt. Place at the centre of the dish the pizza, the mackerel fillets, capers, cherry tomatoes, mozzarella and herbs, the beer foam, the burnt powdered meringue and the oil.
Luigi Salomone
Luigi Salomone, sous chef of restaurant Marennà in Sorbo Serpico (Avellino)

| published on 29-11-2013 in BIRRA MORETTI