09-12-2013
The good and the healthy
Great chefs meet with Autogrill to define the strategy for the restaurant of the future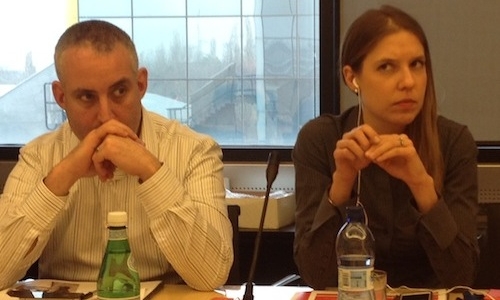 Jeremy Bearman and Kristy Lambrou, respectively chef and nutritionist at Rouge Tomate in New York, 1 Michelin star, among the chefs invited to the headquarters of Autogrill in Rozzano, to inspire the guidelines for the catering giant, in a Culinary Council coordinated this morning by Identità Golose and Magentabureau
Good and healthy: these are the two adjectives for the restaurant scene of the future. We need to finally focus on this pair, all the protagonists agreed, during the important Culinary Council organized this morning by Autogrill, in their headquarters in Milanofiori, between Assago and Rozzano. On the occasion of this debate, the management of the company together with important chefs from Italy and the world, chosen by MagentaBureau and Identità Golose, all sat around the same table.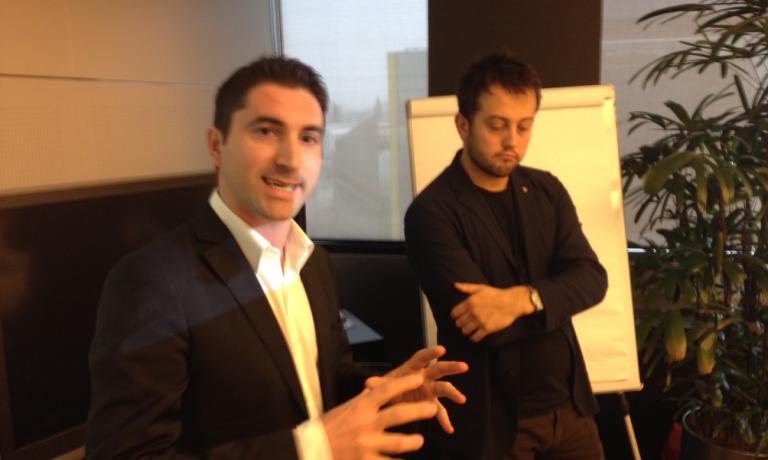 Fabio Pisani and Alessandro Negrini of Il Luogo di Aimo e Nadia: "Our dream is to read, when driving along the highways: at the next top, pasta and beans"
The aim of this meeting was to find inspirations and ideas from some key-interpreters of the restaurant scene outside of
Autogrill
who will then lead to a technical committee which will then have to redefine, in the medium term, what we will eat during our breaks on the motorway (and in airports, stations and all the important points of transit). This happened because, as
Ezio Balarini
, group chief marketing officer of
Autogrill
said when opening the session «We need to innovate in every direction». In other words, «we need to please our stomach, our brain and our health, with a balanced dish» added Claudio Ceroni of Magenta Bureau.
Let's start with the inspirations. Paolo Marchi: «If the next congress of Identità will be titled 'a tasty intelligence', we need, first of all, to thank the 1973 Nouvelle cuisine: the chefs put together by Henri Gault and Christian Millau were the first to say that there had to be an end to the fat cuisine of the post-Escoffier tradition, that it was necessary to reduce the use of flour, the cooking times and the long marinades… They were the first to make the chef speak, and they have never stopped since then».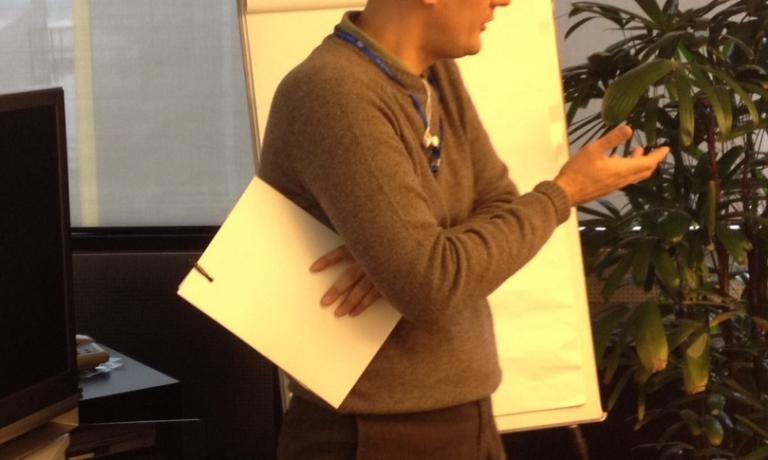 Simone Salvini, a vegan chef busy with thousand projects
Let's see what the chefs called for the
Council
said. The first to talk were
Jeremy Bearman
and
Kristy Lambrou
, respectively chef and nutritionist at
Rouge Tomate
in New York (this combination was already
news-worthy
), 1 Michelin star: «We work together, guided by the "Health through food" motto ». This project, in their restaurant on the edge of Central Park, implies different steps: «First of all, promoting fruit and vegetables. Fresh fruit juices, with proteins offered by sustainable sources. Fermented food with natural pro-biotic, ancient, germinated and gluten-free grains such as quinoa, amaranth, spelt and sorghum. Reducing unsaturated fats. Calories seen from a quality and not quantity point of view. Controlling portions, which need to be smaller, and need to be shared». Each step would require an in-depth analysis of its own.
"Good and healthy" is a double-tailed star that has always guided the journey of Luogo di Aimo e Nadia, stressed chefs Fabio Pisani and Alessandro Negrini: «Umberto Veronesi is a regular client of ours. Once, at the end of a meal, after having tasted the Etruscan soup, the doctor told Aimo 'you sell health'. This because, even decades ago, he was the first to put olive oil at the centre of the table, instead of butter. This was a pioneering sign to fight the anarchy of the culinary culture to which we are subject. Because, if from 0 to 16 it's your mum who decides what you have to eat, and after the age of 60 it's your doctor, in between the confusion is terrible». Next to a Camogli sandwich or a Fattoria in an Autogrill, one could easily have a «Bread cube with tomato with a slice of mozzarella and a basil leaf, or a simple Broadbean passatina with wild chicory and a drop of extra virgin olive oil». The food-cost is less than 3 dollars per portion, an amount which a group that every day prepares 2.4 million meals in the world (and 10 thousand in Italy) cannot exceed.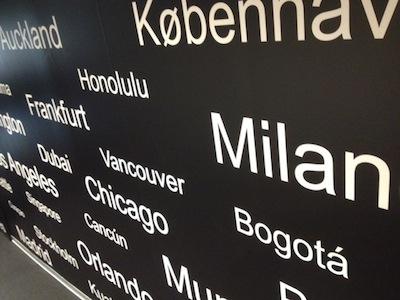 Autogrill relies on 4.700 selling point located in a thousand of locations all over the world
The last expert-chef invited,
Simone Salvini
, vegan cuisine master now at work at
Ops
in Rome and in dozens other projects, in a way is decades ahead: «A good and very concrete example can come from vegetal meat, which uses some elements that are very rich in proteins. We serve it as a kebab». And off he went with a series of theoretical and practical inspirations that take into consideration an unquestionable truth: in 2050 the number of vegetarian clients will exceed that of omnivorous ones. The ball is now in the hands of Autogrill's technical committee.
Identitā Golose

| published on 09-12-2013 in PRIMO PIANO