Ricette illustrate
Ingredients on the tip of a pencil, edited by Gianluca Biscalchin
Cogo's mixed salad
In the illustration by Biscalchin, the beautiful dish signed by the young chef from Vicenza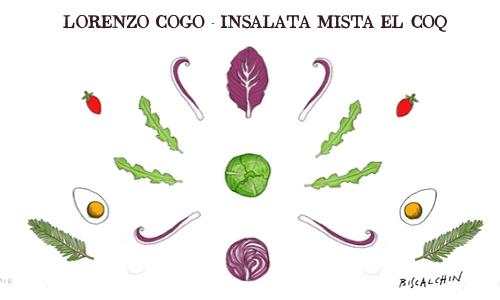 INGREDIENTS
Recipe for 4 people
for the vegetables
4 wild radicchio leaves
4 Treviso radicchio leaves
4 Savoy cabbage leaves
4 kale leaves
4 cabbage leaves
4 cherry tomatoes
for the vinegar jelly
250 ml of dashi
25 ml of white balsamic vinegar
30 ml of soya
5 g of sugar
10 g of gelatine sheets
for the mayonnaise
2 egg yolks
125 g of seed oil
125 g of extra virgin olive oil
3 g of fir essence
Salt
Pepper
METHOD
for the vegetables
Place the leaves of the various vegetables, previously selected and cleaned, on a Gastronorm tray. Dry in a carbon-fuelled oven overnight at about 80 °C.
for the vinegar jelly
Place the sheets of gelatine to soften in fresh water. When soft, drain them and add them to all the liquids poured into a pan. Bring to the boil, take off the heat, pour into a container and cool.
for the mayonnaise
Blend the yolks, drizzling in the oil. Add salt and pepper to taste, then add the fir essence obtained by juicing some fresh fir tree needles.
PRESENTATION
Garnish the base of the plate with the mayonnaise and vinegar jelly and lay the dried leaves on top. Serve.
Gianluca Biscalchin

| published on 22-05-2013 in RICETTE ILLUSTRATE