Sherbeth and the future of ice cream
Winners and ideas from the Festival in Palermo, a great success
06-10-2016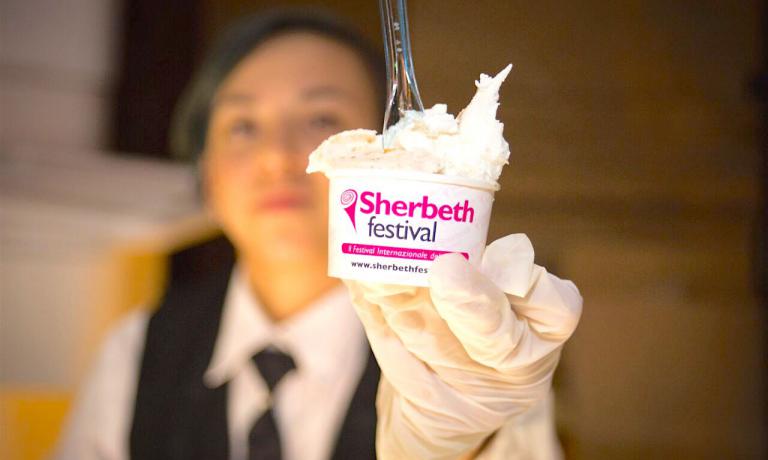 Sherbeth, the International Festival of Craft Ice Cream in Palermo offered the chance to taste dozens of delicious products, but also to think about the future of a great Italian excellence. Here's what happened, with some thoughts
Some thoughts after Sherbeth, the International Festival of Craft Ice Cream whose eighth edition (the second in Palermo, after Cefalù) ended a few days ago.
1) The ice cream sector needs to be renewed and valorised. That's why this year we at Identità Golose organised a section called Identità di Gelato within the congress in Milan (in fact this was not a first, we had already organised it). There's not a clear difference between too many different products. When we read "gelato artigianale" [craft ice cream] it's hard to say if it means that a producer is dedicated to the tradition of quality, if he's an innovator looking for the perfect gastronomic ice cream, or a buffoon who passes off an ice cream as "craft" when in fact he uses industrial preparations. It would be enough to use the term "gelato artigianale" only for ice cream producers who really work well; but since we're fighting against wind mills, it's best if a series of professionals emerge who act as a north star for the industry, joined by events that explain their experience, make their pupils known and enhance what's happening in this sweet galaxy. So festivals like Sherbeth are very welcome.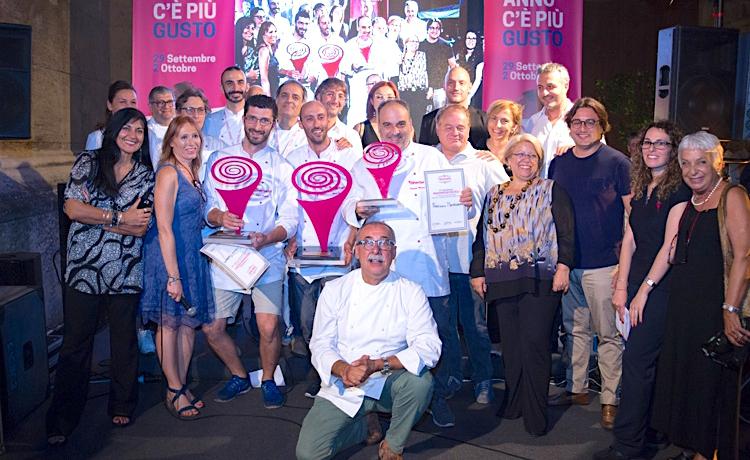 Group photo with winners, jury and organisers
2) This should serve not to create new food superheroes: not just for the sake of ego. But to raise the average quality of products and spread the ice cream culture, increasing consumer awareness. After all, it's about taking a road other fields have already taken: Italian fine dining increased its quality when it established – through congresses such as
Identità Golose
– some points of reference, when it had its leaders emerge, capable of being its ambassadors around the world, in other words. It chose its road, based on quality. The comparison with pizza is even fitter. In this case too you can find all sorts of things: careful dough researchers, passionate selectors of excellent raw materials and lazy newbies who offer Margherita pizzas impossible to imagine and to digest. Recent work has allowed highlighting those who work based on quality, and those who do even more, blending quality with innovation. The same must be done with ice creams.
3) Like pizza or durum wheat pasta, ice cream is a simple Italian excellence. Eleonora Cozzella pointed out at Sherbeth, when presenting her new book Pasta Revolution, that until a few years ago it would have been impossible to serve durum wheat pasta in a fine dining restaurant. And Identità Golose has for a long time now paid attention to the relationship between fine dining and pizza. With ice cream we're still at the beginning of a journey towards its full establishment not just as something delicious but as a diamond point in Italy. A product whose quality must be controlled, guaranteed and valorised. Work must continue until gourmet ice cream finds its well-deserved place in the menus of the most prestigious restaurants.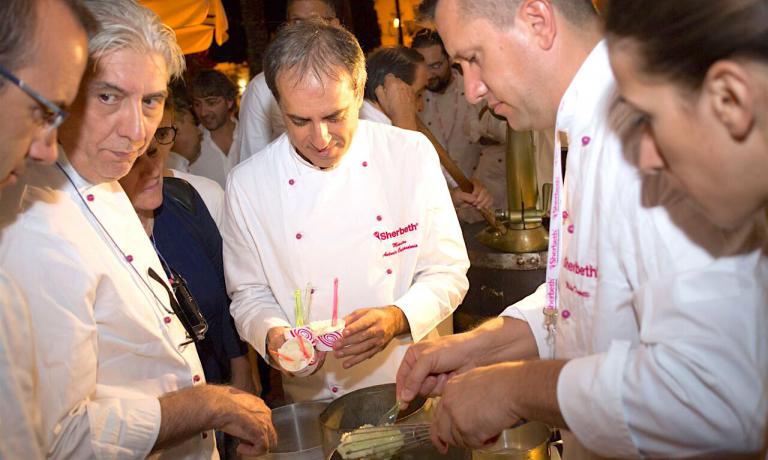 In the centre, Sherbeth's technical director Antonio Cappadonia
4) In this sense,
Sherbeth
had to make a
tranchant
synthesis. The "Procopio de' Coltelli" contest for the best ice cream in 2016 had 37 professional participants, with very high technical standards. We tasted some perfect interpretations of tradition and some very interesting creative recipes; and in the latter case, even when the result wasn't satisfying (for instance with
Antonio Mezzalira
's extreme idea), we experienced the effort of "thinking ice cream", putting it in connection with bigger horizons, logics, parameters. Some dishes by
Ferran Adrià
might have seemed disappointing, but the road taken was the right one. The same happened in Palermo.
5) We were mentioning the difficulties in synthesising: it's hard to assess a traditional cream based ice cream, a fruit sorbet and a gourmet ice cream using the same parameters and within the same context. The excellent and tireless Antonio Cappadonia, technical director at Sherbeth, understood the issue and announced that next year there will be multiple sections in the contest, dividing products made with cream from products made with fruit at the very least. It's already a step forward. Looking ahead, it might be a good idea to find a separate space for gourmet ice cream, that is to say the one that can't be served as "street food", but is connected with fine dining (it could be a sweet-savoury element in a savoury dish, an aromatic sorbet to clean the palate before the dessert, or a part of the dessert itself...). This product has a logic of its own: yet, on top of being excellent, it's also the perfect presentation for the sector, as it connects it with that "Major League" to which the ice cream sector has enough potential to aspire.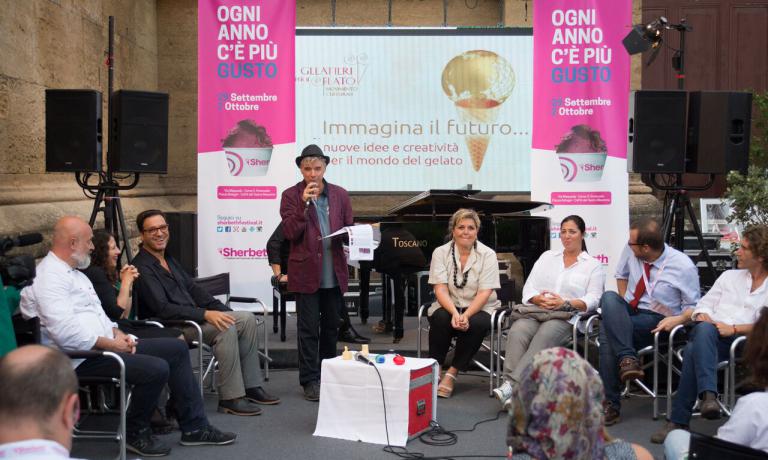 Within Sherbeth, there were also more cultural moments, such as the one with Roberto Lobrano, president of Gelatieri per il Gelato, and his guests
6) As we wait for the situation to evolve, the technical jury of
Sherbeth
, of which the author of the piece was also a member, had to penalise gourmet ice cream, focusing its attention on what better fitted the logic of the festival, that is to say street food ice cream. It did a good work, rewarding
Alessio Calamini
, of
Le Delizie
in Firenzuola (Firenze), with his
Castagnaccio
flavour: a well deserved victory as
Calamini
created a perfect synthesis between tradition and novelty, deliciousness and elegance. His ice cream is deliciously modern with strong roots in the past. His words confirm this: «I believe the homage to the territory and the use of unusual ingredients is what worked. I wanted to portray a journey of taste through the hills of Mugello, full of chestnut woods».
Stefano Guizzetti
(
Ciacco Gelato
, in Parma and now also in Milan) came second with
Sorbet with cocoa, rum and chilli pepper
;
Francesco Mastroianni
(
Il Cantagalli
in Lamezia Terme) was third with
Hazelnut from Calabria
. We also liked other flavours very much:
Zabaglione with moscato wine with whole wheat biscuit and tonka beans
by
Osvaldo Palermo
of
Fiordipanna
in Cornaredo, Milan (he received the Mention for Creativity from the Technical Jury);
Liccumìa
– that is to say Chocolate from Modica, almonds from Avola, vanilla, lemon and cinnamon – by
Giuseppe Flamingo
of
Tasta
in Modica, Ragusa (third place according to the food blogger jury). Plus the spice ice cream by
Massimiliano Binaghi
,
Delizie di Costiera
by
Simone De Feo
,
Limone con vaniglia e miele di rovo
by
Gianfrancesco Cutelli
, the one with traditional balsamic vinegar from Modena by
Claudio Baracchi
, the
Beetroot sorbet with ginger and apple
by
Simona Carmagnola
of
Pavé
in Milan...
7) Sherbeth was a hit. At least 300,000 visitors. And they've already announced the ninth edition scheduled on the last week of September 2017, again in Palermo. It's good that Sicily keeps tight to this creation. Yet we must also consider a growing international scope; in the same way as Identità, having strong roots in Italy, then brings Italian quality and our chefs around the world. The same should happen for ice cream producers too. Today the Festival is already attracting ice cream producers from all around the world, and we experienced interpretations of ice cream that had a very different structure from our tradition, as with the excellent Artemisia by Hiroaki Isobe, from Yokohama, a very special delicious product with beans and seeds… Let's continue this way, without mental borders: discussion means richness.
---
Rubriche - Carlo Mangio
An outdoor trip or a journey to the other side of the planet?
One thing is for sure: the destination is delicious, by Carlo Passera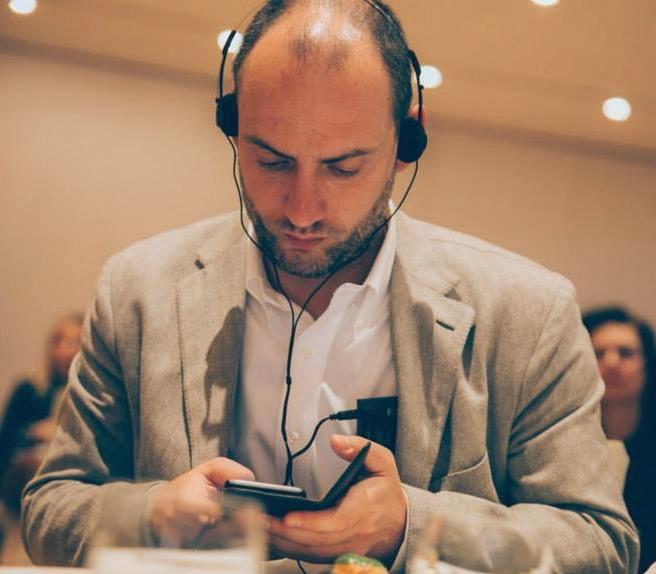 by
Carlo Passera
journalist born in 1974, for many years he has covered politics, mostly, and food in his free time. Today he does exactly the opposite and this makes him very happy. As soon as he can, he dives into travels and good food. Identità Golose's editor in chief
---
Latest articles published