Sea lemons at Bikini
Giorgio Scarselli leads us in the discovery of a delicacy that must be treated with care...
26-09-2016
The author of this piece tasted this beautiful dish of Spaghetti with sea lemons and wild fennel at Bikini in Vico Equense. It was a good occasion to speak about this tunicate with special features, which very common in the waters in front of Sorrento's peninsula, yet scarcely used. Photo by Tanio Liotta
The media overexposure of the food industry is not always matched by enough awareness and competence (let's point two things out. First, we don't refer so much to knowing a product or a recipe, nor to someone's creative skills, but to being able to have a wider take on the basic, social or environmental themes connected with this world. Second, this lack is not specific of this sector, but can be noticed everywhere, with architects or dentists, plumbers or journalists).
Among the not very many people who do think, there's a certain Giorgio Scarselli, as demonstrated in this recent interview by Gabriele Zanatta for Identità Golose. The latter thus presented him: "Born in 1969, he's the director of restaurant Bikini, a beach resort founded by his grandfather Franco 60 years ago in Vico Equense in Sorrento's peninsula (Naples). Third generation of fishermen, he fights to elevate fish culture, stressing the importance of seasonality and promoting less used species".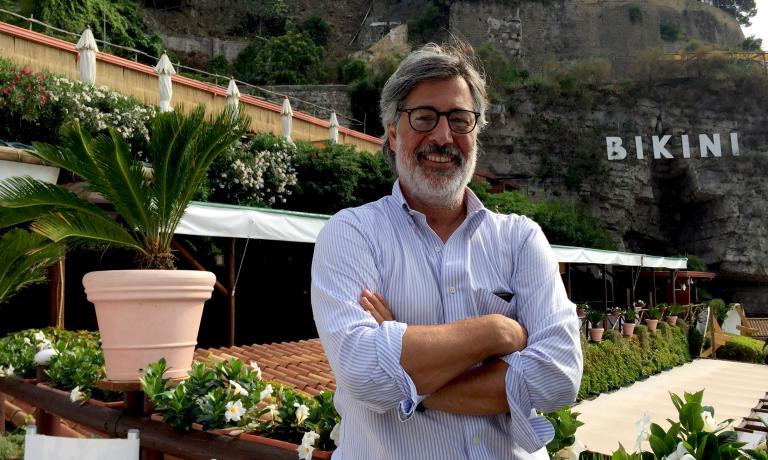 Giorgio Scarselli at his Bikini
So as to move from theory to practice (as well as to enjoy a nice day of good food and swimming, in a beautiful place, which always helps) of course we had to visit
Bikini
in person. We noticed a sort of perfect plastic – as well as deliciously edible – representation of the principles behind
Scarselli
's work, in a dish so simple yet so perfectly balanced as
Spaghetti with sea lemons and wild fennel
.
Sea lemons (microcosmus sulcatus) are called "carnummole" in Naples or "spuenzi" in Taranto. People usually eat them raw with a squeeze of real lemons. They're slightly bigger than a mussel, live on the sandy, rich in detritus sea bottom, stuck to rocks, in colonies that can sometimes be very populated and in settings dominated by corals and soft corals, or deeper, until below 100 metres. They owe their name not to a citric hint in the taste, but to the fact you eat the yellowish intestine, wrapped in a red or orange muscle tissue. They're very had to spot as they're usually covered in seaweeds, other tunicates or sponges. They have two siphons: one draws water, the other expels it after it has travelled through the branchial basket depositing some small particles of food. For this reason they also accumulate heavy metals and radioactive isotopes: this is why it is essential they come from perfectly clean waters.
A sea lemon
«Over here, the sea is full of them, but the market is not very interested in this specie – says
Scarselli
– Besides they need to be surely traceable, so as to guarantee they're absolutely healthy. Since these prerequisites are missing, we don't use them much over here: I first started to get them one year ago, but I buy them in France, from a certified distributor». Still, he fights so that a continuous fishing can be developed in Sorrento's peninsula, where the environmental conditions allow this (this is not the case, for instance, of the area of Brindisi where the level of bacteria is high). They must be wisely used, «they're very delicate. A little heat is enough to force us to throw them away. In order to keep them in the menu they must be certified and chilled in advance». They're rather cheap, «one sea lemon is enough to season a dish of pasta, the food cost is very low».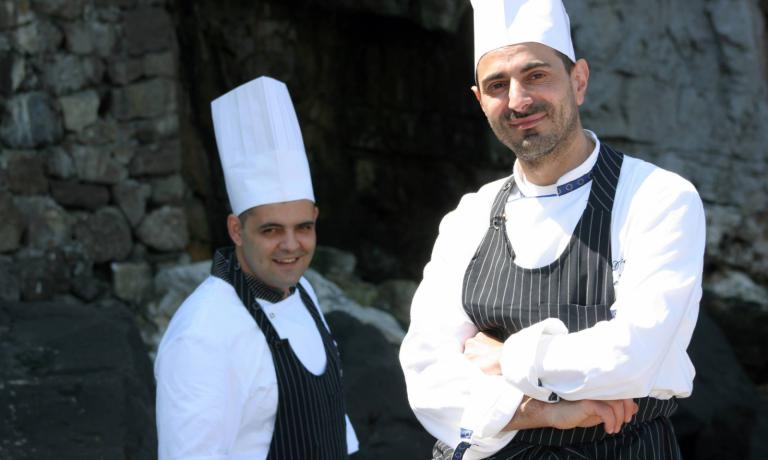 Domenico De Simone, chef at Bikini. Behind him, his sous chef Antonino De Simone
You cut the leathery external part with a hacksaw and then use the soft inside, «I found some old recipes from Bacoli and Pozzuoli, which used sea lemons to season a risotto. But neither I nor my chef
Domenico De Simone
were satisfied: the flavour was too strong». So now at
Bikini
the lemon pulp is made into pieces and then creamed with the pasta's starch. The result is delicious: the taste is halfway between a clam and a sea urchin, perfect for spaghetti aromatised with wild fennel.
---
Rubriche - Carlo Mangio
An outdoor trip or a journey to the other side of the planet?
One thing is for sure: the destination is delicious, by Carlo Passera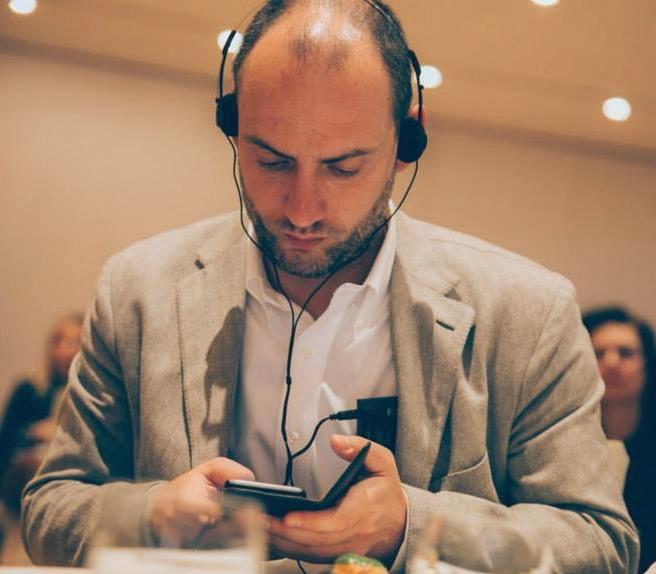 by
Carlo Passera
journalist born in 1974, for many years he has covered politics, mostly, and food in his free time. Today he does exactly the opposite and this makes him very happy. As soon as he can, he dives into travels and good food. Identità Golose's editor in chief
---
Photogallery
Latest articles published