Giacomello's daring approach
The chef from Friuli working at Inkiostro in Parma inserts lots of creativity in a city of tradition
21-11-2016
Mezze maniche with prosciutto stock, fried cake and reduced balsamic vinegar: a recent and extraordinary dish by Terry Giacomello at Inkiostro in Parma. The chef from Friuli, with experience in the most innovative restaurants in Europe, is inserting his creative power in the calm and established tradition of Parma. Photo by Tanio Liotta
«I have little time for experiments, for creativity!» says Terry Giacomello regretfully, while dishing out tagliolini made with egg white, mezze maniche cooked in prosciutto stock... One might wonder what would happen if he had time instead. For instance, he serves his new "rotten branch": the name is so-so, but he's still working on it. It's made with sesame fibres, as the chef has just bought a machine that extracts oil from seeds: the "waste" is not discarded, though, so he shapes it as if it were a branch, then fills it with beech lymph and garnishes it with a transparent bay leaf made with water, soda and tartaric acid… This, in Parma. This, while he has little time for experiments.
So this chef from Friuli working at Inkiostro in Parma is an interesting type. He has a long experience in great restaurants: a couple of years in France with Marc Veyrat and Michel Bras, almost four at El Bulli with Ferran Adrià, a few years with Alex Atala in Brazil, and finally at Mugaritz with Andoni Luis Aduriz, but also at Noma and Miramar. In Italy, instead, he's worked with Sergio Mei at the Four Season in Milan.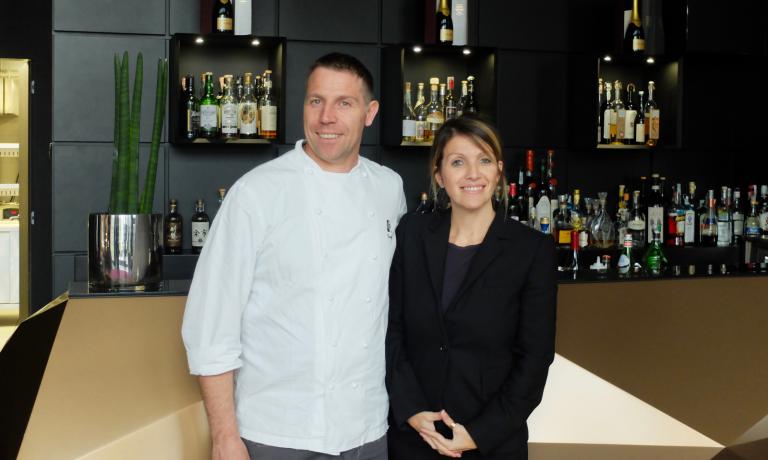 Giacomello with Francesca Poli, patron at Inkiostro
However, even before that he experienced a culinary education he thus describes: «My passion for cooking was born when I was 13 or so and started to cook with my mother
Wanda
in the kitchen of a "simple yet good village tavern". Here I learnt the secrets of tasty egg pasta or polenta made with freshly milled corn, as well as how to work with game, for instance how to remove feathers from pheasants, marinate them and so on».
Giacomello has the calm look of an anti-star chef but with a brilliant mind, and pulls out of the hat the right amount of thoughts and words (that is to say more thoughts than words).
In September 2015 he brought the experience and technical skills he acquired by working in the most innovative places on the planet to the Food Valley. Here he tried a complex trigger that could lead to possible great developments: how can he eradicate his contemporary verve in the place where tradition is most sacred?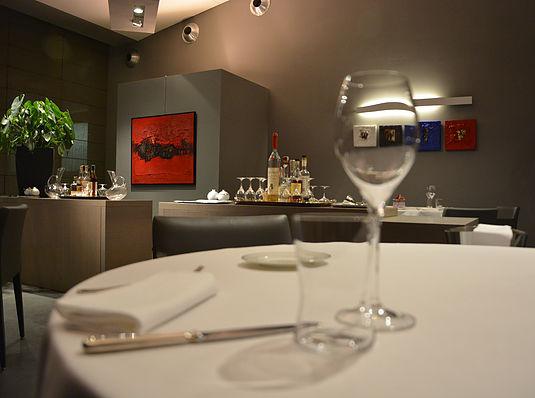 The dining room
The answer is given, for instance, by two recent ideas we've already mentioned.
Egg white lukewarm tagliolini, cream of Parmigiano, truffle caviar
: he steams and vacuum cooks the egg white twenty times to remove any humidity. He then rolls it out and makes the tagliolini which he seasons with egg yolk, cream of Parmigiano and truffle caviar. It looks like a classic dish but there's immediately the surprise of an unexpected texture, and an enveloping, round taste. Delicious.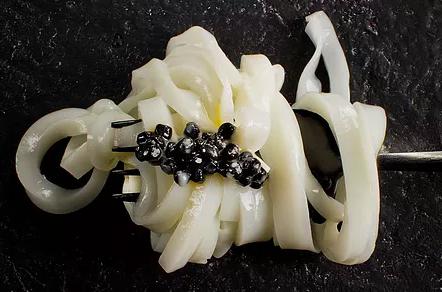 Lukewarm egg white tagliolini, cream of Parmigiano, truffle caviar
Or the
Mezze maniche with prosciutto stock, fried cake and reduced balsamic vinegar
: he jellifies the fat from the Sant'Ilario prosciutto matured 24 months, makes a stock out of it which he dehydrates to make delicious unusual looking mezze maniche, translucent despite being a blast of flavour. He then seasons them with a cream made with emulsified fried cake and reduced balsamic vinegar for an extra touch. Creativity to the highest level, an unforgettable dish, both delicious, evocative, beautiful, connected with the territory but also detached from it thanks to a strong innovative power. An absolute creation.
Then there's the Egg spiral cooked at low temperature, whisked egg white, acid and spicy contrasts: the "cooking" lasts 4 hours below -20°C, the egg white is whisked with vinegar, then he adds different aromas such as pimpinella, sommaco, yuzu, tamarind, wasabi, green and red shiso, Maldon salt. He created the dish six months ago, it will become a classic.
---
Rubriche - Carlo Mangio
An outdoor trip or a journey to the other side of the planet?
One thing is for sure: the destination is delicious, by Carlo Passera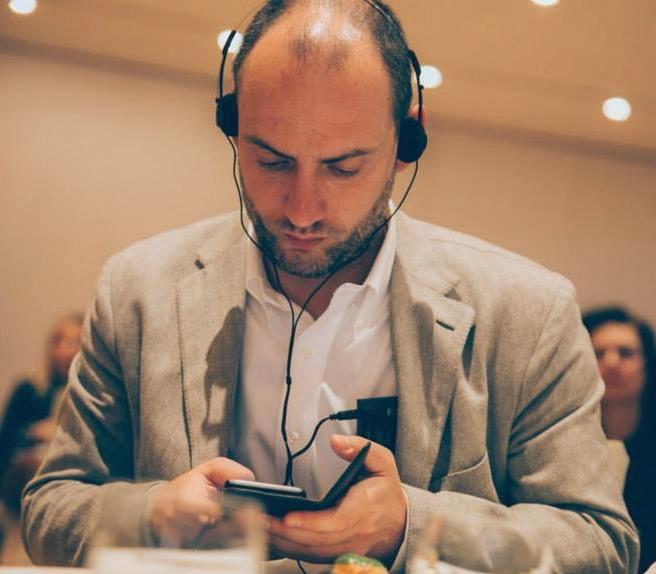 by
Carlo Passera
journalist born in 1974, for many years he has covered politics, mostly, and food in his free time. Today he does exactly the opposite and this makes him very happy. As soon as he can, he dives into travels and good food. Identità Golose's editor in chief
---
Photogallery
Latest articles published