25-07-2013
Cooking with seawater
An increasing number of chefs uses seawater as an ingredient for dishes and cocktails. Could this be the beginning of a new trend?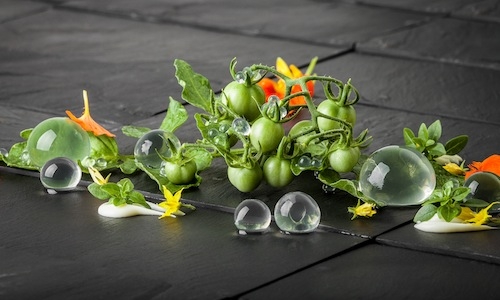 Consistenze Liquide (liquid textures), a recipe by Angelo Sabatelli of the homonymous restaurant in Masseria Spina, Monopoli (Bari), tel. +39.080.802396. The bubbles are made with seawater and tomato water, paired with a cream made with fiordilatte cheese (photo by Valerio Napoletano for Acqua di Chef)
There's a very common custom, in marine villages, and especially those in the South: drawing seawater and using it to wash the fish, keep molluscs alive and, why not, cook too. This custom, however, not only is risky, it is also illegal. First of all, contaminated water could cause an intoxication or an infection. But it could also cause a charge: drawing water from the sea, in fact, is an infringement of the right to use a good that belongs to all, the legal Latin term being res communes omnium, in the same way as it is forbidden, for example, to take home some sand from the beach to use it in your garden.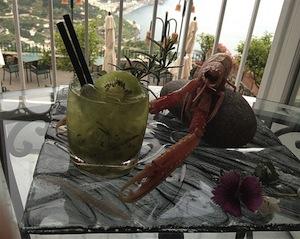 Nettuno, a cocktail by Donato Marzolla of Palazzo Avino in Ravello (Salerno): crushed lime, kiwi caviar, rosemary, sugar, light rum and seawater (photo by Il Vescovado)
«How about using seawater after decontaminating it?», some people wondered. For them this is a «totally sustainable resource, which then naturally returns to its source and which we could use in all those preparations in which it is necessary to add salt to water». In very recent years, a few European entrepreneurs managed to obtain a partial authorization to sell seawater. Some companies have began to bottle seawater in Scotland, Spain and also in Italy, recommending its use in the kitchen, both in the preservation and cleaning of fish and in the preparation of sauces and stocks.
Spanish Agua de Mar is the company that more than others has managed to guarantee the healthiness of packaged seawater. Drawn in natural parks, it undergoes a micro-filtration procedure in order to preserve its mineral content. It is then sanitised from a micro-biologic point of view, by eliminating even toxic contaminants that are often to be found in the areas where the water is drawn. As required by the very recent recommendations of the Spanish Health Ministry (soon to be followed by an official EU statement), in order to be sold, seawater must be necessarily free of poisons such as boron and arsenic. Other important companies selling seawater are Spanish Lactoduero and Scottish Aquamara.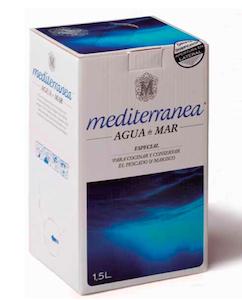 Compatibility between life and seawater is supported by scientific research according to which the first cell was originated in the sea. Our internal fluids, our blood, have a mineral component which is very similar to that of seawater. What makes seawater precious is its mineral component – around 14% is made of precious elements considered as impurities that need to be eliminated by the salt industry. The salt you can buy is 99% sodium chloride, which is good for our body but only if taken in the right amount and if matched with potassium which can be found in seawater but not in any of the kitchen salts in the shops.
In the kitchen, among the most interesting uses of seawater, we've found olives in seawater, beer with seawater, cheese produced in seawater and bread, an experiment undertaken by an excellent baker, namely Roscioli in Rome. The most creative barmen have used it in a fantastic gin tonic, instead of putting salt on the edge of the glass while in Palazzo Avino, maitre Donato Marzolla used to prepare a cocktail called Nettuno. Not to mention the recipe by Angelo Sabatelli of Masseria Spina that you can find at the beginning of this article. It left us speechless.
Antonio Vasile

| published on 25-07-2013 in MARE APERTO