Pasta alla carbonara
Elio Sironi
INGREDIENTS
For 4 people
Infusion
30 g of untoasted pumpkin seeds
100 ml of still water
50 g of butter
lemon zest
20 g of Pecorino
20 g of Grana Padano
Sauce
100 ml of cream
60 g of smoke bacon
50 g of white onion
0.10 mg of black pepper
Extra virgin olive oil
Pasta
250 g durum wheat pasta
250 g of unsalted Tuscan bread
2 egg yolks
METHOD
Infusion
Boil the water in a pan and let it simmer for a few minutes. Take off the heat and add the pumpkin seeds. Leave to cool, add the Grana, Pecorino and butter.
Sauce
Cook off the fat from the bacon in the oven. Continue cooking until crisp and dry with a sheet of kitchen paper.
Stew the onion with a drizzle of oil, add the crispy bacon, a touch of white wine and cover with a ladle of vegetable stock. Bring to the boil and reduce to half the initial volume. Add the cream and take off the heat. Leave to cool for a few minutes then filter through a sieve.
Pasta
Cook the pasta in lightly salted water. Drain and dress with the pumpkin seed infusion. Add the egg yolks and the black pepper.
Thinly slice the bread and toast it in the oven for a few minutes.
Prepare the dish, laying the pasta on the plate, surrounding with the sauce and serving with the hot bread.

Please fill in the fields below to search our Recipes' database.
Clicca qui per leggere il profilo dello chef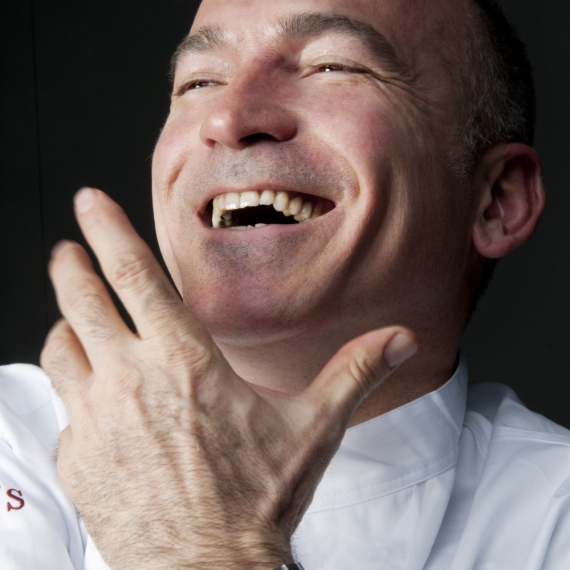 Elio Sironi
Madai
Clicca qui per leggere la ricetta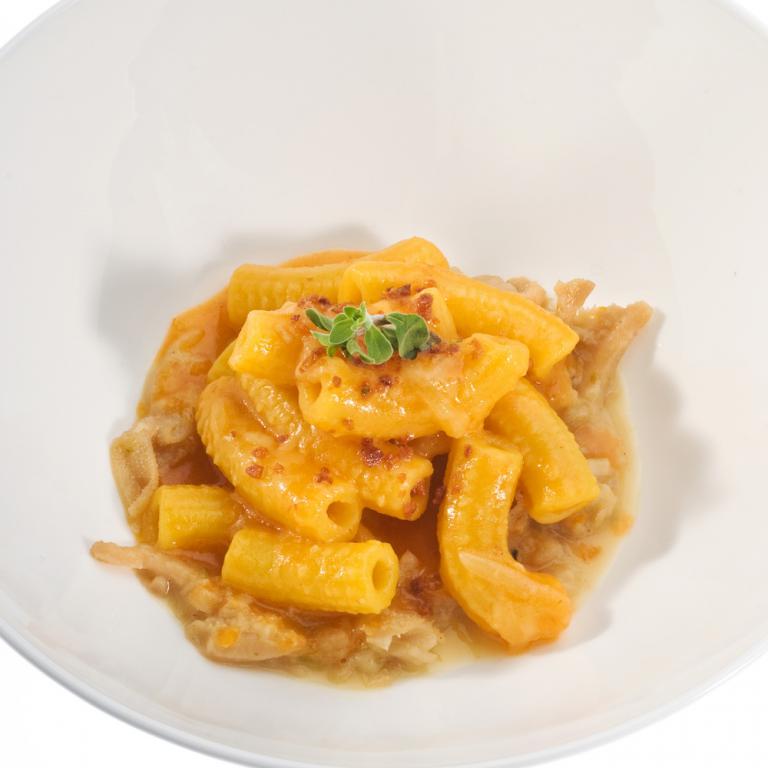 Macaroni and veal tripe, chili pepper and amatriciana sauce (tribute to Adrià)
A recipe presented at
Identità Milano 2010
Clicca qui per leggere la ricetta
Spaghetti with tomato, lemon rind and goat's cheese
A recipe presented at
Identità Milano 2010
Clicca qui per leggere la ricetta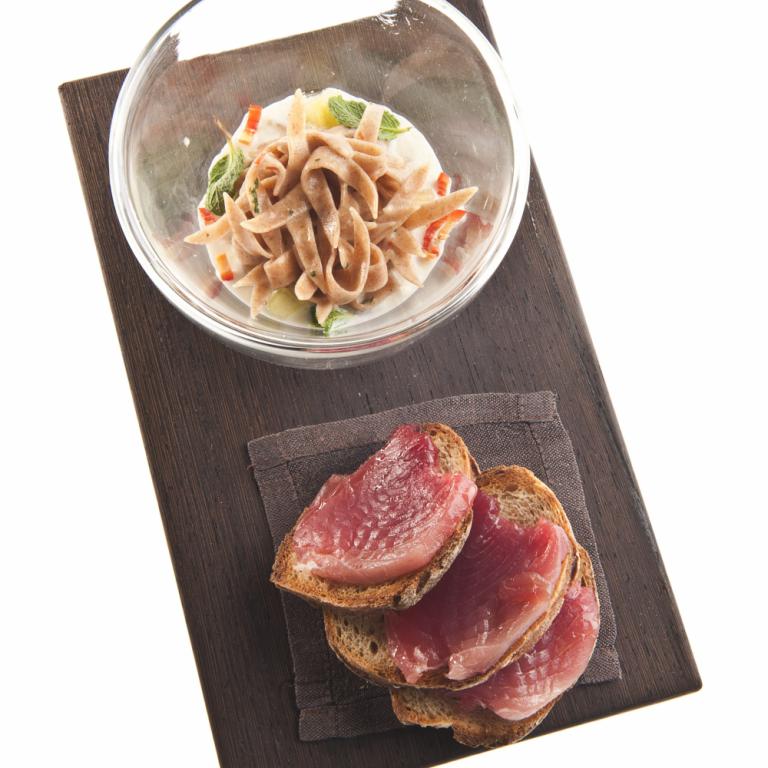 Garlic, oil, chili pepper and mint
A recipe presented at
Identità Milano 2011