Alice Smeraldo's dinners in pink
On Monday May 5th, the second chapter with Aurora Mazzucchelli. Working together with Viviana Varese
29-04-2014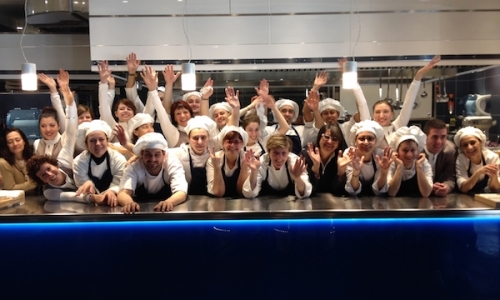 In the centre of the new-born Alice a Eataly Smeraldo, Viviana Varese and Sandra Ciciriello, the souls of the new establishment that has and will host Identità Golose's dinners in pink. The next event will be on Monday May 5th with Aurora Mazzucchelli of restaurant Marconi in Sasso Marconi, for reservations call 800.825.144 (Mon-Fri from 9.30 am to 6 pm)
The first event sold out all the 65 places available in just a few days. It was the double-dinner planned for last April 7th. The twenty fingers involved were those of patron Viviana Varese, in her brand new home at Alice a Eataly Smeraldo and Cristina Bowerman of Roman restaurant Glass Hostaria. They are two female chefs but most of all they are two great friends who charmed the guests with a menu that debuted with a Warm lobster salad with mango, pink pepper and 'nduja, and ended with Universo: chocolate mousse, liquorish heart and saffron sauce.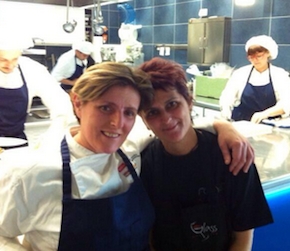 Viviana Varese and Cristina Bowerman, protagonists at Alice this last April 7th, of the first episode of Identità Donna
The next event is set on Monday May 5th, this time involving
Aurora Mazzucchelli
, one Michelin star at her restaurant
Marconi
in Sasso Marconi, on the Appennini Bolognesi. The menu planned for this event deserves to be illustrated in detail:
Gin Tonic Alice
(
Viviana
),
Santa Margherita prawn with citrus fruits, honey with saffron and ricotta granita
(again
Viviana
),
Maccherone filled with smoked eel, raw oyster and spinach
(
Aurora
),
Rose and cherry: foie gras cooked as an escalope and as a ganache with cherry sauce and crystallised roses
(
Viviana
),
Free range Mora Romagnola suckling pig
(
Aurora
) and finally petit fours (
Viviana
). All the wines paired are by
Berlucchi
and the price for the tasting menu is 80 euros including wines. For reservations call
800.825.144
(available Mon-Fri from 9.30 am to 6 pm).
The series of events all with female protagonists was created together by Paolo Marchi and Oscar Farinetti long before the opening of Eataly Smeraldo. The idea is that of reinforcing Italian cuisine in pink, concretely following Identità di Donna, a whole day dedicated to female chefs, which was part of the 2012 edition of Identità Milano. The aim is also that of enriching the series of articles in which we ask women to tell their story on this very website (among the many published, you can find the stories of Viviana Varese, Cristina Bowerman and Aurora Mazzucchelli themselves) with practical and craveable content.
All the events will represent a lovely occasion to taste some delicious food and be charmed by the enthusiasm of
Alice
's team, formed by guys and girls who within a few months moved from managing the boutique restaurant in Via Adige to the spaceship in Piazza XXV Aprile, a huge kitchen divided into 3 parts plus a fourth one that is used for the restaurant itself but also for all the other food corners inside
Eataly
Smeraldo
. Hard work and enthusiasm.
The programme of dinners in pink at Eataly Smeraldo is still in its early phase. Here are the dinners that will follow:
Monday June 9th Antonella Ricci of Fornello da Ricci in Ceglie Messapica (Brindisi)
Tuesday June 17th Daniela Cicioni, vegan high cuisine
---
Rubriche - Le nostre cene
The dinners directed by Identità Golose in Italy and abroad, told by those present

Identità Golose
---
Latest articles published