20-02-2013
Cracco tells his story in Rome
The chef opened at Eataly the programme dedicated to the Great contemporary cuisine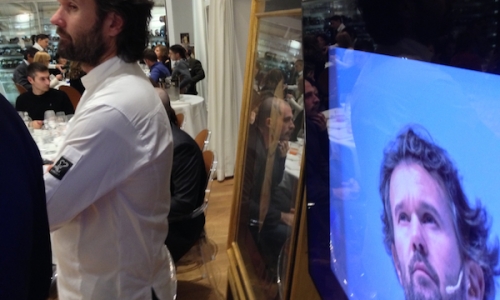 Carlo Cracco doubles: in front of an authentic painting by Modigliani, there's the one in the flesh and the image shown in the monitor of the Ristorante Italia on the fourth floor of Eataly Roma, last Monday, 18th February at Stazione Ostiense. Born in Vicenza and now based in Milan, he opened the series of 12 story-dinners called Ieri, oggi e domani ("yesterday, today and tomorrow") dedicated to the Great Italian contemporary cuisine
That's a one-take: it was a great evening, that which marked the debut of Ieri, oggi e domani (yesterday, today and tomorrow) last Monday at Eataly Roma. The main protagonist was Carlo Cracco, together with his dishes, because it is through those that a chef can express himself. And then came the other protagonists, namely the wines proposed by Giovanni Folonari, the ones he produces in Tuscany – the headquarters being in Greve in Chianti – and the one which he imports from France, a champagne, of course, and in particular the Brut Extra Premier Cru by Brochet-Hervieux.

I take this opportunity to thank Oscar and Nicola Farinetti for offering me the chance for a journey across the Grande Cucina Contemporanea (the great contemporary cuisine), a progress marked by 12 stops inside Italia, the restaurant directed by Gianluca Esposito on the last floor of the megastore in stazione Ostiense.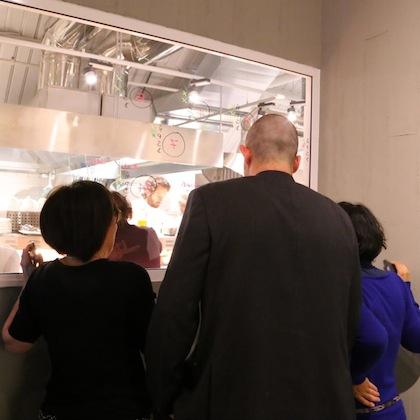 While the past nourishes us with memories, the present excites us with surges of adrenalin thanks to the wisdom of chefs who are illuminating the Italian scene. And we can already distinguish the future, our tomorrow, with thirty year-olds marching at full speed but in their own direction, which we will understand completely in time, since young people hold surprises but also mistakes, ingenuities. The "truly talented" will grow, others will stop before the stars but the secret to live fully is to know how to harmonize what happened yesterday, what is happening now and what will happen tomorrow.

The first chef to go to Rome was Carlo Cracco. To me, Cracco was Cracco without discovering him thanks to Masterchef. Of course, having arrived at Eataly at around four, after he had signed some 450 copies of his book scented with scallion in two bookshops in the capital, he had no time for a break. And at 8 pm we were all in the dining room, 80 people sitting at the tables, first listening to his story marked by my questions and his answers, from his father Bertillo who always preferred his mother's cooking (that is to say Lidia's, Carlo's mother, not his grandmother's) to the scopeton in a restaurant in his hometown Vicenza ("Polenta and herrings, an awful dish") to the very early experience with Marchesi in Bonvesin de la Riva in Milan: "At twenty, in 1985-86, I learnt that cuisine could be something important and serious".

Today Cracco is always a formidable chef, who will soon broaden his professional borders, but he's also a cover-man and a media-star: "Of all those who discovered me thanks to Masterchef, I believe only two came to my restaurant". He's exaggerating, of course, but if professional success multiplies his colleagues' envies, that on television catapults you in a new dimension, and you become handsome for everyone, even without using the scallion – as his book suggests.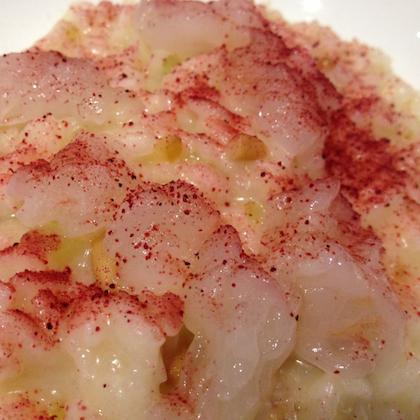 Risotto with green tomato, toasted pine nuts and scampi

Three quarters of an hour of images and words, two hours of tasting. Cracco, in the kitchen together with sous-chef Diego Giglio and Luca Sacchi, who divides himself between savoury and pastry stations. "In our pastry-making there's always been a savoury note. To me it's been the case for a long time, I didn't wait for it to be in fashion". With the service directed by Rudy Travagli, maître-sommelier of the restaurant Italia, the dishes gradually arrived: Mussels with broccolo fiolaro; Mandarin soused eel; Risotto with green tomato, toasted pine nuts and scampi; Horseradish glazed veal with a cabbage purée; and finally the Dessert with citrus fruits and chocolate. In the glasses, after the bubbles, arrived Chardonnay Le Bruniche 2011, Tenuta di Nozzole; Chardonnay La Pietra Cabreo 2010; Brunello di Montalcino La Fuga 2007, Tenuta la Fuga; Vin Santo del Chianti Classico, Tenuta Folonari. My awards? I gave three, to the Eel, the Risotto and the Vin Santo. And there were no wooden spoons.

In March, there will be the next two events: on Monday 4th Davide Scabin and on Monday 25th Niko Romito. On that occasion even Gianluca Esposito, chef at the Italia restaurant, will get on stage. Paolo Marchi

| published on 20-02-2013 in LE NOSTRE CENE