Identità New York 2013
From Friday 4th to Sunday 6th October at Eataly NY with six All-Star Chef Cooking Classes and two exclusive Dinners for a delicious experience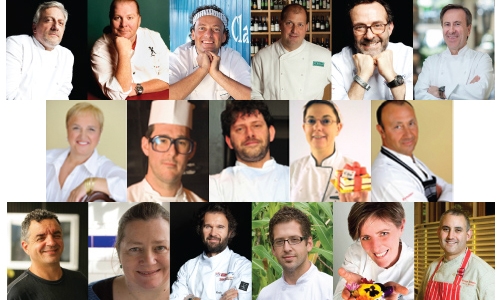 The Expo of flavours, this will be the leitmotif of the fourth edition of Identità New York, which will take place from Friday 4th to Sunday 6th October at Eataly NY.
Identità New York 2013 will see Italian and American chefs side by side, using six essential ingredients, those foods full of taste that are to be found in all gastronomic cultures: Egg, Tomato, Salted Codfish, Cheese, Pasta and Rice.
Here is the programme of seminars and dinners, with all their protagonists:
SEMINARS (La Scuola di Eataly)
Friday, October 4th
12:00-1:00pm: Mario Batali & Cesare Battisti, pasta
4:00-5:00pm: Dave Pasternack & Moreno Cedroni, salted codfish
Saturday, October 5th
12:00-1:00pm: Daniel Boulud & Massimo Bottura, egg
4:00-5:00pm: Sara Jenkins & Mauro Uliassi, tomato
Sunday, October 6th
12:00-1:00pm: Matthew Lightner & Carlo Cracco, rice
4:00-5:00pm: Jeremy Bearman & Viviana Varese, cheese.

DINNERS (Eataly's Birreria)
Friday, October 4th, 7:00 PM - 10:00 PM
Benvenuto: Cesare Battisti
Antipasto: Mario Batali e Mark Ladner
Primo: Davide Scabin
Secondo di pesce (Fish Course): Mauro Uliassi
Secondo di pesce (Fish Course): Carlo Cracco
Dolce: Katia Delogu
Saturday, October 5th, 7:00 PM - 10:00 PM
Benvenuto: Cesare Battisti
Antipasto: Lidia Bastianich e Fortunato Nicotra
Primo: Massimo Bottura
Secondo di pesce (Fish Course): Moreno Cedroni
Secondo di carne (Meat Course): Viviana Varese
Dolce: Katia Delogu


Reservation
website: www.eataly.com
Phone: +1.212.539.0204, ext. 304
email for classes: lascuola@eataly.com
email for dinners: privatedining@eataly.com
Tiziana Colombo

| published on 30-08-2013 in IDENTITÀ NEW YORK