26-02-2014
Princi's new reinforced venture
The bread maker strengthens the restaurant in Piazza 25 Aprile in Milan. With great pizza and more
Right, Franco Pepe, pizza master from Caiazzo (Caserta). The photo was not taken in Campania but in Milan, at Princi, on the corner between Via XXV Aprile and Via Pasubio, tel. +39.02.29060832, where Pepe will offer his consultancy. Rocco and Pina Princi have revolutionised and enlarged their point of sale with the ambition of making great Neapolitan pizza, quality dishes and signature cocktails. Open to the public as of Friday February 28th, until 2 at night
The day came when Rocco and Pina Princi from Calabria, in Milan since 1986 («with an initial dowry of 100 thousand lire in their pockets»), after opening 5 shops in Milan over almost 30 years – the first important one, in chronological order, in the very central Via Speronari – and one in London, as of Friday February 28th will open one more, larger than the rest.
It will happen on the corner between Via Pasubio and Piazza XXV Aprile, right in front the old Smeraldo theatre soon to be Eataly Milano (opening on March 18th) in the same point of sale that made this couple from Villa San Giovanni suffer much trouble during the endless works for the underground parking, with 6 years of unbearable drilling in their ears and odysseys in the jungle of bureaucracy. The wind has now changed, and brings revenge against destiny since on Friday February 28th the location will open with 60 extra square metres. And an architectural concept that recalls a restaurant in the Village, rather than one in Porta Garibaldi.
Wide spaces, only a few tables at the entrance, in front of the cocktail bar. On the right, beside the glass-door fridge as tall as a skyscraper, there's a long corridor occupied by a table to be shared which is as deep, in parallel with the classic Princi-style counter, with pizza, bread, bakery products and pastries to take away. It is right behind there, however, that the big novelty is stirring: a large open view kitchen with cooking stations, a serious pizza oven and a chargrilling station that can reach the highest peaks over an always lively fire made with beech. «I wanted to modernize», Rocco Princi lightens up «the classic concept of restaurant constantly serving pizzas and grilled food». High quality, that is. And so we can get into the details of all the great signatures behind the various sections.


Ettore Princi, son of Rocco, chargrilling
PIZZA
. It is made by
Franco Pepe
of Pepe in Grani in Caiazzo (Caserta) and the name would truly be enough. Neapolitan pizza: soft, with a high edge. But this is reducing, as the style of Pepe is rather personal: organic flower from Caiazzo, double leavening and a way of going beyond the strong stereotype of mother yeast (as if that would be enough). At lunchtime and dinnertime, behind the classic Princi baking tins, an oven designed by Neapolitan Stefano Ferrara will produce a limited number of 4 varieties of the highest quality: «They will always be the same»,
Pepe
explains, with the eye shadows of someone who woke up at home at 3 «you will find
Marinara
and
Margherita
. Which we make with San Marzano tomatoes, buffalo milk mozzarella from Caserta and extra virgin olive oil from local olives». The other two, will rotate every month. On the preview day we tasted the vegan
Memento
, with Alife onion cream instead of the tomato to which, out of the oven, a chickpea cream is added together with some wild chicory. And a
Calzone del Casolare
(San Marzano, buffalo milk mozzarella and ricotta, smoked
scamorza
from Caseificio Casolare, pork salami from Caserta) the joy of which couldn't be destroyed, not even by a puddle that jumped onto the trousers at the traffic lights. «All suppliers are within a 6 kilometres range from Caiazzo», reminds
Pepe
while we think that in Caserta they should dedicate him a post-revolution Lenin-style statue given the way he makes his vituperated territory shine. A revolutionary-person that will have
Ettore Princi
, son of
Rocco
, as his daily long-distance perpetrator in front of the oven.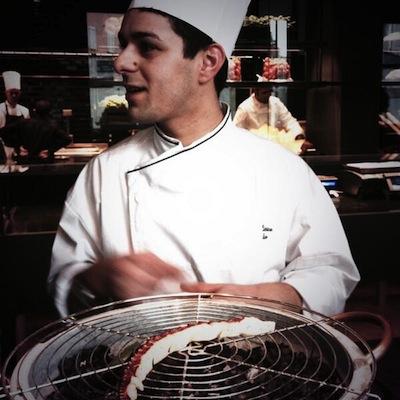 Valentino Russo, 35 years old from Licata, new chef at Princi XXV Aprile
THE DISHES
. Behind the glass, among the handles of pizza shovels, you can see
Valentino Russo
's toque bending. Chef in Licata (Agrigento), after 8 years at
La Madia
next to
Pino Cuttaia
, he's begun travelling around the other temples of high cuisine, such as
Glowig
in Rome and
Trussardi alla Scala
in Milan. On the preview day he cooked a flavourful
Borlotti cream, with potato gnocchi and crispy guanciale
which no one should expect to pay as the one that remains stuck to the tablespoon in cafés. And a
Grilled octopus
that would make the Basques' wrists shiver. There will be other occasion to understand his hand. It should be noted that the cheese (Losa di capra, Testun with barolo, Raschera…) are those supplied by
Beppino Occelli.
and that all around there were flying bruschettas with Princi bread and Tropea onions and organic citrus fruits marmalades.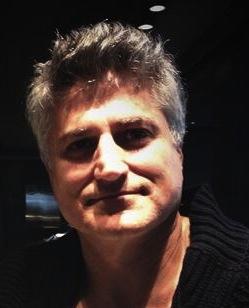 Rocco Princi, from Calabria, in Milan since 28 years ago
COCKTAILS
. This is the kingdom of
Giancarlo Mancino
, a producer of 3 Vermouths (dry, white and red) himself, who moved to Hong Kong 15 years ago and since then he's been illustrating the art of high quality cocktail making to the restaurants and hotels of half of Asia. So people will be able to go to
Princi
to have a drink before or after dinner, including his
Campari shakerato
«as it was made in the old days», a
Milano-Torino
which would require a designed driver, a
Negroni bianco invertito.
Or a Gin tonic difficult to pair: 3 types of gin (Italian
Marton's
,
Aviation
from Oregon and British
William Chase
) and 4 types of tonic water (classic, mandarin, liquorish, cinnamon).
Gabriele Zanatta
born in Milan, 1973, freelance journalist, he's been working as a co-author and coordinator of both Identità Web and Identità Golose World restaurant guidebook for the past 7 years
twitter @gabrielezanatt

| published on 26-02-2014 in ZANATTAMENTE BUONO