A country-less Genovese, with style

The chef of Il Pagliaccio is in excellent shape: the rigour in his dishes has never been so extrovert
05-01-2015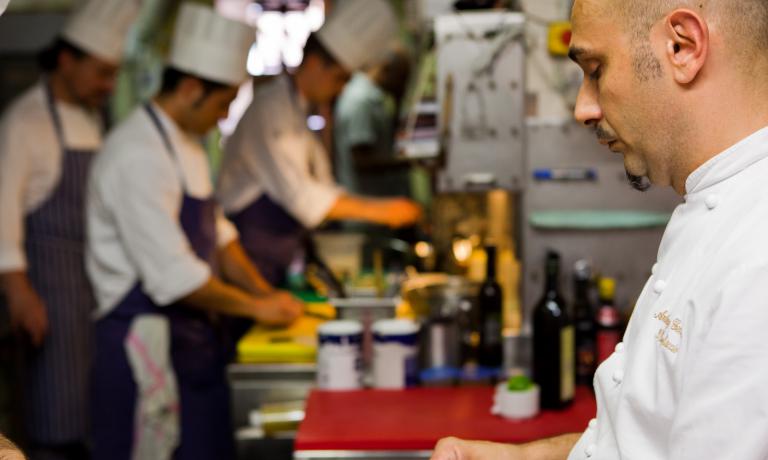 Anthony Genovese in the kitchen of his Pagliaccio: the name is taken from a painting by his mother hanging in the restaurant, the perfect emblem of a personality that puts together cheerfulness and a little melancholy

In a great culinary library that were to be divided into geographic areas, where would you locate a book by Anthony Genovese? It is difficult to answer since his cuisine is a kaleidoscope of different inspirations, drawn from the various phases of his career, tossing pans across half the world. «For sure I would not place myself in the "Roman cuisine" section» he laughs, and rightly so: though his Il Pagliaccio is well inserted among the alleys of the capital, a few steps from Campo de' Fiori, his style has nothing to do with local tradition.
In any case, the problem is a false one, as Genovese has not written any books for now (there is only one photo book, called Ten-xtnd; «What for should I have 40 recipes printed?»): which confirms a personality that is light years away from the star system of high cuisine, even though, over the years, he has lost the slightly algid coldness that seemed to characterise him, «actually, this was never really the case. It was all you journalists who described me like this». And perhaps a few participations in "La Prova del Cuoco" helped him to relate with stage and cameras.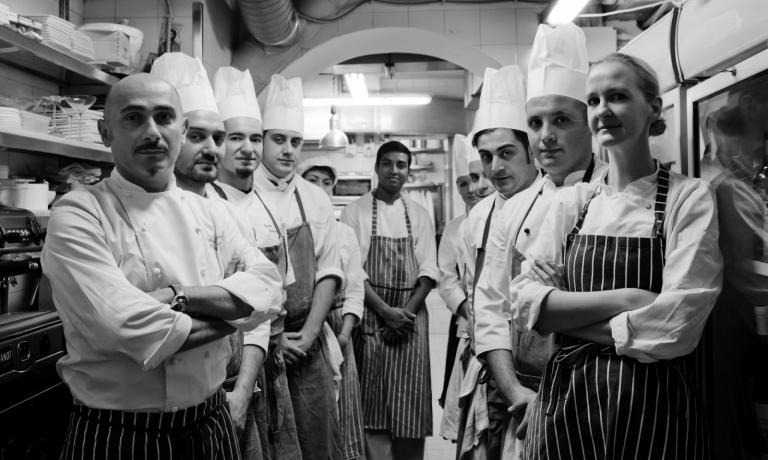 Genovese with his team; his partner, Marion Lichtle, is on the right

This evolution, however, has not debased his style, in fact it has made it more intelligible. He confirms it: «You grow up, you accept critiques with more awareness and moderation. I've understood that I sometimes overdid it. After all, ten years ago I would insist often with the intention of provoking…». Nonetheless, it would be a very bad mistake to think there as a marketing strategy in the past, while today the approach is too laid back:
Genovese
has become an adult, as simple as that – he's about to turn 47 – but he still keeps the strong personality he has always demonstrated, that rebellious note – he was born in 1968 – that makes him horrified as soon as one mentions any compromise: «It's not as if I let others influence me now». He is strict, and even too proud to accept the idea he would soften to become more "popular".
So don't call his style "fusion" because it would mean relegating him to a trend: fusion is in fact written in his biography, so he serves dishes that are the result of his personal journey. Today they have reached an admirable balance: because this «bashful and hieratic» chef (Andrea Cuomo) who «has traced a road of his own, without ever making any compromise» (Paolo Marchi) is capable of communicating in the best possible way now, with words and flavours. His dishes were, are and (we hope) will remain original, personal; but they have achieved depth, and are now not introvert at all. In fact they smile at you with their unusual, stimulating and enjoyable load of taste. His cooking is not eager to please, yet it is extremely pleasant. It is impeccable: for sure, this is the best Genovese ever.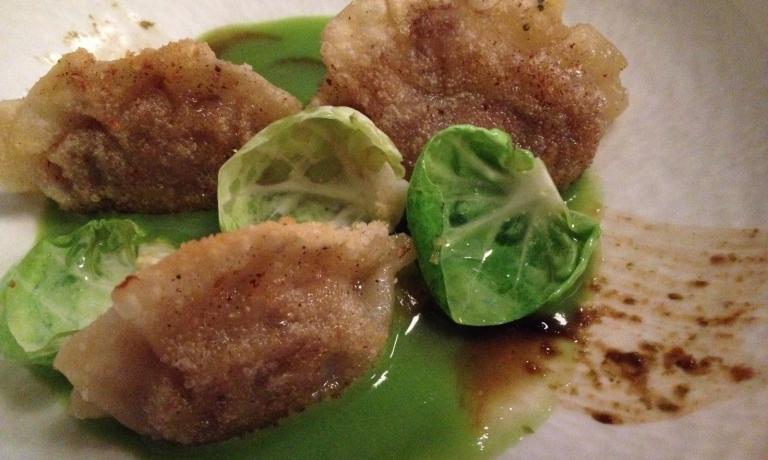 Grilled dim, cabbage and ossobuco: an extraordinary dish within a high quality dinner
For instance, think of his scallops, a classic eager-to-please dish. You receive his dish of
Scallops, carrots, ginger and green apple
and realise the mollusc is just an excuse, a prestigious supporting actor in a (fabulous) dish that sees carrot as the real main character. This also applies to the
Poached quail egg
, another fetish-ingredient for those who look for an easy win, paired with some difficult partners,
chestnuts with orange aroma and beer ice cream
, though the result is indeed very successful.
These are only some examples from an extraordinary dinner: the same goes, for instance, for the Crispy cannolo filled with foie gras, eel glazed with tamarillo, violets and lime, which gives plenty of elegance and balance, what with the fat, acid, aromatic, iodine, citrus, flora notes, with an extremely refined elegance. And what should one say about the Grilled dim, another classic by Genovese, this time beautifully interpreted with cabbage and ossobuco?
Finally, there are the dessert made by his partner Marion Lichtle, which maintain the same standards: the pre-dessert that safeguards freshness after so much opulence in the palate would be enough to demonstrate it, with its Pink grapefruit sorbet and yogurt with lemongrass aroma.
---
Rubriche - Carlo Mangio
An outdoor trip or a journey to the other side of the planet?
One thing is for sure: the destination is delicious, by Carlo Passera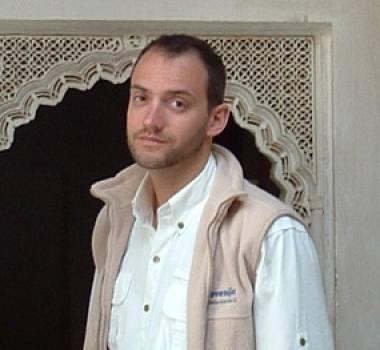 by
Carlo Passera
journalist born in 1974, for many years he has covered politics, mostly, and food in his free time. Today he does exactly the opposite and this makes him very happy. As soon as he can, he dives into travels and good food. An early member of Identità Golose
---
Latest articles published