There's a turning point at Al Mercato

A new classic approach for the more avantgarde Milan. Roncoroni: the reasons behind this change
19-11-2015
Eugenio Roncoroni conversing with sommelier Giacomo Gironi (photo Aromicreativi)

Someone who's more expert than the author of this piece will perhaps find the reason: still it is sure in fine dining we are experiencing, in parallel with a now established trend towards creativity, an opposite trend too, a sort of return to tradition. A special classic-approach updated following the criteria of the new millennium.
These were thoughts we had at the end of a memorable dinner at Al Mercato, that is to say in the restaurant that more than any other – perhaps with some exaggeration too – has formed the advanced frontline of Milan's avantgarde.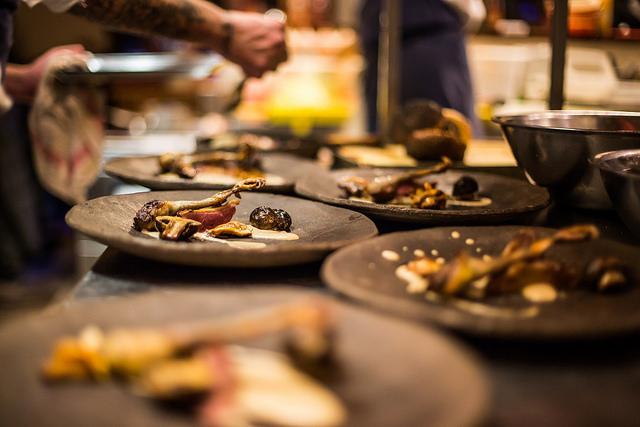 Pigeon: seared breast, leg filled with truffle, porcini, chanterelle mushrooms, king trumpet mushrooms, black trumpets, jus
Today, beside the spicy-fusion style that hinted both to the East and America, and sometimes unsettled people with choices that were clearly borderline, they also offer a new-old trend that someone could define as reassuring, and is instead – a personal opinion, of course – one of (more) evident elegance and harmony. A step backward in order to make three ahead.
Pigeon: seared breast, leg filled with truffle, porcini, chanterelle mushrooms, king trumpet mushrooms, black trumpets, jus (delicious, juicy, rich); Vegetarian at the market: pumpkin in osmosis with yogurt, burnt yucca, their cream, mousse of chevre, morels and seasonal mushrooms, seeds, bagnet ross (what you expect from a veg dish: deliciousness and lightness. By the book). These are only two examples. And then there are more, convivial servings for two, which bring back the pre-nouvelle cuisine habit, embrace Gualtiero Marchesi's appeal and recall, not by chance, the more recent choices of his favourite pupil, Paolo Lopriore.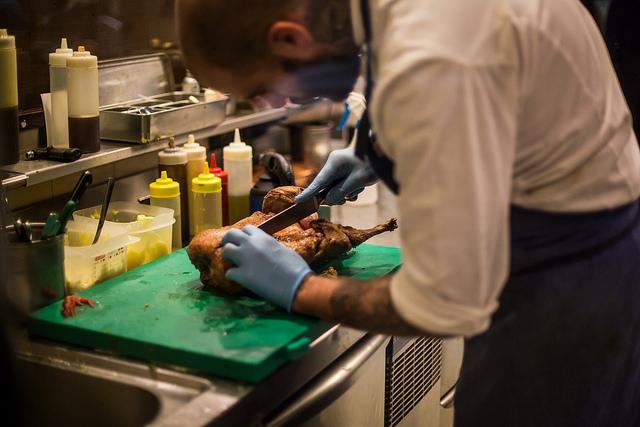 Roncoroni carving a splendid goose for two

The change in the horizons of
Al Mercato
was shared by chefs
Eugenio Roncoroni and Beniamino Nespor
. But since the latter is currently mostly at work in the definition of a more important offer at
Taco Bar
and
Noodle Bar
, their other two creatures, the former is mostly responsible of honouring the excellent idea and transforming it into something tangible.
The person concerned thus explained the change: «When you start a new adventure, you always tend to overdo it. We have both travelled a lot, we arrived in Milan with a thousand ideas, wanted to gradually do all that came to our mind. Hence contrasting flavours, dishes with 12 different aromas... This desire for something new, for establishing ourselves, hasn't faded. However, we're looking for a sound alternative, we've found it in a sort of classic French approach which is, in the end, the basis of fine dining. And is also part of our experience».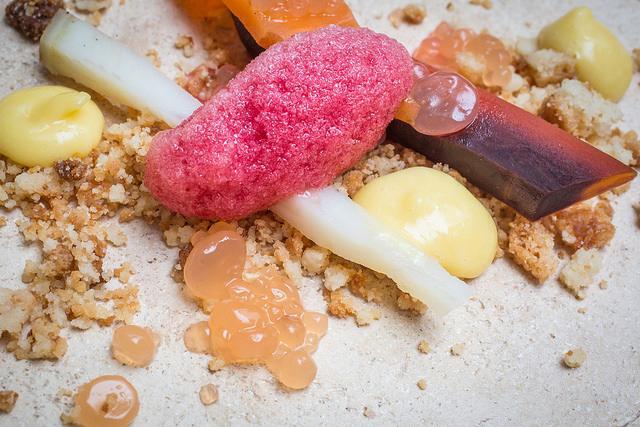 Tubers, a great dessert: pomegranate sorbet, crumble, lemon curd, sweet potato, black carrot and grapefruit spheres
From now on,
Al Mercato
will thus experience a parallel dimension in which, next to fusion dishes, one will also find other less-carefree, very refined plates. For the time being, the service for two will be focused on meat: the
Goose, lavender, tuber brunoise, red fruit sauce
was fabulous; perfect cooking as with the pigeon, a sumptuous service. The
Lamb thigh, tzaziki, baby lettuce with thyme
, the
Kidney, Hollandaise mustard sauce, baby onions and shallots
are also attractive…
Soon the horizon of this great offer will be further enlarged: «In the next menu, in around ten days' time, we will open a section dedicated to caviar, which we will prepare in the classic style, with blinis, and then innovative too, as a mousse. And we'll have fish, also for two: turbot, soles from Dover…». It will be spectacular, it's a promise.
---
Rubriche - Carlo Mangio
An outdoor trip or a journey to the other side of the planet?
One thing is for sure: the destination is delicious, by Carlo Passera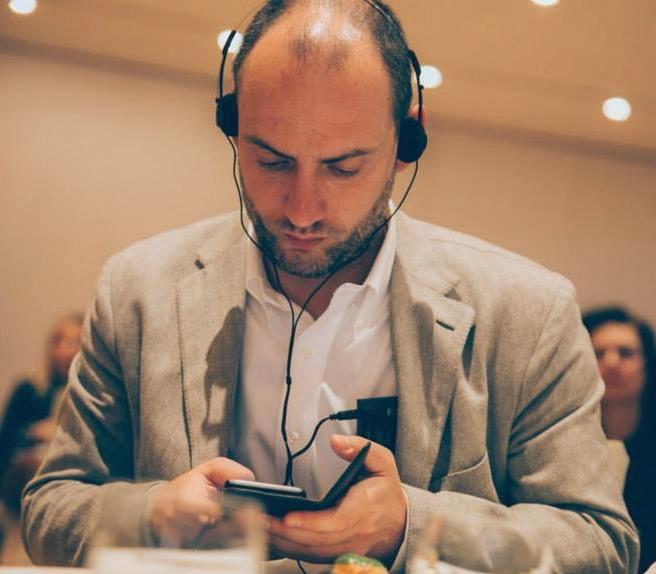 by
Carlo Passera
journalist born in 1974, for many years he has covered politics, mostly, and food in his free time. Today he does exactly the opposite and this makes him very happy. As soon as he can, he dives into travels and good food. An early member of Identità Golose
---
Latest articles published