Zazzeri and Gaja-style fish

A super-dinner at La Pineta with the famous winemaker: light cooking, exceptional raw materials
18-12-2014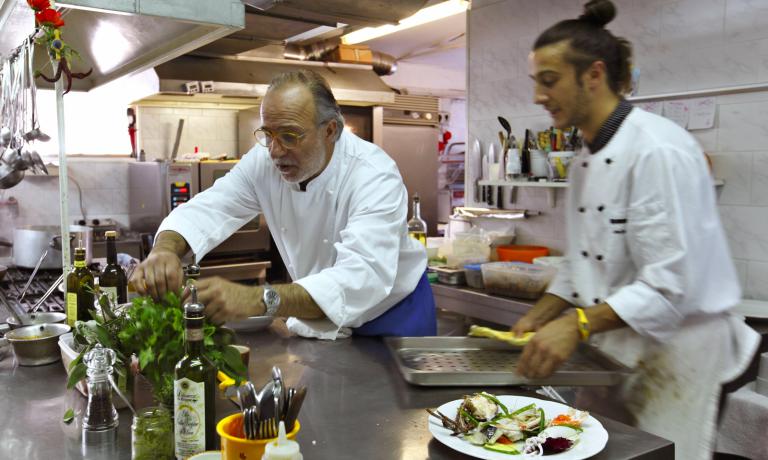 Luciano Zazzeri at work in the kitchen of La Pineta, with his son Daniele, while the other son, Andrea runs the dining room and cellar: this restaurant in Marina di Bibbona is a favourite destination among many food lovers, even famous ones, such as the great Angelo Gaja

«Here we feel at home», says Rossana Gaja between one morsel and the other. These are Piedmontese people playing an away game in Tuscany: they arrived in 1994, after buying Pieve Santa Restituta, in Montalcino, and two years later Ca' Marcanda in Bolgheri, a ten minutes drive from Marina di Bibbona, the place where we're dining today: at Luciano Zazzeri's La Pineta, to be precise. A significant party: oenologist Attilio Pagli, Michele Scienza of Guado al Melo with wife Annalisa Motta and father professor Attilio Scienza; then Leonardo Raspini, outgoing director at Ornellaia, journalist Isao Miyajima… And Oliviero Toscani, acting as producer with his Ot wine. All around Rossana's father, Angelo Gaja, the most famous Italian winemaker in the world.
He was the creator of the dinner and he's also the alpha and the omega of the menu, «because Angelo has personal tastes: he's always around the world, so he requests delicate dishes and very fresh fish for his guests and himself– Zazzeri explains – I've known him for twenty years, I know how to treat him, he's a person of habit: no sauces, no mirepoix, no tomato».
La Pineta close to the waves, at sunset: a dream that continues around the table
La Pineta is the right place for him, a real sanctuary for the Tyrrhenian catch. «Sixty years of
Zazzeri
– chef
Luciano
, who will turn 59 next January 17th, proudly explains, – My grandmother
Nella
started, together with my nanny, now 97. She taught me simplicity in the dishes and truth in the products». They have now reached the fourth generation, because for years now he's been sided by his sons,
Daniele
in the kitchen and
Andrea
in the dining room and cellar. Their father thus sums up: «Marquis
Mario Incisa della Rocchetta
[
Sassicaia
's father] would dine here, then it was the turn of his son,
Nicolò
, now of his granddaughter
Priscilla
with her children…». Wine dynasties around the table, that is, such as the
Antinori
, the
Frescobaldi
, the
Della Gherardesca
. And, indeed, the
Gaja
.
So here it is, Gaja's diet by Luciano Zazzeri. We start with Small calamari à la Angelo Gaja: «You wait for the water to boil, add some salt, then put the small calamari through a chinois, just for a moment and then you serve them right away with raw oil, salt, pepper and two drops of lemon». As an alternative for raw fish fanatics, there's a platter of fantastic tastings: tuna, palamita, amberjack, calamari from Piombino, prawns, anchovy tartare with capers and olives, marinated mackerel with caramelised onion on ricotta cream. As for the first course, Pastificio felicetti kamut linguine with small calamari, squid, garlic and sage, all covered with some grated, very aromatic, local white truffle, «it is our own, it comes from the hills that go from here to Volterra. Soft, aromatic, elegant». We confirm.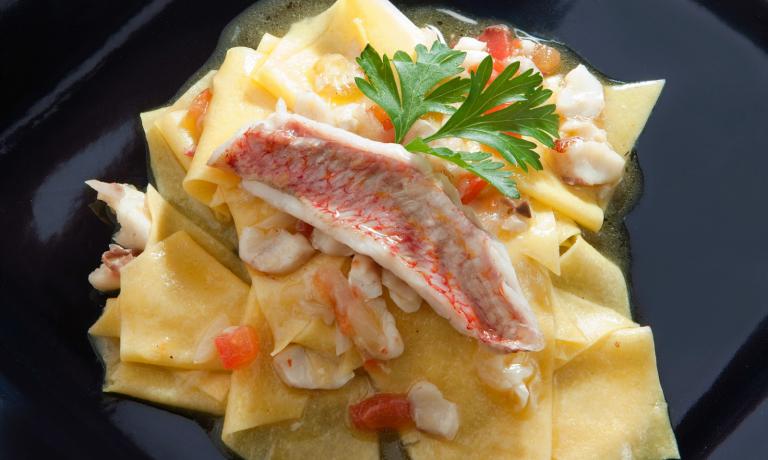 Straccetti of fresh pasta with red mullet: one of Zazzeri's most famous dishes, even though it is not one of Gaja's favourites
Time for the main courses,
Gaja
's diktat is always the same: light cooking. Thus a splendid
Sea bass cooked in salt
: the fish is caught with a hook on the trawl line, it waits in the fridge until it's time for dinner but it is put outside the fridge three hours before cooking, «because – this is the secret – in this way the muscles loosen a little, the cooking requires less time, 28-30 minutes instead of the usual 40-45. In this way, it maintains a greater succulence». Indeed, it is heavenly good. The possible alternative,
Red mullet on the plate à la Gaja
: the fish is cooked directly on a porcelain dish covered with a steel lid, «no vapour, no water, we use the reflected heat, then one only needs a little raw condiment». The
condicio sine qua non
of all these recipes, of course, is that raw materials are absolutely excellent. There's no mistake.
---