Tel Aviv, the taste of peace

Open Restaurants offers the chance to meet the chefs working in the most dynamic city in Israel. And we learn that...


23-03-2015
Group photo with the creative chefs from Tel Aviv participating in Open Restaurants
«Israel surrounds Tel Aviv. If Israel will be better, Tel Aviv will be great» says Oren Schnabel while smiling and joking. In the country's third city there's a damn strong desire to overcome historical problems and religious fanaticism. Tensions appear distant, you can enjoy a sort of dolce vita capable of attracting many of our young fellow countrymen. «We are very happy here», says Fabiana Magri, from Genoa, now project manager at Colorfood, a project that puts together a chef, a photographer and a stylist, all created by Dan Lev: they will also be at Expo 2015 with crossovers of art and food involving great Italian chefs.
Tel Aviv as an outpost of bien vivre. Schnabel was talking to us during an aperitif at Montefiore, a hotel whose restaurant is climbing the ladder of Mapa, the main local guide. It represents the new Israeli cuisine: further and further away from kosher tradition, with an ever-growing number of different influences. It is not so much a question of desire of evasion, as a faithful representation of the fertile multicultural environment in our country.
An image portrayed by Dan Lev for Colorfood and created by chef Heinz Beck. The stylist is Dalit Russo
I'm thinking about
Aria
, "
contemporary chef bistro
". The chef is
Guy Gamzu,
one of the most important in the new generation, the incarnation of today's Tel Aviv: his mother's family used to live in Morocco, then moved to France, Egypt and finally Israel where she brought her recipes drawing from all the culinary cultures she gradually discovered; his father, instead, was born in Iran, and contributed with further influences.
This is not the only possible story. There's Avivit Priel with the delicious Mediterranean tapas at his Ouzeria. Ezra Kedem of Arcadia does more or less the same thing, but as haute cuisine. There's Aviv Moshe, who delights the famous guests at his Messa (Tony Blair, Pink, Roberto Cavalli, Pep Guardiola among others…) with a technique that unites Provencal influence with that of his family, Jews from Kurdistan. And Meir Adoni, of Catit: in his past there was also Arzak in Spain, Redzepi at Noma and Achatz at Alinea in Chicago. We found his dishes had an excellent standard at the coffeeBAR, of group R2M, which today has 700 employees divided between eight restaurants and gourmet shops: their Confit goose, spinach, mashed potatoes and marinated figs was delicious.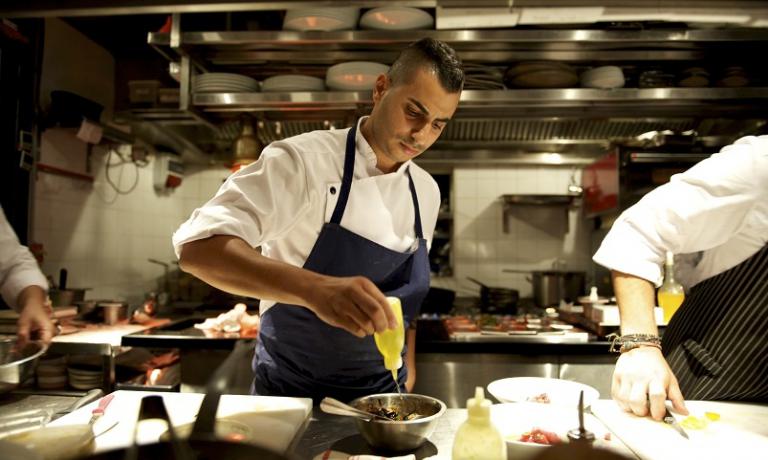 Young chef Guy Gamzu of Aria

We also liked
Cassis
very much, the place in front of the waves in front of the port of Jaffa: chef
Ayelet Perry
, who returned to Israel after 17 years in San Francisco, offers a Mediterranean fusion cuisine, her brunch based on flatbread covered with all sorts of heavenly products is not to be missed. Then there's the contemporary offer of
Omer Miller
's
Dining Hall
, inside the Performing Arts Center: his reinterpretation of the
sabich
is unique.
We were charmed by the cuisine of Dan Yosha of Abushdid: 26, with experience in Switzerland and Mauritius, he offers "food for the people" in a fascinating setting, suspended between ancient ruins and contemporary design objects: his hummus cooked in yogurt was fabulous, same goes for the king prawns with okra in tomato sauce.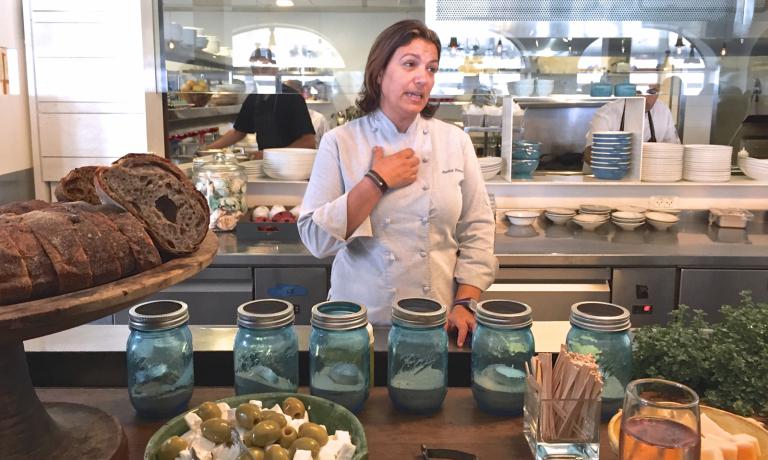 Chef Ayelet Perry of Cassis
A great part of these restaurants participates in
Open Restaurants
, an event that Tel Aviv wants to export in the world. It has reached its third edition and is a food festival during which the best restaurants in town open their kitchens. This way gourmands can enjoy an unforgettable dinner, while looking at the chefs with their own eyes as they cook. «This event has no equals in the world –
Merav Oren
, CEO of
Agora
explains – Now many people want to copy us». This is a privileged point of view to closely observe the progress made by the new Israeli cuisine, which only needs to make one step further: less sauces, neater dishes. Complexity is reached by subtraction, not by adding a thousand elements.
(1, to be continued)
---
Rubriche - Carlo Mangio
An outdoor trip or a journey to the other side of the planet?
One thing is for sure: the destination is delicious, by Carlo Passera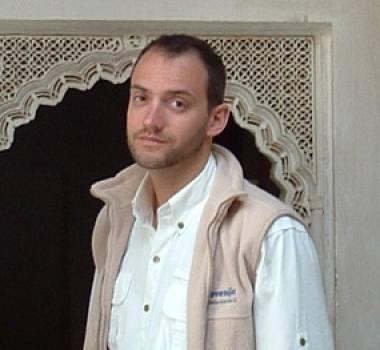 by
Carlo Passera
journalist born in 1974, for many years he has covered politics, mostly, and food in his free time. Today he does exactly the opposite and this makes him very happy. As soon as he can, he dives into travels and good food. An early member of Identità Golose
---
Latest articles published