All queuing for the 2.0 ice cream
An ice cream shop in San Francisco uses nitrogen: once an innovation, today it is a daily matter
15-09-2014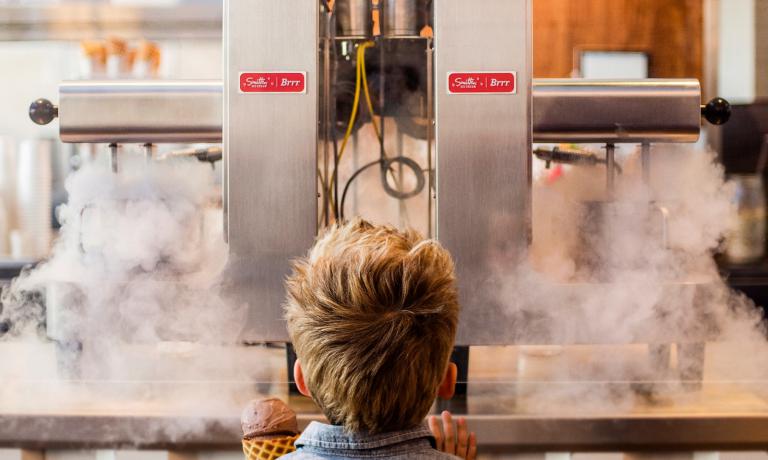 A child in front of two Brrr, the ice cream machines invented by Robyn Sue Fisher: they use liquid nitrogen
There's a queue, at Smitten. This is no news: it is often the case, every day. The people from San Francisco wait for their turn, it's a question of a few minutes: you get to the register, order and wait the 90 seconds that are more or less necessary for the chosen flavour to be prepared live, in front of one's eyes. Smitten is an ice cream shop, one of the first in the world that only uses liquid nitrogen to prepare ice creams. Remember those slightly crazy chefs who, a few years ago, in order to surprise their guests would open a small tank containing N2 and, after a little whisking in a performance with cold vapours, would serve a 2.0 ice cream? The future has arrived, on 432 Octavia Street. Innovation becomes a daily matter, avantgarde turns into normality.
The success of Smitten made a lot of noise, in the United States. The media covered it: Cnn, Wired, Huffington Post, Newsweek, the latest was Time Magazine, last month. According to Vogue, this is "certainly the freshest, if not the best, ice cream on earth". A correct judgement: everything here is made-to-order, on the spot, each portion is prepared when the client orders it at the register, this is why it is only possible to taste a single flavour, among the few available, four, the same number of the "Brrr" machines.
Smitten on 432 Octavia Street, San Francisco: it a converted container

These are special contraptions, the result of three different patents: they might appear as normal ice cream machines but when they are turned on, they sprinkle liquid nitrogen on a fluid mixture and work in this way, at -196°C. Beside being the freshest,
Smitten
's ice cream is also said to be the creamiest on earth: the very low temperature allows the creation of ice crystal that are much smaller than in traditional ice creams. These micro-crystals detract little heat to the tongue and to the palate which can thus better taste the raw materials. The flavours are enhanced, the texture is very fine and soft.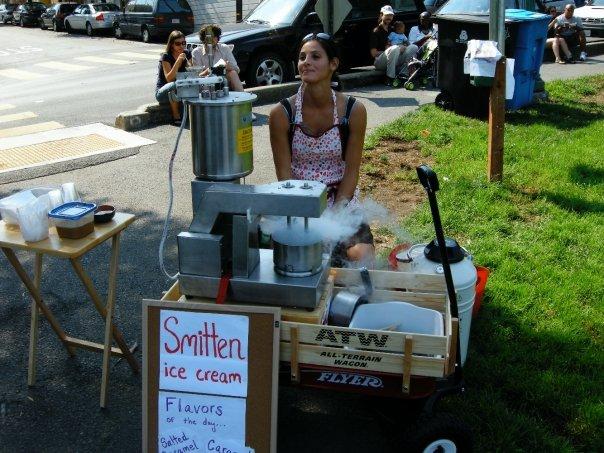 The beautiful and resourceful Robyn Sue Fisher a few years ago, when she was selling her "nitrogen ice creams" in the streets, with a Brrr mounted on the wagon
Behind
Smitten
there's a 35-year-old girl,
Robyn Sue Fisher.
She studied at Stanford's Graduate School of Business, a journey that seemed to be bound towards some
NewCo
company but then she chose to follow her childhood passion: «My mother used to say I had to stomachs, one of which was reserved for ice creams». We're around the Silicon Valley, here innovation is in the air: Robyn, therefore, was not satisfied with a traditional ice cream shop and she spent 5 hears working side by side with some engineers to design
Brrr
. In the autumn of 2009 the machine was ready: she mount it on a wagon and started to serve cones in the streets; in 2011 she opened her first shop, a few months ago three new openings, all in San Francisco and the surroundings.
Her ice creams have no preservatives or stabilisers: products are eaten on the spot, and it is also necessary to use natural raw materials, with no emulsifiers because nitrogen would make the end product gluey. A few flavours, in rotation, among around 20 that were studied with chef Robyn Lenzi: "salted caramel" and "Tcho 60,5% chocolate" (Tcho is a small local chocolate producer) are delicious. There are some peculiar, seasonal ones: "olive oil with lavender shortbread", "Earl Grey tea with milk chocolate", "strawberries with balsamic vinegar". This format works wonders, it already has imitators on the opposite coast (ice cream shop Chill-N, in Florida). When will it cross the ocean?
---