That green wave on Sicily
A new generation at Taormina Gourmet: Crescenzo Scotti is so good. And Carmelo Floridia has an idea...
23-10-2014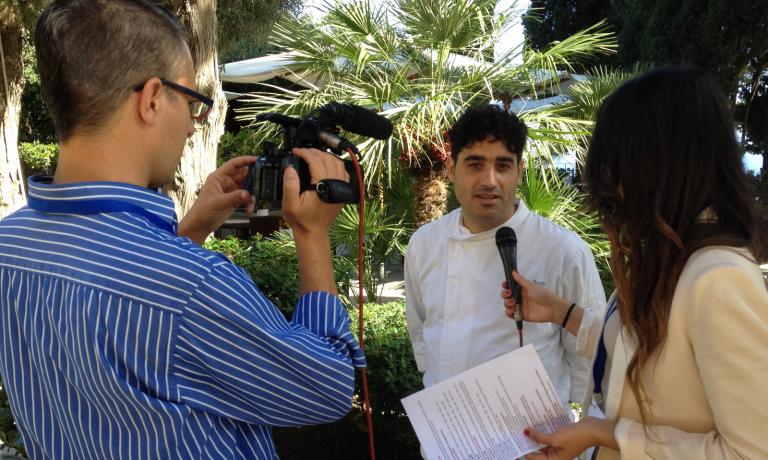 Cameras on Crescenzo Scotti. Thirty-six, originally from Campania, he resides in Ischia but works at Therasia, a resort rich in charm located in Vulcano, one of the seven island in the Aeolian archipelago. The chef, with his Agnello alla griglia che non c'è (literally, Lamb grilled on a grill that is not there), convinced everyone, even a master such as Peppe Barone
New cuisine in Sicily can also mean serving sausage stigghiole for breakfast («One out of a thousand eats them, but it's a way to characterise ourselves») and almost doubling the guests, from 14K to 23K in three years, on the island of Vulcano. This is the green wave of Sicily: young mature guys (in Italy you tend to be young longer than elsewhere, it's a known fact) such as 36 year-old Crescenzo Scotti, originally from Ischia but adopted by this island, from 2011 in the kitchen of Il Cappero inside the Therasia Resort, a team of 21 people. Or like Andrea Macca of DonnaCarmela (we wrote about him here).
Fresh energy to reply to the provocation of a colleague, Andrea Ribaldone: «Cuisine in Southern Italy is incredibly old!», a sort of unveiling of the king's nakedness that happened the other day on the stage of Taormina Gourmet, a three day event dedicated to Sicilian wine and food, which has just ended. A drastic judgement, that of the new patron of I Due Buoi in Alessandria, to which the event itself tried to reply, a second edition that was very finely organised by online magazine Cronache di Gusto, directed by Fabrizio Carrera. Because while perhaps it's too soon to speak of a nouvelle vague on the island, some interesting individuals are certainly present.
The Agnello alla griglia che non c'è, the dish presented by Scotti at Taormina Gourmet. The lamb chops, dipped in a barbecue sauce twice and then braised in a pan, end their cooking in the dish, on a tile, placed on some live coal, with the gap made with rosemary twigs bestowing a smoky aroma as well as the scents of their oils
Chef Carmelo Floridia from Modica who, together with Stefano Alfano is conducting his Gurmé project, between two sommeliers at work at Taormina Gourmet: left Gaetano Prosperini, Fisar manager in Catania, and right Marco Cappuzzello
Scotti
, for example. One who focuses on re-interpreting Mediterranean tradition, without turning the table upside-down. But then he's capable of dishing out delicious food that has the gourmand journalist applauding as if with a great master of food such as
Peppe Barone
, of whom we will speak again soon.
Crescenzo
has managed to "prolong" the season at
Il Cappero
, from four to six months, with delicacies such as a the
Agnello alla griglia che non c'è
, with the aroma of the territory and a light smoking: the animal is supplied by a breeder in Vulcano, the chops are browned in the pan to preserve their juices, dipped in home made barbecue sauce (no arrogant USA flavours: here there's a delicate touch that tastes of plum and chilli pepper), breaded, dipped once again so as to caramelise the sugars of the fruit, and finally placed on live embers for the final raw cooking, filtered by the rosemary twig gap, adding a good smokiness and, better still, essential oils. All this is to be tasted with an aubergine cream and a garlic, oil and chilli pepper cream. A spectacular dish. A personalised one, as one chooses cooking and condiments. Delicious.
Chef from Modica Carmelo Floridia: on the left Gaetano Prosperini, on his right Marco Cappuzzello
Fresh ideas in this still very hot Taormina. Such as those of
Carmelo Floridia
, 38 years old from Modica and a prophet in his own country. The pupil of
Sergio Mei
, he's about to open four shops on the island, open from 10 am to midnight, which will be called
Gurmé
, as the project he's been conducting since a few months ago, after ending the four-year-long experience at
Locanda Gulfi
. He will serve delicious recipes cooked in a vase, that you can also take home. Columbus' egg, one could say, of a hen, for the classic
Pisci d'ovu
, with wild asparagus, truffle aromatised salt from Palazzolo Acreide and crispy almonds. He cooks everything in the vase at 60°C for 40 minutes, the egg does not coagulate, it remains creamy, once you're at home you just need to rely on a microwave oven or a bain-marie and here comes the gourmet frittata for 3 euros, light (12 egg yolks for 50 portions) which can be preserved for one month. It is most of all tasty, because the vase and the vacuum cooking highlight the flavours. The salted codfish from the Atlantic doesn't even need to be salted: you add cherry tomatoes, wild fennel, capers, 7 minutes at 70°C and a fine dining main course is ready, an aromatic explosion that is almost excessive, which can be kept in the pantry.
Even in Sicily grandmothers in the kitchen are disappearingand people get ready for the future. A craveable one.
---