Ciccio Sultano triples

A second restaurant in June, also in Ragusa Ibla. While L'Aia Gaia already works at full speed…

27-04-2015
Ciccio Sultano on the building site of his new location, I Banchi, which will open in June inside Palazzo di Quattro, in Via dell'Orfanotrofio, also in Ragusa Ibla

Ciccio Sultano is creating his small empire. «I've been thinking about creating something different, on top of restaurant Duomo, since 2008. The economic crisis then delayed our programmes», the chef from Ragusa explains to Identità Golose. So now he overdoes it, in fact, with two brand new businesses, called L'Aia Gaia and I Banchi.
I Banchi is the classic second establishment a great chef would open, except it is not classic at all. «I was thinking of something smaller and more circumscribed. Then this opportunity arrived…» that is to say a historical building right in the centre of Ragusa Ibla, 450 square metres in an extremely fascinating context, with large vaults recalling a Roman basilica. «I said to myself: I cannot dither. So I called my friends: artists, architects, designers» to fill these spaces with life, beauty and the aroma of bread.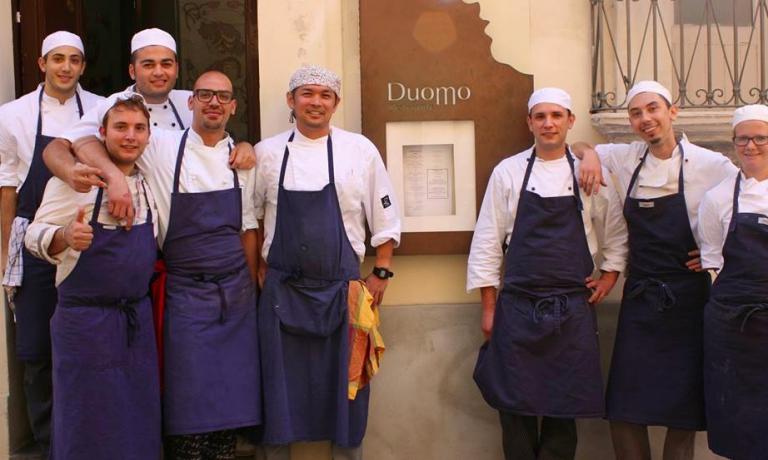 Peppe Cannistrà in the photo is the only one without a beret: he's Sultano's sous chef at Duomo, and will be the executive chef at I Banchi

Indeed
I Banchi
aims at being first of all a bakery, then a place that can host art shows and installations, and finally a shop selling delicacies and a restaurant offering excellent "a là
Sultano
" dishes, where one can taste real food – though simpler than at the main address – surrounded by the aroma of freshly baked bread loaves.
It will open in the first half of June. The chosen name recalls the story of the chef, that is to say the story of a man: «Banchi [desks, benches, in Italian] are part of our growth – he explains – at school, at work… Then there's the bancone of the pastry shop and cafe where I was working, I started to work at 13 [he's now 45]». And starting in the morning, people will be able to taste a well made breakfast («Croissants with butter, there are no shortcuts») and buy bread made with a long leavening and local flour varieties, «we need to rediscover the pleasure of eating last week's bread loaf, finding it's still good».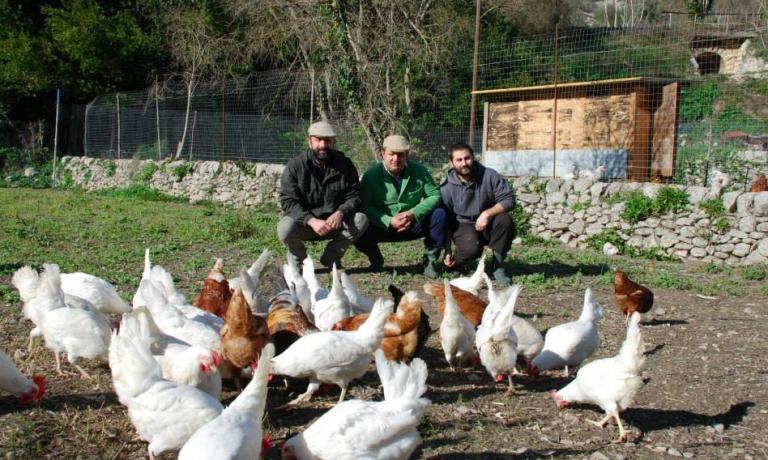 The chef together with Carmelo Cilia (left) and Paolo Moltisanti among the hens in the breeding farm L'Aia Gaia
The food will have many of the delicacies that one can already find at
Duomo
; except tasty yet slightly costly parts will be served, «less noble cuts of black pig from the Nebrodi, poor fish of the highest quality… To be scalded, perhaps, on a vertical barbecue». The kitchen will be directed by
Giuseppe Cannistrà
, who for years now has been working with
Sultano
. There will be a chef's table «as in luxury restaurants» and a small cellar with two more tables for private dinners.
And why not taste dishes made with chicken and eggs? Even these will go under the Sultano brand, thanks to L'Aia Gaia, the other new business – in this case opened early this year - «my first new approach to the countryside», says the chef who loves a close contact with nature, discovering products, focusing on a sure quality. Hence the breeding farm, also in Ibla, close to the train station; the business is in partnership with Carmelo Cilia and Paolo Moltisanti, and already counts on 1,000 hens for eggs and 500 chickens for meat, the first step in order to reach the optimal dimension («I guess around 1,500 hens») and think about more breeding farms, dedicated to different animal species. Sultano has started, impossible to stop him now.
---
Rubriche - Carlo Mangio
An outdoor trip or a journey to the other side of the planet?
One thing is for sure: the destination is delicious, by Carlo Passera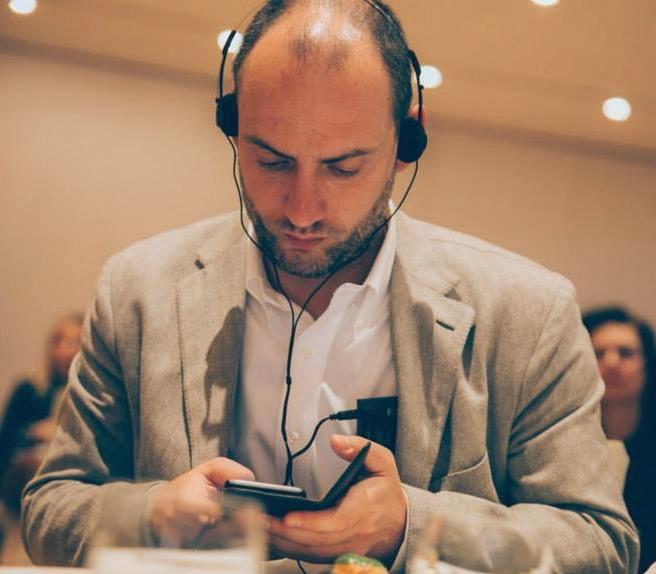 by
Carlo Passera
journalist born in 1974, for many years he has covered politics, mostly, and food in his free time. Today he does exactly the opposite and this makes him very happy. As soon as he can, he dives into travels and good food. An early member of Identità Golose
---
Latest articles published