The good of Etna's cuisine
A craveable trip on the volcano, visiting excellent wineries and two young chefs worth keeping an eye on
23-07-2014
Ripiddu nivicatu, one of Andrea Macca's signature dishes: he's the chef at La Cucina di DonnaCarmela, a gourmet restaurant in the homonymous resort in Riposto, Etna's "port", near Catania. The dishing out recalls the volcano: scampi bisque under fresh pasta mixed with a sauce made with ink squid, chopped squid with an infusion of lapsang souchong tea, and slightly braised scampi and squid
It's as if the lava, the ash and the lapilli irradiated from Mount Etna to the area surrounding it and over the centuries, had gradually defined a sort of free zone – an island on the island – a perimeter kilometres wide that has rules of its own: more calm than the rest of Sicily, greener – even though it is coloured with dark stones – more hardworking, linked to the earth and its fruits. Here life originates from the Mother-volcano, the majestic and incumbent giver of life, both benign and terrible. Local heroic wine producers know it well, since they have to turn difficult clods over, create terraces on steep hills, plant local varieties with an unmistakable temperament: Nerello Mascalese, Nerello Cappuccio, Carricante, Catarratto.
There are important names: Enzo Cambria, Ciro Biondi, Giovanni Valenti, Frank Cornelissen, Antonino Destro, Salvo Foti...The sweat of these hardworking people has dampened this very special soil, making it even more fertile: wine attracted wine-tourism, which allowed for the development of accommodation facilities, which in their turn are making high quality restaurants blossom. Let's think about a sort of Etnean Russian doll: a great nursery farm - Piante Faro – generating a nice winery - Pietradolce – which gives life to a structure dedicated to luxury hospitality – DonnaCarmela – and, inside this, a high quality restaurant that was assigned to Ciccio Sultano's consultancy, who quickly installed his 31-year-old disciple, Andrea Macca.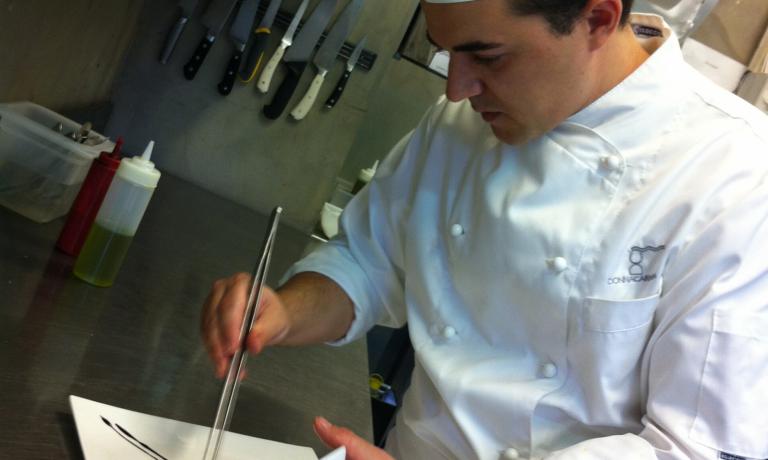 Chef Andrea Macca from La Cucina di DonnaCarmela. He's a disciple of Ciccio Sultano
You dine in a sort of vegetal Eden, surrounded by agave, ficus and citrus fruits, under the careful eye of the
Carmela
herself, the great host, who is also the wife of
Venerando Faro
, the founder of this small empire. Still, besides the context – the sea and Etna only a few steps away, we're in Riposto, the volcano's port – it is of the cuisine itself that it's best to speak about: it is mature, accomplished, as it is to be expected from the pairing of a giant in the island's restaurant scene and his promising pupil.
Here you can eat Sicily and the Sicilian essence, with all the necessary updates though never losing sight of the roots. There's lots of sea: in the Striped red mullet, bread scarpetta, black olives and mullet soup, or the delicious Grouper with sautéed wrapper-cooked clams with fennel heart – we would have cooked the fish a few seconds less, and it would have been a faultless dish. Sumptuous cakes: a half-savoury-break with the Cardamom ice cream with shaved ragusano cheese and extra virgin olive oil, delicious, and the more classic yet explosive version of Cannolo with ricotta, torrone ice cream and water aromatised with cinnamon.
This is an already important gourmet location, an already established one. However, it is worth mentioning even something else, perhaps after a lunch at Cave-Ox in Solicchiata, a hamlet in Castiglione di Sicilia, where there's a tavern with good wine whose patron is Sandro Dibella. In the evening, one could dream of falling asleep in one of the beautiful rooms at the Shalai resort in Linguaglossa – on a small plot of land between the lava and the waves.
Giovanni Santoro at work: he's the 30-year-old chef at the Shalai Resort in Linguaglossa (Ct)
And here, in this elegant resort, there's another high quality kitchen: it is run by
Giovanni Santoro
, who just turned 30, a prophet in his own land. His style appears to be less structured than
Macca
's; however, we seemed to notice a rather similar creativity, an intense talent, perhaps not yet regimented, that lashes against the palate with the excellent
Ricotta and spinach pie, with celery cream and breadcrumbs with wild fennel
, it seduces it with the
Beef and artichoke tartare, with juniper berries and smoked maiorchino fondue
, before prevaricating it with some extreme notes that are worth softening. It's best to avoid being too ardent, in the land of Etna.
---