Delicious Athens in 32 photos
Travelling across the markets, shops and taverns of the Greek capital. In search for the loveliest products of all
04-12-2015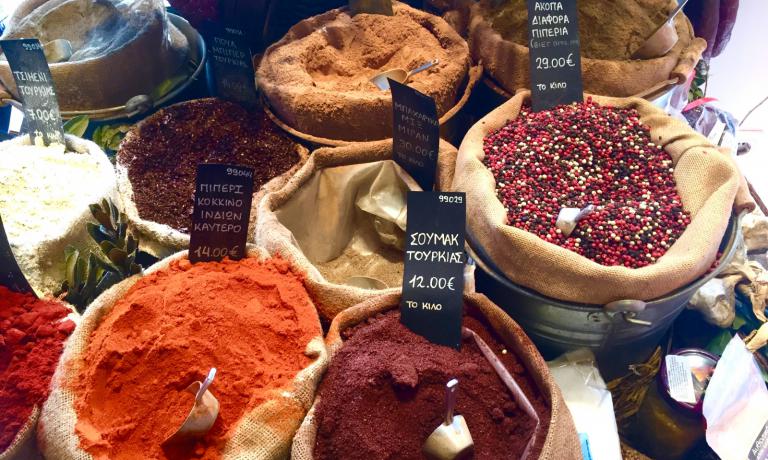 Athens is a kaleidoscope of colours, scents, aromas. Strolling around its markets is beautiful. Here the connection with the Arab and eastern world is proven by the richness of spices
There's the Athens on the way of creative cuisine, without forgetting its tradition, as we explained here. But in the Greek capital, as in all of the Mediterranean area, food means two things above all: conviviality and products. The first can be found in many, excellent taverns scattered around the town, where large tables celebrate the ritual of eating together dishes based - and this is the latter element - on simple yet delicious raw materials that do not require too much alchemy in the kitchen.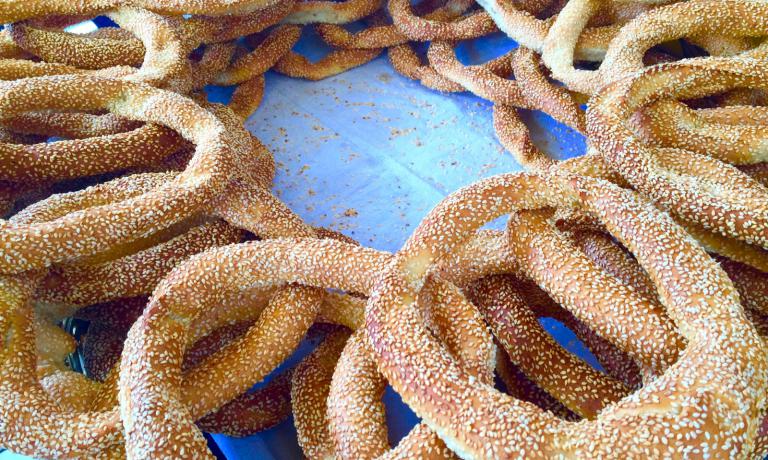 koulouri, the classic breakfast snack in Athens
A food trip to Athens cannot do without a cultural starter. Visiting neighbourhoods such as Plaka and Monastiraki (perhaps profiting of the excellent electric bike guided tours offered by
Solebike
) before climbing on the Parthenon is pleasant. You certainly shouldn't miss the beautiful
Museum of the Acropolis
, where perhaps you might even stop at the restaurant on the second floor: it offers a panoramic of Greek gastronomy, with cheese from Crete, lentils from the north, salami from Lefkas and so on.
North of Monastiraki, the neighbourhood of Psiri hosts the largest city markets and lots of craveable shops that deserve a visit. Since this is not a tourist area, few people speak English so joining the walking Food & Wine Tour offered by Athens Walking Tours, discovering the most authentic shops, would be of great help.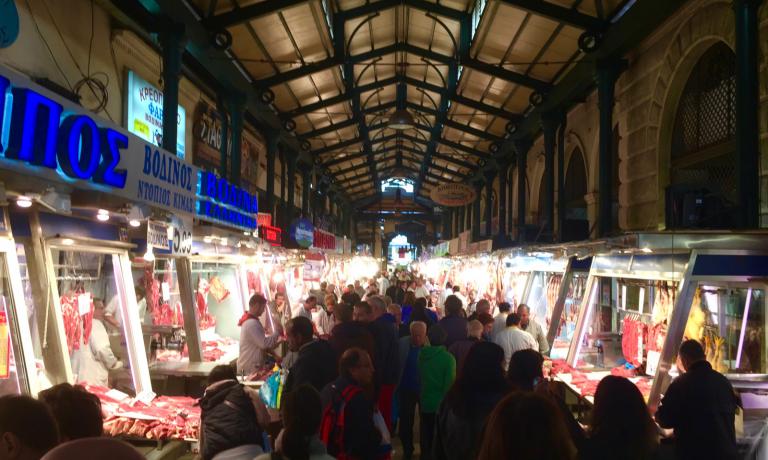 The meat market
Whatever you may choose, the day can only start with breakfast. Greek style. That is to say a few cigarettes and a koulouri (a doughnout shaped bread with sesame seeds sprinkled on top), or perhaps a little tiropita, a sort of savoury pie filled with feta and, mostly, spinach (Greek pita is a round, leavened flat bread, made with wheat. In Calabria it is called "pitta", and according to some the word "pizza" comes from this).
Is this too light a breakfast? No problem since traditionally the Greeks have many meals and snacks: after the above mentioned breakfast, there's a snack at 11 – perhaps just some bread seasoned with tomatoes and extra virgin olive oil – and then lunch at around 2,30 pm, a snack at 5,30, until supper between 9 and 10 and even later in the summer.
The fish market
For sure, the style behind these snack breaks remains the same: in Athens, just like in all of Greece, people never give up on the tradition of dishes closely recalling the so called Mediterranean diet. Seasonality is important. Every break is in function of a life style in which food is strongly connected with social life: main meals require the family to be reunited; so, for instance, it is hard to find authentic shops open at lunchtime, as their owners will be dining with their children after school.
In the photo gallery, our trip around the best food spots in Athens.
---
Rubriche - Carlo Mangio
An outdoor trip or a journey to the other side of the planet?
One thing is for sure: the destination is delicious, by Carlo Passera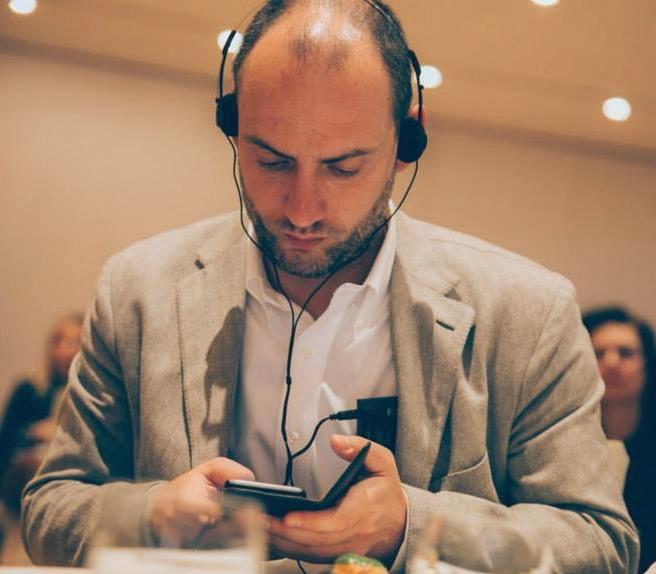 by
Carlo Passera
journalist born in 1974, for many years he has covered politics, mostly, and food in his free time. Today he does exactly the opposite and this makes him very happy. As soon as he can, he dives into travels and good food. An early member of Identità Golose
---
Photogallery
Latest articles published