Harrods, the complete photo-gallery
The most beautiful shots taken during Identità London's super-lunch, a celebration of Italian cuisine
29-04-2013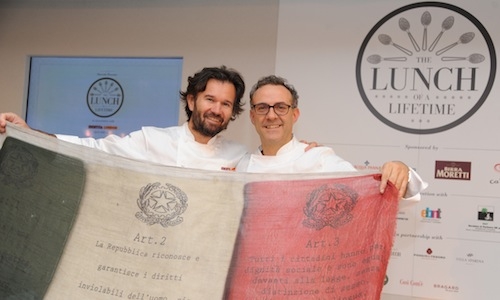 L'ITALIA S'E' DESTA. Carlo Cracco from the homonymous restaurant in Milan and Massimo Bottura of Osteria Francescana in Modena hold the Italian flag at The Georgian, on the fourth floor of Harrods, the stage for the 2013 edition of Identità London, a splendid lunch devised together with Gennaro Esposito, Enrico and Roberto Cerea, Davide Scabin, Luciano Monosilio (photo and photo-gallery by Eamonn McCormack)
For the complete story of Identità London's super-lunch at Harrods, we invite you to read Paolo Marchi's article. Below, instead, you can find the best shots taken during the day by Eamonn McCormack. The day's menu went out incredibly smoothly, thanks to all the authors and partners involved: Berlucchi opened the show with their Franciacorta Cellarius Brut 2008, while Carlo Cracco's Poached egg had as its very worthy partner, the Vermentino Doc Solosole 2012 by Poggio al Tesoro, the Tuscan estate of the Allegrini.
When Luciano Monosilio's pasta carbonara arrived, the perfect match with Birra Moretti Lager was applauded. Same happened for Enrico and Roberto Cerea's Salted codfish salad which had, as its perfect sparring partner Villa Sparina's Gavi Docg 2011 produced by the Moccagatta brothers. Their Gavi Docg Monterotondo 2009 was served together with Davide Scabin's Pasta Shake and, in its magnum bottle, 2006 vintage, with Gennaro Esposito's Slice of white fish. With Massimo Bottura's extraordinary Psychedelic Veal again it was time for Allegrini with La Grola 2010, a splendid Valpolicella red wine. And Birra Moretti was finally back with all the pleasant caramelized bitterness of La Rossa during the epilogue set by the Cerea brothers' super dessert-buffet.

All this together with other products showcasing the best of Made in Italy: the ageing of Grana Padano's Riserva 24 mesi for the aperitif and paired with the pasta carbonara, the Acqua Panna and S. Pellegrino waters, the essential support of Ca'Puccino, Così com'è's delicacies and Consorzio dell'Olio Toscano Igp's oils, Bragard's uniforms for the chefs and the crucial help of institutions such as Expo 2015, Ebnt, the National bilateral organization for tourism and Fipe.
Thanks to everyone and enjoy the photo-gallery.
Identità London
---
Photogallery
Latest articles published