Stelle di Stelle
A feast of fine Italian dining at Harrods
26-08-2014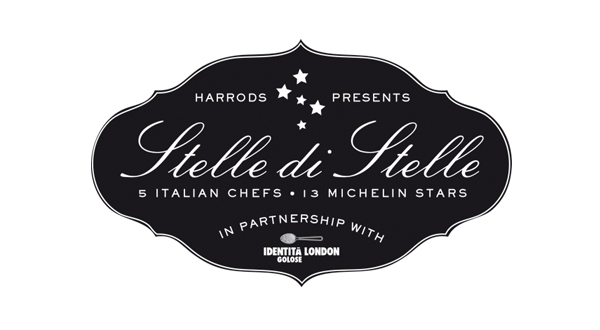 The world-famous department store is to host a pop-up collection of Italy's most celebrated destination dining rooms. From September 2014 to January 2015, Harrods welcomes five of Italy's best restaurants to take up residency in the Knightsbridge store. Headlining for one month each, they will provide a special edit of their signature dishes.

With 13 Michelin stars between them, the acclaimed line-up is: Carlo Cracco's Ristorante Cracco; Giorgio Pinchiorri and Annie Féolde's Enoteca Pinchiorri; Gennaro Esposito's Torre del Saracino; Enrico Crippa's Piazza Duomo; and Enrico and Roberto Cerea's Da Vittorio.

The pop-up collection, entitled Stelle di Stelle, is presented in association with Identità Golose, a culinary organisation with a mission to promote the best of modern Italian cuisine and showcase regional culinary excellence worldwide. Taking inspiration from their restaurants' settings in Milan, Naples, Florence, Alba and Bergamo, the chefs have used only the finest seasonal ingredients to offer diners a stellar experience of contemporary Italian cuisine. Each chef has created a four-course menu, which can be paired with Italian wines and beers. Menus will be priced at £65 for lunch and £115 for dinner (£85 and £140 respectively, with matching drinks), with one lunch and two dinner sittings each day.

To book a table, call +44 020 7893 8700 (booking line opens from Friday 8th August. Bookings can be made 9am-8pm Monday to Saturday and 11am-6pm on Sunday). More information is available online at www.harrods.com. Table requests can be emailed to stelle.di.stelle@harrods.com when the booking line is closed. Stelle di Stelle will be located on the Lower Ground Floor of Harrods next to The Wine Rooms.
The event is sponsored by leaders in the Italian food and beverage industry, including Consorzio Tutela Grana Padano, Acqua Panna-S.Pellegrino, Lavazza, Ferrari, Molino Quaglia. Stelle di Stelle is also supported by ExpoMilano 2015, FIPE and EBNT.
Schedule: Chef and menu

SEPTEMBER: Chef Carlo Cracco
Fresh tomato pulp, mozzarella and basil seeds
Beef Tartar with Marinated Egg Yolk, white truffle, pomegranate
Green tomato risotto, toasted pine nuts
Veal fillet Rossini Style with foie gras, black truffle, spinach and Marsala sauce
Burnt chocolate and parsley dessert

OCTOBER: 
Chefs Enrico and Roberto Cerea
Cantabrico anchovies, tuna sauce and Piedmont hazelnuts
Langoustine tail with almond cream and Roveja wild peas
Soft polenta, Roccaverano robiola cheese, white truffle and Grana Padano sauce
Potato Gnocco filled with white truffle cheese fondue
Sea bass Mediterranean style with yellow tomatoes
Avocado cream with caramelized macadamia nuts and yogurt sorbet

NOVEMBER
: Chef Gennaro Esposito
Polenta with Grana Padano fondue, quail egg, broccoli e white truffle (only DINNER)
Soup with Belice Nocellara olives and almonds, fennel purée and silver scabbardfish (only DINNER)
Mediterranean rockfish and shellfish stew with pasta
Breaded mullet, Nubia garlic sauce with pesto of raisins and pine nuts
Passeggiata Vicana – Lemon pannacotta, walnut biscuit and extra-virgin olive oil

DECEMBER: 
Chefs Giorgio Pinchiorri and Annie Féolde
Octopus cooked in olive oil with pumpkin cream, coffee pearls and watercress sprouts (only dinner)
Poached egg with Alba white truffle and Grana Padano cheese fondue
Fusilli al ferretto with artichokes, scampi and licorice powder
Lamb fillet topped with garlic and thyme, with polenta and black cabbage
Bread, chocolate, oil and salt

JANUARY
: Chef Enrico Crippa
Veal in tuna sauce
Alta Langa potato cream with quail egg and lapsang souchong
Agnolotti del Plin stuffed with three roasts and served with roast juice
Fassona beef braised with Barolo served with stone milled polenta
Hazelnut cake made with "relanghe" hazelnuts from Alba, with cold zabaglione with Moscato from Vignaioli di Santo Stefano

Social Media: #StellediHarrods