Scabin: the Quadraling revolution
The great chef launches a discipline that studies the distribution of tastes and their perception on the tongue
20-07-2015
Davide Scabin on the first floor of Identità Expo, the restaurant that hosted the chef from Combal.zero in Rivoli (Torino) from Wednesday till Sunday, last week. The chef from Rivoli announced a law describing the evolutionary coefficient of creativity in the kitchen and a new discipline which he called "Quadraling": it studies the distribution of food primary tastes and the way in which they are perceived on our tongue (photo by Zanatta)
When Davide Scabin is inventing, there's him, a pencil and a sheet of paper. The world is kept outside because, as he explained some time ago, «My great worry is that when we are born there's already a long queue of people who decides for you in which cradle to sleep, what pyjama to wear, what food you to eat and what must be avoided. It is unbearable». This way you can release yourself from the puppeteer strings, erasing the space and time coordinates that place us here and now. Removing references to other cooks, their styles and dishes, an impossible exercise of which the chef from Combal.zero is capable as no other.
This is the isolation of the creative process: «Because if we look for sharing, it is only to kill solitude», he says at the beginning of a long chat on the first floor of Identità Expo, «but we're always alone with our taste». A productive obsession that over the last few weeks gave us two of the most inspiring ideas on which to dwell today: a mathematical law «that can guide cooking from the marshes of vagueness» (quoting Paolo Marchi) and a discipline with wide horizons which the chef has named Quadraling". Let's go in order.
A few days ago you launched the formula for creativity in the kitchen. What is the meaning?
First of all I would like to say that this law doesn't explain the meaning of evolution in the kitchen. It rather represents a coefficient, an evolutionary factor that could allow us to understand where we stand and were we are going. It is certainly not a finished rule but it can be subjected to alterations. It is the beginning of an analysis, a coefficient on which to base the mode in which to proceed. A formula I would like to discuss with mathematicians and physicists.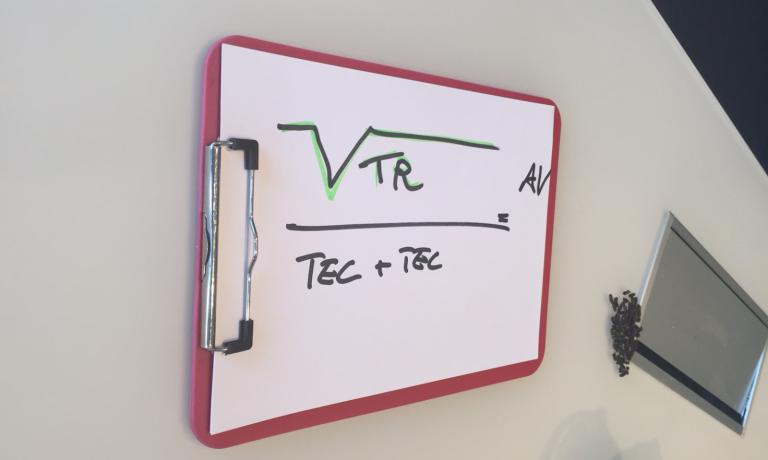 SCABIN'S FORMULA. Creativity (or Avantgarde or Future) = the square root of Tradition divided Technique times Technology
The formula goes like this: "Creativity (or Avantgarde or Future) = the square root of Tradition divided by Technique times Technology". Let's start from the numerator.
I 'trimmed' tradition under a square root because, after decades, what really remains of a successful tradition, its heritage, is always smaller than what we initially believe, when tradition barges into as an evolution. Take a syphon, which today is almost tradition: ten years ago everyone was crazy about it. Today we use it very rarely. Or spaghetti carbonara: in my evolutionary factor I necessary need to bring only some of its coded steps, not everything it meant when it was invented. Tradition is always made lighter than the weight we give it initially.
This value is then to be further divided by the result of technique times technology.
On top of the fraction, there's what we are like in that particular moment; underneath there's the coefficient calculating the forward-movement of tradition. The larger it is, the smaller the capacity of tradition will be. Technology usually has a propulsive influence on technique, it places it on the launching pad. Take the Roner: when it arrived, technology changed, that is to say vacuum and low temperature, which you can control, but not the cooking technique of roasting. In this case we will thus give a top value to technology, lets say 10, and a minimal one to technique, let's say 1. But there are techniques that don't require technologies: isn't this the case for fermentations, which are so popular?
What is the value of "technique times technology" in the kitchen, today?
Very low. Cooking is stagnant, we're still: contrary to 10 or 15 years ago, when the Spanish model was rampant, today there are no new technologies or techniques on the horizon. This void is filled by drawing ancient techniques, once again, perhaps from distant worlds, as with kimchi or ceviche. Yet these are trends that add nothing new. As for me, I'm working on a project that could lead us a long way. It is called Quadraling.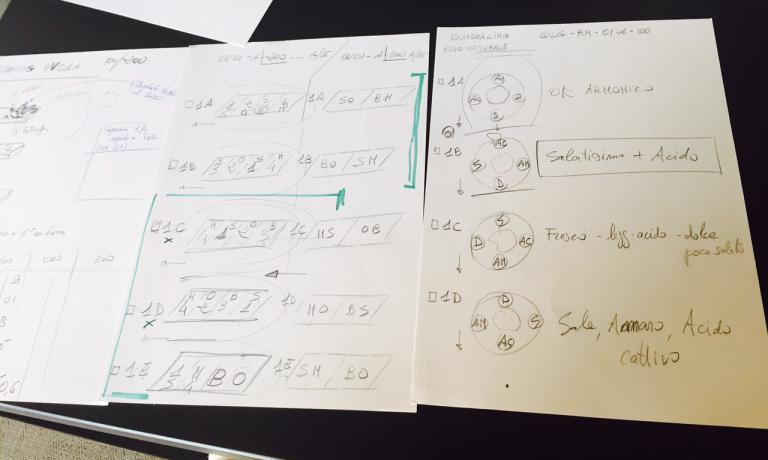 The first precious experiments made by Scabin on "Quadraling": in the middle, the tests made with the Virtual Oyster parallelepiped; to the right, a cylinder made with neutral rice surmounted by a gel with the four primary tastes: sweet, salty, acid and bitter. "I brought these sheets of paper with me, to New York. I never leave them", he reveals
We saw it in the documentary series "Uno scienziato in cucina", which was broadcasted a few days ago on LaEffe [the video is on
YouTube
]
. Can you sum it up for us?
I got the idea one and a half years ago, while I was flipping through a car magazine. Some factories use the "Quadralink" shock absorption technique, a registered trademark, just like "Common Rail". This technology guarantees car stability thanks to a linear support to the ground: wheels move in all directions. And I thought, this is an ergonomics principle you can apply to our tongue too, which is another very dynamic organ. ["Ling" comes from "Lingua", tongue in Italian].
How so?
The tongue moves in every direction. And we now know with certainty that what they told us decades ago, is false, that is to say that it is not true that taste buds perceive the acid taste on the sides of the tongue or the bitter taste in the back of the tongue. It is false because every taste bud is capable of perceiving each primary taste. So I started to make experiments on the different perception of taste depending on how you introduce food in the mouth.
This is no news for you.
Indeed. It was the principle behind the Check Salad, a dish I brought to Identità Golose in 2006: vegetables and separated tastes, with vinegar and oil on the side, to be tasted in a sequence. My Virtual Oyster, a classic of mine on which I made new experiments on the physiology of taste was perfect for Quadraling. I transformed that small cube of watermelon – on which we always placed, in order, salt, extra virgin olive oil, bottarga and toasted almonds – in a parallelepiped. I put the four components down, placing them in all the possible orders: once with the salt next to the mouth and the bottarga at the end, once with the salt at the end and the almond in the third place, and so on. With Beppe [Rambaldi, his historic second] and journalist-guinea-pig Luca Iaccarino we started to taste all versions to understand how the palate would react.
And how did it react?
In an almost univocal way. There was a case in which the oyster tasted almost as if it had gone bad: everyone's reaction was to throw it up. In another case the oyster seemed even more gentle, it almost tasted like a fines de claire. The classic sequence of a virtual oyster was the one we all enjoyed the most. The instinct always told me this and was not mistaken. Except now I have an empirical proof, after 36 primary tests. Sometimes being creative means leaving a dish in the same way you've always made it. Understanding you don't need to change a thing.
Davide Scabin and Giuseppe Rambaldi in the open view kitchen of Identità Expo (photo by Brambilla/Serrani)
Did you do other Quadraling experiments?
Yes, a second very interesting one, very technical. I took some small, tasteless discs of sticky rice for sushi. On the surface, in the four cardinal points, I put 4 small drops of gel, each with a pure primary taste: acid, salty, bitter and sweet. In the middle, I put a spicy prawn bisque, which represents the fifth taste for me. We tasted the small cylinders having them enter the mouth rotated by 90 degrees, with a different taste at first. In this case too, the resulting pleasantness changed a lot, from case to case: two sequences were not good, one was so-so, and the fourth almost tasted as if it were a dessert.
Is this the dawn of a science?
I can't dare calling it such because I am not a scientist. We're certainly at the beginning of a crazy work of codification, we have found a passage we couldn't see before, opened a window and found an ocean. Imagine the numerous and fertile applications of a discipline explaining how to place flavours on a dish or on a spoon. Then perhaps large food industries are already secretly thinking about this, they know already that the future is tailor made. In a few years time, a machine in the mouth will measure taste and they will adapt dishes to that. Meanwhile, I'm happy to continuing my dream.
That is to say?
We could very well add two more tastes to the whirl of five tastes mentioned above. And I'm not speaking of umami, which in my opinion is the result of sapidity, not a primary taste. I'm speaking about fat, a taste – as demonstrated – which our tongue and receptors can isolate and code. And the taste of iron, of blood. What can you make with seven elements? A whole universe, like the musical one.
---
Rubriche - Zanattamente buono
Gabriele Zanatta's opinion: on establishments, chefs and trends in Italy and the world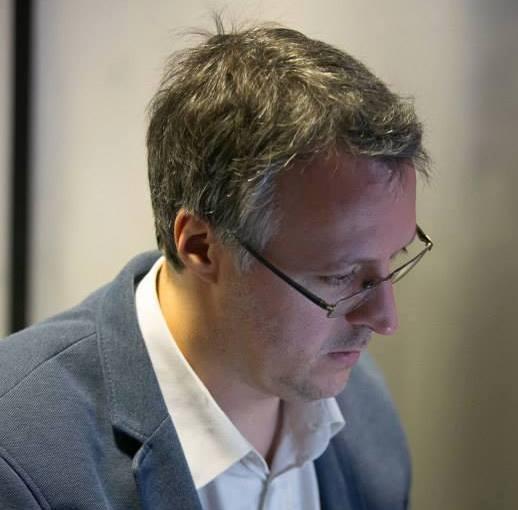 by
Gabriele Zanatta
born in Milan, 1973, freelance journalist, he's been working as a co-author and coordinator of both Identità Web and Identità Golose World restaurant guidebook for the past 7 years
twitter @gabrielezanatt
---
Latest articles published