Wooding, wild magic
An experimental laboratory in Brianza explores the infinite possibilities of spontaneous food. In 3 stages
02-12-2015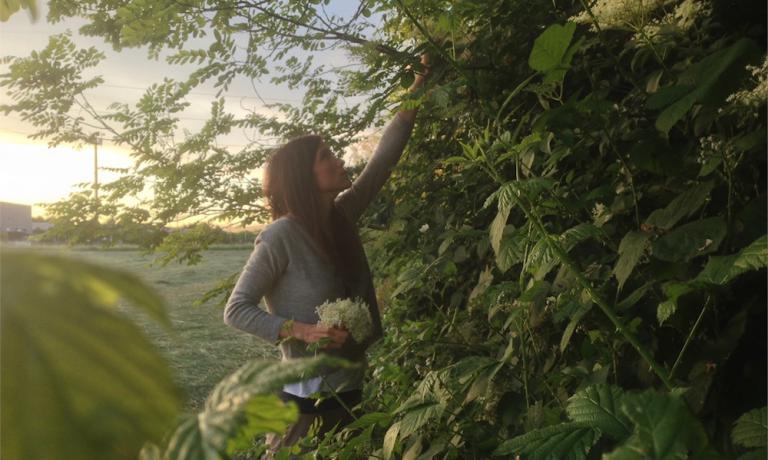 INTO THE WILD. Valeria Margherita Mosca foraging, harvesting spontaneous food. Together with a team of scientists, chefs and mixologists she founded the Wood*ing wild food lab in Seregno, Monza Brianza, "a research laboratory on the harvest, preserving and use of wild food in cooking "
It all begins on 30th August. We publish the news of the Vild Mad, a project through which René Redzepi aims to promote foraging culture (the harvesting of wild food) in Danish primary schools. A comment on Facebook arrives: «Why is it that if they do it in Denmark then they're cool, but if we've been doing the same in Italy for years now, no one speaks about it?». It's Valeria Margherita Mosca. Got it, so we go and see what this is about.
Valeria welcomes us a few weeks later in the headquarters of Villa Buttafava, in Brianza, on the border between Desio and Seregno. On the doorstep, she hands us a linden and wild camomile tea, blessed it given the pressing ice-cold. With her, there's wild-mixologist Giuseppe Mancini. Chemist-toxicologist Micaela Placentino, bio-technician specialised in fermentations Luca Giuliano, and artist/artisan Virginia Devoto are not here but only because they're freelance. This is the Wood*Ing team, subhead Wild Food Lab, one of the most unique and interesting projects we've come across lately.

«We want to give value to wild food in all its forms», explains the young woman, a graduate in Cultural heritage preservation with a significant experience in Giancarlo Morelli's kitchen at Pomiroeu in Seregno, «On three levels: harvest, preservation and cooking». Cyclically the guys are off to explore the green stretches of Valsassina, Valmalenco or the seacoast in Sardinia. They inspect soil (and trees) in order to eradicate with attention (or draw from trunks or branches) a series of wild edible species that thanks to an impressive botanical knowledge they name one by one in Latin, following the difficult scientific taxonomy.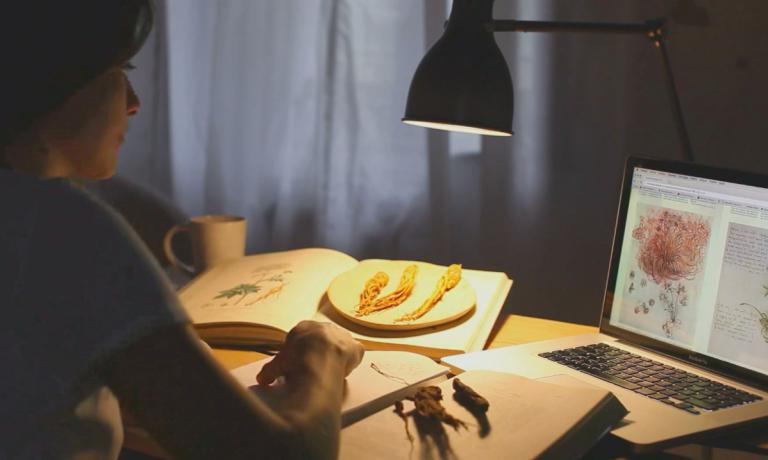 HERBARIUM 2.0. The work classifying hundreds of wild edible species in Italy is crucial. Projects on comprehensive mapping are under study for 2016 (photo credit Valeria De Cicco)
«This is
rumex acetosella
and has very strong acid tones», explains
Valeria
while she guides us on a foraging blitz in the park surrounding Villa Buttafava, «and see that
silene vulgaris
? It's very good and sweet. As for the
achillea atrata
we use it because of its pronounced aromatic character». These are, for us, the first principles of
alimurgia
[the science connected with using wild plants for feeding especially during famine or other emergencies], a science we didn't know existed: «It is mostly focused on the study of the edible features of wild plants, a very common practice in the 19th century, especially during cyclical famine periods».
Industrialisation and large-scale retail confined this discipline to oblivion, together with many herbs and vegetables with interesting organoleptic and nutritional characteristics, stolen from our bodies for marketing or convenience purposes, «Yet we still have significant traces of this knowledge. We're working hard to bring them back to surface». The guys are preparing more than a volume to map the hundreds of edible wild species silently reproducing in our country. «It's a potentially important work because it could give new energy to disadvantaged and abandoned territories. Reactivating eco-systems that pre-existed to the urbanisation process. Giving new models to farms, reactivating territorial economy and reconnecting people to their native land». As Valeria speaks, one is struck by the absence of such popular words as "sustainability", "local", "organic". A proof of character.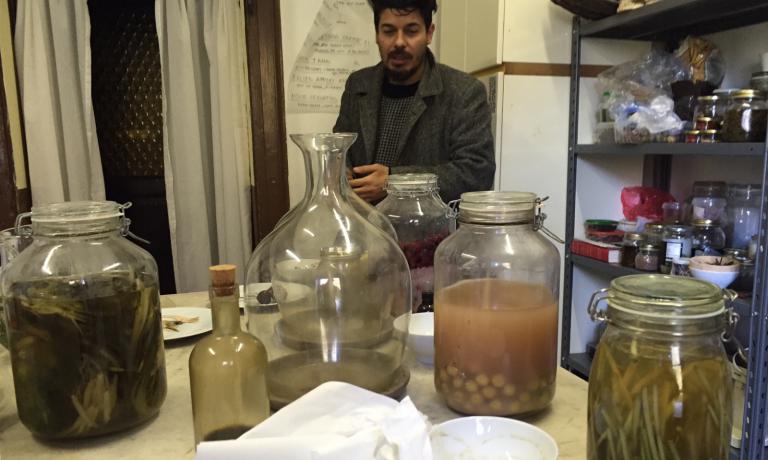 LAB. The next step after harvest and classification? Fermentation experiments (in the picture, mixologist Giuseppe Mancini)
With shoes now covered in mud, we arrive in the Lab of
Wood*Ing
itself. On one side there's the aroma extractor which from time to time interrupts the conversation with its roar. In the middle, there's a marble counter with carafes full of vegetable infusions, herbs and fruits in lactic or alcoholic fermentation, boiling sterilised containers, mini-Tupperware boxes with magical coloured powders. This is the wilderness post-production sancta-sanctorum, the real phase-two laboratory dedicated to the preservation, analysis and experimentation of the harvested products.
The guys make no mystery about their love for fermentations. After all, why should they stop in front of the dogma of a cooking based on seasonal and freshly made ingredients? It is proven that plenty of food tastes better and is more nutritious if you eat it a few months or weeks after picking it. «Bacteria are very often a resource, not an enemy». Conclusions a certain place called Asia reached centuries ago. While the West keeps this to a distance with its antibiotic armour (a topic effectively demonstrated by
Michael Pollan
in "
Cooked
").
Meanwhile, we amuse our palate with nibbles of Fermented red spruce needles: «This tree», says Valeria, «is a reservoir of largely underused marvels: it grows all across Italy, the resin has a good aroma and you can obtain a fantastic subsistence bread flour from its bark… We're working with Erstaf on a project to distribute red spruce soda made from forest scraps. It's very rich in vitamin C».

When the discussion dangerously approaches homo- and hetero fermentative starters, aspergillus oryzae moulds and food safety ph level, the author of this piece is reminded of the D's in chemistry in secondary school. And pretends he's understanding while he enjoys concentrating on the incredible tastings: Powdered wild barley that looks like Matcha tea but without its bitter tones, Dried polipodium vulgare ferns that create a short-circuit of sweet and bitter...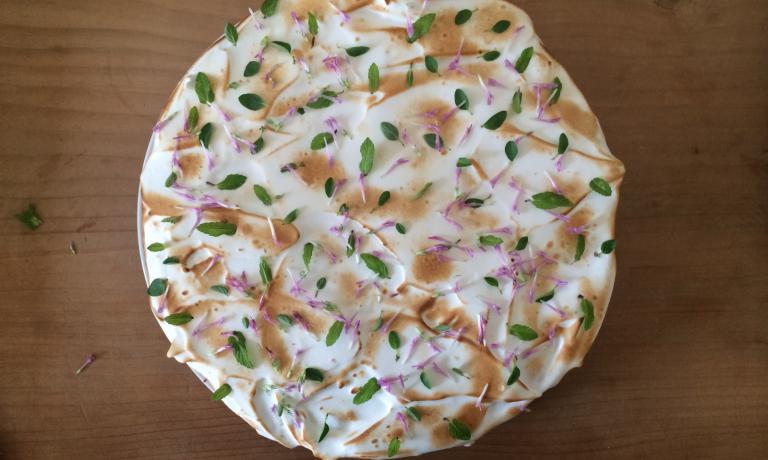 FOOD. Wild pea miso cake, goat milk from East Lombardy, clover and wild thyme. To make the subject known, the guys at Wooding organise monthly dinners with tasting menus, for info: +39.331.4143303 and info@wood-ing.org
It's a pity that we couldn't taste
Giuseppe
's
Camolini
cocktail, a Martini made with the mortar with a self-produced bitter, 6 crushed larvae and a spirit made with winter wheat (vodka). «However»,
Valeria
points out, «we now prefer to avoid using worms and insects because everyone's speaking about them and mistakenly so. Best to focus on the ingredients we best know». There are already thousands of experiments, «but only a part of these end in the plate: organic failures happen everyday». Did you say plate? «Yes, cooking is our passion». This is phase 3: «Once or more, every month, we create some tasting menus here so as to make a complicated subject more accessible and pleasant». In the menu there are dishes such as
Oyster with marinated alkekengi physalis
or
Nut soup
made with beechnuts, peanuts, pine nuts and almonds: «50% of the ingredients are fresh, 50% preserved».
How about meat and fish? There's no preclusion: «We prepare herrings following the
missoltino
recipe or garum with wild hare liver». Is fine dining sensitive to the wild herb theme? «We've worked with excellent cooks. In general, however, there's no desire for a real debate. We used to sell ingredients to chefs but we've stopped, this is not what we want». Their intention is to spread the culture based on elements we tread on everyday without noticing. Uprooting a very rich world submerged by the oblivion in which it plummeted.
---
Rubriche - Zanattamente buono
Gabriele Zanatta's opinion: on establishments, chefs and trends in Italy and the world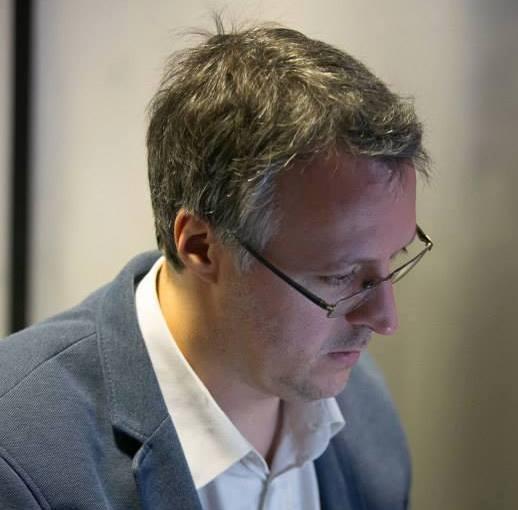 ---
Latest articles published