In Crippa's vegetable garden
Biodynamic agriculture, hyper-seasonality and a dream to grow. The secrets of a master of vegetal cuisine
20-03-2015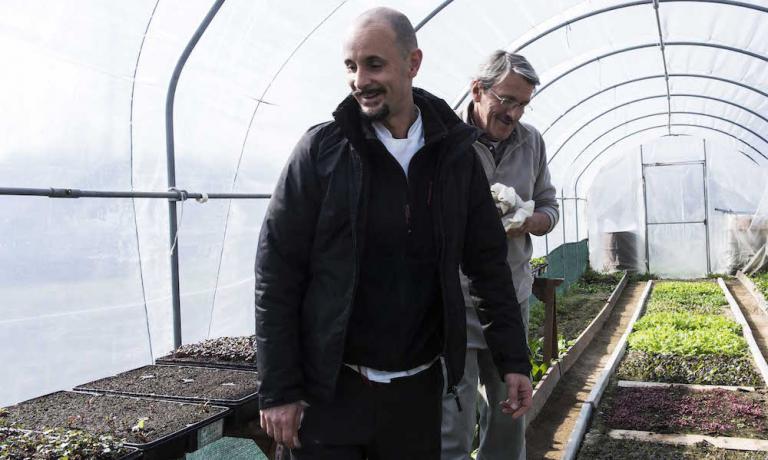 Enrico Crippa, chef at Piazza Duomo, 3 Michelin stars. Behind him, Walter Danusso, farmer in the Langhe. From the vegetable garden they tend to, right outside Barolo, comes a large part of the vegetables, fruits and herbs that are served at the 3 Michelin star restaurant in Alba (Cuneo) and in the restaurant below (photos in this article are by Brambilla/Serrani, translation by Slawka G. Scarso)

It's the spring equinox today and we couldn't celebrate it in a better place. We rush to Enrico Crippa's vegetable garden, little over 2 hectares in Castiglione Falletto, 100 metres from the town of Barolo and a few kilometres from Piazza Duomo in Alba. We are guided by the memory of his lecture at Identità Milano, with the audience charmed by the masterful mixing of Jerusalem artichoke, thistle and daikon. It was so magic that the proposal made by the chef from Brianza, later adopted by the Langhe, convinced Paolo Marchi: «Why don't we have the congress in a different period, next year? This way we can challenge ourselves with different ingredients». Said and done: Identità Milano 2016 will take place in mid March, a month after the usual.

We walk across this green tiny plot thinking that in Italy there are very few people who have such a skill dedicated to the authentic knowledge of vegetable growing. Those who, before peeling, cutting and boiling, research on seeds and plants from all over the world, and plant and uproot fruits with their own hands. A model we would like to se replicated a million of times. Of course, where it is possible because nature does not ask for any forcing. We are welcomed in the vegetable garden by Walter Danusso, a retired farmer who was hired by the chef to look after this fertile strip: «Langhe is mostly a land of vineyards, not for vegetable gardens. The perception, however, is changing».

The following chat was born from this two-hour-long walk next to Crippa and Danusso, between green houses and orchards. While zigzagging between lines with hundreds of sprouts from all over the world, patches of hay covering asparagus and wild herbs. In the shade of a half-destroyed farmstead and a small brook separating Ceretto's property from someone else's placid hazelnut trees.

How was this vegetable garden born?
Crippa. It started when we opened the restaurant, in 2005. Alessandro Ceretto had taken over the winery, deciding to apply the principles of biodynamic farming to the family vineyards. So I wanted to do the same in the vegetable garden: we prepare horn silica, horn manure [more details here], bonds are made at dawn and sunset, there's the influence of the lunar phases and treatments are as limited as possible. A little verdigris on tomato plants, usually.
Danusso: We now have around 500 wild herbs from all around the world but in the beginning they were just weeds. We worked the soil with lots of ripping, without ploughing: this process is more respectful, it doesn't upset the nutrients. Let's say our farm growing is natural. For instance, we pay lots of attention to dividing the period when to sow roots, leaves and fruits.
Crippa: At first, I couldn't believe it myself, yet Walter proved that if for instance you sow a carrot when it's time to sow leaves, and not roots, the leaves will grow very high, while underneath the carrot remains tiny.


SPRINGTIME. The earth lifts its bridal veil
Why biodynamic agriculture and not organic one?
Danusso
: I'll be frank: I believe organic agriculture is mockery. Today, the products of many corporations indicate on the label that they are 'allowed for organic farming' yet the chemical composition is no different than before. Fighting 'bare-handed' with mites, as we do every day, is hard and expensive. But it is certainly more responsible than beating the ground with rubbish you will then find on the plate. There's no other way than investing in natural agriculture. And luckily younger generations are proving to be more sensitive to this issue than mine.
Does the vegetable garden supply all the vegetables you offer in both restaurants in Alba?
Crippa
: All that reaches maturation here is served both at Piola and Piazza Duomo, but for various reasons we need to integrate with fruits and vegetables with other origins. There are weeks in which salad is so abundant we can't even manage to dispose of it all, while others we don't have any. In this case we buy it from trusted farmers. I also buy carrots and potatoes I then use for broth and jus. My morning round is like this: I stop at the wholesaler for carrots and onions, I unload them at the restaurant, I come here to Walter's, take the vegetables and herbs I need, I unload them again at the restaurant, then go to the fish monger and finally I go to work with they guys, who arrive at 8.
Danusso
. Then there are all the variables of a vegetable garden. Today I am restless because there's a non-identified being that's making holes in the ground and eating all the seeds I sow, systematically. It's not a mouse. Not even a bird, because it would leave its marks. Perhaps it's a bug.
Crippa
. Last year it rained a lot: red snails ruined for long periods our products, eating chard leaves, mostly. In order to dissuade them, we throw ash or nettle decoctions Walter prepares. They don't always work. In these cases you cannot serve a leaf with holes in a dish: some clients will understand, many won't.
How much joy does the vegetable garden give you in this very time of the season?
Crippa. In the Langhe not many, to tell the truth. It is a transitional period, unsure between winter and spring. Cabbage, broccoli and Jerusalem artichokes are now mediocre. You'd fancy peas, broad beans and asparagus but they're not ready yet. Today with these temperatures it is hard to obtain vegetables that don't come from heated green houses. It's a hard time even for people's moods. The changing of the season is always damned. This is why I always anxiously wait for April and May. I love courgettes, French beans and aubergines. And then I love when peppers from Carmagnola are ready, up till almost October.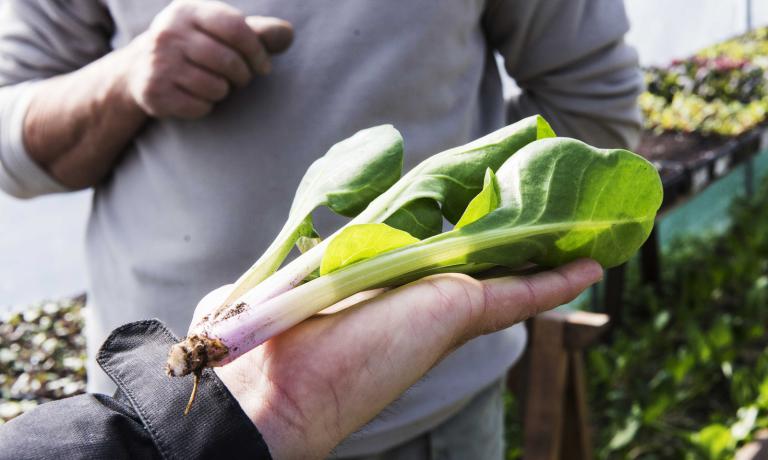 Besides vegetables, strictly speaking, in the kitchen garden in Castiglione Falletto grow over 500 herbs from all around the world
Isn't it now that the asparagus season begins?
Crippa
. Almost everywhere this is the season but not here where everything is more humid and cool. Last year we picked asparagus when everywhere else there were none left. As you can see over there, we don't grow them in the greenhouse.
Danusso
. This plant requires lots of attention. It lasts ten years but you must not harvest during the first two. In the winter, they stay under hay and compost. You must create a bed for each line: manure, sand, soil, compost, hay... it's hard work.
At what rhythm do the species in the vegetable garden increase?
Crippa
. Continually. Walter's mind is here, even when he returns home: he turns on the computer, finds a mustard he likes on an English website, he calls me and buys it. We have just bought butterfly sorrel seeds, thus called because it recalls the wings of a butterfly: it has a red edge and a black stripe inside. It is beautiful but it is also difficult to root. One of the problems is that specialised firms often sell seeds that cannot be reproduced. They do it so you are forced to buy them all the time. Our
trombette
courgettes, the
bomba gialle
courgettes,
potimarron
or the hokkaido squash are all bought from trusted people. After having dried them carefully, we keep the seeds in a cool place fro the next sowing.

Danusso
. It is also important to choose the right soil for each species. We plant asparagus, fennel and carrots in sandy soil because it drains well, though it has less properties. On harder surfaces we plant cabbage, tomatoes and turnips.
Today they say one should waste as little as possible, cooking even those parts of a vegetable that are usually thrown away.
Crippa
.
Very correct, however, to do so properly, you need to have a knowledge that goes beyond the generic concept of seasonality. The woody part of the asparagus, for instance, can be centrifuged only in the first days after it is picked: afterwards, it is no longer sweet. An artichoke has very different sensorial characteristics depending if it's the beginning or the end of its edible cycle. Asparagus lettuce, if you pick it in the right week, is extremely sweet; otherwise, its heart is too bitter. This is why I can't have it in the menu, even though I'd like too. It is too changeable.
This hyper-seasonality is very difficult to handle, once in the kitchen.
Crippa
. Of course, but this is what keeps me always awake and careful at work. The reason that forces me to be almost always at the restaurant. This is why it is impossible for me to start parallel consultancy projects.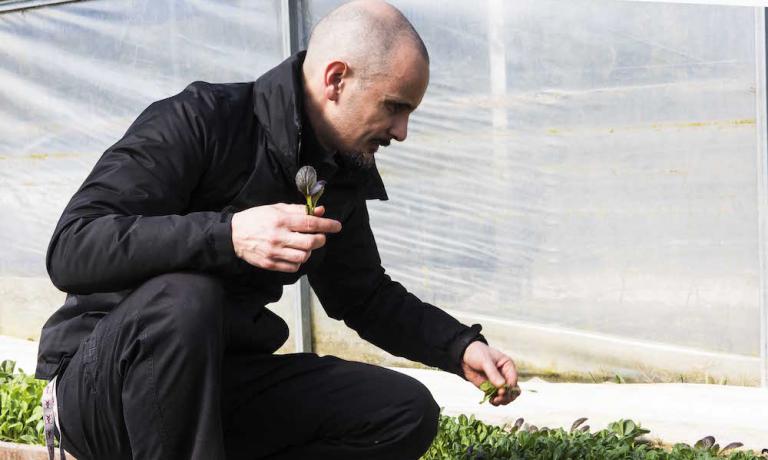 BEING FARSIGHTED. "A 100% vegetarian Piazza Duomo 100%? It would be cool". Meanwhile, he's fine-tuning a second vegetable garden, "A green house with just flowers and aromatic herbs, at eye level, with large tanks of heated soil"
Are there species you cannot plant or that cannot root well?
Crippa
. Yes. We tried to plant wild garlic picked in the mountains more than once, with no results. It's weird because close by, at Chiusa di Pesio, it grows in large quantities. Perhaps it's the lack of a wood nearby that discourages some plants, who knows. We even tried to plant water chestnuts and earth almonds, two tubers, but they don't root. Then there are other plants, like spring salad sprouts, but unfortunately their cycle is so short it dissuades us from cultivating them.
Danusso
. Fruits, in general, are hard here because it is hard to find local peaches and pears, they are almost all cloned. We cultivate beautiful medlars from the Langhe,
puciu
, jujube... Apples are often broken or with holes so you cannot serve them. As for tomatoes, we basically grow them for ourselves only.
Crippa
. Indeed, besides you have to accept that those from Southern Italy taste better. Last year I planted some but they all burst because of the exceeding rain. To make up for it, peppers and aubergines are like heaven. The same goes for all the cabbage, beet and turnip varieties in winter: black cabbage, green lance,
tronchuda
… Onions, like the red one from Tropea or the Japanese ones. And then white, orange, Amsterdam carrots...
Danusso
. It's a constant experiment, paved with unforeseen events. We're now conducting special treatments to be able to grow salicornia, which grows close to the sea. I took some sand from the beach, mixed it with fertilizer and a solution of sea salt... Fingers crossed.
A huge work. Do clients at the restaurant acknowledge it?
Crippa
. Not always. Today there's a little more knowledge of vegetables. But it often happens that people sit and think: 'I'm in a 3 star restaurant, why should I order two courgettes'. They'd prefer to eat a farmed Spanish turbot than the Insalata 21, 31, 41 [one of Crippa's signature dishes which in the peak of May unites 51 different vegetables and edible flowers]. The French and Scandinavians are more sensitive to vegetables than Italians. Yet vegetables are essential for infinite reasons, not just in terms of sensorial characteristics.
In all the dishes at Piazza Duomo, there's always a vegetable or a wild herb. Will it ever become a 100% vegetarian restaurant?

It would be cool. But you need to be brave to abandon all the animal proteins rooted in the DNA of the Langhe:
fassona
,
sambucano
lamb and courtyard animals such as rabbit or capon. Giving up on part of the clientele could be a disadvantage. For sure, I would not serve classic vegetarian ingredients such as blended soy, seitan or tofu. And I would do lots of research on preserving techniques, so as to pass the winter, the real obstacle in such an approach. Perhaps I could open a new restaurant, who knows.
---
Rubriche - Zanattamente buono
Gabriele Zanatta's opinion: on establishments, chefs and trends in Italy and the world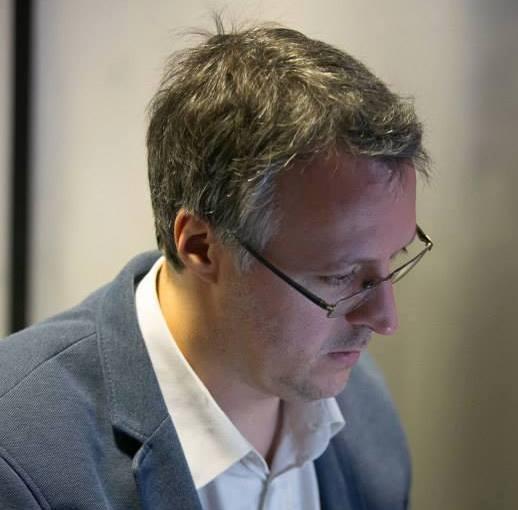 by
Gabriele Zanatta
born in Milan, 1973, freelance journalist, he's been working as a co-author and coordinator of both Identità Web and Identità Golose World restaurant guidebook for the past 7 years
twitter @gabrielezanatt
---
Latest articles published