The summer of sensible fish
What should you eat and what should you avoid by the sea? A chat with Scarselli of Bikini in Vico
29-06-2016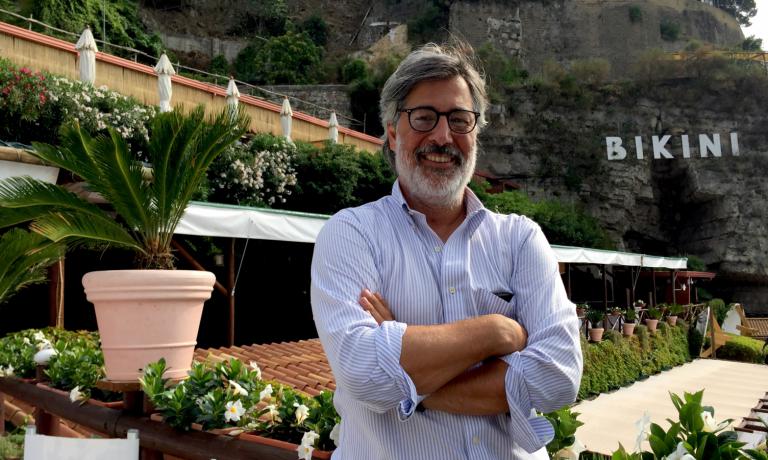 Giorgio Scarselli, born in 1969, restaurant manager at Bikini, the beach resort founded by his grandfather Franco 60 years ago in Vico Equense, in Sorrento's Peninsula (Naples). Third generation of fishermen, he works hard to elevate seafood culture, stressing seasonality and promoting scarcely used species
The first week of summer is already behind us but our preoccupation remains unchanged: what seafood should we avoid when eating by the sea? What dishes should we prefer, beyond trends? How can we steer clear of the bland taste of frozen fish or the stone bass arriving from the straight of Hormuz in Oman? It's a very complex issue and it changes not only when moving from one village to the other, or from the Tyrrhenian to Adriatic Sea, but when moving from one gulf to the other too. Indeed every sea has its ecosystem and its population of fish. So there are no universal laws we can apply.

Our focus today is on Sorrento's Peninsula. We meet Giorgio Scarselli, manager at Bikini in Vico Equense. Spreading the seafood eating culture is a mission for him. It's been so since taking the reins of the restaurant overlooking the family beach resort with Vesuvius in the backdrop, back in 2010. It was founded by his grandfather Franco, a lawyer-fisherman, 60 years ago: «At the time, the name was the most exotic one you could choose», says Giorgio.

A curious look and an intelligent eloquence, he took back the establishment that his father Riccardo, also a fisherman, made famous already in the Eighties: «He was a pioneer. In those days he kept a small boat moored below. And he'd remind the fishermen to come back with baskets full of green weeds to make pancakes. During the reproductive season, they returned with plenty of sea urchins. And we would make beautiful risottos with these. He would also make a gourmet pizza ante-litteram: his Bikini pizza, with rocket salad and provola from the Monti Lattari, was famous». Three generations with sea running in their veins.

What rules should we follow to better appreciate our catch?
The first and most important one is seasonality. Today every professional, or almost, knows when it's the right time to buy and cook courgettes or tomatoes. Yet very little is still being said of seafood seasonality. Still, beyond biological recovery periods, there's always a most suitable time to fish a particular variety. For instance, we should eat mullet when the water is colder because its meat is firmer and tastier. When it's hot, "rock" mullet or "mud" mullet is preferable.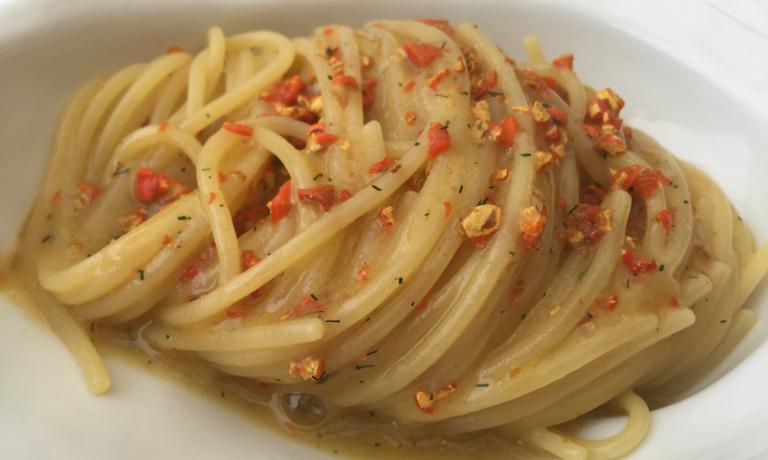 Spaghetti with sea lemon and fennel leaves at restaurant Bikini, chef Domenico De Simone
Would a map for every species of fish and fishing area be necessary?
Yes, but not just as a simple exercise of style. It would have to be a first step so as to spread an important concept: depending on the area, the type of fish to be caught and eaten at the right time changes. This would give value to many species that are now hardly taken into consideration when we cook.
For instance?
We currently have in our menu an interesting first course:
Spaghetti with sea lemons and fennel leaves
. Sea lemons -
carnummole
in our dialect,
spuenzi
in Taranto – are very interesting and available all year round. You can find them at the market for 5 euros per kilo. They use them for excellent risottos between Bacoli and Pozzuoli.
A good summer alternative to sea urchins.
Indeed, as they have a significant acid and citric note – hence the name – which is the typical taste of seabed. They really taste of sea. Asking for a fresh sea urchin in Campania in July makes no sense as the biological recovery period only ended on 30th June. We need to give it time to reproduce.
What else should we avoid during the summer months?
Sea bass, it almost always comes from farms. And fried calamari. They're better when restaurants have just opened on the first sunny days of March and April, even though the best can be caught in December or January. In August or July it's very likely they'll be frozen or from the Baltic Sea. This doesn't mean it's not healthy, yet good fish is something else.
An alternative?
A
paranza
fish soup: nobody asks for it these days because clients always think it's made with scraps from old fish. We make it with comber, small cod, mullet, sand steenbras… small fish, hence hard to use. Yet it's full of taste even in August, just like
sconcigli
.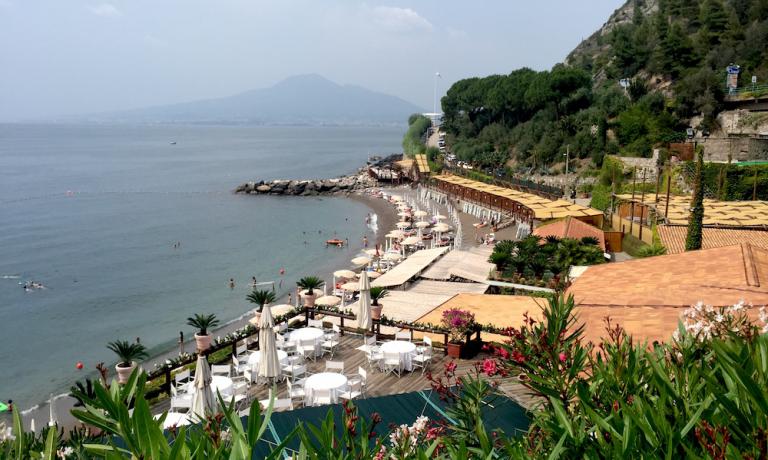 A view from the restaurant's veranda. With Vesuvius at the back
Also known as garusoli.
For the past few years we've been cooking them with
mezzi occhi di lupo
[a variety of pasta] and tomato. They're a very good alternative to
patelle
, which are forbidden these days. They have a very similar Proustian sweetness and fishermen's nets are always full of them.
Are seas poorer and poorer?
Water tropicalisation and indiscriminate fishing are a fact. Still I don't overdramatize because the fish available is not decreasing, if anything, it changes. These days I can find species I hadn't seen in a long while, such as
alalunga
tuna. When I was a child, it was a typical local fish. Then of course my father still remembers groupers swimming 3 metres from the water and perhaps that won't be back. Yet here on the Coast, the real richness is on the hills, not in the sea.
That is?
There are fantastic tomatoes, which are exposed to the sun up to 12 hours. And great countryside culinary traditions that radically change from one kilometre to the next. People from Moiano don't even know how to make the goat meat ragù they make in nearby village of Ticciano. Every fisherman has a house in the hills: when they finish working at sea, they take shelter in the vegetable garden.
---
Rubriche - Zanattamente buono
Gabriele Zanatta's opinion: on establishments, chefs and trends in Italy and the world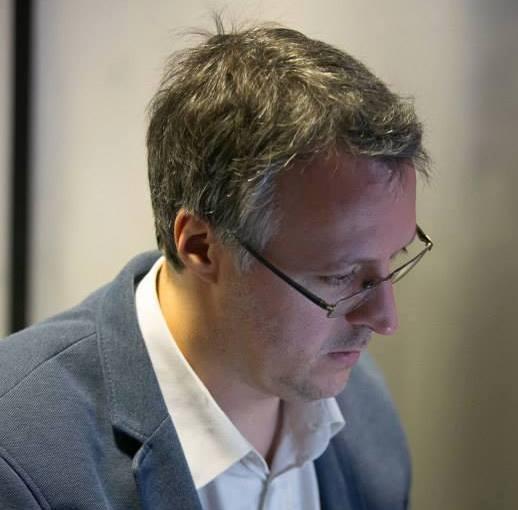 ---
Latest articles published