Virgilio's prophecy
The number one in South American cuisine: "If we continue this way, we will stop consuming meat"
06-02-2015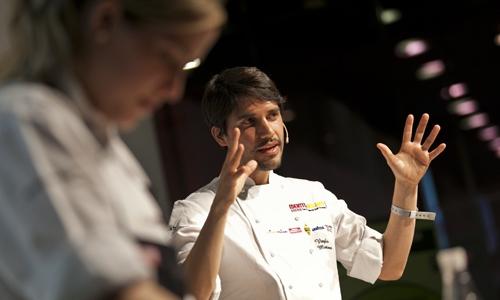 Virgilio Martinez in a photo at Identità Milano 2013, when he held a lecture for Identità Naturali. Two years later, the chef of Central in Lima, who in the meantime became number one in his continent according to the Latin America's 50 best, will return to the Auditorium hall with a lecture on the different altitudes in Peru. On Monday 9th February at 11.30 (photo credits Michele Bella)
Virgilio Martinez is the enfant prodige of Peruvian cuisine and an entire continent. And not just because he recently got to the top of the Latin America's 50Best Restaurant. We were all charmed by the atypical combination of easygoingness and Stakhanovism, humbleness and skill, lucidity and vision of this guy. «I'm very happy», he writes, «to come and dialogue with Italian chefs, to enjoy your food and tradition: Identità generates a strong impact on the gastronomic scene. More than speaking or cooking my things, I can't wait to learn from each one of you».
Can you give us a slight preview of your lecture in Milan?
I'll talk about the altitudes of my territory from below 9 meters to 4800 meters above sea level, then about sourcing in the Amazon. The altitudes concept gets a smooth connection with our nature, territory, people, culture... food. Mega diversity has to be approached with an understanding beyond what a cook like me knows. I'll be talking about the concept of seeing the territory as Altitudes, not as flat geography. Like the way we go and get to connect to the sea then the deserts, then the valleys then you go up in the mountains of the Cordillera de los Andes, and then you go down to Amazonia, the way we use to do it years and years ago. I'll cook dishes from the different altitudes of Peru.

How popular is the health and tasty issue (the main theme of this year's congress) and how is it felt in your cuisine? And by Peruvian and SouthAmerican chefs in general?
These issues have everything in common, that's part of our concern. In my cuisine, over here in Peru, health is important, so are ethics… and taste has to be the motivation too.
Valley between the Andes. Avocado e amaranto. Now on Central menu Credits: Central Comunications-BrickD
World cuisine is getting greener and greener. Is a total vegetarian cuisine a final goal for you also? Or will you always let your customers appreciate animals too?

I love animals, but it is not my priority. I get more benefits, in many ways, working with vegetables, herbs, tubers. It is actually most of the thing we are ready and prepared to eat easily, creating a good relationship with the planet. Being radical is yes first not to use any animals that has an unethical health treatment. If we are eating the soul and energy of a plant, like quinoa, we do the same with animals. I cannot imagine how much pain and sufferance we are getting in our bodies and mind if we keep supporting bad growers and an unethical meat industry
.
I'm not against meat and fishing, just the ways of raising and treating them are most of the time very bad and not good for our souls, bodies and the environment. And if we continue like that, treating animals that way, I can tell you we will have to stop consuming.
Everybody talks here about the hundreds varieties of potatoes of the Andes. Are there other Peruvian ingredients which are less famous worldwide that you'd love to let people know about? Which and why?
Quinoa, a pseudo cereal… there is a big amount of proteins and benefits from their seeds. Corn, native corn, and different varieties. Herbs, Amazonian herbs, not registered yet. Fruits, Andean fruits not well known. Fish, fish from Amazonia. Another planet so far for us yet to look up to.
Redzepi confessed the pressure of being n°1 at 50Best changed his cuisine a bit, did the same happen to you after the n°1 at 50Best South America? Did it change your perspectives somehow? Is it easy to resist the pressure?
Of course we cannot say it is the same now, I would be lying. Of course people know more about us and expect a lot more, and yeah, we feel the pressure not to disappoint people, not disappoint our teams, interns, people who are traveling just to dine at
central.it
. It is what people think that can damage our environment at the restaurant. But if you think about it, we achieved this because we did something before, not in the future, and that's the way we keep thinking, regardless of the pressure. I would say yes, people can feel it and long hours happen, more surprises are to come every single day… so pressure has to be transformed into motivation, expectations have to be transformed into inspiration. We can change methods, techniques and many things… that's evolution, but our philosophy has to be intact. Still, we are working with obsession and long hours. We keep calm when possible and work a lot in other ways to achieve harmony and don't confuse recognition and what we love to do.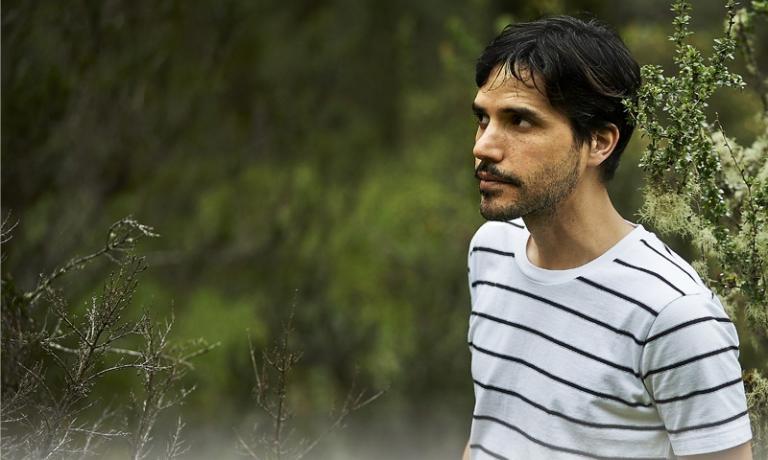 Peruvian from Lima, born in 1977, before opening Central in his capital and Lima in London, in Fitzrovia (summer of 2012, the establishment doubled in July 2014 in Covent Garden) he worked in Spain at Can Fabes and as executive chef of Astrid y Gastón in Bogotà and Madrid (photo credits Central)
You were very successful in England and it's not so common for a South American chef. What's your secret?
Good luck, hahahah, staying positive, always thinking we can do it. Trust, we need to trust nice people. Be sure your concept is clear and make sure everybody understands what's the message. Love to do many things, I'm also talking about having the energy to wake up early, answer crazy phone calls, get ready for jet lag… I assume it, but honestly keep it real and don't go crazy thinking of having more or receiving more. But mostly, getting to know your limits. Home for me is Central, and I knew if I opened in London… it has to be not like Central, so one more thing of course: know your limits without dreaming... a lot.
Is there an aspect of Italian cooking or a chef you particularly admire in Italy?
Let's say a lot of them. I did go to Massimo's place three times and he came to mine. We have some very special talks, and I truly started to understand Italian passion. He introduced me to Italian energy and explained me how good and unique are Italian cooks, but you Italians are an inspiration, always.

When you think of yourself in 2040, what do you see? What would be your dream?
Live the present, regarding situations. I may be living in Cusco, the sacred valley with Pia and my kids. My Mater Iniciativa research group will be having its headquarters over there, surrounded by the mountains the Andes and all I love about Peru.
---
Rubriche - Zanattamente buono
Gabriele Zanatta's opinion: on establishments, chefs and trends in Italy and the world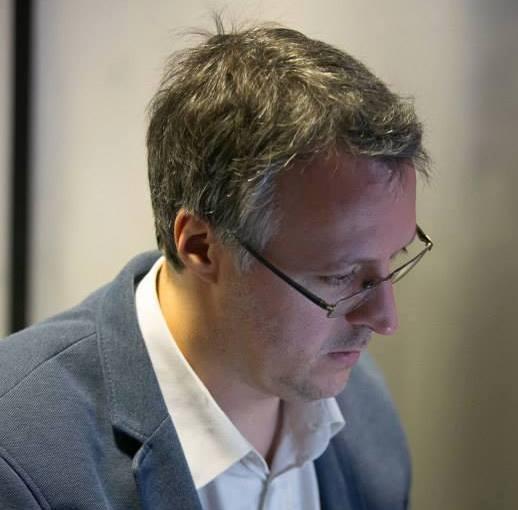 by
Gabriele Zanatta
born in Milan, 1973, freelance journalist, he's been working as a co-author and coordinator of both Identità Web and Identità Golose World restaurant guidebook for the past 7 years
twitter @gabrielezanatt
---
Latest articles published