Niko's challenges
Romito arrives at Salone del Gusto to present Spazio in Rome, his wine and to hold a not-to-be-missed lesson on meat
24-10-2014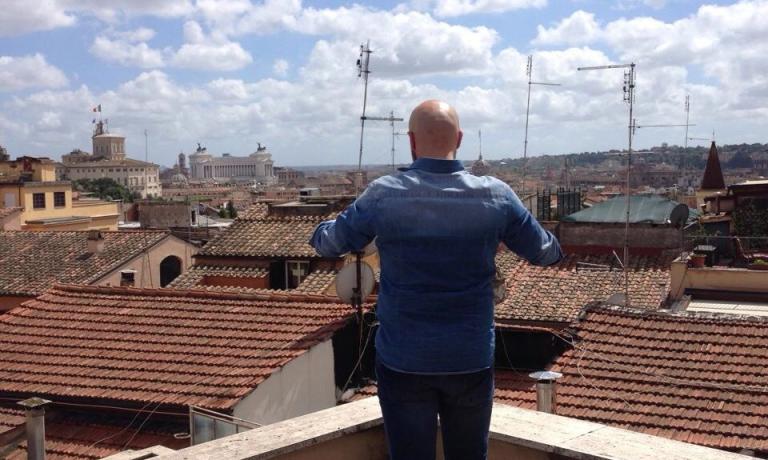 A photo published on his Facebook profile, Niko Romito stares at the sky and the rooftops in Rome, a premonition of the new Spazio restaurant-workshop that will open on November 20th inside Eataly Roma Ostiense, a project which he will present today at Salone del Gusto, next to Oscar Farinetti. In Torino, the chef from Abruzzo will hold an important lesson on meat, tomorrow at noon. This will be followed by a presentation of his wine Pecorino Terre Aquilane 2013 Feudo Antico per Casadonna
Niko Romito is back with his team after a satisfying trip to Sao Paulo in Brazil. As a guest of Consorzio di Montepulciano d'Abruzzo delle Colline Teramane he made the people and the press from Sao Paulo go crazy. Now he puts to use the few days left until Reale a Casadonna opens again to focus with decision on Salone del Gusto in Torino, where he will divide himself between presentations and lessons. These trips are a bit of a luxury because «In this moment», he explains, «there are so many different things we're doing, that leaving Castel di Sangro has a cost. But to me, going to the Salone is like going to Identità Golose: ever since I've been a chef, I never missed it».
Today at the Lingotto you will present the new Spazio inside Eataly Roma, in Ostiense.
It is the first urban chapter of the restaurant-workshop project that we already launched in Rivisondoli and Salina. A natural extension of our Scuola di Formazione. A hangout for ideas where one can experiment, grow and produce culture.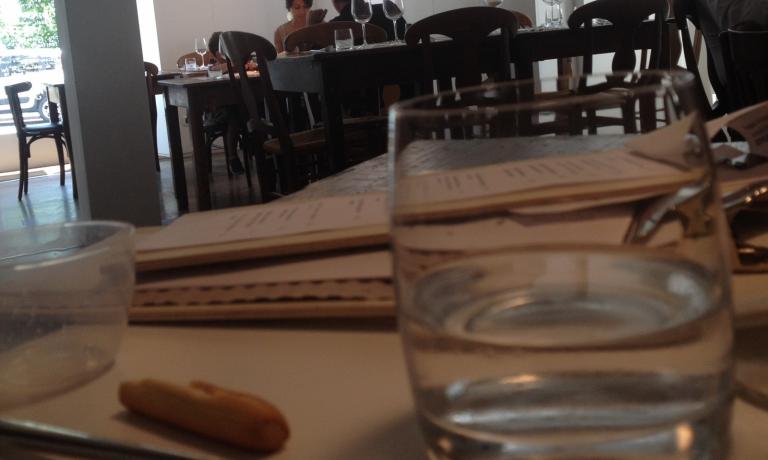 As for style, Spazio at Eataly Roma will recall Spazio in Rivisondoli (photo): simplicity and good food culture
Can you give us a little preview?
There's been an important renovation. The style is coherent with the other
Spazio
: wood on the floor, large blackboards with the menu of the day, tables illuminated as an island, a very simple mise-en-place, no tablecloths but a linen napkin. The menu will change each month and will be focused on some symbolic products in that season. I'm very happy to test myself with some traditional Roman dishes: at the beginning, for instance, you will find a
Panzanella with Roman-style tripe
which however will lack of all the fried mirepoix that makes it heavier. The average price will be around 35 euros. The rotation of the staff continues. I would like it to be the first of a series of openings in large cities, but for now I just focus on launching this one well.
Tomorrow at noon you will also hold an important lesson on meat.
I will mostly speak about cooking at controlled temperature. The theme is important because roners are becoming what chillers where some ten years ago: the industrial use is gradually becoming a domestic one. In this lesson I would like to explain what happens to a specific meat when it is treated at different temperatures. And restate that this is certainly not the only possible way in which to cook meat.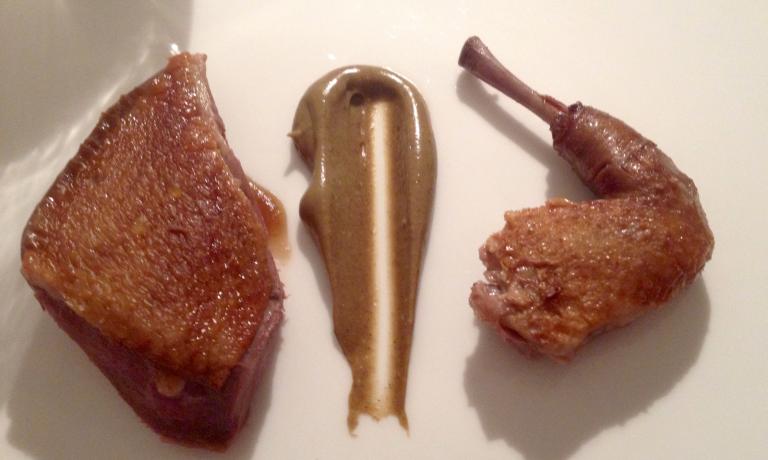 Fondant pigeon and pistachio, a great dish in the menu of Reale-Casadonna in Castel di Sangro (L'Aquila), 3 Michelin stars
What do you mean?
Cooking at low temperature is not always worth it: it's the perfect method for some cuts but not for all. We need to solve a misunderstanding: soft meat, typical of these cooking processes, is not necessarily a synonym of good meat. Some times we need to make the strong structure of the fibres of a meat noticed in order to give them full value. So low temperature cooking can also be just an intermediate cooking for a meat that we will then finish on a spit or a grill, two techniques I adore. Just like cooking in simple boiling water: one can obtain incredible textures even with very common methods.
In the menu of your restaurant there are many meat dishes. For instance an exemplary "Fondant" pigeon with pistachio.
Meat is in the veins of Abruzzo's tradition, even though we are using more and more fish. The pigeon to which you refer is cooked in a stock made with the same bird, which is then cooked: I sacrifice one animal to cook ten. I call it "fondant" because the temperature at which I cook it, below 70°C, is such that it keeps all the juices inside while the toasting cooks the skin without starting Maillard's reaction. The absence of the crispy skin outside gives continuity, allows the pigeon to "melt" the inside of the meat with its external case. A device that helps me to concentrate on the central essence of the product.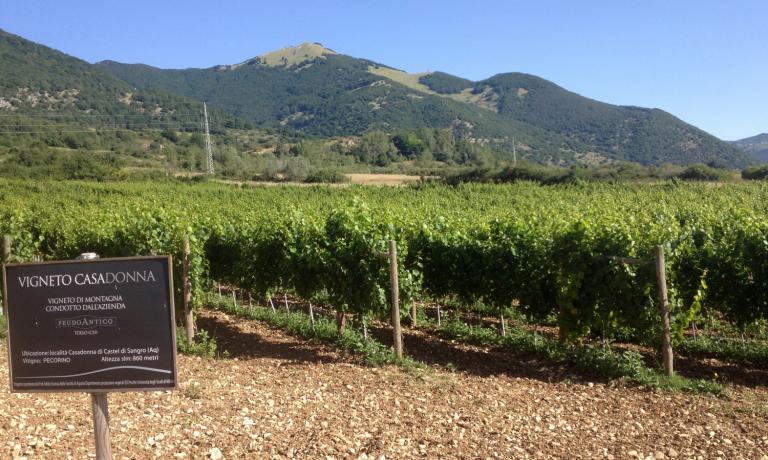 The heroic vineyard of pecorino in Casadonna
Brave techniques.
Yes, because you need great attention in each step. It's a very borderline way of cooking: if there's the slightest mistake, the palate will notice it straight away. But this is the way I cook now, a way that I like very much.
Right after the lesson, you will also present your wine (more info here).
Terre Aquilane 2013 Feudo Antico per Casadonna. It's a risky experiment because it is the pecorino produced with the "highest" grapes in Italy, the highest vineyard in Abruzzo.
---
Rubriche - Zanattamente buono
Gabriele Zanatta's opinion: on establishments, chefs and trends in Italy and the world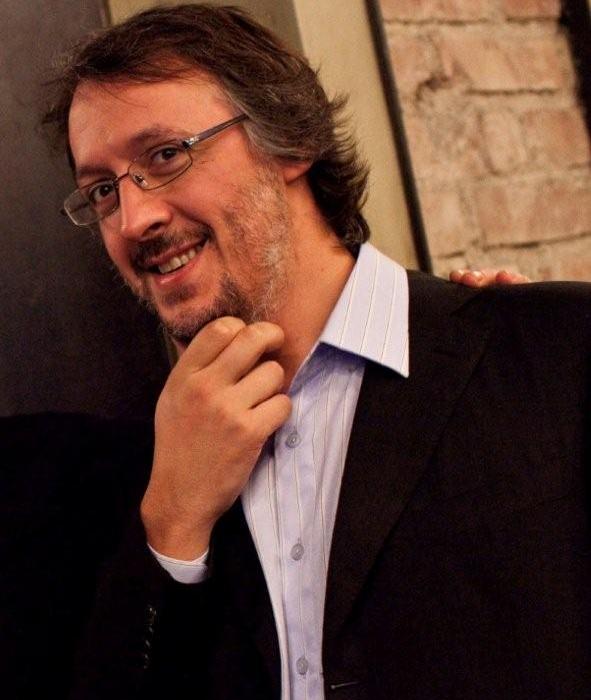 by
Gabriele Zanatta
born in Milan, 1973, freelance journalist, he's been working as a co-author and coordinator of both Identità Web and Identità Golose World restaurant guidebook for the past 7 years
twitter @gabrielezanatt
---
Latest articles published