Interview with Gaspari

A chat with the winner of Premio Birra Moretti Grand Cru. Marchi: his dish? Intelligent simplicity
20-10-2015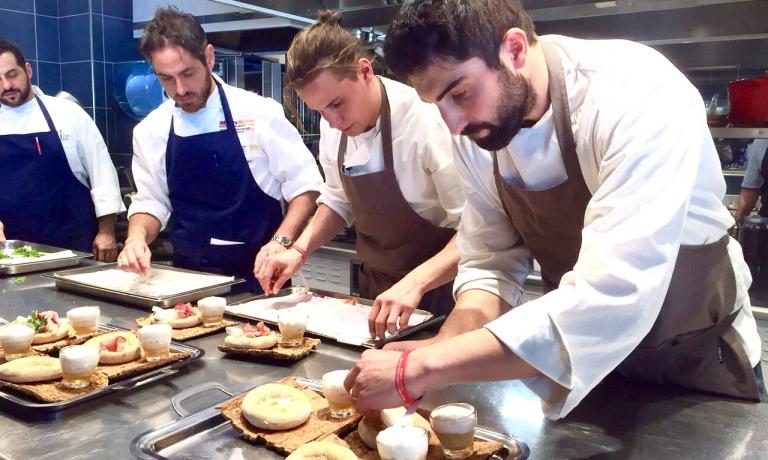 Riccardo Gaspari yesterday at Alice in Milan as he was dishing out his Pizza Moretti, the dish that got him to win the fifth edition of Premio Birra Moretti Grand Cru

How did Riccardo Gaspari, 30, from Cortina d'Ampezzo, win Premio Birra Moretti Grand Cru 2015? Paolo Marchi: «Because among many extremes – there were "totally-pork" dishes while others were vegan – the most classic possible one prevailed, which was a pizza but with two good characteristics: first, it was interpreted with the excellent products made by the Gaspari family dairy farm, El Brite de Larieto; second, it truly enhanced beer, the real strong point of the three recipes that got to the top. I would call it the triumph of intelligent simplicity». Claudio Sadler, jury president: «It's true, it was a basic dish but with brilliant ideas. The use of a poor product, first of all. Then the "easy to drink" pairing [beer with homemade ricotta mousse]: exciting». But let's hear what the winner has to say.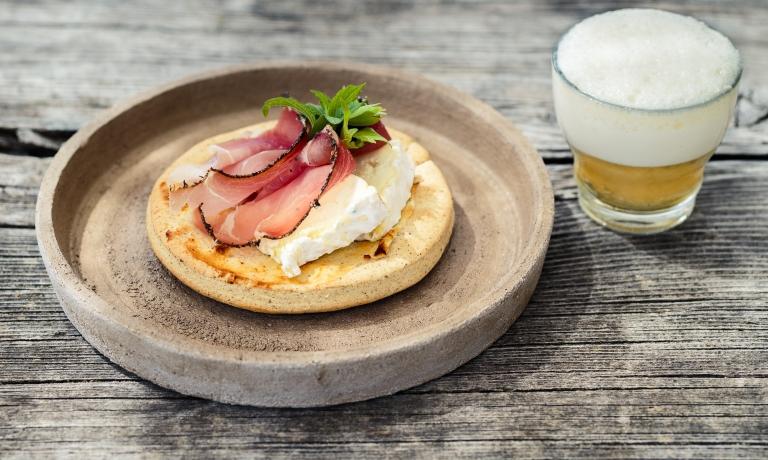 Pizza Moretti
«It's true, my dish was simple, perhaps it was more banal than the others, technically speaking…»
However, it appears it was more "in line" with the contest, that is to say it was capable of getting to the point of enhancing beer. This is why the jury awarded it...
«I'm happy of this, it was my intention to present something that would follow the theme, presenting a recipe from Italian regional tradition (pizza and local produce…) and enhance Moretti beer. This is why I used a third of barley flour in the dough, to begin with. I then kneaded the dough using both water and beer and of course brewer's yeast (three grams). As for the topping, only homemade products: bucaneve cheese, speck and my herbs: in the original recipe (which you can see in the video on this page) I use lemon thyme, lemon balm, rue and chervil, but yesterday I used chives, rue and watercress sprouts instead. It depends on what's available».
The sorbet paired with this recipe was also much appreciated. How did you get the idea?
«I wanted to make it as if it were a small beer, next to a small pizza. I put brown sugar, glucose, dextrose, Moretti Grand Cru beer and water, all covered with a mousse made with my ricotta and some more Grand Cru beer».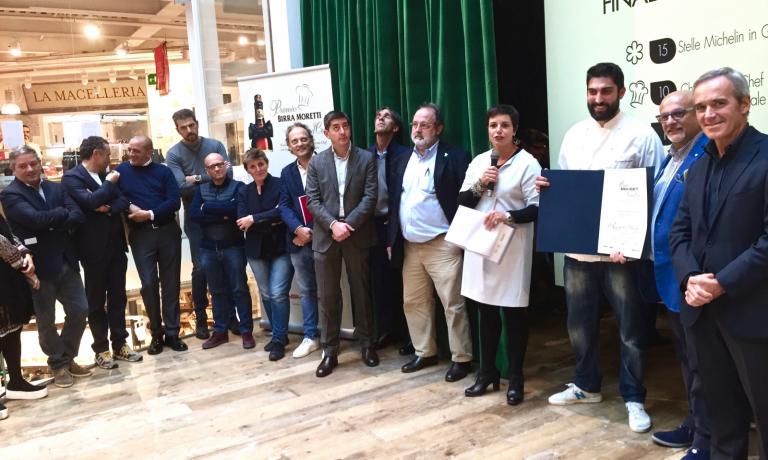 Gaspari, third to the right, with the jury on the stage of Eataly Smeraldo

An idea that rewarded you. You had already participated in Premio Birra Moretti Grand Cru last year…
«…and I had presented a not too distant element: my Raviolo filled with tongue cooked in beer also included a sweet syrup on the side, made with beer and sugar. Let's say I refined that concept».
This victory strengthens your fame. Do you think you'll always keep on working at El Brite, in the family agritourism?
«For a few more years, yes. Then I have different ideas and projects, elsewhere, but it's too soon to speak about it».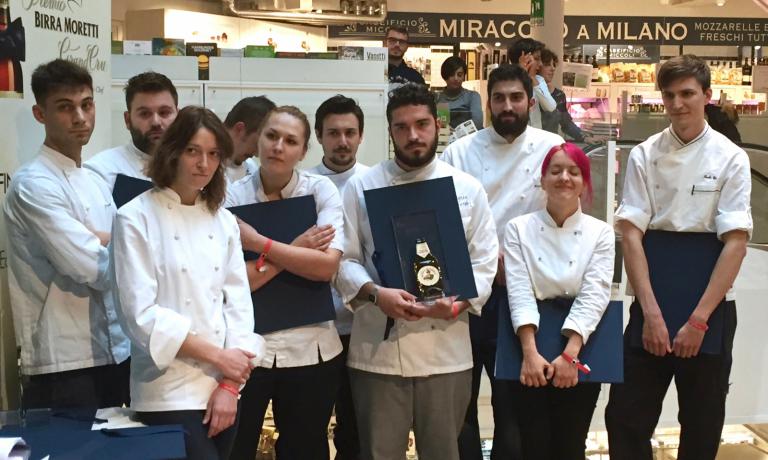 The ten finalists at Premio Birra Moretti Grand Cru 2015
Premio Birra Moretti Grand Cru requires the participation of chefs under 35. You're the new generation: where is (your) cuisine going?
«I'm thinking of a stronger connection with agriculture, I've noticed today many high quality restaurants have their own kitchen garden. Not everyone can do this, but I believe it is essential to build a relationship with shepherds, farmers, to get always fresh supplies and possibly sourced locally: it's true, this limits your work but I also believe there are many available possibilities in any case. Restaurants need to work as a system with the territory, just like chefs should play as a team».