The 2015 Lavazza Calendar
Lavazza and Slow Food side with the Earth Defenders: Africa, defending the land, food and tradition in 12 fine art photographs by Steve McCurry
23-10-2014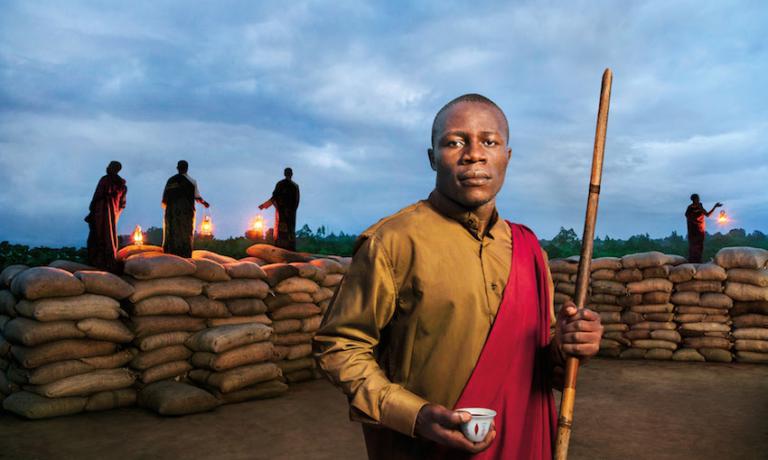 January - Dreaming of a better Africa. Photo by Steve McCurry
From Nadia, the proud argan oil paladine in Morocco, to John, the guardian of Lare pumpkins in Kenya; and from Anna, who fights for the quality of salted millet couscous on Fadiouth Island in Senegal, to Asnakech, who stands guard over coffee estates in Ethiopia. The 2015 Lavazza Calendar - produced with Slow Food and featuring photographs by Steve McCurry and creative direction by Armando Testa - is a photographic journey through the stories of everyday heroism of the Earth Defenders: women and men who every day defend their land and their projects in Africa with courage and devotion. In this way Lavazza and Slow Food take a stand beside all the Earth Defenders and food traditions: they are symbols of hope for local communities and spokespeople of the potential for development and a better future.

The 12 photographs by McCurry, which immortalise the spirit, strength and humanity of the Earth Defenders, are on show at the Salone del Gusto e Terra Madre 2014 (Turin, October 23-27) and for the first time the 2015 Lavazza Calendar is on sale in a limited edition to support the "10,000 food gardens in Africa" project. The Earth Defenders launch an appeal to everyone who shares the principles and values of food sustainability promoted by Lavazza and Slow Food. In fact, starting today, the Calendar2015.lavazza.com website raises a call-to-action to become Earth Defenders by making a donation to African food gardens or becoming a spokesperson for the project on social channels with the hashtag #earthdefenders.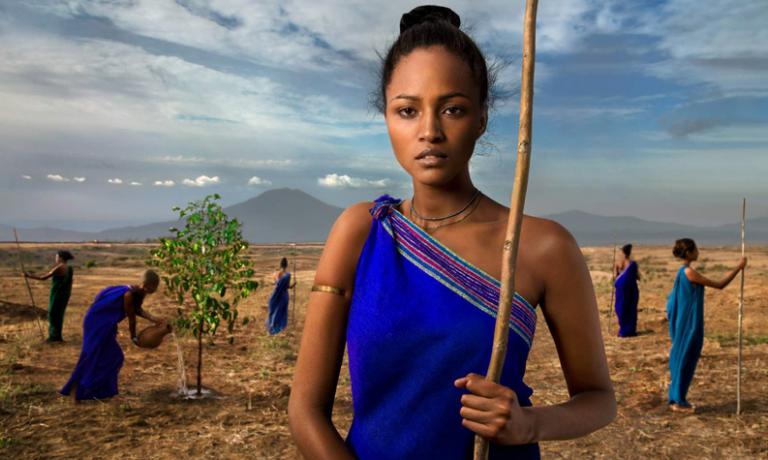 July - Our Roots. Photo by Steve McCurry
"Defending products, quality and sustainable development," comments
Francesca Lavazza
, the Company's Corporate Image Director, "are the values on which our partnership with Slow Food has been built since the very first
Salone del Gusto
in 1996. It is a strong bond which has culminated this year in the 2015 Lavazza Calendar to support 10,000 food gardens in Africa. Together we have chosen to celebrate the Earth Defenders: the guardians of food traditions on the African continent who bear witness to a hope for change that we believe is truly possible. With the help of
Steve McCurry
and advertising agency
Armando Testa
, we have used fine art photographs to tell their stories and dreams and describe all the strength and passion in their souls. Now it is our turn. Because we can all be Earth Defenders and take a stand beside Africa and those who fight every day to build a better future".
The Lavazza Calendar "The Earth Defenders" is also a practical tool to support the "10,000 food gardens in Africa" project. Because the proceeds from sales of the limited edition calendar and the call-to-action published on the website Calendar2015.lavazza.com will be donated entirely to the Slow Food project, which plans to create 10,000 food gardens in African schools and villages by the end of 2016. "There has to be a return to recognising the value of food: it is no longer admissible and sustainable," explains Carlo Petrini, the President and Founder of Slow Food, "to consume food recklessly, without looking at what lies behind the product. We can no longer tolerate that local communities in Africa are denied their own food sovereignty: we are all Africans and children of the same planet and we all share the same sense of humanity. The Earth Defenders project tells us that we must support Africa and contribute to the renaissance of this continent, fully aware and proud of the fact that this is not a commitment to charity, but to restitution".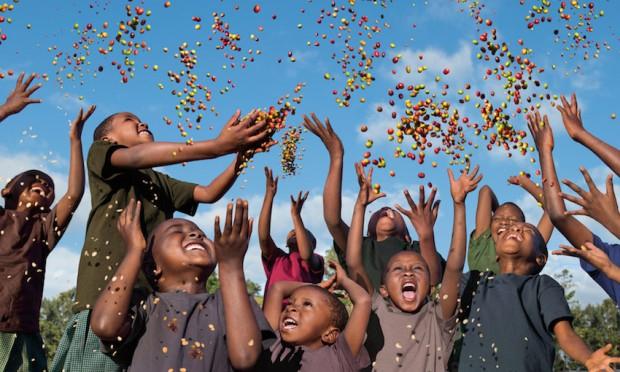 December - Future in our hands. Photo by Steve McCurry
The Earth Defenders are immortalised in 12 photographs, taken by American photographer Steve McCurry during a journey through the African continent to discover stories of ordinary heroism, which add poetry and emotion to the representation of reality. !
This experience ends symbolically in Tanzania, in the school run by Father Peter Kilasara, where the Earth Defenders of tomorrow are educated. "I am proud," says Steve McCurry, "to have been chosen by Lavazza and Slow Food to take the photographs for the 2015 Calendar. It has been an incredible journey: I have learned a lot and met some extraordinary people who I now think of as my friends. We wanted to portray the devotion of these people to defending their own food communities. It would be a shame to allow these unique traditions to disappear. The idea of protecting them is the inspiration behind this calendar dedicated to the Earth Defenders and to the African continent as a whole".
"Steve McCurry," comments
Michele Mariani
, Executive Creative Director at Armando Testa, "is the ideal person to interpret the spirit of the 2015 Lavazza Calendar. A Calendar with a very important topic, that tells a story of people and one special place,
Africa
. We have chosen Steve McCurry not only because he is a masterful contemporary photo reporter, but most importantly he is the person with the most ability to add poetry to reality and to capture the emotional side of life. Steve has been able to convey the concept and our creative ideas in powerful and evocative images, celebrating the army of workers in Africa who fight a sort of war of resistance to defend their crops, their presidia, their food and their culture. This year they are our heroes and Steve McCurry's images are the best tribute to these "Earth Defenders".
Partners - Lavazza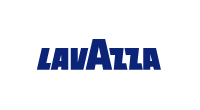 ---
Latest articles published