Cultural, focusing on the South
In Matera, the first edition of the Festival of Food Culture. The theme: back to the roots
20-09-2016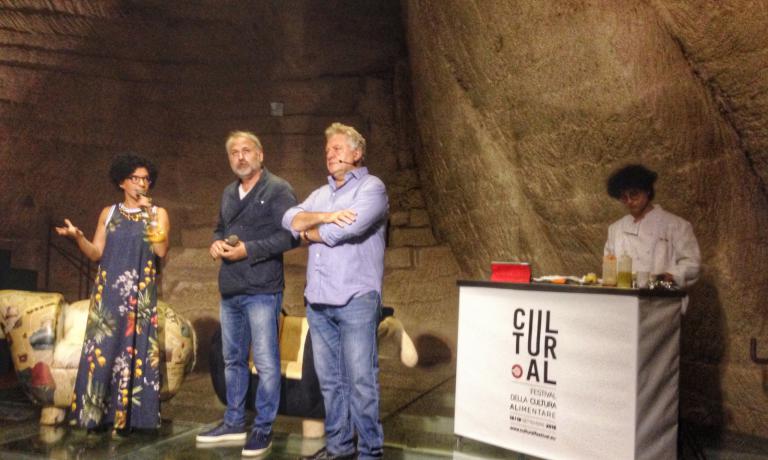 Cultural in Matera opened like this: the first chef on stage was Peppe Guida of Antica Osteria Nonna Rosa in Vico Equense, to the right, here presented by organiser Mauro Bochicchio and Sonia Gioia
Matera is enjoying a moment of extraordinary liveliness. A jewel of history and beauty perched in the gravine of Basilicata, in a territory that has an intense connection with nearby Apulia. A place which, in the past 70 years, moved from "Italy's shame", in the words of Togliatti and De Gasperi during a visit in 1949, to the keeper (since 1993 with its Sassi) of a UNESCO World Heritage.

These days, however, when walking down the streets and alleys of this city in Basilicata it is clear there's a growing excitement, energy is being released in view of 2019, when Matera will be European Capital of Culture. An extraordinary opportunity to further develop the local economy that is especially linked to tourism, hospitality, gastronomy and, of course, culture.

So it's no coincidence that in these very days in Matera the Festival of Food Culture, called Cultural took place. It was organised by a passionate and competent professional such as Mauro Bochicchio. However, Cultural's format wasn't born in the past few weeks: in fact the event has reached its fourth edition, but until know it had taken place in Paris, where Bochicchio lives and works. Though never forgetting his origins, in Italy and Basilicata.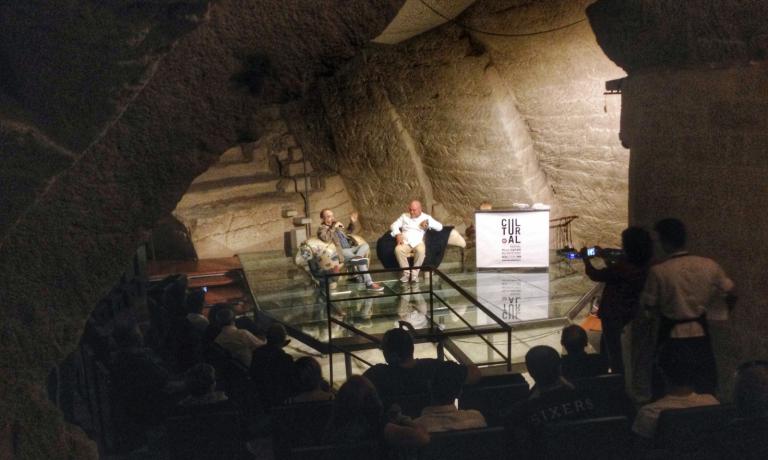 The beautiful room at Casa Cava: on stage, Pietro Zito, of restaurant Antichi Sapori in Montegrosso di Andria, presented by Danilo Giaffreda
Cultural
was thus born as an opportunity to promote the Italian rich gastronomic culture and identity outside our borders: in this new version in Matera, instead, the organisers' goal is mostly focused on Southern Italy, so that the event has become something very close to the "Estates General" of southern cuisine.
The theme of the two-day event, which took place on 18th and 19th September, was indeed "Back to the roots": however not as a nostalgic or conservative act, characterised by the unquestioning recuperating of the infamous tradition. Roots are a heritage and richness that must be shared, especially when they become the inspiration and stimulus so that new plants can grow, entities that can be truly free to develop themselves following the creativity of those who embody them.
A perfect example of this idea, even visually, was the space where the small Festival took place:
Casa Cava
, opened in 2011, is a 900-square metre structure underneath the earth built inside an ancient well-shaped post-medieval cave. It was rediscovered, renovated and divided into 10 rooms excavated in tuff, in the heart of the historical centre, close to the church of San Pietro Barisano. It was conceived as a space for creative events and includes an auditorium that can hold around 140 people, in perfect balance between history and contemporaneity, so much so it received the International Award for Architecture in Stone in 2013.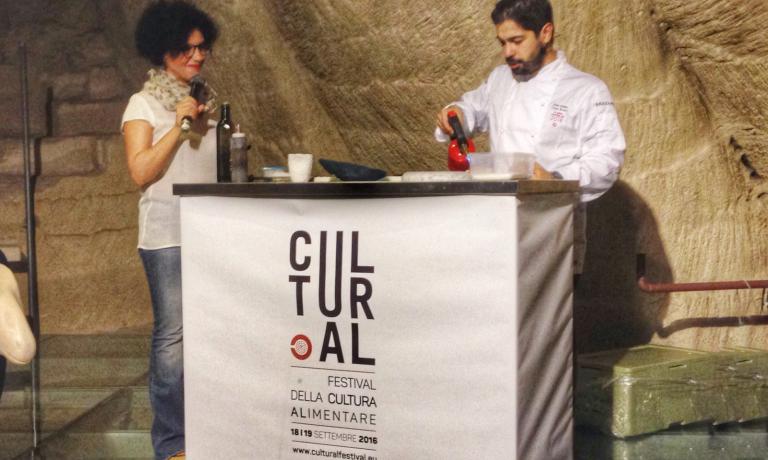 Cristian Torsiello of Osteria Arbustico in Valva (Salerno), presented by Sonia Gioia
It had been a few years now since
Bochicchio
first considered the idea of bringing
Cultural
to Matera. But he needed time for it to mature and become concrete: he did so with a programme including some 30 chefs, almost all strongly connected with the south. In particular, flavours and identities from Basilicata, Apulia, Calabria and Campania found their perfect narrators in inspired people such as
Caterina Ceraudo
,
Pietro Zito
,
Angelo Sabatelli
,
Peppe Guida
,
Cristian Torsiello
and many more, who in turn presented two dishes on the stage of the event. One was created especially for the occasion, using the bread of Matera, the real emblem of the town in Basilicata, as the main ingredient.
It was young
Caterina Ceraudo
, awarded last year as best female chef by
Guida di Identità Golose
, who thanked the organisers for the chance offered by
Cultural
to meet in a beautiful place in the south to speak of the south: each one expressing their genuine interpretation of this lively and very rich territory, representing a very stimulating ferment, a proud desire of rebirth and relaunch.
Caterina
herself, together with other young chef from Calabria such as
Nino Rossi
,
Luca Abruzzino
,
Antonio Biafora
e
Gennaro Di Pace
, embodies through association
Cooking Soon
an already sound reality but with plenty of growing margin. A luminous example of how you can believe in your land and work to celebrate its products and flavours, despite all the historic and stratified difficulties.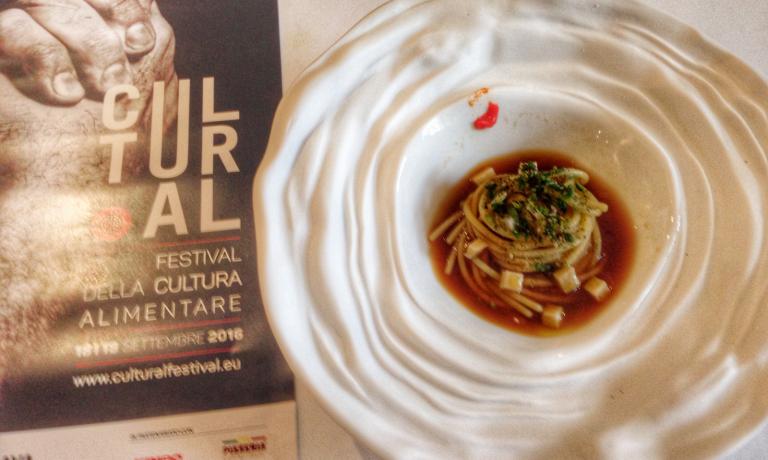 One of around 60 dishes presented during Cultural: a modern and completely vegetal take on Pasta alla Norma, by Sicilian Paolo Barrale. The chef works in Irpinia, at Marennà in Sorbo Serpico (Avellino)
So pillars of high quality gastronomy in the south, such as
Zito
,
Zullo
or
Sabatelli
can now think of passing the baton to young and truly passionate and brave chefs, willing to challenge even the difficulty of offering food that focuses increasingly on quality instead of quantity in places that are not used to this approach.
On top of this interesting sequence of chefs and dishes, there was a selection of producers, also around thirty, representing the extraordinary richness of products from these lands, and that very successful mix you can find in a places such as Matera, which unites harmoniously and productively the traditions and flavours of Basilicata and Apulia: extra virgin olive oil, tomato, cured meats, bread, pasta. The real emblems of a gastronomic culture with very sound roots and a promising future. The same we hope a nice event such as
Cultural
will have too.
---
Rubriche - Dall'Italia
Reviews, recommendations and trends from Italy, signed by all the authors of Identità Golose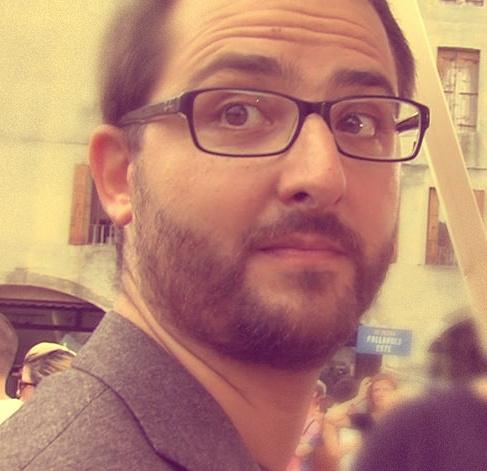 by
Niccolò Vecchia
Journalist, based in Milan, born in 1976. When he was 8 years old, he received a Springsteen record as a gift, and nothing was the same since. Music and food are his passions. Author and broadcaster at Radio Popolare since 1997, since 2014 he became part of the staff of Identità Golose - twitter @niccolovecchia
---
Latest articles published