Sala in Tokyo enlists Cracco
A Milanese dinner at the embassy, with a surprise. First pasta Amatriciana, then a duet with Bottura
27-09-2016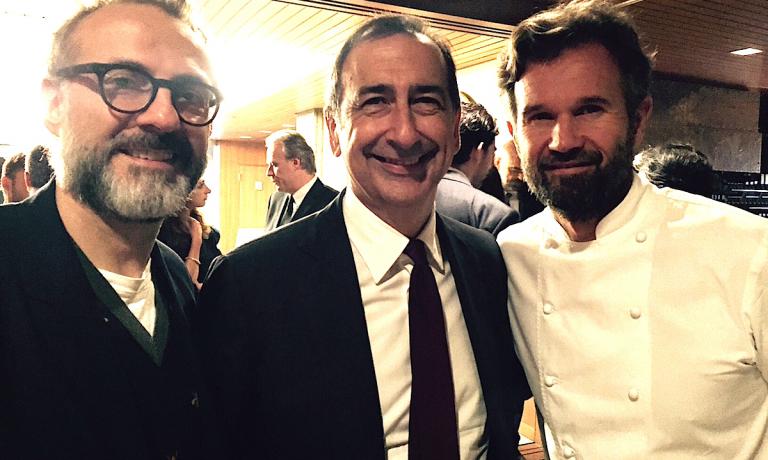 The mayor of Milan, Giuseppe Sala, with Massimo Bottura and Carlo Cracco on Friday 23rd September at the dinner dedicated to Milan at the Italian embassy in Tokyo
It's hard to count the official trips of Milan's mayors to Japan. I believe much less than a hundred. For sure, the very latest, that of Giuseppe Sala with council member Roberta Guaineri, ex football player Billy Costacurta and chef Carlo Cracco, had a new extra note: a great chef as crown jewel. The occasion? The Tokyo Big Sight, a huge planetary tourism fair where Enit had its space and, within it, Milan had one in turn.
A total of 48 hours, on Thursday and Friday, with meetings, interviews, conferences and two convivial moments in a unique space, the residence of the Italian ambassador, currently Domenico Giorgi. A low building from the Fifties overlooking at the back the largest private garden in the capital, two hectares of woods, fields and a small lake. A place full of history for many reasons. One above all: the suicide in 1703 of 10 of the famous 47 ronins, the roaming samurais made immortal by the theatre.On Thursday there was a reception in honour of Sala and of the corps de ballet of La Scala celebrating the 150th anniversary of diplomatic relations between the two countries. A promotional post-Expo Milan dinner followed on Friday when Cracco let his light shine by cooking pasta Amatriciana in memory of the 24th August earthquake victims.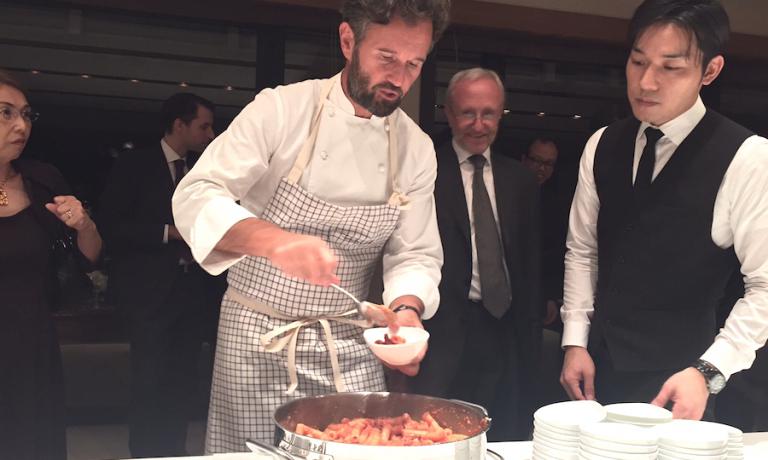 In Tokyo Carlo Cracco cooked pasta Amatricana in memory of the victims of last August's earthquake
Not only this, though. The evening was enriched by an unexpected guest:
Massimo Bottura
. Who is certainly not from Milan.
Tokyo is huge but a person like me travels having a very precise kind of restaurant in mind and this, in a certain sense, encourages surprises. On Thursday at lunchtime, for instance, I had lunch at Yoshihiro Narisawa with Luca Fantin, the talented chef at Bulgari in Ginza, who has just published La cucina di Luca Fantin with Assouline. The following day I visited him and it was even better because his cuisine has an Italian soul but a different shape. And this is very important. In Japan there are some 80 thousand Italian restaurants, and only 100 or so are good enough. They're almost all based on the past and on stereotypes.
So someone as farsighted as Fantin, challenging everything but with respect, is more than welcome. How about Bottura? Simple: he was in Tokyo since Friday at the very same Bulgari for three events that were sold out in a flash, the last being on Tuesday. You bump into him, after he's just landed in Narita, what with kitchen, cleaning and the chef's table and of course you invite him to the event at the embassy, even without asking for permission.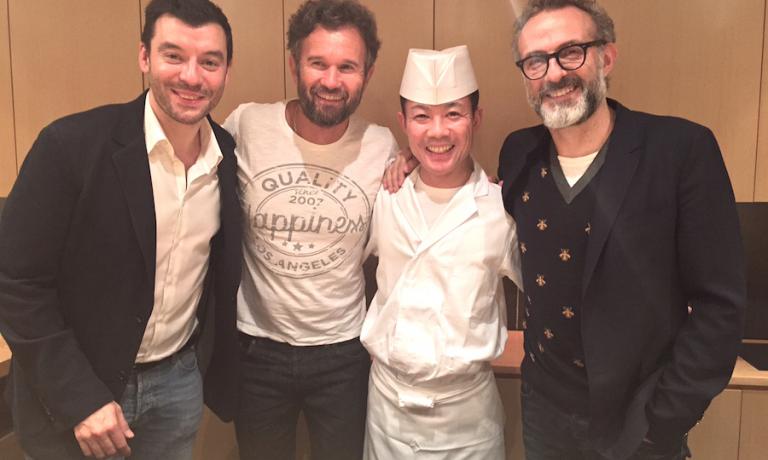 At the end of an extraordinary sushi dinner at restaurant Ootanino in Tokyo, a souvenir photo for chefs Luca Fantin (to the left), Carlo Cracco, Takayuki Otani and Massimo Bottura
He arrived tiptoeing with his wife
Lara
so as not to distract the participants from the true protagonists.
Sala recalled how Milan has 26 centuries of history, but this is not what makes it stand out from other Italian cities: «What makes Milan unique it's its contemporaneity. If you want to understand the future, you must come to Milan». Then there was Costacurta, ex player in a no-longer-existing stellar Milan FC, a very popular team in Japan, and finally Cracco. Without the recent earthquake, and without Bottura 's presence, he would have cooked risotto and spoken of creativity. Instead, he served pasta Amatriciana «without garlic because we're celebrating a tragedy and can only bow», and said significant words meant for the chef from Modena: «Italian cuisine has moved from quantity to quality and the world appreciates it more and more. This is thanks to many people, and to a colleague who's in the room, at the back. Massimo come out, come here with us. We must work as a team so as to get more and more results, and win like Milan used to do. Now it's our cuisine that has conquered its world cup thanks to this man. All of us chefs must take inspiration from Bottura and follow his example».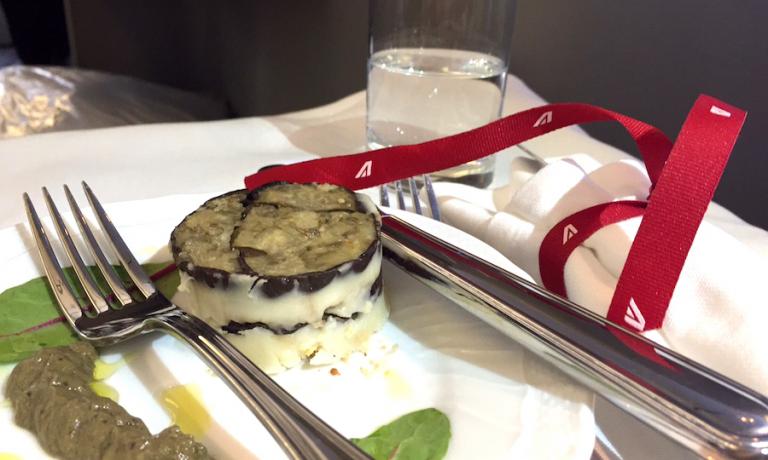 An absurd Aubergine cake, the starter in the Puglia menu served on board of the Alitalia Tokyo-Milano flight last 24th September
Plenty of clapping and photos followed. Perfectly right, a beautiful moment. Then even on the way back, on the Alitalia flight, once again a shameful meal. The staff smiled, bent over backwards, apologised but none of them was to blame. Somebody sitting at a desk in Rome decided that pasta can be cooked until it loses any trace of al dente and nobody has removed this person yet.
Renzi
,
Martina
,
Sala
hold Italian cuisine and chefs in great esteem but nobody has told the national air company to change approach too.
Bottura
,
Cracco
,
Fantin
… we have the champions but we still need an authentic Italian team.
---
Rubriche - Dal Mondo
Reviews, recommendations and trends from the four corners of the planet, signed by all the authors of Identità Golose
by
Paolo Marchi
born in Milan in March 1955, at Il Giornale for 31 years dividing himself between sports and food, since 2004 he's the creator and curator of Identità Golose. twitter @oloapmarchi
---
Latest articles published