International Gastronomika
South Africa and Turkey on stage on the first day of the Basque Congress, full of interesting ideas
04-10-2016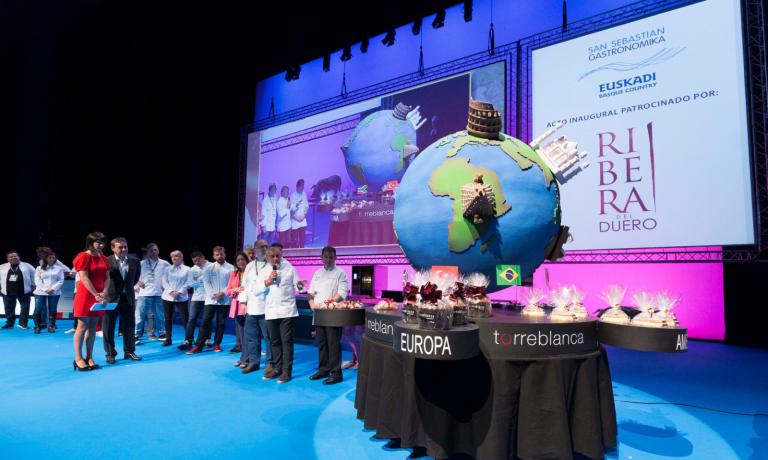 During the opening ceremony of the 18th edition of Gastronomika, the great Spanish pastry chef Paco Torreblanca presented a huge cake dedicated to the congress. In the shape of a globe, to portray the international approach of this year's programme
On Monday 3rd October at 10 works started at the 18th edition of Gastronomika, one of the most popular and prestigious fine dining congresses in the world. Right from the very beginning the spirit of this year's programme was already clear: just like director Roser Torras explained from the stage, during the short opening speech: «on a special year for San Sebastiàn, European Capital of Culture in 2016, our goal is to look at the culinary cultures of all 5 continents, thanks to the many international guests we have with us, and at the same time to show our great local richness. It is no coincidence that this congress is held here: the Basque culinary culture is extremely rich in products and has fantastic interpreters of our cuisine».

Pride for one's roots and the desire to meet other traditions, other raw materials, other techniques, establishing a dialogue based on a common passion for cuisine: for the first time Gastronomika invited six nations in just one congress. And this intercultural conversation started with two representatives of South Africa's signature cuisine. Luke Dale Roberts, chef at The Test Kitchen in Cape Town – best restaurant in Africa and number 22 in the world according to the San Pellegrino World's 50 Best – had the task of opening the day's programme, presenting in his poised lesson some dishes that have made him famous.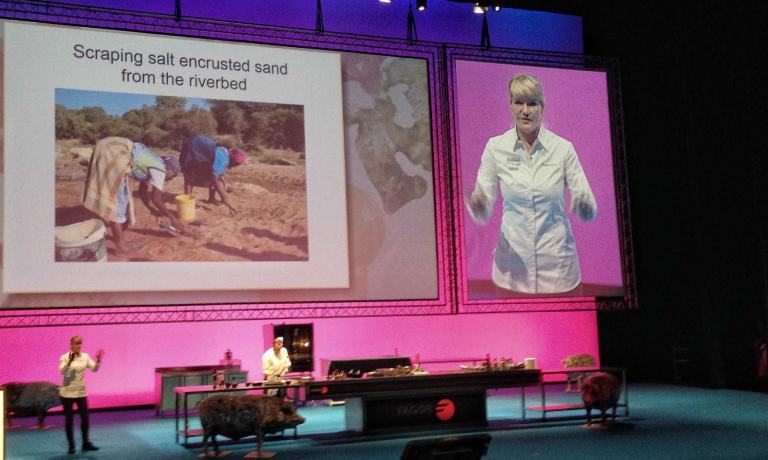 During her presentation, South African chef Margot Janse told the story of the Baleni salt
The speech of the other South African guest at
Gastronomika
,
Margot Janse
, for 20 years the chef at restaurant
The Tasting Room
inside hotel
Le Quartier Français
, was livelier. Of Dutch origins,
Janse
said she fell in love with Africa at first sight. She's been living there for 26 years. This is why she wanted to focus her lesson on the use of strictly African raw materials, less known and hard to find in Europe. She made the audience discover fascinating stories, such as that of the
salt from Baleni
(also a
Slow Food Presidium
), which is born in a marshland formed by a thermal spring. It is collected by the local women, following a millennial tradition: thanks to its strong and aromatic flavour, according to
Margot Janse
it can enhance many ingredients that can be cooked by covering them with a crust of this salt.
Her lesson continued with other peculiar ingredients, such as
Kapokbos
, a wild rosemary with aromatic notes that recall eucalyptus, or Baobab seeds, covered in a white powder with a strong acidity, which can also be used to make a special type of yogurt. Or Marula fruits, beloved by elephants too, from which you can extract some very tasty seeds, used to make a very aromatic spirit called
Manpur
.
Mehmet Gürs
During the first day at
Gastronomika 2016
another guest nation, Turkey, had a wide space on stage to present its culinary identity, its stories and products. In particular, the speech given by
Mehmet Gürs
, chef at restaurant
Mikla
, was very intense and rich of content. He grew up, culinary speaking, in the United States and returned to Turkey in 1996. Today he's probably the most prestigious fine dining representative in Istanbul.
Gürs
opened his lesson mentioning Aleppo, with few, touching words. «Aleppo is the epicentre of the culinary culture of our region. And today it no longer exists. It's as if this was a religious congress and we didn't mention Jerusalem being destroyed. I cannot forget the drama of Aleppo».
Besides this reference, only seemingly out of context, his lesson was full of interesting ideas on the relationship between avantgarde and tradition: «You can be a very contemporary, even extreme chef, without losing your connection with your roots and traditions. The complex balance to look for is what allows us to understand and respect the history that preceded us, without feeling forced to follow it and repeat it. This balance is even harder when you live in a conservative country like Turkey».
The speeches by
Maksut Askar
, chef at
Neolokal
in Istanbul and the joined one by
Deniz Sabin
and
Cüneyt Asan
, respectively chef at
Delimonti
and
Gunyadin
were more traditionally focused on gastronomy.
Asan
, in particular, was presented as "the king of kebab" and so as to respect this fame of his he focused his lesson on his passion for meat, especially lamb.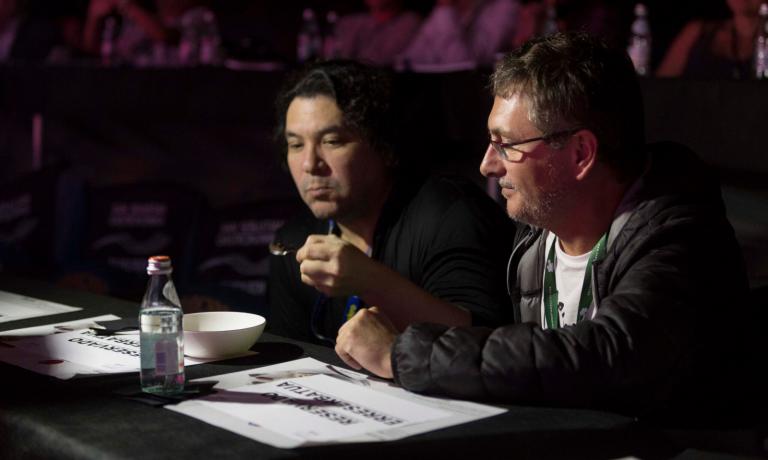 Gaston Acurio and Andoni Luis Aduriz tasting the dish presented by Alex Atala
There were other speeches from outside of Spain:
Gaston Acurio
was given a "lifetime achievement" award by the organisers of
Gastronomika
, and from the stage he dedicated a romantic memory to his first dinner at
Juan Mari Arzak
. «I was 18, I was in Spain, studying law, my family wanted me to become a lawyer. Instead, I spent all my money to eat at
Arzak
and that night I realised I wanted to become a chef». Looks like he was quite successful at that.
Alex Atala
, a star in Brazilian haute cuisine, presented instead a lesson highly focused on sustainability and on enhancing biodiversity, stressing the need for those who eat the food to understand its origins, history, so as to make well informed and aware choices.
Yesterday's programme, as well as that of the next two days, was also enriched by speeches by prestigious names in Spanish cuisine, such as
Andoni Luis Aduriz
of
Mugaritz
, welcomed by the local audience like a rock star,
Josean Alija
of
Nerua
in Bilbao, or
Oriol Castro
and
Eduard Xatruch
of
Disfrutar
, perhaps the restaurant that offers a closer interpretation of the heritage of
Ferran Adrià
's
El Bulli
. But we'll speak of this, and the following lessons, in the next few days.
---
Rubriche - Dal Mondo
Reviews, recommendations and trends from the four corners of the planet, signed by all the authors of Identità Golose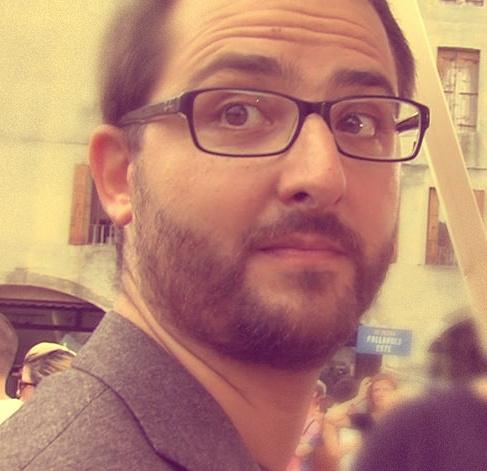 by
Niccolò Vecchia
Journalist, based in Milan, born in 1976. When he was 8 years old, he received a Springsteen record as a gift, and nothing was the same since. Music and food are his passions. Author and broadcaster at Radio Popolare since 1997, since 2014 he became part of the staff of Identità Golose - twitter @niccolovecchia
---
Latest articles published