Il Casolare: more than mozzarella
Mimmo La Vecchia's cheese factory has been experimenting with buffalo milk cheese for a couple of years now
28-04-2016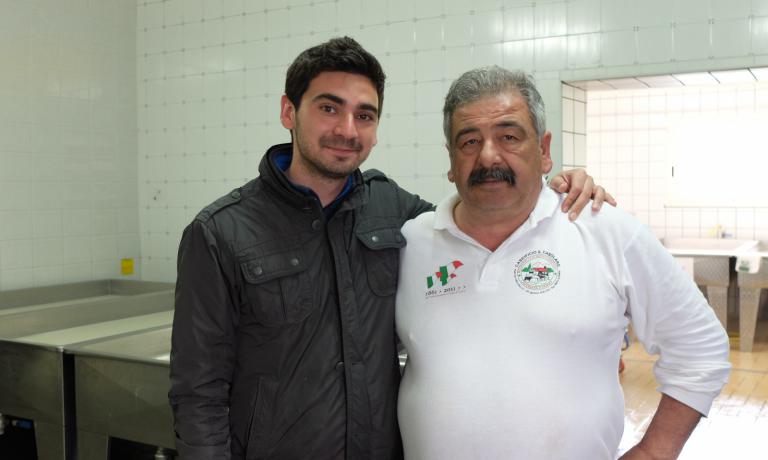 Mimmo La Vecchia, to the right, with his son Benito: the passion for the family dairy business at Il Casolare di Alvignano (Caserta) is genetic
Mimmo La Vecchia's cheese factory Il Casolare, in Alvignano (Caserta) perhaps is not a big discovery, an unknown name to mozzarella enthusiasts. Franco Pepe was one of the first to give it visibility, using its products on most of the delicious pizzas in the menu of his restaurant in Caiazzo, Pepe in Grani, but Franco's father was already getting his supplies from the La Vecchia family for his pizzeria. Their mozzarella is considered one of the best available and, it's no coincidence that only a few days ago, during the 2016 edition of Formaggio in Villa, an event dedicated to the best Italian cheese, this nice farm from Alto Casertano conquered the first place in the Italian Cheese Awards, in the "pasta filata" category.

In order to reach the cheese factory you must follow the soft bends of a road weaving into the intense green of this beautiful part of the province of Caserta, and you can recognise it by the constant coming and going of the buyers, tidily queuing in front of the counter. Right behind that, the large basins in which the delicious seraphic mozzarellas produced by the La Vecchia family are resting.

On the side, in a small glass case, one can notice the other cheese available too. And a small plate indicates that, also at the very recent Italian Cheese Awards, Il Casolare won the second place in a different category, aromatised cheese, with another product: Fabula Affinato al Sidro [Refined in Cider], one of the three soft buffalo milk cheese on which Mimmo La Vecchia is making very successful experiments since late 2014.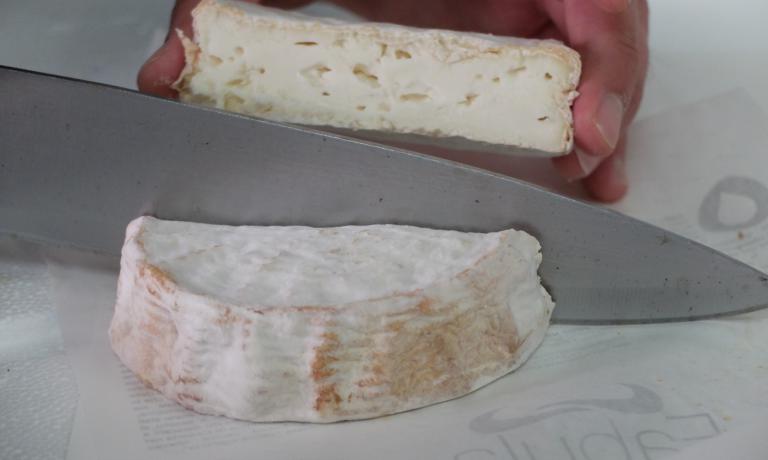 The first buffalo milk soft cheese produced at Il Casolare
«I had been wondering how to vary our winter production for some time – says
Mimmo
– because during the cold months the demand for mozzarella decreases, but buffaloes need to work nonetheless. The result is lots of milk which, given a principle we have no intention to question whatsoever, we will never use to prepare curd or even freeze it in view of the warmer months».
Hence the idea of starting a collaboration with
Giuseppe Iaconelli
, of
Caseificio Optimum Sancti Petri
in San Pietro Infine (Caserta), another excellence in the Alto Casertano area, whose experience was very useful for
Mimmo La Vecchia
to start these experiments: «We were already producing other buffalo milk cheese, on top of mozzarella, some provolone, a
Blu di bufala
which
Franco Pepe
uses on one of his pizzas at
Pepe in Grani
. Yet the challenge I had in mind was producing soft buffalo milk cheese».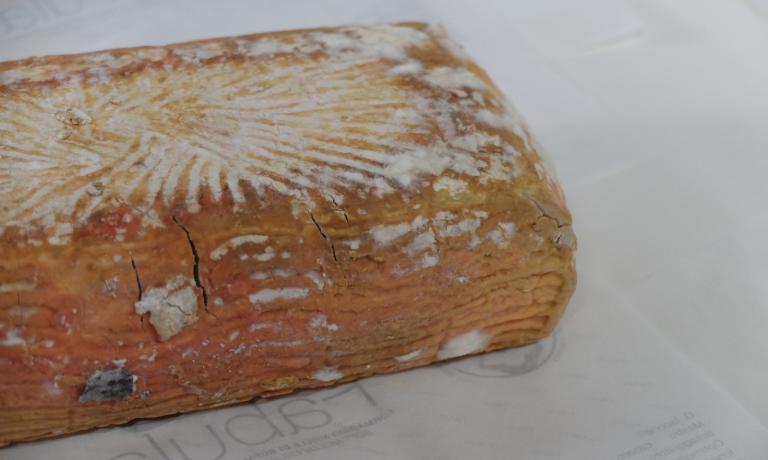 Fabula Refined in Cider: a very successful experiment
This attempt thus began in December 2014, and it has currently given life to three types of cheese that are both similar and very different.
Benito La Vecchia
, son of
Mimmo
, tells us the characteristics of these three different productions: «When you work with cheese, you immediately realise even a small change in the ingredients can give dramatically different results. The first on which we worked is also the simplest, round shaped, with three textures: the centre is very soft, the cheese then becomes thicker until it forms a delicately scented crust».
The second is the
Fabula Affinato al Sidro
, rectangular shaped, with a thicker texture. It has a surprising aroma, it is matured with apple cider for a month, until the crust obtains a very special colour: «It is very difficult for buffalo milk – says
Benito
– to acquire colour, you need constant contact. The cheese is first immersed in cider, massaged at length, as if it were in a spa! Then we sponge it regularly for 30 days». The result is worth every effort.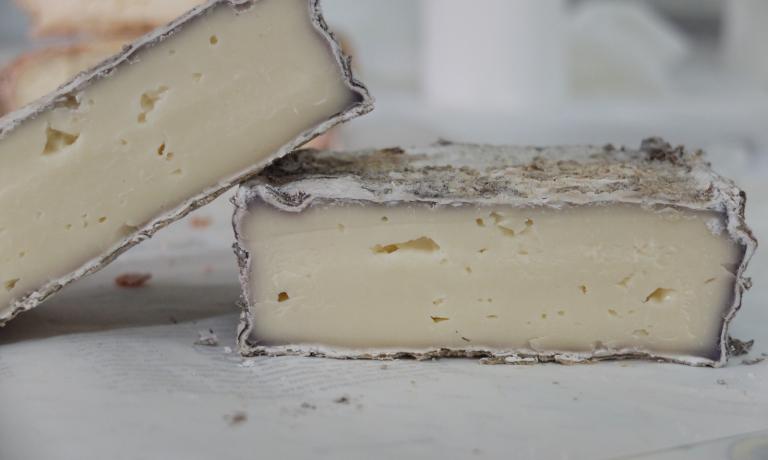 Local aromas: buffalo milk cheese refined with Casavecchia
The third and last, for now, is the more mature of the three, full of taste thanks to the maturing with Casavecchia, a typical grape variety of Caserta, and with spices such as cloves and star anise. It's an intense, strong, fascinating cheese. Yet the experiments continue, looking for longer maturations, perhaps even the possibility of making a blue cheese, for which however they'll need special rooms, separated from those in which mozzarella is produced, so that the mould won't harm the work with the "white gold".
The passion with which
Mimmo La Vecchia
, as well as his son
Benito
, speaks of their work is truly touching. Meanwhile, all around them, other members of the family, entirely involved in the running of the cheese factory, move swiftly. Their principles are shared by all of them,
Mimmo
is keen to point this out: «I always ask my children one thing: if one day they'll decide to change the production philosophy, I want them to change the name
Il Casolare
. This small enterprise was born following very precise work ethics, something I hold very dear». Something which is, in our opinion, an essential part of the deliciousness of their mozzarella and other cheese.
---
Rubriche - Dall'Italia
Reviews, recommendations and trends from Italy, signed by all the authors of Identità Golose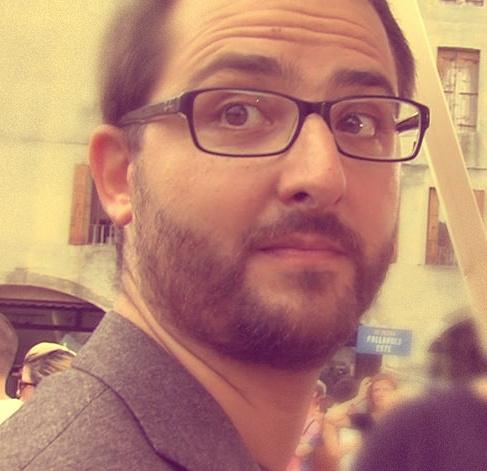 by
Niccolò Vecchia
Journalist, based in Milan, born in 1976. When he was 8 years old, he received a Springsteen record as a gift, and nothing was the same since. Music and food are his passions. Author and broadcaster at Radio Popolare since 1997, since 2014 he became part of the staff of Identità Golose - twitter @niccolovecchia
---
Latest articles published