A triple sprint for Taglio Sartoriale
During Identità Milano, Imbroisi's ice-cream won at the first edition of the Grana Padano prize
18-02-2014
The prize-giving of the first edition of the competition linked to Taglio Sartoriale Internazionale, promoted by Consorzio Tutela Grana Padano, took place on the stage of the Auditorium hall of Identità Golose on Tuesday February 11th. The finalists were six: left to right there's first of all the winner, Denny Imbroisi, then Anton Pozeg, Kei Fukada, Elisabetta Serraiotto (and behind her Paolo Marchi), Isamu Hirayama, Giorgio Rapicavoli and finally Marco Iachetta

Since five years ago, through the Taglio Sartoriale project Consorzio di Tutela Grana Padano offers the best Italian chefs the chance to choose their favourite Grana maturation. During 2013 this opportunity was extended to 12 chefs from 6 countries, namely France, Germany, England, US, Japan and Russia, two per country, respectively Mauro Colagreco (restaurant Mirazur in Mentone), Attilio Marrazzo (Jean in Paris), Mario Gamba (Acquerello in Munich), Cristiano Rienzner (Maremoto in Berlin), Francesco Mazzei (Anima in London), William Drabble (Seven Park Place again in London), Lidia Bastianich of Felidia and Mark Ladner of Del Posto in New York, Yasuhiro Sasajima (Ghiottone in Kyoto), Stefano Del Moro (Antica Osteria del Ponte in Tokyo), Andrea Galli of Cherry Mio and Pietro Rongoni of Aromi La Bottega in Moscow.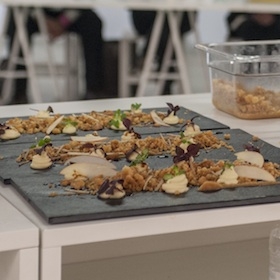 Grana Padano ice-cream, extra virgin olive oil and black truffle crumble, with 25-year barrel-aged balsamic vinegar and a Pink Lady apple mousse, the dessert by Denny Imbroisi that won the first edition of Taglio Sartoriale Internazionale
Each one of them was later asked to recommend a young talent, aged 35 at most. This in order to further extend the selection and reach a total of 18 new people, 12 seniors and 6 juniors. Please note: 18 and not 24 (thus 12 plus 12) because the 12 new talents participated in a two-step competition. In the autumn a jury composed by
Elisabetta Serraiotto
of
Consorzio Grana Padano
,
Eleonora Cozzella
(
L'Espresso
),
Fabio Pisani
(
Il Luogo di Aimo e Nadia
),
Roberto Perrone
(
Corriere della Sera
) and
Paolo Marchi
(jury president), chose the best 6 recipes that the authors then prepared live, on Tuesday February 11th, on the third and final day of
Identità Milano
.
Directed by Cinzia Benzi and Claudia Orlandi, the finalists were asked to prepare their dishes following a logic based on the palate, first two starters, then a first course, two meat-based main dishes (fish was absent) and a dessert. As for the jury, each dish was assessed based on three aspects: presentation (from 1 to 5 points), taste (from 1 to 7) and value given to Grana Padano (from 1 to 8). Marco Iacchetta prepared a Grana Padano millefoglie with pioppini mushrooms and black truffle, certainly Grana was not unnoticed and, paradoxically, this penalised its mark. With Giorgio Rapicavoli came the "Bresaola" made with beetroot, black pepper cream, Grana Padano, grilled lemon and extra virgin olive oil, a very current, vegetarian dish, despite the fact Rapicavoli, where he works, is not a vegetarian restaurant ("Beetroot is less expensive than the real bresaola, so the mark-up is greater"). Third dish was by Isamu Hirayama: Black risotto with chestnuts, powdered liquorish and crashed Grana Padano, very elegant and intriguing.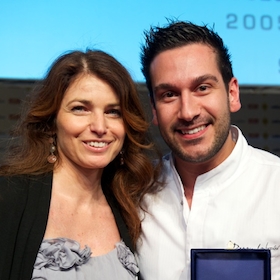 Elisabetta Serraiotto and Denny Imbroisi
With the tastings scheduled every 10 minutes, another Japanese chef was fourth:
Kei Fukada
with a pleasant Vegetal garden that was not that vegetarian, thanks to the duck meat. Then
Anton Pozeg
with his Macaroni with Grana Padano, artichokes, small pork delicacies before the end, given by
Denny Imbroisi
and his convincing and rich Grana Padano ice-cream with extra virgin olive oil and black truffle ice-cream, 25-year barrel-aged balsamic vinegar with Pink Lady apple mousse.
When the moment came to sum up all the votes, a surprise arrived: three chefs had reached the same total of 99 points. What was to be done? Simple, the person who won was the one who had received the highest point by the president, that is to say Imbroisi, the 26-year-old chef from Calabria now working at Jules Verne, Alain Ducasse's restaurant on the Eiffel Tower in Paris. His recipe will be covered in a future article. Please note the versatility of Grana Padano, standing out in a dessert.