12-03-2014
The Breton and the Piedmontese
The story of a great lunch, devised at Bivio by chefs Jacques Thorel and Gianni Sarzano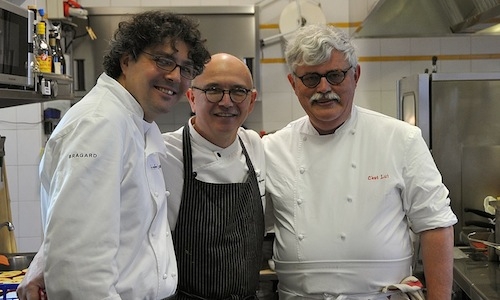 Chefs Fabio Barbaglini, Gianni Sarzano of Bivio in Quinto Vercellese, tel. +39.0161.274131, and Breton Jacques Thorel, for a long time at the helm of the Auberge Bretonne in La Roche-Bernard, in North-West France. They met in Sarzano's home for a memorable lunch called "When a lobster meets a paddy field "
This is the story of a long friendship and of the esteem between a Breton chef (please, do not call him French) and one from Piedmont. They are similar, both reserved but with a sensitivity and a profoundness that are hard to find these days. They are two nonconformist chefs who are not yet known enough and who, in some ways, resemble each other. The Piedmontese one, first as a client and then as an assistant in the kitchen, when his restaurant is closed, takes parte in the magical universe of the Breton chef. There's sharing, technique, experience and humanity.

The Breton chef, the same Jacques Thorel who at Auberge Bretonne used to enchant his clients some five years ago or so. A strange destiny didn't allow him to receive the highly deserved (as those who have dined at his restaurant say) three stars, except granting him later a constant and consistent success both from the audience and the critics (on the other side). As for Gianni Sarzano of Bivio in Quinto Vercellese, he is undoubtedly considered a great, refined and sensitive interpreter of Vercelli's cuisine, according to both professional and non-professional gourmet fanatics. He's reserved yet concrete, leaving his mark in impressive dishes.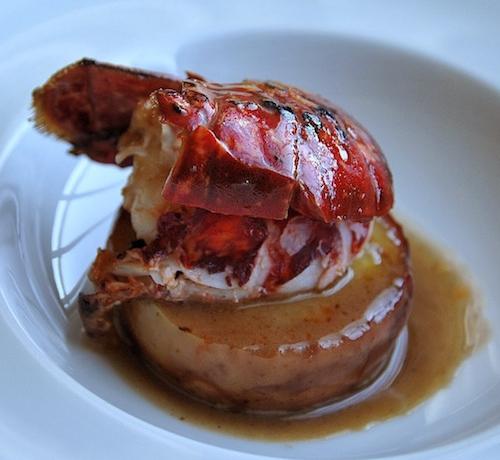 Lobster, apple and chartreuse
We finally get to our days, when one of them, the Breton, is now retired. The other, in the meantime, has cut out some quality time for his family, something that has allowed him a less problematic outcome than elsewhere, in these times of economic crisis. They meet and manage to take out of the hat a delicious early spring day, which irradiates and shines over some twenty or so friends sitting around their table.
These men have conquered their freedom, of expression, of sharing, of research of what is beautiful and good. These are men who still have lots to say because they have nothing more to demonstrate. The lunch goes by in a very pleasant way, following a menu created and prepared with four hands, in fact with six, since another great Italian talent, namely
Fabio Barbaglini
, joined them to give his support to this unusual duet. And he also added his touch in a few dishes, by retouching them a little, as the role of commis was a little tight for him.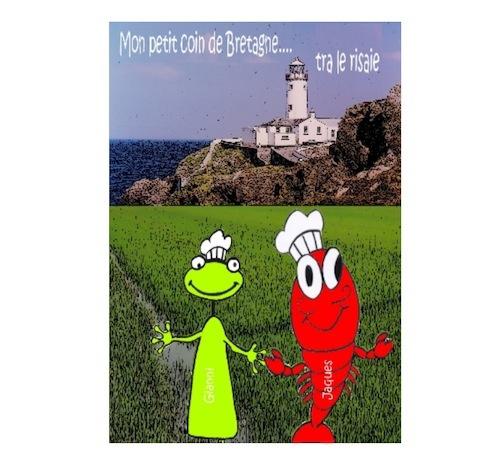 Close encounter of a craveable kind
The
Guinea-fowl royale with artichokes stuffed with foie gras
, an excellently made dish by
Gianni Sarzano
and the
Lobster gelée, with cauliflower cream and parsley
by
Jacques Thorel
were two unquestionable masterpieces. These two dishes will remain in the memory of all the guests who sat at this table for a long time. The same goes for the
Risotto
, which could not be absent,
with the aromas of spring and a lobster tail with apple and chartreuse
, an emblematic dish by the Breton chef. And to finish, a triple link between France and Italy: from the Piedmontese bonet pudding to the Gateau nantais, passing through a coffee ice-cream. Here, among the paddy fields of Quinto Vercellese, in spring, so many emotions.
Alberto Cauzzi
Girovago dei ristoranti, come piaceri indulge soprattutto su quelli della tavola. Ama dialogare nei blog a tutta gola ed è uno dei fondatori del sito www.passionegourmet.com

| published on 12-03-2014 in DALL'ITALIA