Please fill in the fields below to search our Recipes' database.
Totale ricette: 482
Da Romano for half a century
50'th birthday for the restaurant in Viareggio. Yet the Franceschini family has never been in better shape. «Our secret...»
Fifty years for one of the historic establishments in Italy's fine dining scene, Da Romano in Viareggio. They turned fifty last April, we waited for the season to end to evaluate together one year and half a century, together with Romano and Roberto Franceschini, father and son, always up to date (in the photo with Franca, respectively wife and mother)
Read
| 27-09-2016 | 17:00 |
Carlo Passera
|
Carlo Mangio
Sea lemons at Bikini
Giorgio Scarselli leads us in the discovery of a delicacy that must be treated with care...
The author of this piece tasted this beautiful dish of Spaghetti with sea lemons and wild fennel at Bikini in Vico Equense. It was a good occasion to speak about this tunicate with special features, which very common in the waters in front of Sorrento's peninsula, yet scarcely used. Photo by Tanio Liotta
Read
| 26-09-2016 | 17:00 |
Carlo Passera
|
Carlo Mangio
Sala in Tokyo enlists Cracco
A Milanese dinner at the embassy, with a surprise. First pasta Amatriciana, then a duet with Bottura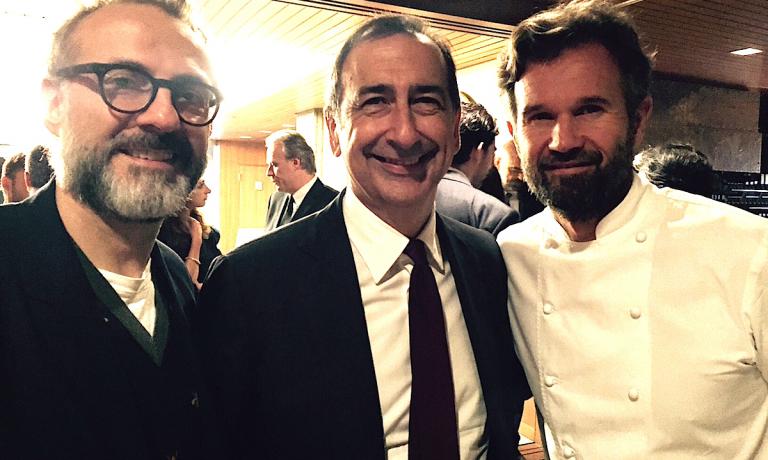 The mayor of Milan, Giuseppe Sala, with Massimo Bottura and Carlo Cracco on Friday 23rd September at the dinner dedicated to Milan at the Italian embassy in Tokyo
Read
| 27-09-2016 | 16:00 |
Paolo Marchi
|
Dal Mondo
The mayor of the palace
Interview with Francky Semblat, the faithful squire in Shanghai of Mr 35-stars Joël Robuchon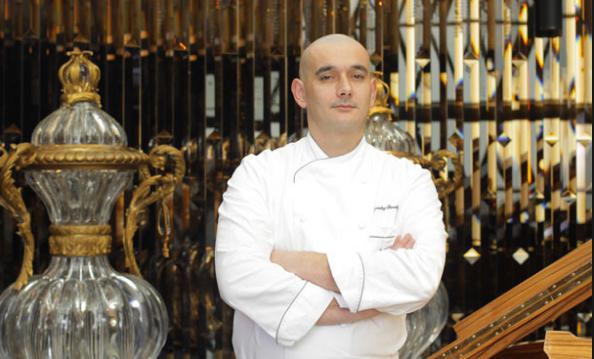 Since last spring, Francky Semblat is Joël Robuchon's executive chef at L'Atelier. The restaurant has just received two Michelin stars from the first edition of Michelin Shanghai. "I do what our maestro requires", he tells our reporter Claudio Grillenzoni (photo by hk.on.cc)
Read
| 27-09-2016 | 06:00 | |
China Grill
DiverXo, the pig's taking off
Lisa Foletti visits the restaurant in Madrid: technique and (a lot of) creativity at the service of taste
Lisa Foletti's report for Identità Golose on her extraordinary experience al Diverxo, David Muñoz's restaurant in Madrid: a dinner that looks like no other, what with visionary ideas and impeccable food
Read
| 26-09-2016 | 06:00 |
Lisa Foletti
|
Dal Mondo