Dining at Dinner
Inside Heston Blumenthal's den. An intense experience, palate-wise, and very luminous for the eyes
30-03-2014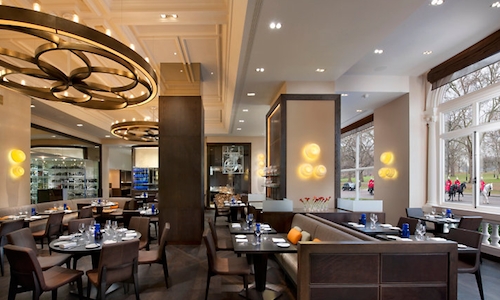 Total light at Dinner by Heston, inside the Mandarin Oriental hotel in Knightsbridge, London, tel. +44.(0)20.72352000. Reserving a table at Heston Blumenthal's restaurant in London is not so prohibitive, last minute is possible
In London's increasingly boring and decadent restaurant-in-palace-hotels scene, Dinner by Heston proves to be original and glorious. There are many details that make this establishment a unique place and the experience a joyful one. First of all, an important detail: reserving a table is very simple and there are always some last minute tables available, a hardly trivial fact.
The architecture and the spaces inside the restaurant are used in an excellent way. It's useless to hide the fact that Dinner is a restaurant to be enjoyed at daytime, in which to spend the hours around lunch immersed in the light while sinking into very comfortable chairs. Dinner's windows open up the eyes: on one side, there's the magnificent kitchen, with its dynamics as precise as a Swiss clock during service hours. There's a theatrical fetishism when looking at the carved pineapples roasting on the spit, suspended with a pulley and rocking while their sugar and juices fall on a steel plate. Or again when looking at the transparent porcelain lights in the shape of a baking tin.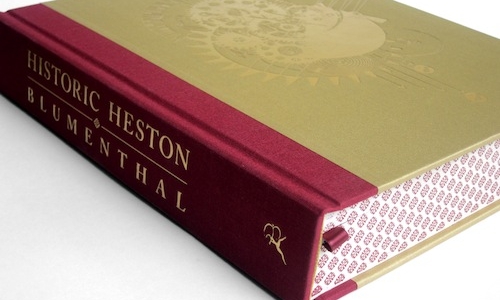 "Historic Heston", ed. Bloomsbury, 2013
On the other side, there's Hyde Park. It doesn't matter if it's a sunny or cloudy day, from inside the
Mandarin Oriental
the park is magnificent in all its historic noble atmosphere. The menu is brilliantly created because it tries to sum up a journey in the history of the kingdom of Albion: each dish in the menu states the date when the recipe was first documented.
Heston Blumenthal's project proves how wide the scope of his research is. His latest book "Historic Heston" (published by Bloomsbury, 112 GBP), one of the most beautiful books to be out in 2013, is dedicated precisely to the historic research he conducted for Dinner. This is how French style menus, signed by the usual people, are abandoned. The superabundance of details and refinements perfectly answer the question regarding what is luxury in the restaurant of a great hotel in 2014 and makes of Dinner one of the places not to be missed when in London.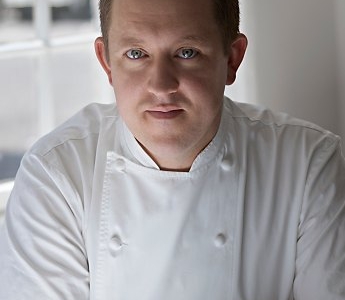 Ashley-Palmer Watts, chef at Dinner and historic right-arm of Heston Blumenthal (photo by Sergio Coimbra)
Of course, there's still space for improvement, because in a restaurant like this one, with spaces so well used, it would be magnificent to see a very large charcoal fire where to cook pigeons, pork chops and lamb. Wouldn't this have been a logic idea, even in terms of coherence, given the restaurant's philosophy? Instead, they count on the detached and impersonal precision of a roner oven, for the cooking of meat. Of course, these are trivial details but we prefer pigeon much more when it is cooked on the breastbone, thanks to the contact of the
plancha
fire. In the end, however, does it matter? The truth is now we cannot go to bed without thinking of the delicious
Tipsy Cake
.
Dinner by Heston Blumenthal
Mandarin Oriental hotel
66 Knightsbridge
London, United Kingdom
+44.(0)20.72352000
Average prices: starters 17, main courses 32, desserts 12,50 GBP
Always open
---