Jordi Vilà's big return
Barcelona: Alkimia is once again open right in the centre, among the best Catalan fine dining restaurants
28-07-2016
After 13 uninterrupted years in the Gracia neighbourhood in Barcelona, Alkimia reopened a few days ago inside Fábrica Moritz, right in the centre of town. It also includes Alkimia unplugged, serving a product-based cuisine more suitable for day-to-day meals, also signed by Jordi Vilà, a master of seafood cuisine
Almost 5 years after opening brewery Fábrica Moritz, Jordi Vilà managed to complete the initial project: on the ground floor there's the cervecería serving tapas and small plates and seating up to around one thousand people per day, from breakfast till around one or two in the morning. Last year it was the turn of Brasserie (a "fine" brasserie, we'd say) Louis 1856, on the floor below the Fábrica, with a gueridon service.

A few days ago, Alkimia, the flagship restaurant that the chef moved from Calle de la Industria to Ronda Sant Antoni opened at last. One year after closing the previous location, he opened the new place in the perfectly restored old Moritz family home from the late 19th Century. Interior design and furniture are signed by Chu Oroz, who previously collaborated with Fura dels Baus. Organic materials and good taste. A place that won't leave you indifferent.

The dining room is divided into two areas and culinary offers. The part in front of the kitchen belongs to the old Alkimia, with 2 tasting menus (98 and 155 euros) plus the à la carte menu. At the back, in front of a luminous panel, there's the Unplugged area where the chef offers "naked" products, mostly seafood (in large portions) from the north – some served straight at the table with no intermediation.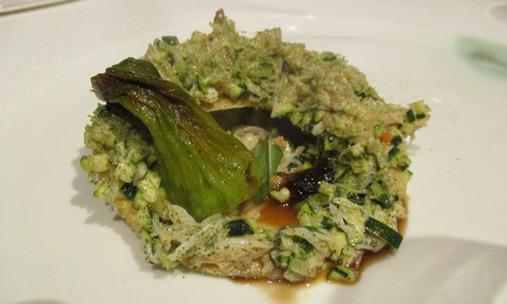 Brown crab (buey de mar) in salpicón with vegetable brunoise and jellified brown crab stock and blackberry and fried courgette flowers preserved in vinegar. A "brutally" good dish, says Philippe Regol
The turbot (
rodaballo
) tasted as part of the tasting menu, deboned yet served with its skin and jelly, was so good it was touching. We've long said that we no longer believe in seafood in fine dining. We now remember a completely white and lucid turbot at
L'Astrance
in Paris... It is necessary to renew the concept of fish in fine dining. It doesn't matter how, but fish served in filets with its garnish served beside it to solve the problem is always disappointing.
As I write, Alkimia is still in the test phase but I can guarantee it was one of the best meals (dinners) this year. For many reasons.

We spoke more than once about the lack of "generosity" in fine dining. I'm back from a trip where, had it not been for the bread and butter, I would have left hungry. Jordi offers products, in large quantities, that taste good and are excellent. And he uses the in the best possible way, each product in its way: the brown crab becomes a Baroque and very rich salpicón, while the lobster arrives with simple pieces of cocoa and chilli pepper paste.

And, as usual, there are no sprouts, no flowers, only a few leaves, without resorting to ingredients that aim to make the dish look good but have little to do with it and often wish to "épater le bourgeois" (surprise the bourgeois). At Alkimia they cook, and in a great way! Let's see how.
Fried goat croquette with mustard and mint: good, yet not the best dish of the dinner; too much meat fibre in its meat filling. The Tomatoes macerated in anchovy garum with ricotta and aromatised with marialuisa were instead marvellous. The Matured and smoked mullet with marinated yellow pepper and herrings was also very good. The scampi, prawn and sea bass tartare: here the cook adds a cream of plankton (which doesn't add to the recipe as a whole, however) and a generous quenelle of Beluga caviar.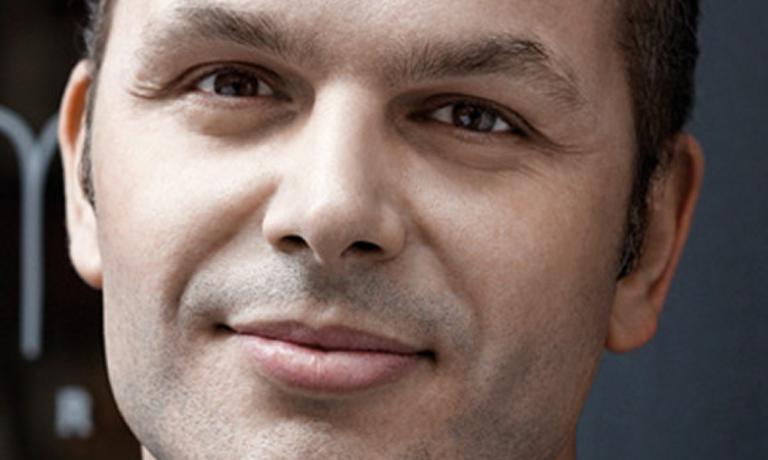 Jordì Vila, 42, speaker at Identità Milano 2012, a star in Catalan and Spanish cuisine
Calamari filled with anemones and butifarra negra
(sausage),
conger skin
(similar to cod tripe),
gnocchi
(traditionally made with potatoes, but with a nice texture and in the shape of chickpeas),
salicornia with tips
(non sweet)
hazelnut pralines
. Crispy potatoes. A fantastic stew.
Grilled Witch flounder with truffle cream and marinated trumpet mushrooms. Another excellent recipe. Lobster "suquet", aromatised with vanilla, ginger, chilli pepper paste and vinegar. Suquet pan d'epice with traces of cocoa seeds (grué). A fantastic generosity in the portion.

Ravioli (or tortellini?) with chicken, Salva Cremasco cheese, confit celery and roast jus , impressive. What a recipe! Pigeon marinated in anchovy colatura and served with a very tasty sauce of anchovies and one cherry, as a fresh counterpoint. I like it, much better than the griottines, which tend to be sweeter.

Again, Snuffbox peaches with Menjar Blanc (a shaky almond panna cotta) and sweet wine granita. A fresh and delicious dessert (yet the confit lemon julienne could have been better). Hazelnut Millefoglie (thin slices of orelletes) with spice-flavoured ice cream. A rich dessert in which one appreciates the diced raw lemon interrupting the sweetness. Finally, only one solo petit-four: a perfect Chocolate macaroon.

If it still wasn't clear: Alkimia is not to be missed.

Alkimia
Ronda Sant'Antoni, 41
Barcelona, Spain
reserves@alkimia.cat
+34.93.2076115
Average prices: starters 29, main courses 37, desserts 14 euro
Tasting menu: 98 and 155 euros
Closed on Saturdays and Sundays
---
Rubriche - Dal Mondo
Reviews, recommendations and trends from the four corners of the planet, signed by all the authors of Identità Golose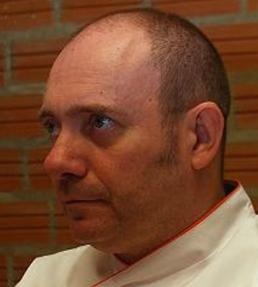 ---
Latest articles published