At MAD5 Marta's challenge in the kitchen
«Enough militarisation in the kitchen. We need to preserve cooks too, not just the planet»
12-09-2016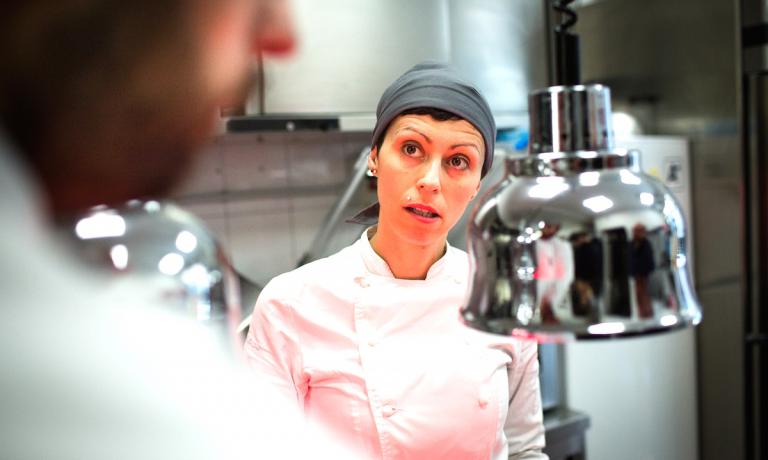 Marta Scalabrini, patron chef at Marta in cucina, portrayed by Niccolò Cozzi. Scalabrini, a protagonist in the latest edition of MAD5 in late August in Copenhagen, opened her restaurant in Reggio Emilia in May 2014. Until 27 she led a completely different life. At the congress organised by René Redzepi she gave a speech on the future of work with stoves and ovens: Should kitchens be militarised or cooperative?
At MAD5 Tomorrow's kitchen, the two-day event held in Copenhagen on 28th and 29th August, there were only two Italian speakers: Carlin Petrini in the big circus tent and Marta Scalabrini in one of the small tents in the shape of an igloo outside. We know all about Petrini while little is known of Scalabrini. This didn't prevent this chef from Reggio Emilia to present one of the most interesting themes: Should kitchens be militarised or collaborative?
She votes for cooperation. She doesn't deny rules and hierarchy are necessary but if a boss is authoritative, he doesn't need to terrorise those reporting to him for them to listen and obey. Her story starts from afar, from when she did something completely different since she only opened Marta in cucina in May 2014: «The first time I visited René Redzepi's Noma it was 2009 and I immediately had the feeling it was a place without precedents. I had read of Ferran Adrià, of his El Bulli and of how his approach to cooking and having the staff involved had been striking for some of the chefs who are now among the best in the world, including Redzepi. Yet, though perfect, what struck me at Noma was not the food, but the atmosphere, the whirlpool of feelings you felt in there, so "solid", so tangible.
«I felt the same unchanged emotions in Tokyo in 2015 in the temporary restaurant at the
Mandarin Hotel
. It was the best restaurant in the world with the best staff in the world and they infected everyone with energy and optimism. I felt happy but my experience as part of the staff of a restaurant, compared with the feelings conveyed by the team at
Noma
– cooks included – created a short circuit and a flood of questions I shared with the audience at
MAD5
cooks, dining room staff, psychologists, sociologists, working mothers, farmers managers...
«I'm 33 and I transformed cooking into a profession at 27. I have what I like to call a previous life, which goes through a degree in Communication and Marketing, a master in Visual Merchandising at IED in Madrid, and a series of professional experiences that allowed me to grow. From this world made of conventional personal and professional relationships, though sometimes difficult, I found myself in a world almost completely isolated from the outside, run by unwritten yet immediately deducible and forcibly shared rules. Kitchens too often based on the fear of the consequence of a mistake, built on authority at every hierarchical level. Kitchens in which recipes are kept secret, in which you're judged based on sacrifice and resistance. In which you feel guilty on your free day and if you're not reprimanded you simply feel inadequate.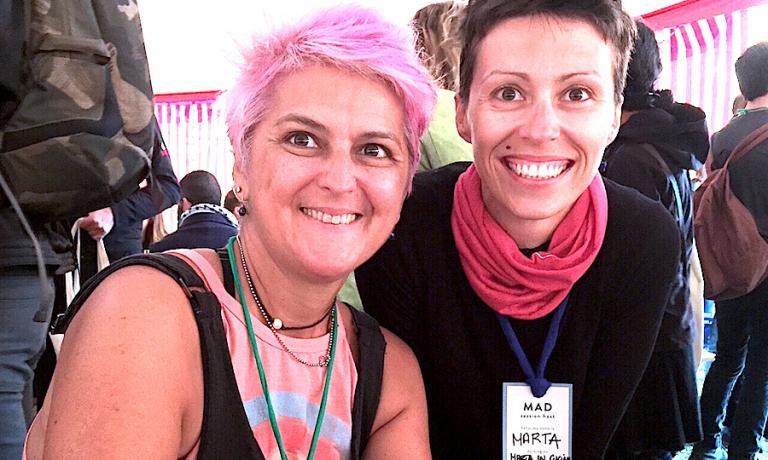 Cristina Bowerman, from Glass Hostaria in Rome, and Marta Scalabrini, patron chef in Reggio Emilia at Marta in cucina, during a lunch break at MAD5 in Copenhagen
«But both myself and my closest collaborators
Ivan Giglio
and
Giorgio Falzarano
, have certainly learnt a profession in all these kitchens. We have learnt an unconditional respect for rules and roles. We have seen all those kitchens unquestionably reach their goals, perfect dishes, precise staff, spirit of sacrifice…
«This detachment from "the world outside the kitchen" however caused us to suffer too, and led us to wonder whether it's possible – and necessary – to create an alternative management of tomorrow's kitchen based on cooperation, respect for rules, which is essential, but also for the people working with us, including ourselves. Cooperation, involvement, sharing of goals and results, making the entire staff responsible.
«I'd lie if I said I know for sure this management of tomorrow's kitchen will work. I'd lie if I said that every time the expectations we have with regards to this approach we're adopting are unmet we fill discouraged. This challenge requires time and energy we don't always have. Every time this system of sharing generates problems we stay hours after service, wondering if the military system of running the kitchen, in the past as today, is perhaps not the quickest and surest way to reach successful goals.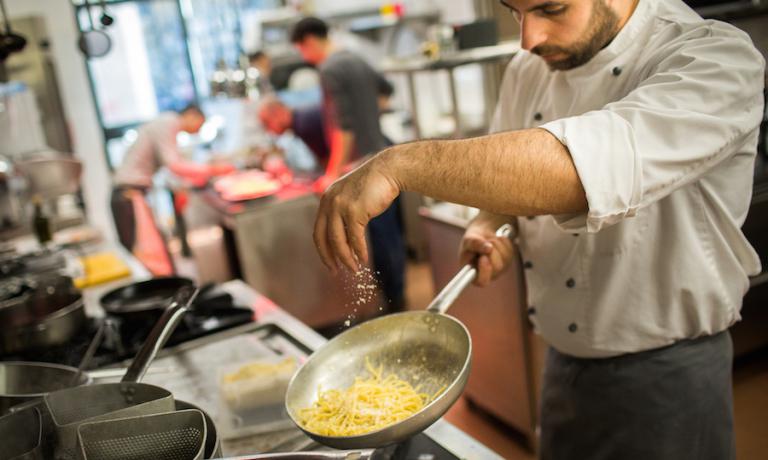 A cook at work in Marta in cucina's kitchen in Reggio Emilia. Photo by Niccolò Cozzi
«I dream of a new generation of chefs who grew up in militarised kitchens changing their approach and choosing cooperation. Chefs working together, sharing experiences, mistakes, recipes among themselves and with their staff. Chefs who teach future generations it is possible to have a kitchen without fear, anxiety and obligations but with sharing. At MAD5 we found some of the answers but many new questions have arisen too. Paraphrasing
Alessandro Baricco
, it's best to live in a world of questions than having all the answers. (Baricco, Palladium Lectures, Kate Moss - il gusto).
«What emerged is that tomorrow's kitchen must be sustainable not only with reference to the safeguard of the planet, but to ourselves as well. Once again sharing, networking, respect for oneself and for the others, taking your time to live and not just work are the foundations for tomorrow's kitchen. For more info on us and our project please click on our restaurant's website and on the Vicolo Folletto gallery».
---
Rubriche - Primo piano
The events you cannot miss and all the news of topical interest from the food planet
by
Paolo Marchi
born in Milan in March 1955, at Il Giornale for 31 years dividing himself between sports and food, since 2004 he's the creator and curator of Identità Golose. twitter @oloapmarchi
---
Latest articles published