The Bros phenomenon
Anatomy of the Pellegrino brothers' restaurant. A breath of fresh ideas and delicacies in the heart of Lecce
25-08-2016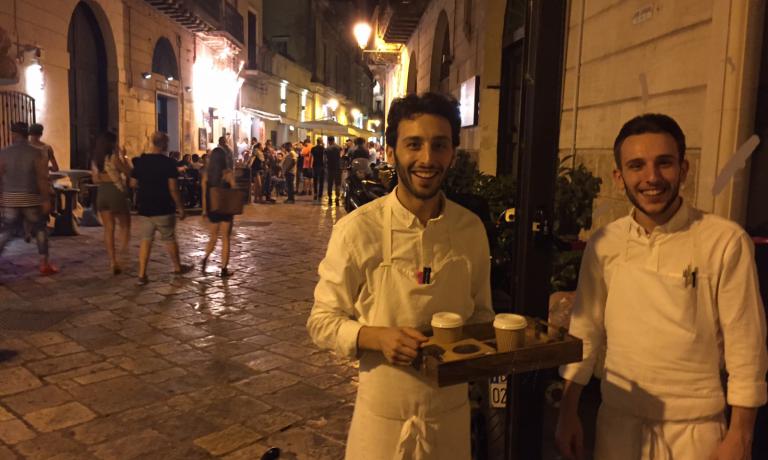 Floriano and Giovanni Pellegrino, brothers and chefs at Bros, the restaurant opened in the heart of Lecce on 26th December 2015 and is already acclaimed by critics and public. In the photo, the two guys (a total of 46 years of age) offer an almond non-alcoholic drink served in a typical Starbucks cup at the end of the dinner. A fun way to hint at Salento's popular habit of drinking and walking (photo by Zanatta)

«Lecce is the centre of the world, not New York, Tokyo or London. Tutti qui hanno benire». Everyone must come here. Born in 1990, Floriano Pellegrino uses Salentino to state the desire leading the Bros «gastronomic criminal conspiracy». The restaurant, a short walk from the amphitheatre in Piazza Sant'Oronzo, shook the Baroque town on the 26th of December 2015. It's a heliocentric revolution «because it is us, from Lecce, who need to trace the centre of the world», he points out, «and change the mind of all those who are proud to spend 200 euros for a gourmet meal in Milan but then shrug when they have to spend 40 over here, as if we were asking for a piece of family jewellery».

Their persuasion strategy, already attracting many young enthusiasts, is typical of enlightened chefs: «think local, act global». In other words it enhances local products with techniques learnt around the world: in the menu, vegetables (their obsession) such as cucummarazzu, spunzale or murthedda immediately stand out, but one can also recognise Redzepian snacks, meetings of chlorophyll and seafood and the chef-presenting-the-dish-in-the-dining-room paradigm typical of the New Nordic Cuisine. As well as chawanmushi-style pudding (fantastic, with mackerel and sea lettuce) and a general Japanese sharp rigour. Not to mention the French approach to cooking meat, bringing back juices in Maillard's armour, and sending back the roner to the attic «because as chefs we must take on the risk of making mistakes, not use perfect cuts and cooking techniques to attract the Stars».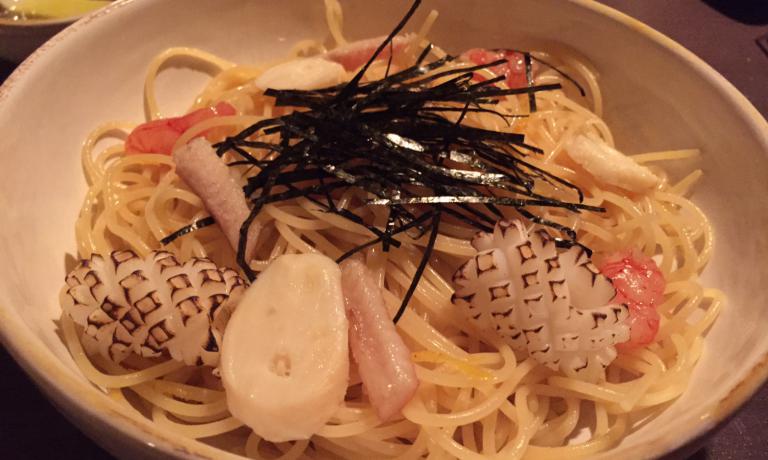 Spaghettini freddi e pesce al buio [Cold spaghettini and fish "in the dark" as the fish varies according to season. Here there's squid, smoke eel, prawns, octopus and nori seaweed. A good and engaging Japanese-style dish (photo by Zanatta)
They learnt all these tricks by travelling for real, not through screenshots from Instagram:
Bros
– the same label as the
Alajmo
and
Costardi
brothers on Twitter – comes from the fact
Floriano
works in the kitchen next to third-born
Giovanni
, 5 years his junior (the second-born,
Francesco
, born in 1992, left after a month and chose the road of consultancy).
Gio
takes care of seafood first courses and main courses but don't you think airtight walls divide their stations because hierarchies bounce like kangaroos and everyone cooks everything in turn. In the under 21 team the beaming
Isabella Potì
,
Flo
's fiancée, father from Lecce and Polish mother stands out. Her origins influence her heterodox dessert incursions in the kingdom of fermentation. If you ask for the
Cioccolato e i nostri 10 migliori abbinamenti
at the end, you won't get what you imagine, but unsettlement rhymes with enjoyment.
The journey. Not yet 18,
Flo
immediately felt the urge to cook at the family agritourism run by their mum in
contrada
Le Lupare in Scorrano, 40 km south of Lecce («it's the place where we would like to bring
Bros
within 3 or 4 years», he reveals). At the time, he knew well that Salento didn't offer the right soil to flourish. One year up north at
Ilario Vinciguerra
's and in 2010 he's already o
ohing
in front of the
cocineros
discussing on the stage of the
Lo Mejor de la Gastronomia
: here he meets
Rafa Santos
, journalists
Grigliatti
junior and senior and almost without realising it arrives in the Basque Country at
Martín Berasategui
's, 3 Michelin stars, north star for both brothers in the following five years.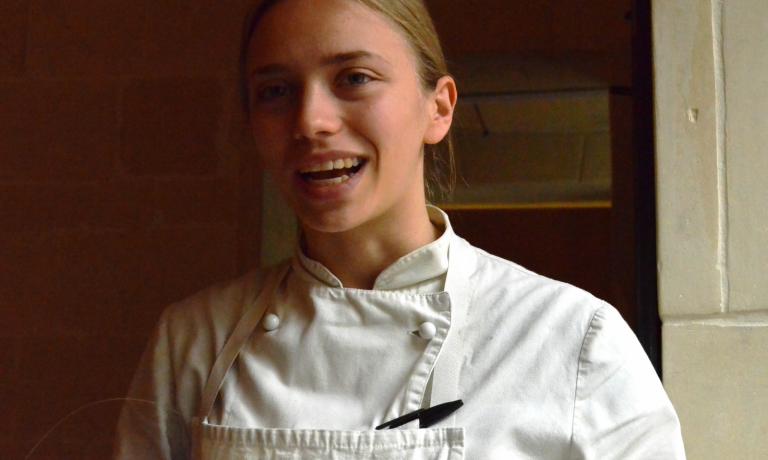 Isabella Potì, pastry chef at Bros, father from Lecce and Polish mother (photo credits, Il Ventre dell'Architetto)
Meanwhile, he polishes his skills at
Eneko Atxa
, at
Noma
in Copenhagen («I woke up at 5 and went to sleep at 10, that wasn't life»), at
Mugaritz
in the shade of
Andoni
, in the French countryside of
Montreuil-sur-Mer
with
Alexandre Gauthier
, at
Claude Bosi
in London («Though we prefer to fillet the fish. There's more than business to cooking»). This while
Giovanni
also cut his teeth at
Gagnaire
in London,
Colagreco
in Mentone,
Ryugin
first in Hong Kong then in Tokyo. Yet for both the headquarters of their roaming is always in Lasarte, «because
Berasategui
is like a father to us. And I say so even though he made me clean the restaurant parking place for months, at first. We left with a structured mind and an essential lesson: we mustn't become Berasateguian, Ducassian or Passardians. We must make an effort to be ourselves».
For now,
Bros
's papers are written in fluorescent ink. It will soon come out of a homemade cartridge, with a quieter delocalization of ideas. On the nights when it's fully booked, the service can be slower, but compared to the rest of Salento the speed is supersonic, especially in terms of ideas. Think of this: «We only accept experienced interns because we do not want to insult or devastate people but to give significant responsibilities. And we only get foreign interns, no Italians: since we cannot travel for now, we bring the journey to our kitchen. Imagine having a Peruvian cook giving you lessons at home on you how to make a perfect
ceviche
». Character.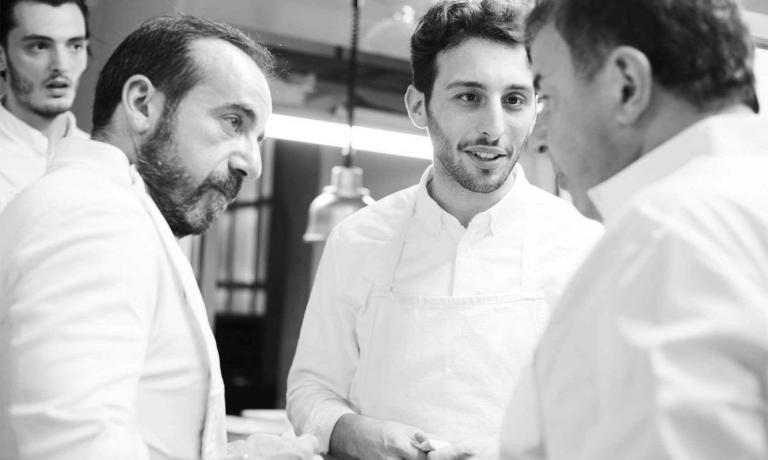 23 May 2016: a few months after the opening, Martin Berasategui (in the photo to the right), cooks at Bros, at his favourite pupils' place (in the centre, Floriano Pellegrino). To the left, there's also Joseba Lezama, for 27 years now Martin's executive chef at Lasarte
Then there's the "One day in the kitchen", with
Flo
,
Gio
e
Isa
: the trainee cook stays with them from the foraging in the fields at dawn to the pre-service work in the restaurant. Then in the evening he sits and tastes the tasting menu included in the price. 300 euros for economic sustainability is a goal that prevails on poetry: «We're very egocentric, I must admit it: without ego you go nowhere. But we must always put it aside and think of the good of everyone. Like seating 22 people maximum, no more, because our cooking is so complicated it would mean hiring one more person, on top of the 9 already at work in the kitchen and dining room. We cannot afford it. This month it's the first time we closed with a surplus, we're thrilled». How can they manage to have a wine list (with many wines from Salento) with the lowest mark ups to be seen, remains a mystery.
In Salento they're also getting ready for the hunting season and some delicious food will be coming up. The Porro intero, a Bros "classic" recipe made of leek cooked in a miso of fermented cannellini beans will be back. This is a new Salento. «A dream with wide-open eyes», they say, «to be nurtured hanging in there, as Napoleon said, until the last bayonet».

Bros
Via degli Acaya, 2
Lecce
+39.0832.092601
Open for lunch and supper
Closed on Tuesdays
Average prices: starters 9, first courses 14, main courses 17, desserts 8 euros
Tasting menu: 70 euro (8 courses), 25 euro paired with two 2 glasses of wine
---
Rubriche - Zanattamente buono
Gabriele Zanatta's opinion: on establishments, chefs and trends in Italy and the world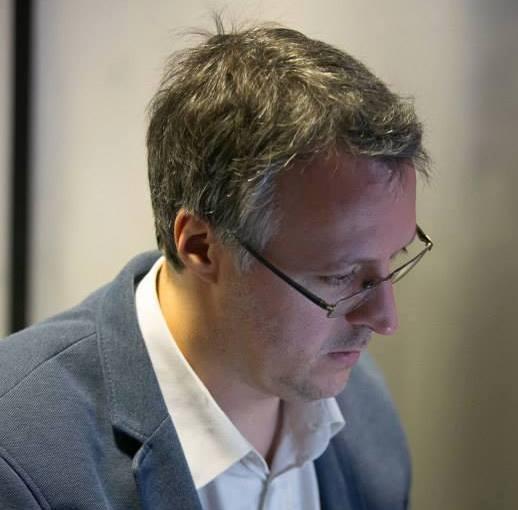 ---
Latest articles published