London, time for the Cerea brothers
Harrods changes protagonists: after Carlo Cracco it's the turn of the siblings from Brusaporto
01-10-2014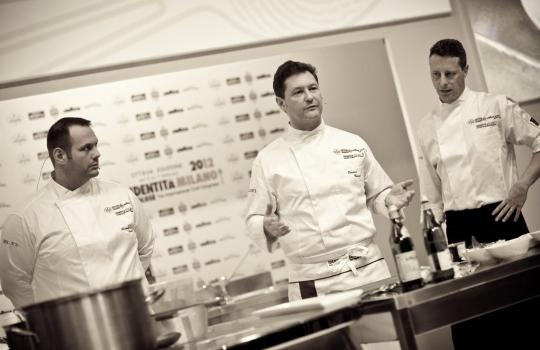 Left to right, Roberto and Enrico Cerea and XXX in an archive photo from Identità Milano. The two brothers from Bergamo, at the helm of restaurant Da Vittorio in Brusaporto, are, as of today, the new protagonists of Stelle di Stelle, with lunches and dinners through the entire month of October at Harrods, London, an important event organised by the great department store together with Identità Golose
The show of Italian cuisine at Harrods in London goes on. After the month of September with Carlo Cracco and his team at the top – every day very busy with 30 lunches and dinners on the Lower Ground Floor of the shopping Mecca in Knightsbridge - the Stelle di Stelle festival changes its protagonists today. Throughout the month of October, the spotlight will be on the talent and the skills of brothers Enrico and Roberto Cerea, alias Chicco & Bobo, 3 Michelin stars at restaurant Da Vittorio in Brusaporto, Bergamo (plus a series of other important consultancy projects, in Italy and across the world).
Their menu is a journey across the great raw materials of Italy, with sharp and explosive flavours made precious on two occasions (given the season) by Alba's white truffle. Here are the five dishes in detail:
Cantabrico anchovy, tuna sauce and hazelnuts from Piedmont;
Soft polenta, robiola from Roccaverano, white truffle and Grano Padano sauce;
Gnocco filled with fondue with white truffle;
Mediterranean-style sea bass in yellow;
Midori – Avocado cream, caramelised macadamia nuts and yogurt sorbet.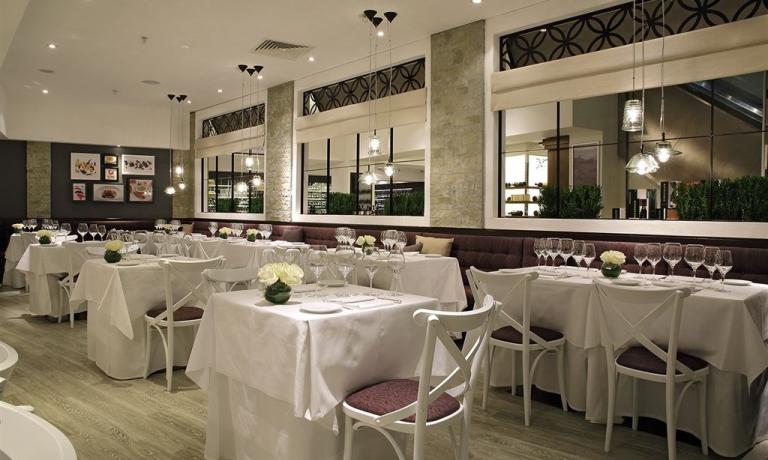 The Stelle di Stelle restaurant on the Lower Ground Floor of Harrods. Reservations can be made via e-mail at stelle.di.stelle@harrods.com
Harrods
celebrates the excellence in Italian contemporary cuisine: the historic luxury department store in London enlisted, in collaboration with
Identità Golose
, the chefs of five of the most significant Italian restaurants who, together, bring a total dowry of 13 Michelin stars to London. The aim is that of celebrating the excellence in contemporary cuisine beyond stereotypes. After the totally-
Cerea
October, it will be the turn, in November, of
Gennaro Esposito
of restaurant
La Torre del Saracino
, Vico Equense, (Naples), two Michelin stars.
Italo Bassi
, chef of
Giorgio Pinchiorri
and
Annie Féolde
's historic
Enoteca Pinchiorri
, three Michelin stars, in Florence, is awaited in November. The event will close, in January, with
Enrico Crippa
, chef at restaurant
Piazza Duomo
in Alba, three Michelin stars and at number 39 in the 2014 World's 50 Best Restaurants.
"We've long created a productive collaboration with Identità Golose, whose 'mission' has always been that of promoting what's best in Italian cuisine across the world, giving shape, this year, to an event which we believe interesting in order to give value to Made in Italy food in its most current form, beyond the usual stereotypes –
Bruce Langlands
, Director of Foods at
Harrods
explained during the crowded opening press conference –. We offer these chefs and their restaurants a great stage to present their creativity to a new market, in a real institution represented by
Harrods
.
Stelle di Stelle
is the first event with these characteristics and duration. We've decided to bet on flavour and Italian high quality cuisine because we're convinced that in this moment this is a current choice that rewards Italian taste, something appreciated in an international crossing and consumption point".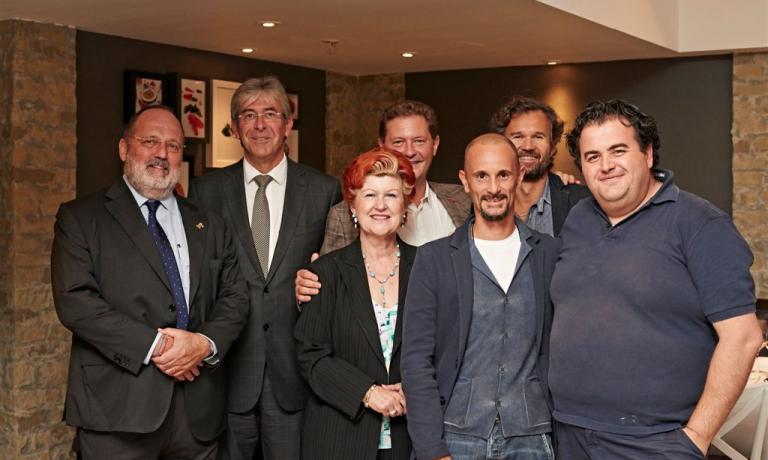 All the protagonists of Stelle di Stelle: left to right, Paolo Marchi, Bruce Langlands of Harrods, Annie Feolde, Chicco Cerea, Enrico Crippa, Carlo Cracco and Gennaro Esposito
---