Conquering Chicago
In October, Italian chefs and wineries will be at Eataly for the first edition of the Italian Food and Wine Festival
17-07-2014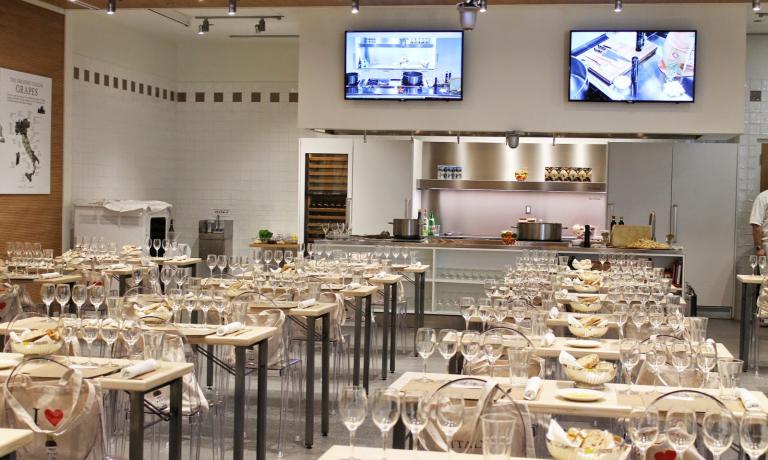 La Scuola at Eataly Chicago, the store located on 43, East Ohio Street. From Tuesday 14th to Thursday 16th October, this will be the location for the first edition of the Italian Food and Wine Festival, with 30 wineries selected by the Merano Wine Festival and important Italian chefs (photo credits terryssecondhelpings.blogspot.it)
Summer still needs to explode over here but we're already thinking about the autumn, with the fifth edition of Identità New York (October 9th-12th) coming up, followed by a true premiere, that is to say the Italian Food and Wine Festival, which will take place at Eataly Chicago right after that, from Tuesday 14th to Thursday 16th October. Only a few pieces are missing in the programme but we can already say that the first of the 3-day-event will include an 8-hands dinner at restaurant Baffo, with 2 Italian-Italian chefs, namely Ugo Alciati of Guido in Serralunga d'Alba and Davide Oldani of D'O in Cornaredo, the authors of the entrée and the first course, and 2 Italian-American chefs, namely Alex Pilas and Katia Delogu (main course and dessert), who will come from Eataly New York to the store on 43, East Ohio Street, in the big metropolis in Illinois.
Tony Mantuano, chef at Spiaggia, with Barack Obama
The following day, on Wednesday October 15th, the main protagonists will be some thirty Italian wineries (though the number is going to increase), inside
La Scuola Eataly's cooking school
. There will be a super-tasting of excellent wines from a series of wineries that will let the public taste their best wines, from 6 to 10 pm, 30 dollars per ticket. The selection, made by
Helmut Koecher
of the
Merano Wine Festival
, currently includes 4 wineries from Tuscany (
Riccardo Baracchi
,
Petra
,
Banfi
,
Mastrojanni
), 3 from Sicily (
Baglio di Pianetto
,
Firriato
and
Conte Tasca D'Almerita
), 3 from Veneto (
Allegrini
,
Col Vetoraz Spumanti
and
Tenute Tomasella
) and 3 from Latium (
Omina Romana
,
Casale del Giglio
,
Falesco
).
There will also be 2 from Piedmont (
Montalbera
and
Fontanafredda
), 2 from Abruzzo (
Cantina Ciccio Zaccagnini
and
Cantina Tollo
), 2 from Alto Adige (
Cantina Terlano
and
Castelfeder
), 2 from Campania (
La Guardiense
and
Mastroberardino
), 2 from Friuli Venezia-Giulia (
Zorzettig - Myò Vigneti di Spessa
and
Bastianich
) and one each from Calabria (
Ceraudo
), Lombardia (
Citari
), Marche (
Il Pollenza
), Trentino (
Ferrari
) and Umbria (
Giorgio Lungarotti
).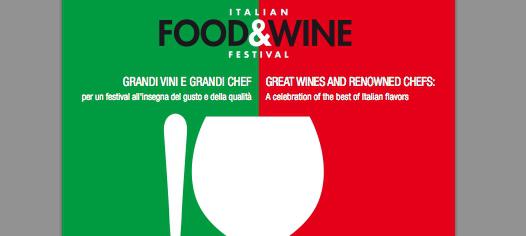 A detail of the poster promoting the event in Chicago
This is a large range of micro-areas that will represent the whole country, from Collio to Trapani, from Monferrato to Montalcino, from Bassa Atesina to Sannio, from Valpolicella to Valdobbiadene. Each winery will offer a tasting of 4 products, chosen on the basis of a rigorous selection made with regards to their philosophy and the excellent quality of their wines.
How about Thursday October 16th? We will return to the food side and again inside La Scuola, with two matching cooking classes: the first, from noon, with Ugo Alciati and Tony Mantuano, chef at Spiaggia, a great and historic authority with regards to Italian cuisine in Chicago, strong of his three-decade experience. The theme of the lesson will be truffle. In the evening, from 6 to 7 pm, another lesson during which Davide Oldani will confront himself with Lee Wolen of restaurant Boka, 1 Michelin star, a chef worth discovering. Details coming soon.
---