Cortina, the encore is served
The programme and protagonists of a weekend (5th and 6th September) with great mountain cuisine
01-09-2015
After the successful 2014 edition, Identità Cortina, the event that aims at giving value to mountain food culture and gastronomy returns this weekend. The climax will be made of two events: a dinner on Saturday 5th at La Corte del Lampone del Rosapetra Resort in Cortina with Favrin, Gaspari, Niederkofler and Alfio Ghezzi (the price is 80 euros, reservations +39.0436.861927). And a brunch on Sunday 6th at Brite de Larieto with dishes by Gaspari, Favrin, Scabin and Alverà (30 euros, reservations +39.368.7008083 or +39.328.7288665)
A dinner with remarkable protagonists on Saturday 5th and a signature brunch the following day, on Sunday 6th, in the heart of the Dolomites. This is the very summary of the second edition of Identità Cortina, a format conceived last year for the first time in July by Identità Golose, which this year returns with the very same intention: «To give value to mountain food culture and gastronomy», says Paolo Marchi, creator and curator of the event.
«Being surrounded almost everywhere by sea», Marchi further explains «we forget that in fact our country has mountains almost everywhere, from the Alps – starting in Ventimiglia and ending basically in Trieste – to the Apennines, down to the very deep South. Italian mountain agriculture is incredible because it bestows a great variety of flavours and connects its knowledge with many extra-national cultures: France, Switzerland, Austria. We would like all these products and techniques to be given the importance they deserve».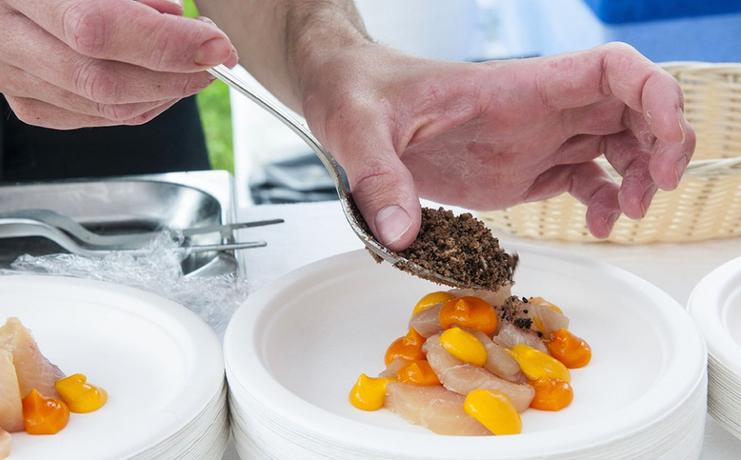 Arctic char from Preore, toasted barley, carrots, apricots and watercress presented in 2014 by Alfio Ghezzi. The chef from Locanda Margon will participate this year too
Identità Cortina 2
will open on
5th September at 8 pm
at restaurant
La Corte del Lampone
of the
Rosapetra Resort
, with the multiple welcoming given by home chef
Alessandro Favrin
:
The quail goes up to Ampezzo
,
Beef steak tartare with fruits of the forest and creamy stravecchio ampezzano
,
Duck fat liver chupa chups and hazelnuts
,
Knödel with ricotta on Parmesan mousse
.
With him, in the kitchen, 4 exceptional colleagues: Riccardo Gaspari of El Brite de Larieto (he'll prepare his "Cheese sandwich"), Davide Scabin of Combal.Zero in Rivoli, Torino (Tagliatella Transalp Express. That is to say, Monograno Felicetti tagliatelle visit the mountains...) and Norbert Niederkofler of St. Hubertus at Hotel Rosa Alpina in San Cassiano in Bolzano (Venison filet with potato ribbla, wild berries and mushrooms) and Alfio Ghezzi of Locanda Margon in Trento (Arctic char, onion sous and sour sauce with trout roe). The journey will end with Favrin's return with Tribute to the Dolomites, to be discovered. The price for the dinner is 80 euros per person (for reservations, call the restaurant on +39.0436.861927).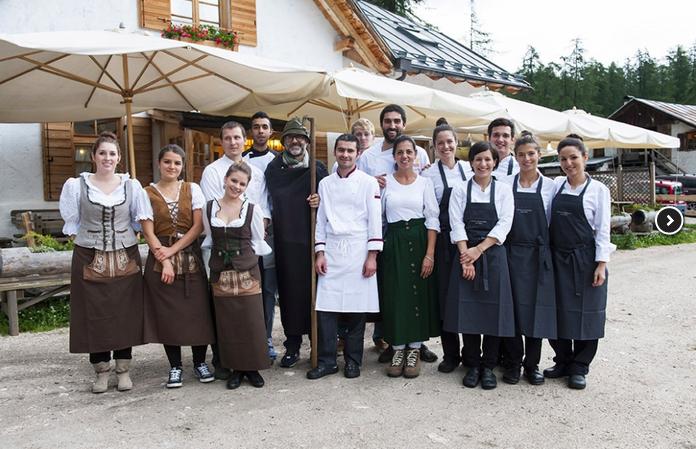 Group photo at Identità Cortina 2014. In the centre, Massimo Bottura
Sunday 6th September, from 12.30, everyone's expected in the fields around
Brite de Larieto,
to be transformed into a circuit with many craveable islands. Landlords
Ludovica
and
Riccardo Gaspari
(author of
The Nest in the wood
) will be guarding these islands, together with
Alessandro Favrin
(
Tortello filled with goat meat
), and again
Davide Scabin
(
Polenta C&C L.A.L.
, which stands for
Cortina & Capri Luxury Air Line
), Sardinian
Oliver Piras
of restaurant
Aga
in San Vito di Cadore in Belluno (
Beetroot meatball with herbs and soused carrot
) and
Massimo Alverà
of
Pasticceria Alverà
in Cortina d'Ampezzo (
Cloud
, a small brioche with mother yeast and whole-wheat flour with elderberry syrup and filled with a mousse made with ricotta and millefiori honey). The price for the brunch is 30 euros per person (for info and reservations call +39.368.7008083 or +39.328.7288665).
---