Roma Food & Wine, 18 great chefs
The tastings at the Festival starting this Saturday at Eataly. There will also be Bottura, Romito and...
24-11-2014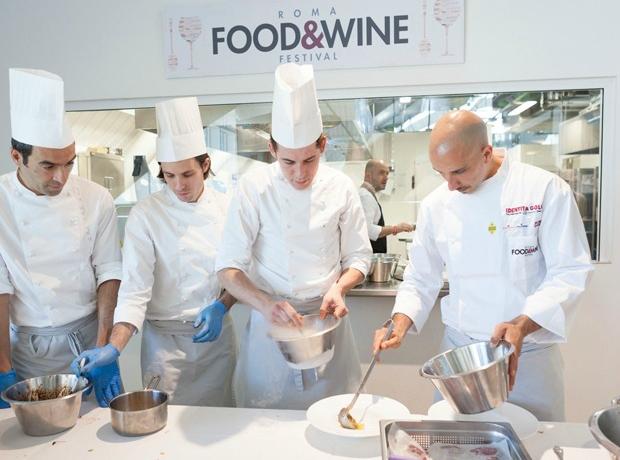 All is ready at Rome's Eataly for the Roma Food & Wine Festival, from Saturday November 29th till Monday December 1st. 18 great Italian chefs and their specialties, all to be tasted, will be the protagonists.

The Food & Wine Festival in Rome, opening on Saturday at Eataly Roma for the traditional three-day-event dedicated to signature food and wine, will have among its protagonists, this year, some of the best Italian chefs, each of whom will prepare a fine dining dish at a truly low cost price, within everyone's means: 10 euros. The list is long and truly exciting, the tastings will be even more so
The start is set on Saturday 29th from 12,30 to 3 pm (chefs and matching wines will be presented at noon) with six marvellous protagonists. At lunch, two women and a man with a very high standard of craveability: the excellent Cesare Battisti of Ratanà in Milan, his risottos are legendary and indeed he will present a dish called The vaccinara oxtail that fell into a risotto; Viviana Varese, who works not too far away from Battisti, at restaurant Alice inside Eataly Smeraldo in Milan, will serve a delicious Rosemary's Ceci: chickpea cream with curry, served with calamari, oil with rosemary extract and an intense calamari stock. Finally, Cristina Bowerman, chef at Glass Hostaria in Rome, will present a succulent Lamb & Artichokes. In the evening, from 7.30 to 10 pm (chefs and matching wines will be presented at 7 pm) the standards are constant: Luciano Monosilio from Pipero al Rex in Rome experiments a dish with Lombard echoes, Meatballs with polenta taragna; Angelo Sabatelli of the homonymous restaurant in Monopoli (Bari) is instead tied to the Mediterranean sea: Rice, potatoes and mussels "according to my point of view". Just like Andrea Provenzani, who cooks at Il Liberty in Milan but is originally from Sicily and will dish out My Sicily: couscous with saffron, amberjack, wild fennel pesto, candied lemon and pistachios, onion with Marsala, almond milk.
Rosemary's Ceci: chickpea cream with curry, served with calamari with rosemary extract and intense calamari stock, a beautiful dish by Viviana Varese. It will be possible to taste it during the Festival. (photo by Passera)

On Sunday, the
Roma Food & Wine Festival
will have among its protagonists two people who are considered two of the biggest Italian chefs, together with young and very promising colleagues. For lunch, on Saturday, same time, there will be
Massimo Bottura
, number three in the world with his
Osteria Francescana
in Modena; his dish will be a complete discovery,
The Historic Compromise
. At the same time, it will be possible to taste also
Trenette with pesto and potatoes,
a classic dish completely reinterpreted by a rising star like
Enrico Panero
of restaurant
Da Vinci
at
Eataly Firenze
, and then
Pliny's soup: soup with local fish with mountain pine extract and pine nuts
, presented by skilled
Daniele Usai
of
Il Tino
in Ostia Lido, Rome. In the evening, the superstar is
Niko Romito
, of
Reale
in Castel di Sangro (but he now also signs the
Spazio
inside
Eataly Roma
, in other words, he plays at home), with his
Scapece pickled rabbit
, but we also want to taste the
Egg in "San Domenico" raviolo with alpine butter, Grana Padano Riserva and white truffle
by
Massimiliano Mascia
, of San Domenico in Imola, and also the mysterious
Babà
presented by
Agostino Iacobucci
of I Portici in Bologna.
Grand finale on Monday, only at lunchtime: Aurora Mazzucchelli of restaurant Marconi in Sasso Marconi will dish out her Grana Padano tortelli with lavender aroma, almonds and nutmeg; Ugo Alciati of Guido in Serralunga d'Alba instead, his Baked square pepper filled with tuna, anchovies and capers from Salina; finally Fabio Pisani and Alessandro Negrini, young chefs at Il Luogo di Aimo e Nadia in Milan, will make us taste a Carnaroli Gran Riserva risotto with turnip and Mothia salt, caraway seeds and Piedmontese white truffle cream.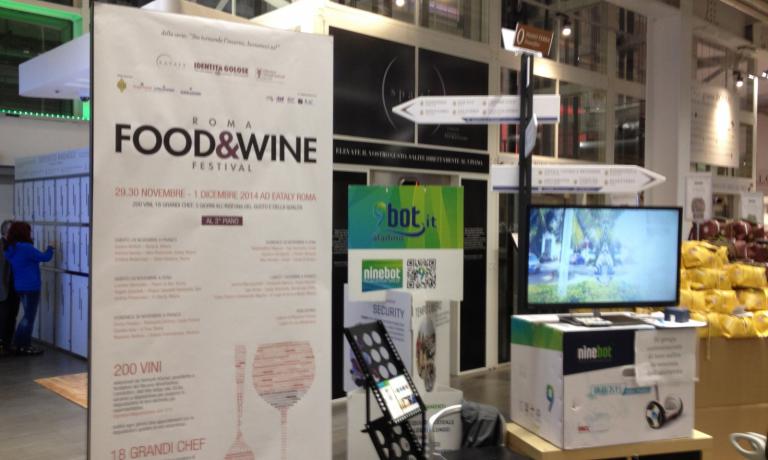 The poster announces the Festival, inside Rome's Eataly
As we mentioned, each dish is sold for the price of 10 euros, the same price as the "Triumph of salami" prepared by
Massimo Pezzani
of Antica Ardenga, an extraordinary tasting of his cured meats (on Saturday and Sunday, from 11 am to 10 pm, on Monday from 11 am to 6 pm) and as the "Triumph of desserts", at the same time, in which pastry-chef
Luca Montersino
will be the author of a not-to-be-missed buffet of great Italian desserts.
Online ticket presale here. For info: romafoodandwine@magentabureau.it.
---