Vitale's Pasta
La pinwheel of first courses by Marianna from Sud, who will open the format dedicated to spaghetti&co.
29-01-2015
Impepata: a delicate mix of mussels, pepper and lemon. This is one of the dishes with which Marianna Vitale, chef of the year according to the Identità Golose guide, will open the Identità di pasta day, on Tuesday 10th February. On stage, after her, there will be Christian and Manuel Costardi, Luca Fantin, Viviana Varese, Enrico Croatti, Davide Scabin, Tony Mantuano, Andrea Berton and, for the first time in this format, Massimo Bottura

A multiple identity defines Marianna Vitale, young and fierce chef from Ristorante Sud, North-West of Naples. In Quarto, in the hinterland of Campi Flegrei, this restaurant grew fast, standing out thanks to its topical cuisine made of typical traits.

A young Neapolitan woman, the daughter of the roaring Eighties, a graduate in Foreign languages and literature, hungry from the day she was born, a pasta lover, the chef of a restaurant called Sud. A multitude of happily redundant elements concur in the definition of the personality of this speaker who will open the show at Identità di Pasta on Tuesday 10th February, during the 11th edition of Identità Milano.

Her passion for carbohydrates is no secret. In the menu of her restaurant there's only dry pasta because according to Marianna fresh pasta is not pasta: it doesn't have the same indefinable nerve of the pasta from Gragnano she grew up with and it isn't part of her reference food universe. She is also distant from rice, even though less so, because, as she admits, she does eat it, even though she preferably first makes a ball of it and then fries it.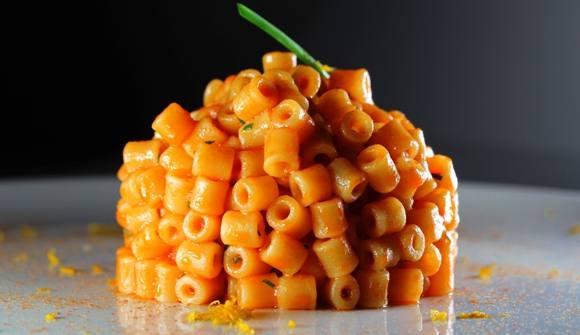 Tubetti, mullet and mandarin by Marianna Vitale, concept and recipe are explained here
In her childhood memories the deliciousness of her grandmother's pasta and beans stands out. She was a muse – together with her mother – from whom she inherited the sensitivity she transfers to the kitchen nowadays. For her everyday meals, which she has at 11 am or at 5 pm, she favours dishes characterised by a minimalistic luxury: pasta is long, smooth and made with bronze and is matched with a maximum of two ingredients, such as clams or anchovies. The ideal pasta is first half cooked in boiling water, then the cooking is finished in the pan. It also needs to rest in the pan: a little time is required to lower the service temperature by a few degrees, so the dish and the pasta itself can become more enjoyable.
While linguine are the most overvalued format, short and medium-short pasta, the one for soups, together with broken spaghetti are the most misunderstood and undervalued formats, according to Vitale. Tubetti, for instance, with their enveloping welcoming, let the sauce invade them, inside and outside, and are strongly captivating when tasted, keeping their nerve. The elegance, however, remains in the wise selection of a particular format so it can respect a more delicate ingredient or it can give the right support to more intense seasonings.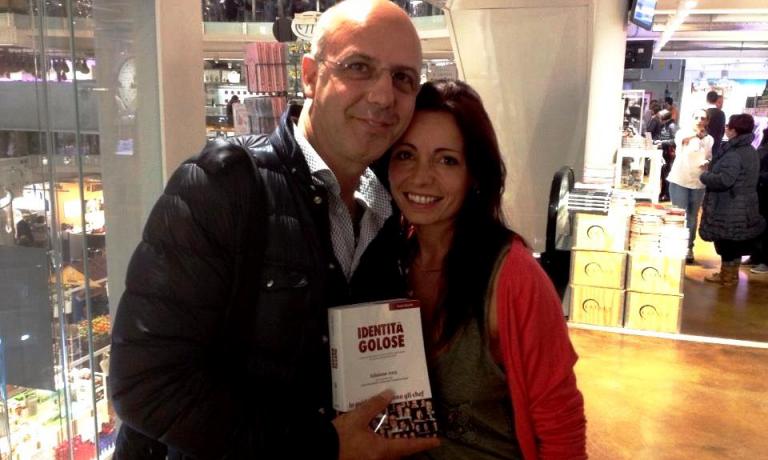 CAMPANIA FELIX. Franco Pepe and Marianna Vitale, here in a photo taken last November in Milan, both of them will be among the protagonists of Identità Milano: Pepe with pizza, Vitale with pasta
Mischiato Delicato
is the choice
Marianna
made for one of the two dishes she will present at
Identità di Pasta
:
L'Impepata
. A dish that in a mouthful recalls the sea, the summer, the rocks and throws the taste buds into the typical
Mussel and lemon soup
enjoyed by the entire town. An intense flavour, with an explosive acidity, broken by the sweetness of peppers and sea urchins, purposely without balance and capable of triggering a pressing mechanism thanks to which one spoonful leads to the other.
The Spaghettone with sea anemones is, instead, a classic: in this case the chef draws from ancient and now forgotten customs and challenges this nettlesome marine species, that doesn't appear too inviting, and transforms it into a sublime, elegant, delicate enjoyment for the palate, further stimulated by the use of wasabi which enriches and prolongs the pleasure.
---
Rubriche - Primo piano
The events you cannot miss and all the news of topical interest from the food planet

by
Valentina Santonastaso
Classe 1985, una laurea in Lettere e Filosofia e un master al Gambero Rosso di Napoli, ha una grande passione per le identità culturali e la memoria gastronomica mediterranea
---
Latest articles published