The wines in Chicago: Central Italy
Our presentation of the producers at the Italian Food and Wine Festival in October continues
21-08-2014
From Tuesday 14th to Thursday 16th October, Eataly Chicago will host the first edition of the Italian Food and Wine Festival. On Wednesday 15th, the main protagonists will be the 30 wineries selected by the Merano Wine Festival. Today we present the second of 3 reports on the wineries from Central Italy that will participate
On October 15th in Chicago, inside Eataly's store it will be possible to taste some excellent wines from Tuscany, starting from those of Baracchi in Cortona, a unique reality in the province of Arezzo, in the heart of Valdichiana, with e cellar and a beautiful resort. The red wines to be presented in Chicago: Smeriglio Cortona Doc in the 100% Syrah version and the 100% Sangiovese one, an excellent use of wood for balanced and straightforward wines. The Syrah/Cabernet blend is a more international one, with an equal 50% per variety – the soul of the Toscana Igt 2011 Ardito. The tasting of the elegant bubbles in the Metodo Classico Millesimato Brut with a base wine made with 100% Trebbiano grapes vinified in steel is not to be missed.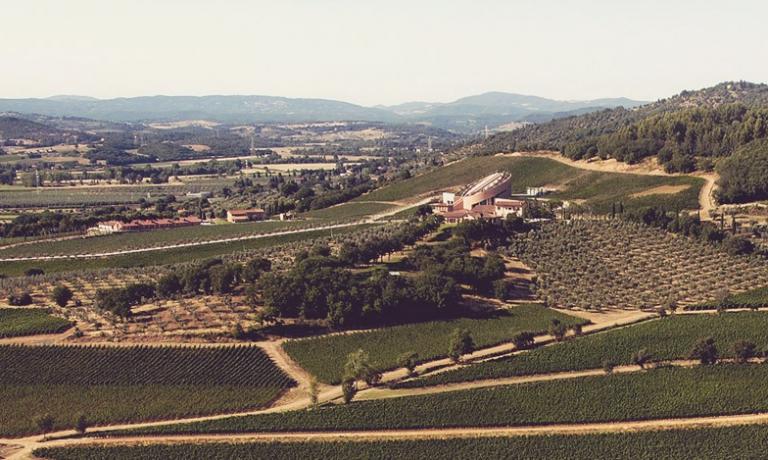 Petra's vineyards in Val di Cornia, Tuscany
The choice made by
Petra
is very different: the winery from Maremma wants to celebrate Merlot and Sangiovese, used separately, with Quercegobbe 2009 and Alto 2010, very structured red wines, with finely measured wood as also in the case of Petra Toscana Igt, a blend of 70% Cabernet and Merlot for the remaining part. The region is expressed via these wines that are rich of red fruits and spices, fine and silky tannins. Even Brunello di Montalcino wines will be present with
Banfi
, a historic winery that produces wines that will tell their story from one continent to the other with a common denominator: typicality and elegance. There will be Poggio alle Mura but also a Pinot grigio Toscana and an aromatic Brachetto d'Acqui from the estate in Piedmont.
Mastrojanni's Brunello and Rosso di Montalcino, instead, stand out because of their tannic character, with red wines that have a marked rigour while Vigne Loreto 2010 is more fruity. Certosa di Bel Riguardo, a winery from the Vino Libero group is also interesting, with their Inno 2011, 100% Sangiovese, refined in wood and cement resulting in a straightforward and refined wine. Emilia Romagna is present thanks to Oro di Diamanti: through the glasses, this winery will illustrate Pignoletto Dulcedine, in the still version, and Gaudium, in the sparkling one, while Il Pollenza from Tolentino, in the inland of the Marche, will present its more international wines and an autochthonous range, exploring Bordeaux blends that have high standards in terms of character and structure.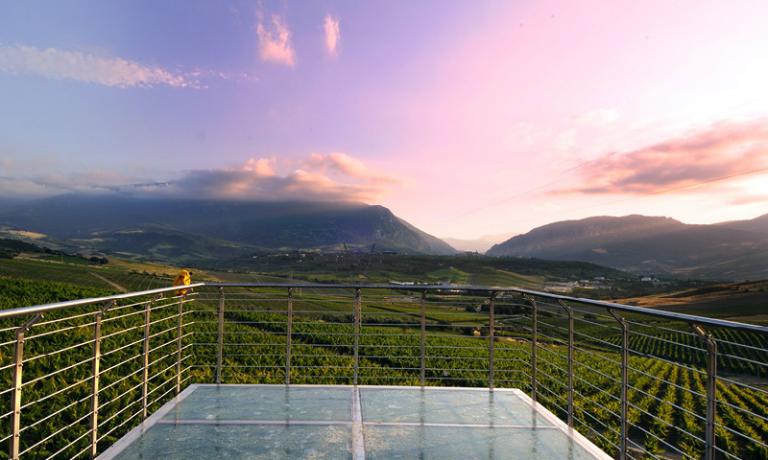 The landscape in Abruzzo, around Ciccio Zaccagnini's vineyards
The same applies for the selections presented by
Ciccio Zaccagnini
, in Abruzzo and his Montepulciano. Their Clematis, is a pleasant sweet outsider, an explosion of red fruits and coffee notes. From the same region there's
Cantine Tollo
with their Aldiano Passerina Abruzzo 2013 for a convincing interpretation of this co-op composed of 1,200 members for 3,500 hectares of vineyards. Umbria and the
Lungarotti
family are without doubt the emblem of Sagrantino di Montefalco even though Rosso Torgiano in the Rubesco Vigna Monticchio and Rosso Torgiano Doc versions offer structured wines with decisive tannins.
The wines from Falesco, a winery owned by the Cotarella brothers, instead, surf between Umbria and Latium with Vitiano and Montiano in which Merlot and Cabernet/Sangiovese express the modernist mark at its best. In Latium, let's not forget Omina Romana, which pulls out an unusual tasting of Viognier 100%, a white grape variety originally from the northern Rhône valley, a full bodied and fresh wine, worth trying. The same applies for the wines of Casale del Giglio with their Lazio Bianco Igt made with 30% Petit Manseng, 30% Greco, 30% Fiano and 10% Viognier which stands out as a robust and at the same time very elegant product – it may seem a paradox, yet it is true.
See also
The wines in Chicago: Northern Italy
Italian Food and Wine Festival
---
Rubriche - Primo piano
The events you cannot miss and all the news of topical interest from the food planet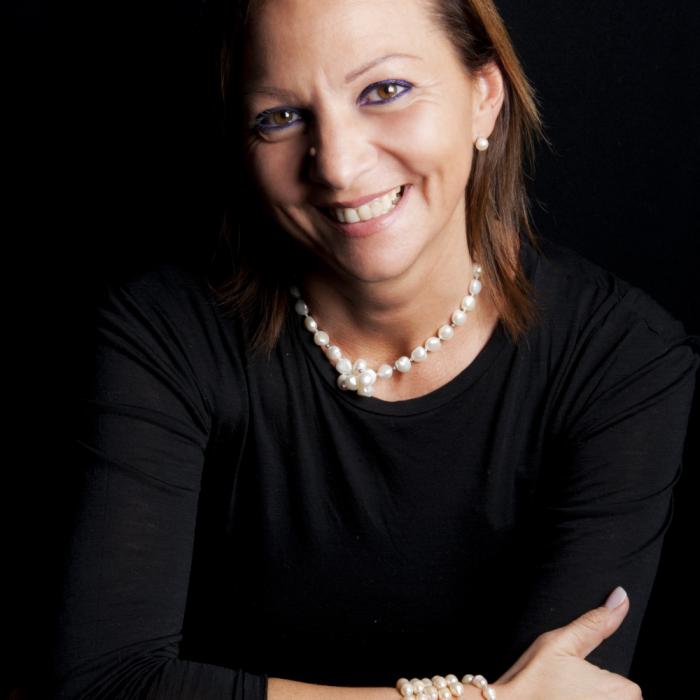 by
Cinzia Benzi
Laureata in psicologia, è stata rapita dalla galassia di Identità Golose. Se lo studio del vino è la sua vita, la vocazione di buongustaia è una scoperta in evoluzione

---
Latest articles published