The wines at Identità London
Enoteca Pinchiorri's menu for the away game at Harrods stimulates elegant pairings
04-12-2014
Poached egg with white truffle from Alba and Grana Padano fondue is one of the dishes that Annie Féolde and Italo Bassi created for the menu of Enoteca Pinchiorri, the protagonist in December of Stelle di Stelle. The pairing proposed for this elegant recipe is with Chardonnay Trento Doc Giulio Ferrari 2002
December celebrates the arrival of Enoteca Pinchiorri from Florence at Stelle di Stelle in London. They can now be marvellously placed inside The Winery, the restaurant of Harrods' wine shop. While in Via Ghibellina in Florence we can find the monumental cellar, in Brompton Road in London many unique bottles stand out, all in line and divided according to origin and vintage.

The menu that Italo Bassi has created with Annie Feolde and Giorgio Pinchiorri illustrates a Tuscan essence that is very well spaced out by ingredients from our country, ranging from fish to meat, to egg, to truffle, passing through an original pasta format, and ending with a dessert that is only seemingly simple.

Two great wine families, Lunelli from Trento with Ferrari bubbles, and Allegrini with Recioto della Valpolicella Classico besides the wines from Tuscan estates Poggio al Tesoro and San Polo, will be poured in the glasses this month. Metodo classico Trento Doc Maximum Brut will be tasted during the aperitif, on the Chestnut mousse with pancetta, pine nuts and rosemary, while the Poached egg with white truffle from Alba and Grana Padano fondue will be served with Trento Doc Giulio Ferrari 2002 a Chardonnay with a very elegant perlage.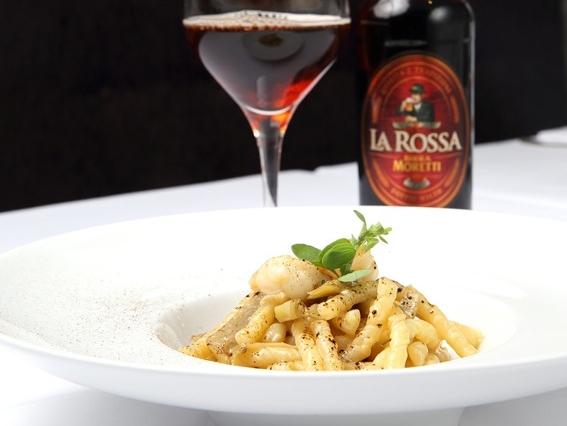 More than wine: this month, at Stelle di Stelle, Birra Moretti La Rossa is paired with Fusilli al ferretto with artichokes, scampi and liquorish powder
This wine has an intense and complex bouquet with a remarkable minerality and lots of exotic notes, besides the hazelnut and spicy hints. It is a creamy wine with a clear sensation of acacia honey resulting in extreme elegance, the perfect exaltation for a poached egg.
Octopus cooked in olive oil with pumpkin cream, coffee pearls and watercress sprouts is matched with a young Rosso di Montalcino Doc San Polo 2012, a lively, sapid and fresh wine. There's a similarly curious gastronomic meeting between Birra Moretti La Rossa, rich in spicy notes, and Fusillo al ferretto with artichokes, scampi and liquorish powder, alternating flavours in which elegance and spices are harmonised in a unique balance of flavours.


Mediterra IGT Toscana 2011 Poggio al Tesoro was chosen as a pairing with the tasty Lamb loin in garlic and thyme crust with polenta incatenata with black cabbage
Mediterra IGT Toscana 2011 Poggio al Tesoro
is an interesting blend of Syrah, Cabernet Sauvignon and Merlot, an intensely fruity red wine that finely represents Bolgheri's territory, with balanced spicy notes hiding lots of freshness.
Finally, a meditation wine
par excellence
,
Recioto della Valpolcella Docg Giovanni Allegrini 2010
, an explosion of elegant and velvety red fruits for the dessert, Bread, chocolate, oil and salt, a finale that is truly in line with
Stelle di Stelle
. Throughout the month of December
S.Pellegrino
bubbles are also to be served as well as an exclusive novelty: the new
Acqua Panna
label, another excellence from Tuscany playing an away game in London.
---
Rubriche - Primo piano
The events you cannot miss and all the news of topical interest from the food planet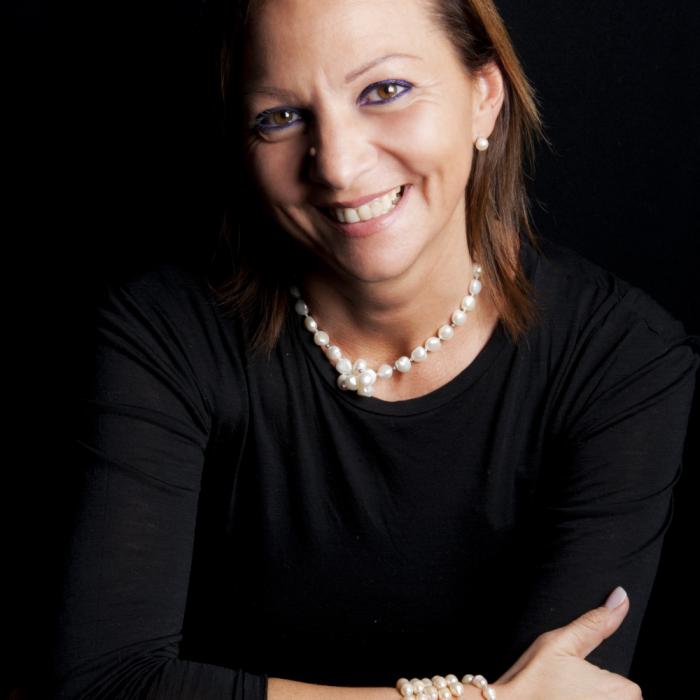 by
Cinzia Benzi
Laureata in psicologia, è stata rapita dalla galassia di Identità Golose. Se lo studio del vino è la sua vita, la vocazione di buongustaia è una scoperta in evoluzione

---
Latest articles published