Identità 2015: A healthy intelligence \2
Marchi, Ceroni and the challenges of the Milanese congress. Preceded, in autumn, by other great events
29-07-2014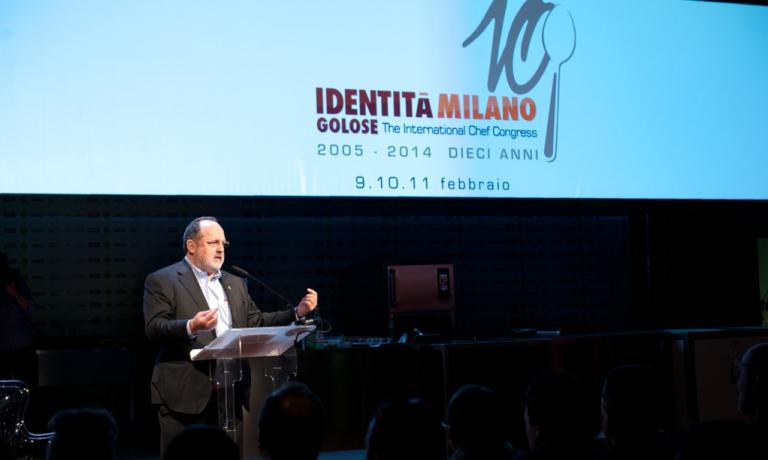 Paolo Marchi during the Identità Milano 2014 congress. The eleventh edition (February 8-10th 2015) will be preceded by Identità New York (October 9-12th 2014), the Italian Food & Wine Festival in Chicago (October 14-16th), the presentation of the Guida ai Ristoranti in Milan (November 10th) and the Roma Food & Wine Festival (November 29th-December 1st) (photo credits Brambilla-Serrani)
2. see part one

Some people have a very long sight, and as tomorrow approaches, they're already thinking about the day after. Take Paolo Marchi one morning at breakfast, ask him about Identità Milano 2015, eleventh edition, and he appears to be more concentrated on the following one, because «it will be the one after the Expo and there's a risk of witnessing a sort of reflux in the Italian wine and food sector. Our challenge will be to grow in 2016 as well». A bit like what happened in 2008, the fourth year, when the economic crisis was already biting, but the spaces at Palazzo Mezzanotte seemed even more crowded: they were not enough. So we took the decision: the next year we moved to the larger rooms of the Milano Convention Center, something that according to many was a gamble, «but hadn't we moved, we would have suffocated and died».
Always looking ahead, in other words. Marchi: «As Italians, we're specialised in doing nothing to promote our splendid products; we continue to speak just because we like the sound of our voice, while Budapest will host the selections for the Bocuse d'Or 2016. Last year they took place in Stockholm, in order to present Hungary's candidacy, the ex president of the Republic and gold medal in the Olympics Pál Schmitt got on stage. He said: "We want to become the next European gourmet capital". Have you understood? They only have goulash and tokaji, but they call important names to arms; Italy has everything but sends some unknown director from the ministry. Who do you think they will listen?».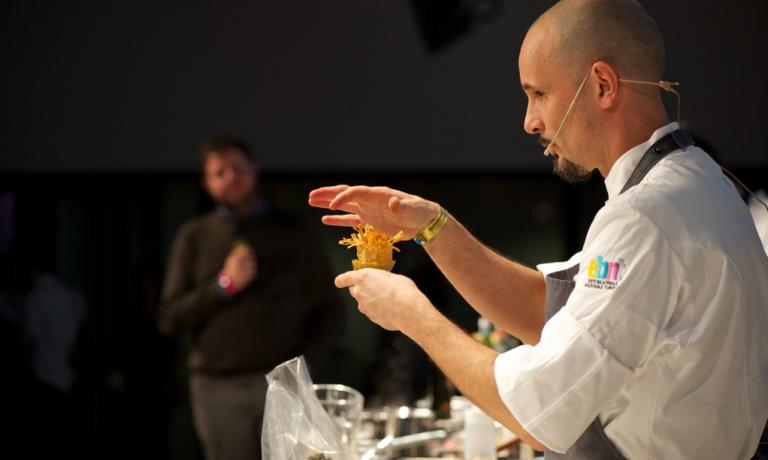 Chef Enrico Crippa during his lecture at Identità Milano 2014. Marchi praises his modernity («He makes you eat lots of vegetables without making you feel like a cow»). He will also be among the protagonists of Stelle di Stelle in London (photo credits Brambilla-Serrani)
In other words,
Identità Milano
was necessary and still is. And it is necessary to renovate it, because you always need to be one step ahead, you need to imagine, for instance, a healthier, more balanced, digestible diet, a theme that was already covered in the past (think of
Identità Naturali
) but which will become even more essential for the congress: «Today, a world of vegan and raw-diet chefs is growing yet nobody knows about it; the classic guides miss it. Truth is over these decades we've eaten too much poison. On the other hand, even doctors now understand that people need to dine, and it's best to welcome them with tasty food». The new frontier will be designing a cuisine that will satisfy not only in terms of taste, but also of the other needs of the client: a perspective that needs to be studied from scratch because there are no points of reference. Science and intelligence will be necessary, «I'm thinking of
Renato Bosco
who re-invents pizza by using curdled rice instead of mozzarella. Or
Enrico Crippa
, who makes you eat lots of vegetables without making you feel like a cow».
Fine dining and healthy diet, therefore. Identità Milano 2015, however, will also include two other innovations. There will be Identità Piccanti [Spicy Identità] a day dedicated to hot palates, «In Thailand they get cross if we say that their cuisine is overwhelmed by this dimension, they say it is only one of the components and in fact we are the ones who neglect it. In other words, it is a theme worth discussing». Then there's Identità di Montagna, following the recent Identità Cortina: «I'm fascinated by the idea of Spaghetti aglio olio, in which the oil is made with Swiss pine. I like to think about canederli, which are delicious, in a version that looks at the future. I'm also amused...». Enough, Paolo! We stop him: he's a volcano of ideas but for now this is enough.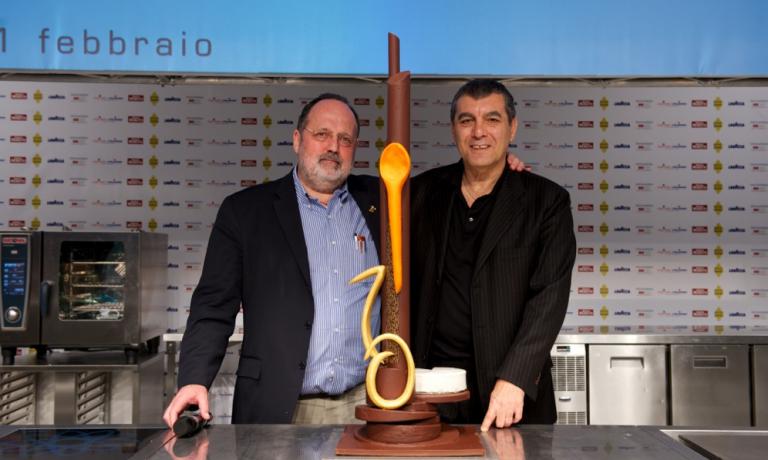 The two "souls" of Identità Milano (and all the other Identità Golose activities): Paolo Marchi and Claudio Ceroni (photo credits Brambilla-Serrani)
Besides, from now on until February 2015 the people at Identità have many other steps to take. They are summed up by
Claudio Ceroni
, patron at
Magenta Bureau
, who's always been the entrepreneurial and managerial arm: «I like the fact that we will get to
Identità Milano
after months full of activities: not only did the congress grow every year, even our activities abroad have increased». In October the fifth edition of
Identità New York
will take place and a few days later there will be a debut in
Chicago
.
On November 10th, the restaurant guide will be presented in Milan, when the young stars will be awarded, inside
Eataly Smeraldo
;
Oscar Farinetti
will also host, in his various headquarters, the American events organised by Identità and the
Roma Food & Wine Festival
, a success by
Magenta Bureau
, from November 29th to December 1st.
The biggest news, however, is expected in London: starting on September 1st a temporary restaurant lasting five months – called "Stelle di Stelle", in Italian – will open in Harrods' legendary headquarters, a unique event that ratifies the collaboration with the famous English brand, previously begun. It will be a prestigious showcase for our cuisine, «we're happy to walk it into the limelight», gloats Ceroni. "5 Italian chefs, 13 Michelin stars" is the slogan, because the protagonists in the kitchen, one month each, will be Carlo Cracco, the Cerea brothers, Gennaro Esposito, Enoteca Pinchiorri and finally Enrico Crippa. Signed by: "Harrods in partnership with Identità Golose London". How about that?
2. the end
---