The glass and the cube
Identità Future ends with two lessons on wine glasses and the role of ice in bartending
27-10-2015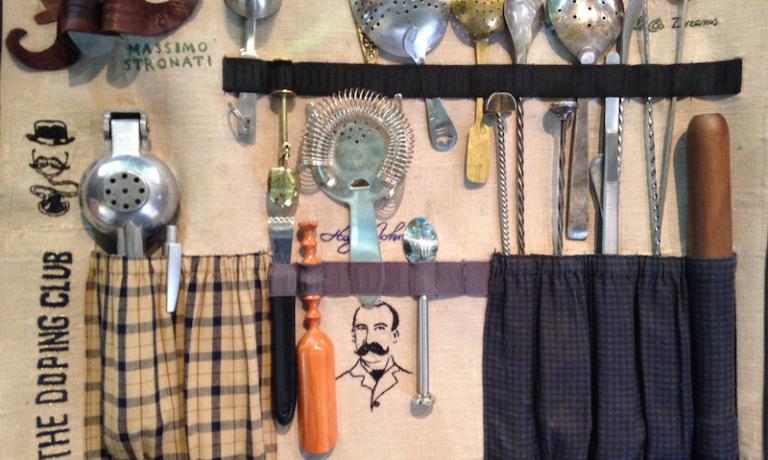 The cocktail kit by Massimo Stronati, bartender from Milan at the helm of the Doping Club at the Yard hotel in Milan. This is the last of the photos from Identità Future, the Identità Golose format for Host, the hospitality exhibition that ended today in Rho (photo by Elisa Pella)
The last day at Identità Future ends with a double focus on beverages. The morning was dedicated to a very specific theme that is becoming more and more crucial in today's fine dining scene: "The choice, service and cleaning of wine glasses", an aspect that shows many more facets than one would imagine.
The lesson was mostly led by Fabio Giavedoni, ex restaurateur with an AIS diploma in his pocket, a taster with a quarter of a century experience, now working mostly for Slow Food: «Over the course of a year», he says introducing the lesson, «I hold a glass 6K times, on average». Claudio Toccane of Winterhalter, a firm specialised in professional dish washing technology for gastronomy, whether it's hotels, canteens, bakeries or butchers, was beside him.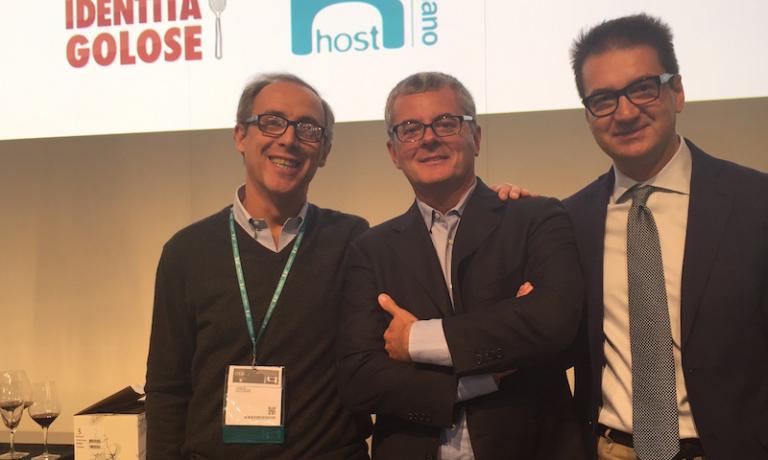 Alessandro Guidi of Caraiba, Fabio Giavedoni of Slow Food and Claudio Toccane of Winterhalter, this morning's protagonists talking about: "The choice, service and cleaning of wine glasses"
He was the one to introduce the complexity of this issue: «Cleaning a restaurant glass is not just a matter of nose or hygiene but also of the product's longevity. The detergent, for instance, is important because while a glass washed with our machines can last, on average, up to one thousand washing cycles, a glass cleaned with a very aggressive detergent or with water with a high percentage of minerals, will reduce its life to 80-100 cycles. A huge difference». And then, «Every object requires its cleaning method», he explains while he passes a flûte glass on the touch screen of a new generation washer: «We need intelligent washers that can measure each time the chemicals, temperature and pressure of the glass».
Right after that, Giavedoni lingers on a second aspect: the influence of the shape of the glass in the tasting experience. A supertuscan wine from Bolgheri is poured into 5 different products: balon, flûte, tumbler, a trattoria glass and the hi-tech autenthis by Spiegelau, a glass distributed in Italy by Caraiba, «which I prefer because it is perfect to unearth every defect in a wine. «The retail price of the latter?», clears Alessandro Guidi of Caraiba, who participated in the tasting «10 euros, half the price to the restaurateur». When tasting, the same wine will have 5 perceivable differences on the nose. When in doubt as to which wine suits which glass, suggests Giavedoni, «always choose the larger format you have: it is always good, from bubbles to sweet wines. Never leave a wine speechless».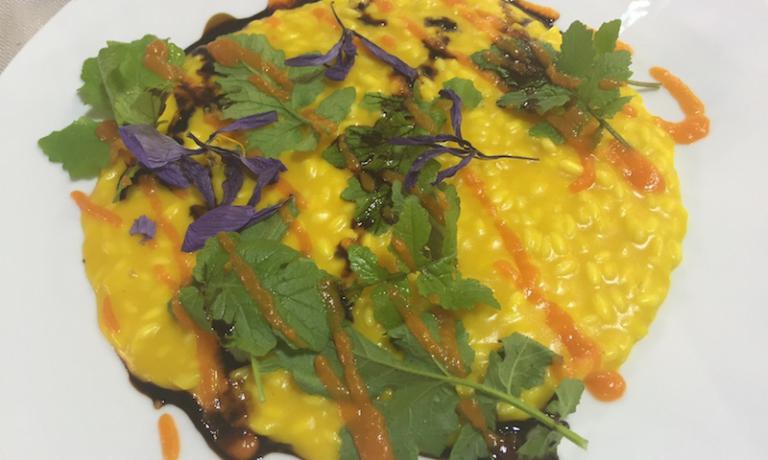 Pumpkin risotto and Balsamic Vinegar from Modena, the dish with which Cesare Battisti, chef at Ratanà, pulled down the curtain of the temporary restaurant at Identità Future
The last lesson of the afternoon was on the art of bartending. It was titled: "Ice, what with cocktails and new ideas" in collaboration with
Hoshizaki
, a Japanese firm with branches in Asia, North America and Europe, a giant, which has the only patent to make round ice. Ice is an essential ingredient in drinks, not just an accessory. «And this important truth», say
Mauro Pelacani
, director of
Hoshizaki Italia
and
Koen Gaelens
, «is slowly taking root in bartending, though not as much as it would deserve».
To put it in the words of Massimo Stronati, the bartender at the helm of the Doping Club in pizza XXIV Maggio - inside the Yard, a boutique hotel full of sport-themed memorabilia - since it was opened two years ago in Milan: «A drink», Stronati immediately points out, «is not a recipe but the result of a balancing operation, just like with pasta: if the cooking is not right, the pasta won't be good. There's nothing you can do. So ice has an essential role in the final result». Identità Future ends with two truly lovely cocktails - "Apothecary Libation" and "No Regrets" – the result of as many techniques – Throwing and Stir&Strain. They are good thanks to the perfect ice but most of all thanks to the «hands of the bartender», claims Stronati. He usually uses his hands to prepare very substantial cocktails, without the extravagant frills that affect many cocktails nowadays.
---
Rubriche - Primo piano
The events you cannot miss and all the news of topical interest from the food planet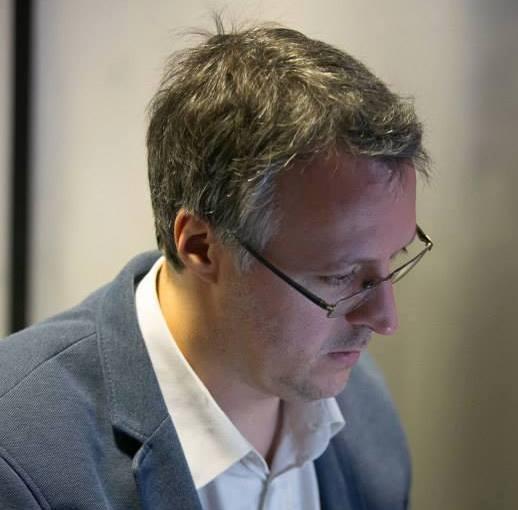 by
Gabriele Zanatta
born in Milan, 1973, freelance journalist, he's been working as a co-author and coordinator of both Identità Web and Identità Golose World restaurant guidebook for the past 7 years
twitter @gabrielezanatt
---
Latest articles published