Identità New York 2015
100% Italia
30-07-2015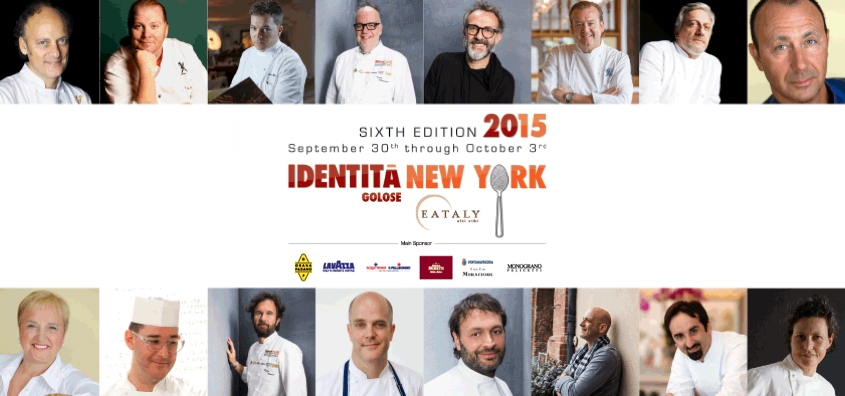 All the protagonists of Identità New York 2015, scheduled from September 30th to October 3rd at Eataly NY. Moreno Cedroni, Mario Batali, Andrea Migliaccio, Tony Mantuano, Massimo Bottura, Michael White, Davide Scabin, Fortunato Nicotra, Rita Sodi, Vito Mollica, Mark Vetri, Ugo Alciati, Jonathan Benno, Carlo Cracco, Mark Ladner e Lidia Bastianich
The 2015 edition of Identità New York is like the finish line of a long journey for us, a profound work dedicated to the Expo in Milan, the World Fair which opened on 1st May and will still be fully running when we will be in the United States, first in Manhattan and then in Chicago. The great fair will in fact end on 31st October while we will be at Eataly NY from 30th September till 3rd October and in the Big Lake area on 6th and 7th October.

We feel the theme of Expo, Feeding the planet, energy for life, very dear to us, just like the Expo itself, thanks to the many moments we have shared, in the Big Apple too, during its long eve and thanks to what we're developing. Meetings, conferences and tastings that will be perfectly summed up by the theme of Identità NY 2015: 100% Italia.

We're indeed convinced that it is right to place our country and its wine and food excellences in the heart of everything, the lessons and the gala dinners, in order to emphasise more and more those who safeguard centennial traditions without letting them trap them. As Italians we've given life to masterpieces the world has always enjoyed, all the various forms of pasta as well as pizza, just like the sublime risottos or meat-based recipes such as veal cutlets or bone marrow, as well as charming desserts like tiramisu and panettone.

Yet we should not just focus on ourselves, on our preferences and certainties. No one has to convince anyone that his recipe is better, tastier. Instead, we should highlight what a population likes of a particular raw material, because many people adore espresso coffee and many others prefer it very long, as in an infusion, because we adore pasta and rice al dente and no other country is on our same line, so we need to constantly explain why we serve delicious food that every time foreigners who don't know it will consider raw.
Contemporary Italian chefs know they need to look beyond and, starting from the certainties of Italian gastronomic history, they innovate in every direction and go around the world illustrating and presenting their ideas, their creations. It is a continuous confrontation with different cultures, a constant contamination that lets everyone grow and which will also happen at Identità New York. Every speaker-chef chose an ingredient he feels close to him, for instance Massimo Bottura chose bread, Moreno Cedroni oil, Davide Scabin pasta and Carlo Cracco egg, and they each called an American colleague to confront themselves and give life to a fourhanded lesson focused on that product.
Identità Golose moves to New York from 30th September till 3rd October and then will end on 6th and 7th in Chicago also at Eataly to celebrate 100% Italia!
Identità New York 2015
100% Italia

Wednesday September 30th

12 pm seminar with Andrea Migliaccio and Tony Mantuano (TOMATOE)

6 pm seminar with Moreno Cedroni and Mario Batali (EXTRA VIRGIN OLIVE OIL)

Thursday October 1st

12 pm seminar with Massimo Bottura and Michael White (BREAD)

7 pm dinner with Massimo Bottura (antipasto) – Andrea Migliaccio (primo) – Moreno Cedroni (secondo) - Ugo Alciati (dolce)

Friday October 2nd

12 pm seminar with Carlo Cracco and Jonathan Benno (EGG)

5 pm seminar with Ugo Alciati and Marc Vetri (MILK)

7 pm dinner with Lidia Bastianich: Carlo Cracco (antipasto) – Davide Scabin (primo) – Mark Ladner (secondo) - Vito Mollica (dolce)

Saturday October 3rd

12 pm seminar with Davide Scabin and Fortunato Nicotra (PASTA)

5 pm seminar with Vito Mollica and Rita Sodi (BEAN)