21-04-2014
The man who cuddled octopus
At "Sangue na Guelra" in Lisbon, Alessandro Negrini floors everyone with only one move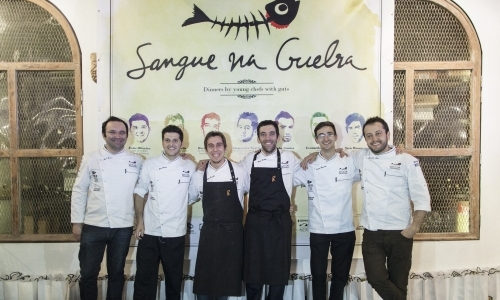 The ritual photograph of the sous chefs who participated in the Portuguese festival celebrating fish:
Leonardo Pereira
of
Noma
,
Nacho Baucells
and
Hernan Luchetti
of
Celler de Can Roca
,
Sven Wassmer
of
Focus
and
Alessandro Negrini
(he, instead, is executive chef) of
Il Luogo di Aimo e Nadia
Recession is good for ideas. It challenges professions and opens new perspectives that were unthinkable before. As in the case of Sangue na Guelra (blood in the gills, literally) a small yet ambitious festival born from an idea a couple from Lisbon had, she a communicator, he a photographer. Anna Mùsico and Paulo Barata faced the dark times in Portuguese economy with the idea of re-launching an exceptional local product: fish. And they called some among the most brilliant young sous chefs in Europe to discuss ideas, gestures, recipes. This resulted in a practical/theoretical workshop with the desire to understand how to bring this great product to the attention of inattentive consumers.
This year (the second edition), octopus was the protagonist, representing the excellent Portuguese catch. A team of young local chefs boiled it, grilled it, cooked it at low temperature, caressed it, handled it. This event was also shared with Leonardo Pereira of Noma, Nacho Baucells and Hernan Luchetti of Cellar de Can Roca, Sven Wassmer of Focus and our Alessandro Negrini, the only executive chef in the team.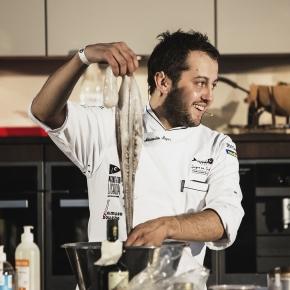 A simple and tender process instead of complicated techniques: Negrini's octopus conquered Lisbon's audience
Negrini, from
Il Luogo di Aimo e Nadia
was the one who threw the heaviest and most precise stone. The Italian chef floored everyone by proposing
a move, instead of a recipe
. After the preceding cooking shows, based on elaborate proof of concepts, vacuum cooking, reductions, extractions, he took the octopus, closed it in a plastic pack with salted water, and started to cuddle it. For twenty minutes. And he told the ancestral way of softening the meat of this mollusc. In the end, it was enough to cut it and eat it, raw and extremely tender.
This was a simple and direct action. Clear to everyone. Especially the thousands of people walking outside the half-empty pavilion of the Simposio, in the sparkling Praça do Comércio, on their Sunday stroll. The point, said Negrini, is that outside here, nobody is interested in our elaborate techniques, but everyone can understand this gesture: cuddling an octopus to make it tender. A gesture can get everyone closer to this product, to an ingredient, to the idea of a well spread cuisine.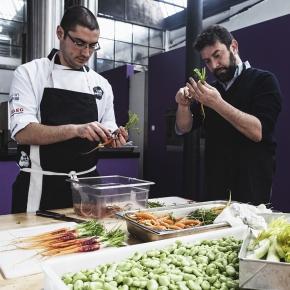 VERSATILE. With Negrini, Gianluca Biscalchin, author of this piece and assistant-carrot-peeler
It is a good thing for techniques to remain in professional kitchens. Food culture, however, needs to be taken outside, where people eat bad food and without thinking about it. This is even more true in a land such as
Portugal
, rich in fantastic products, with an ancient and multicultural tradition and with a desperate need of new strategies to get out of the recession.
The same principle was the focus of the lesson by Portuguese
Leonardo Pereira
, adopted by
René Redzepi
, who emptied an octopus, took the sperm sac, fried it in butter, placed it on a slice of rye bread and ate it. A democratic gesture whose only unveiled secret was the possibility, accessible to all, of transforming a waste into a resource. The most craveable way to get out of recession – both the economic and cultural one.
Gianluca Biscalchin

| published on 21-04-2014 in DAL MONDO