Rubriche - Dal Mondo
Reviews, recommendations and trends from the four corners of the planet, signed by all the authors of Identità Golose
09-03-2014
Black Japanese rice
Isamu Hirayama uses a Grana Padano "crash" for his recipe for Taglio Internazionale
Black risotto and chestnuts, powdered liquorish and Grana Padano crash by Isamu Hirayama, chef at restaurant Daining in Kyoto and among the 6 emerging protagonists who competed in the first edition of Taglio Sartoriale Internazionale, organised by Consorzio di Tutela del Grana Padano in collaboration with Identità Golose
Recommended by Stefano Dal Moro, chef at Antica Osteria del Ponte in Tokyo, Isamu Hirayama is the chef at Daining in Kyoto. The young man stood out during the Taglio Sartoriale Internazionale – The New Generation project, thanks to the recipe we are presenting today, which has led him to experience an important moment during the tenth edition of Identità Milano. His dish received excellent marks from the jury of experts, presided by Paolo Marchi, who had the chance to appreciate the high value use of Grana Padano as an ingredient in this recipe.
Black risotto and chestnuts, powdered liquorish and Grana Padano crash
INGREDIENTS
60 g Japanese black rice
10 g chopped scallion
500 ml chicken stock
6 pieces of chestnuts
butter to taste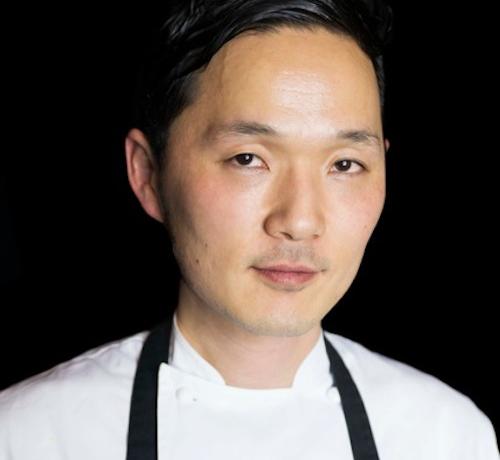 Isamu Hirayama, born in 1978, from Japan
extra virgin olive oil to taste
2 tablespoons of Grana Padano
Powdered liquorish to taste
METHOD
Brown the chopped scallion, add the black Japanese rice and cook for about 20 minutes. Soak the dried chestnuts in water, overnight, and then boil them with a bay leaf. Once they are soft, make a purée by processing them in the mixer. Complete the cooking of the risotto and add the chestnut purée and finish by creaming with lots of extra virgin olive oil and a tablespoon of Grana Padano. Decorate with powdered liquorish and Grana Padano.
Identità Golose

| published on 09-03-2014 in DAL MONDO