Fusto between Mougins and Milan
At the culinary festival in Provence, the pastry-chef spoke of his awaited arrival in Milan
Read
| 11-06-2016 | 16:00 |
Carlo Passera
|
Dal Mondo
Caffè Italia: craftsmanship and beauty
A Swedish reporter in love with our country tells us about her excellent editorial project
The first issue of Caffè Italia, subtitled "Celebrating the soul, flavour & backbone of Italy", a series conceived by Swedish photo-reporter Johanna Ekmark, who's been living in our country for over 30 years. The project is focused on the stories of great Italian craftsmanship (not just food) escaping any possible stereotype. You can buy it online from caffeitalia.se, for 33 euros
Read
| 15-06-2016 |
Gabriele Zanatta
|
In libreria
Bottura on the top of the world
Gold medal at The 50 Best. First time for an Italian chef. He beats the Roca brothers, a historic result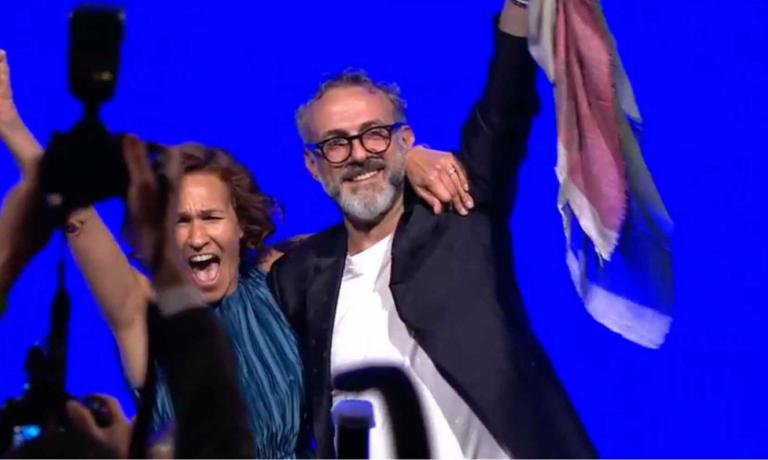 Massimo Bottura celebrates with his wife Lara Gilmore on the stage in New York: he's the best chef in the world
Read
| 14-06-2016 |
Carlo Passera
|
Primo piano
Scabin's strike
Six months after losing a star, Combal.zero is once again among The 50 Best. Davide: "We're strong"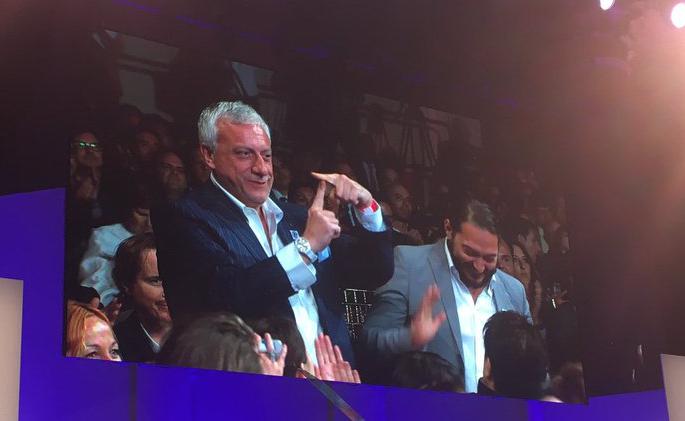 Six months after losing a Michelin star, Combal.zero in Rivoli (Torino) is once again among the World's 50 Best restaurants, at number 46. The different judgement from Michelin and 50Best strikes: "We have improved further and this is why the global jury rewarded us", immediately commented Davide Scabin (in the photo with his sous Beppe Rambaldi), "The French should explain the extra-culinary reasons of a promotion or failure. Because it can't always be just a matter of cooking"
Read
| 14-06-2016 | 02:00 |
Gabriele Zanatta
|
Primo piano
Gustu, Bolivian renaissance
The story of an Italian-Venezuelan and a Danish woman who are revolutionising the production channel of an entire country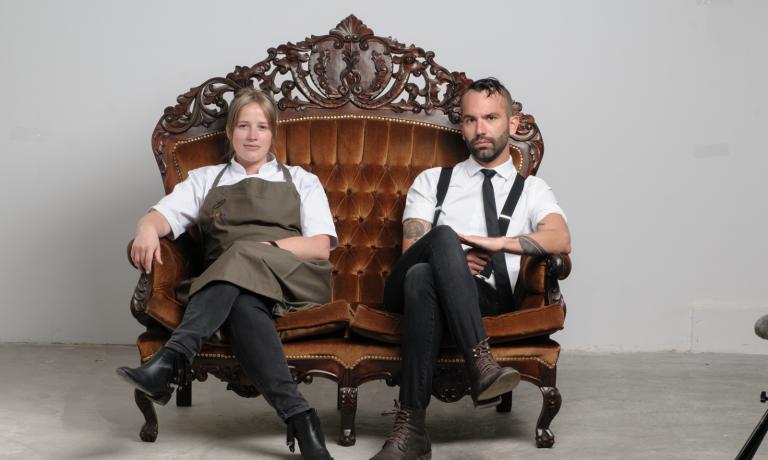 Danish Kamilla Seidler and Italian-Venezuelan Michelangelo Cestari, respectively head chef and ceo at restaurant Gustu in La Paz, Bolivia, opened in 2012 and today at number 17 in the World's 50 Best Latin America. Born from an idea of Danish entrepreneur Claus Meyer, co-founder of Noma and the New Nordic Cuisine, Gustu is a project that goes much beyond the restaurant. This is why it's in the finals of the Basque Culinary World Prize, an acknowledgement created to reward the chefs who want to improve society
Read
| 09-06-2016 | 12:00 |
Gabriele Zanatta
|
Dal Mondo
Di Costanzo takes Ischia back
In the lush and green Dani Maison, the former two Michelin chef stars picks up where he left: flavours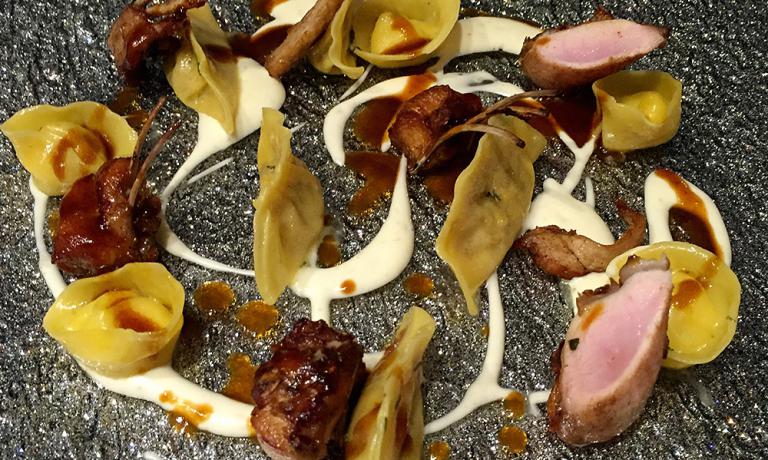 Rabbit and smoked buffalo mozzarella ravioli by Nino Di Costanzo, one of the best dishes at Danì Maison, new venue on Ischia island, headed by the chef who left the helm of Mosaico at the Terme Manzi hotel in April 2015. Many new dishes but also many classic dishes, which gained him two Michelin stars
Read
| 10-06-2016 | 06:00 |
Federica Carr
|
Dall'Italia
Abu Dhabi calls Italian chefs
Plenty of opportunities in the Emirate for Italian cuisine, as guaranteed by "specialist" Bozzetti
Abu Dhabi offers today an extraordinary investment opportunity for Italian restaurants. Giovanni Bozzetti, founder and president at Efg Consulting as well as sole representative in Italy for the emirate's Chamber of Commerce, explains why to Identità Golose
Read
| 09-06-2016 |
Carlo Passera
|
Dal Mondo
(Re)united for the sake of pizza
In Milan, the presentation of the global guide with the great Italian masters. And no conflicts
Read
| 08-06-2016 | 07:00 |
Carlo Passera
|
Mondo pizza
Paul Pairet, more-than-a-show
Here's the French chef, though he doesn't look like it, who's creating much noise with Ultraviolet in Shanghai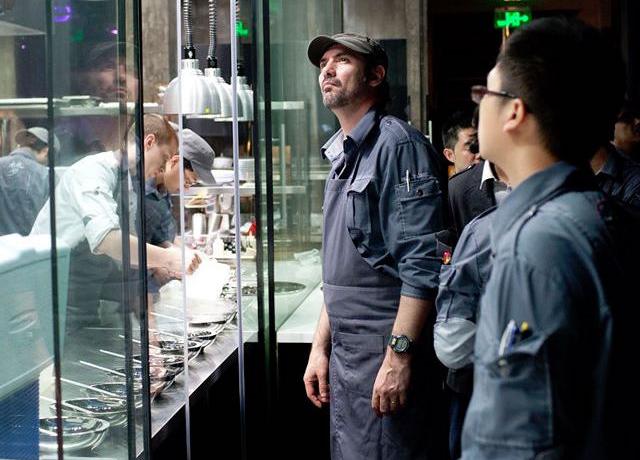 French Paul Pairet is the chef at Ultraviolet in Shanghai: beloved by his colleagues, he offers a very original format combining food, images, sounds, emotions. Not to everyone's liking however... Alessandra Gesuelli reports
Read
| 06-06-2016 | 12:00 |
Alessandra Gesuelli
|
Dal Mondo
Romito's debut and the suspense for Scabin
Names disclosed from the 51st to the 100th place in the 50 Best. First time for the chef from Abruzzo
Niko Romito at Identità Milano 2016. The chef from Abruzzo is the Italian new entry in the 50 Best: the first 50 places will be revealed on Monday. A few hours ago, the list from the 51st till the 100th was revealed
Read
| 08-06-2016 |
Carlo Passera
|
Dal Mondo
Aimo and the escape from Flatland
The "crusade" for the full perception of taste in the interview with the great chef and his daughter Stefania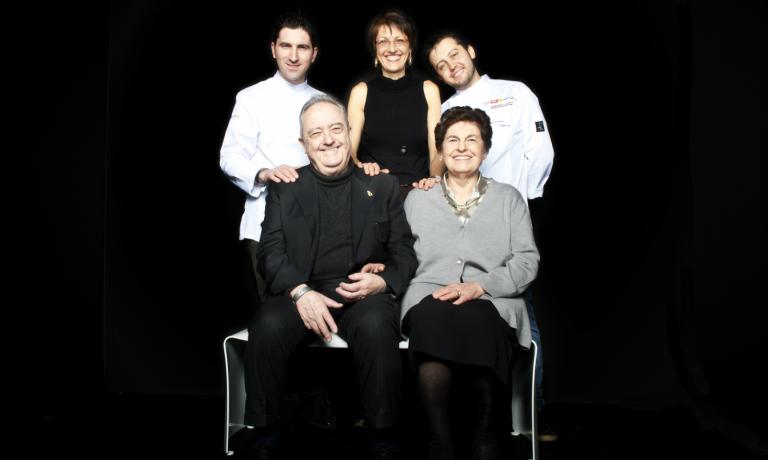 Il Luogo di Aimo e Nadia in five faces (minus the ones in the dining room, Alberto Piras and Nicola Dell'Agnolo): standing, Fabio Pisani, Stefania Moroni and Alessandro Negrini; sitting, Aimo Moroni and his wife Nadia. In the second part of this interview, Aimo and Stefania tell us their relationship with taste
Read
| 04-06-2016 | 07:00 |
Carlo Passera
|
Dall'Italia
Ea(s)t Lombardy in numbers
The success of the big event in Astino reflects an area of culinary excellence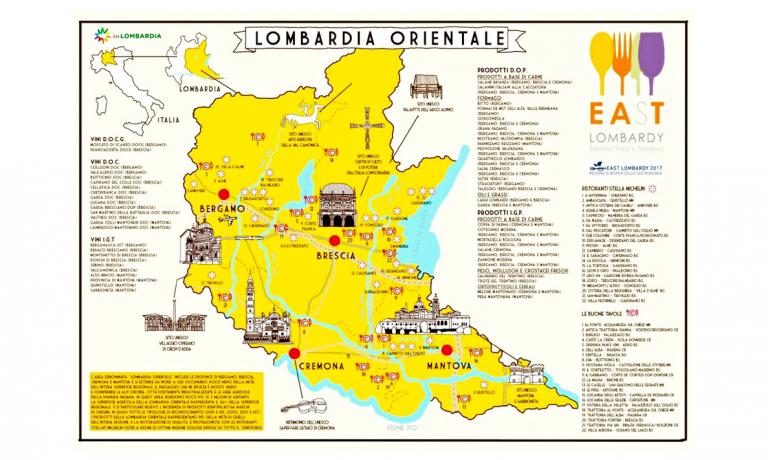 Read
| 01-06-2016 |
Carlo Passera
|
East Lombardy
Colagreco: my 10 years of freedom
A video-interview with the Argentinian chef, celebrating a decade at Mirazur. Plenty about Italy...
Read
| 31-05-2016 | 18:00 |
Carlo Passera
|
Carlo Mangio
Madame Épicerie
The story of Alessandra Pierini, who brought the World Pesto Championship to Paris. An event starting on Friday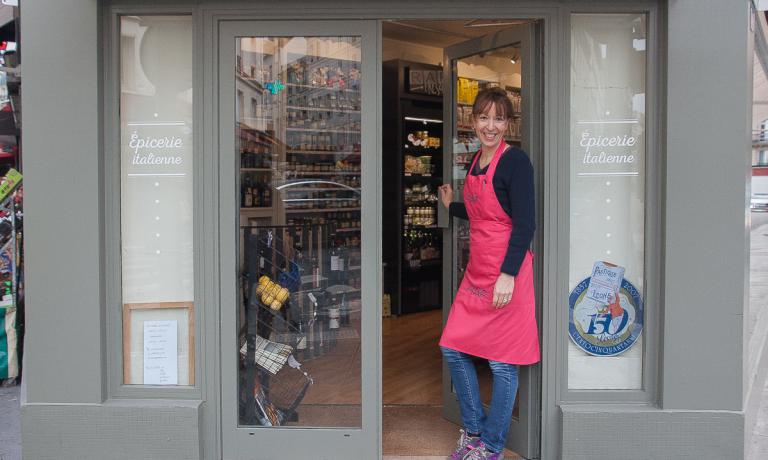 Italian Alessandra Pierini at the entrance of her RAP Epicerie in 4, Rue Flechier, in Paris, where she's been living for almost 20 years. She's the person who got the idea of bringing Roberto Panizza's World Pesto Championship to the Ville Lumière. The event is to start this Friday, with the eliminating round of edition 2018. To enrol in the competition, write to pestoparis@gmail.com (photo by Michelle Goldstein)
Read
| 01-06-2016 | 12:00 |
Ilaria Brunetti
|
Dal Mondo
Joining forces in Ea(s)t Lombardy
Presenting the project during the celebrations for Da Vittorio's 50th anniversary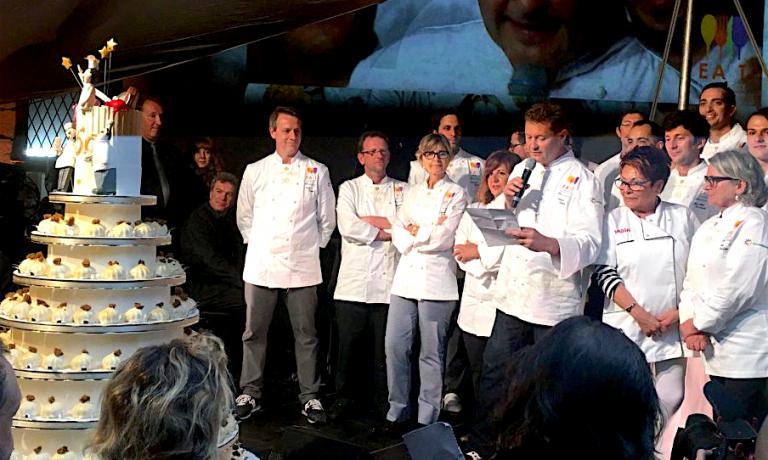 Enrico Cerea on stage with the cake for Da Vittorio's 50th anniversary. The celebration also offered a chance to present Ea(s)t Lombardy, with the area becoming the 2017 European Region of Gastronomy
Read
| 30-05-2016 |
Carlo Passera
|
East Lombardy